After two back-to-back days shooting his elaborate UberEats commercials for the upcoming Australian Open, all Nick Kyrgios wanted to do was play basketball with his boys. On a court that he's arguably more comfortable on, too.
For a big unit, Kyrgios moves around the key with the pace and agility of a cheetah, his towering presence commanding a healthy level of authority. From words of encouragement to powerful plays and regularly sinking three-pointers, in another life, you could be tricked into thinking it was actually his sporting code of choice. His beaming smile when amongst his friends would certainly agree with that statement.
"People don't really realise that defence on a basketball court is basically the same movements [as tennis]," he'd later tell us.
---
---
For a brief second, this rare tone of polished diplomacy almost makes me think he's playing basketball for the benefit of his tennis. But in reality, when he's not required to be on the tennis court, you can bet Kyrgios is at the closest net shooting hoops. For no other reason than he loves it. He lives and breathes it. Even more than his tennis.
"It's enjoyable. I've played a bit too much tennis in my career and hit too many balls to still get some stimulation, [so] it's good to be here."
Here is the King George V Recreational Centre in The Rocks, and with the humidity of summer finally rearing its head on the last Friday of the working year, I was surprised his preferred method of decompression was an intense game of ball with his buddies. Across the road the local pub is absolutely humming, jammed with workers sinking pints like they're going out of fashion and basking in the late afternoon sun.
I know which activity I'd rather be doing to wrap up the week. But unlike the layman, Kyrgios' thirst for peak performance isn't as easily quenched.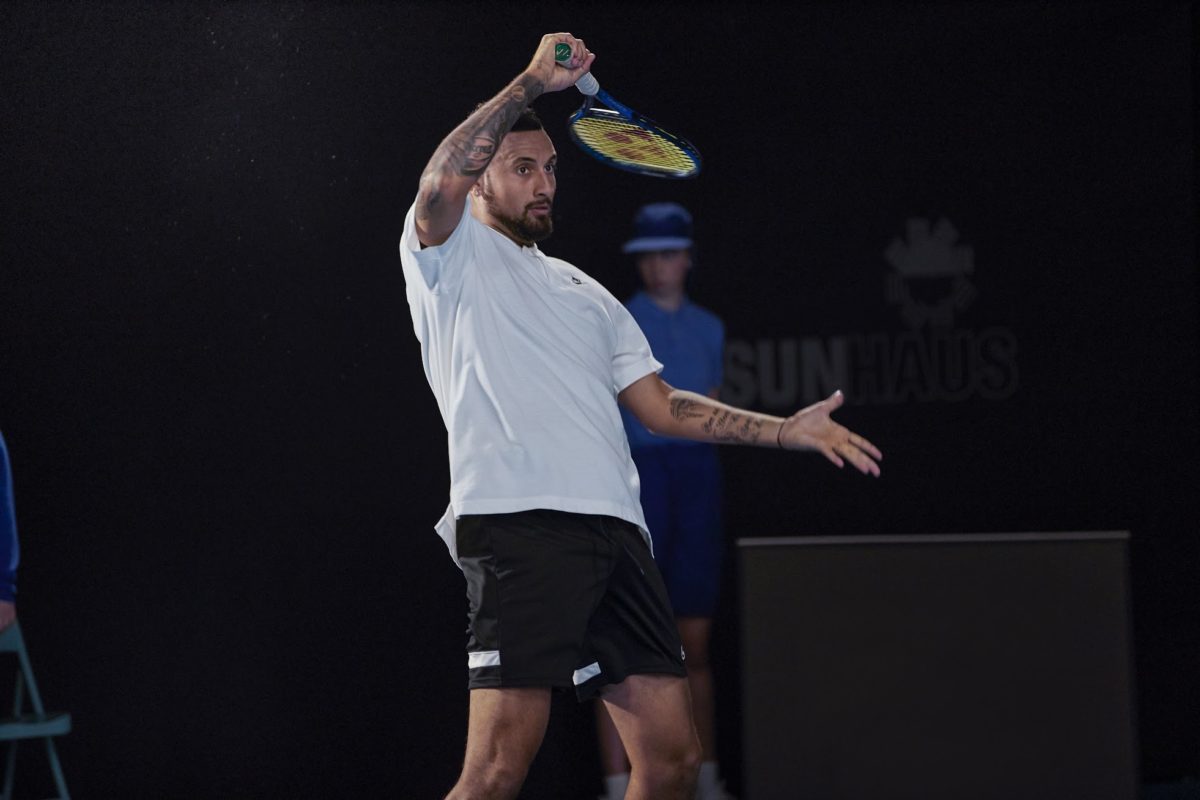 The local basketball court wasn't our pre-arranged meeting spot, either.
A chaotic mess of COVID-19 testing turnarounds and strict entry requirements for Fox Studios meant that our scheduled on-set interview with Nick earlier that afternoon never happened.
Now, after hours, he was doing us a favour, and we were pulling the man away from his biggest passion in life. I was hesitant that it might get him off-side for what was meant to be a casual, quick-fire interview for Boss Hunting's Instagram. But as we've come to realise with Nick Kyrgios, what you might expect is rarely what you get. Catching him in his element actually brought out his best.
---
---
With an eager bench eventually relinquishing his on-court duties, the man was basically swimming in his own sweat as he walked over and threw out a hand for some pleasantries.
"Hey fellas, how's it going? How long is this going to take?"
The question wasn't barbed, but rather very matter-of-fact. We could sense his eagerness; keen to return to the scrimmage and the three-point line.
Any casual tennis fan knows Nick Kyrgios doesn't beat around the bush at the best of times. It's a trait I personally think should be welcomed more in all layers of society, particularly sport.
His reputation certainly precedes him, there's no doubt about that. On a good day, the 26-year-old with half a dozen career titles to his name and a serve one can only lust over will wipe the court against pretty much anyone in the game. He's only the third player in history after Dominik Hrbatý and fellow Aussie Lleyton Hewitt to have beaten Roger Federer, Rafael Nadal and Novak Djokovic the first time he played each of them.
He's also had a stack of fines handed to him that'd be worth more than most people's mortgages for everything from smashing rackets in rage to lashing out at linesman. On one occasion, for example, at the 2016 Australian Open in which he was booked for swearing, it definitely didn't help his case that he also took a phone call on court during a mixed doubles match.
He's talented but mercurial. Shows spates of brilliance but is clearly conflicted. Not to mention brash and unfiltered in his delivery. But the best part? He'd be the first person to confess to all of the above and make no apologies for any of them.
---
---
At the time of chatting, Nick's subsequent positive COVID-19 result and the shambolic Djokovic saga are yet to materialise. The two events more or less coincide, and as debate ramps up, I was intrigued to hear that Djokovic found an unlikely ally in the Australian after a history of jousts between them, both on and off the court.
Has he indeed grown up, or have we just grown to love him that little bit more? I'd argue it's both a little of column A and a little of column B.
At the crux of it all, it's safe to assume that Nick Kyrgios is just misunderstood, at the very least in his more recent years. The humility and honesty we experienced are difficult to grasp by the casual punter who, more often than not, just sees a loud Aussie bloke who doesn't give a fuck. Either that or their mind has already been made up, which based on his tempestuous career as a whole, is entirely fair enough.
When we presented the option of scanning the questions quickly before rolling the camera, Kyrgios cooly and calmly replies,
"Nah, I'm good just on the spot." And he's not wrong.
He goes on to tell us that "fame is a joke", he "doesn't watch TV" and when offered the ultimatum of Steph Curry or Ray Allen, he doesn't hold back on the latter, declaring that "Ray-Ray's a fucking traitor bro."
Is he ready for the Australian Open? He shrugs off the question with nonchalance like it'll just be another day at office – no recycled media spin to be found here.

"As ready as I'll ever be."
---
---
Dancing the line between recklessness and authenticity is the ace up Kyrgios' sleeve that makes him one of sport's most compelling personalities to watch both on and off the court, and the same can be said for his ensemble of UberEats adverts for the 2022 AO.
They both just get better as the years go on.
Watch our half-time tête-à-tête with Nick Kyrgios below, comment on the post to enter the giveaway, and then decide Nick's fate yourself in his latest work for UberEats by scanning the QR code on screen. We'd recommend choosing the chocolates.