Yesterday, the 1st-ranked Duke played the 8th-ranked North Carolina in what was hyped to be one of the hottest college basketball games of the season. But most of the action took place off-court.
Obama's Bomber Jacket
Two full years since Baz-man handed over the big job and he's still arguably the most watched American politician no longer in the game. Politics aside, you have to admire the guy, as he is the undisputed unofficial king of dad-wear – a title which was reconfirmed by rocking this bomber jacket with '44' stitched on to the arm.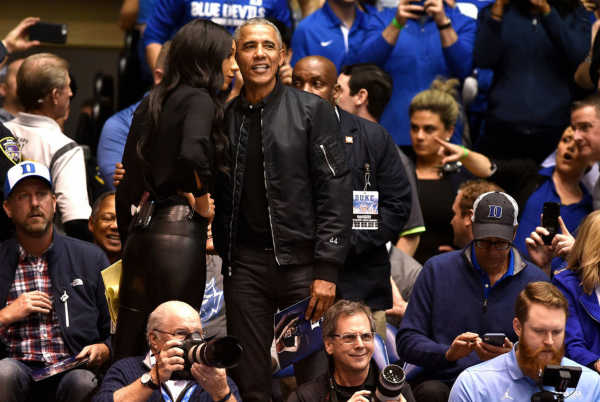 For those of you who have been comatose for the past 10 years, the 44 is a reference to Obama's term as the 44th President of the United States. American GQ confirms that the jacket was made and embroidered by Rag & Bone and is valued at around $837*. The jacket is spot on for an ex-president sporty dad, with its clear military influence and perfect levels of daggy-ness.
---
---
Although the bomber jacket probably didn't deserve the absolute bonkers reaction it received from social media, it's at least worth a nod.
RELATED: 'The Coolest Autumn Jackets For The Transitional Months'
Zion Williams Breaks A Shoe; Nike Stocks Plummet
Can you believe that the most entertaining thing that happened on the court was in the first 33 seconds of game time for Zion Williams? The 18-year-old, who is projected to be the number one draft pick and the 'next Lebron James', put a foot through one of his Nike PG 2.5's – resulting in a knee injury for Williams and the loss of a star player for Duke. While this wasn't really Nike's fault, as such a big fella weighing 275 pounds probably should have been in LeBrons or similar, fans quickly looked for blame, which was eventually aimed squarely at Nike. The result? A cruel 1% fall in their stock prices, equal to about $1.5 billion AUD.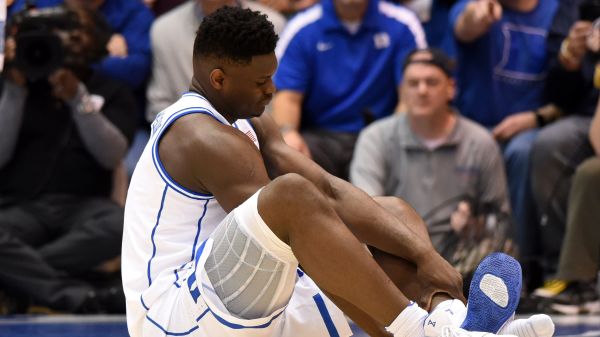 As Williams and his supporters question whether he should stay in college or head directly to the big leagues before he gets seriously injured, Nike is trying to figure out how to put out this metaphorical marketing and manufacturing maelstrom.
Ticket Prices Hit Super Bowl-level Highs
Supply and demand, my friend. This game was a dream situation for ticket sellers due to the fact that the Duke vs. North Carolina is one of the hottest topics in college basketball right now. Add a few famous faces (we've already mentioned Obama) and college's most entertaining player Zion Williams and pretty soon everyone's dying to be there.
According to a Forbes article, ticket prices were selling for an average of about $5,700 AUD on the Tuesday night before the game from ticket reseller StubHub. Unfortunately for these not-so-poor shmucks, Zion Williams blew out the aforementioned shoe just moments after the game began. At least they got a front row seat to witness Obama's rockin' jacket.
The score was 88-72 to North Carolina and was – on most accounts – a pretty boring game.
---
---
It was a crazy night elsewhere for college basketball
Just when the last few days of college ball couldn't get any crazier, a separate incident in the dying seconds of the Georgia vs. Mississippi State game caused some similar controversy.
With less than a second remaining, Mississippi State's Quinndary Weatherspoon was at the free-throw line trying to put his team ahead but missed the shot when a stuffed teddy bear came flying in behind him. You read that right.
Coach Ben Howland and the Mississippi State bench pleaded for a technical foul as a result of the uninvited furry friend, which was awarded to Georgia resulting in Weatherspoon getting the chance for a do-over. He made the free throw and put his team one point ahead to eventually give them the win. Bonkers.
With 0.5 seconds to play in a tie game, a fan tossed a stuffed animal onto the court in Georgia.

The Bulldogs were assessed a technical foul. Mississippi St made the FT, and won the game. Wow 🤭 pic.twitter.com/7PNheymQrp

— SportsCenter (@SportsCenter) February 21, 2019