The phrase "hard work beats talent" is an interesting one, because it suggests you'll only ever have one or the other. For the most part, that holds up to be true, but very rarely, someone is born with ample lashings of both coveted traits, which fuse together in a double helix of championship DNA. Dylan Alcott is one of those rare people, winning Paralympic medals across two sports, founding multiple disability advocacy organisations and winning all four tennis Grand Slams in a single year.
Over the course of his sporting career, Alcott has amassed more silverware than most sovereign states. He first represented Australia in wheelchair basketball at the age of 15, and went on to play at the Beijing Olympics just two years later, where Australia won gold.
At the 2012 London Olympics four years later, Alcott was on the team again, where the Australian team left with the silver medal in the bag. He retired from wheelchair basketball the following year, believing his time as a professional athlete would come to an end, but some talents just need to be explored, and Alcott quickly returned to his childhood sport of tennis.
---
---
RELATED: Dylan Alcott Achieves Historic Golden Slam After Winning US Open
It was in 2014 that Alcott returned to the tennis court, winning the Australian Open Singles Championship for the first time the following year. Since his first Grand Slam win in 2015, Alcott hasn't lost a single Australian Open Singles Championship.
In fact, over the last seven years of his career, Alcott has won 15 Grand Slams playing singles and another eight Grand Slams playing doubles, with some pretty incredible numbers behind those victories. His current singles results stand at 240 wins and just 54 losses (81.6% win rate), while his career doubles results are 106 wins and 44 losses (70.7% win rate). He's just that good.
While Dylan Alcott is one of the most successful Australian athletes of all time, he somehow still finds the time for more. He founded the Dylan Alcott Foundation in 2017, which works to build the self-esteem of young Australians with disabilities, and the year after launched the Ability Fest music festival, which aims to make live music more accessible for everyone.
In 2021, Alcott became the first person to ever win the men's wheelchair tennis Golden Slam, after he won all four Grand Slams in a single year. After winning the fourth Grand Slam at the US Open, he announced his retirement from tennis, promising he would play a final tournament at the Australian Open this year.
---
---
I was lucky enough to sit down for an interview with Dylan this week, ahead of his final Australian Open, to chat about winning the Golden Slam, his retirement and more.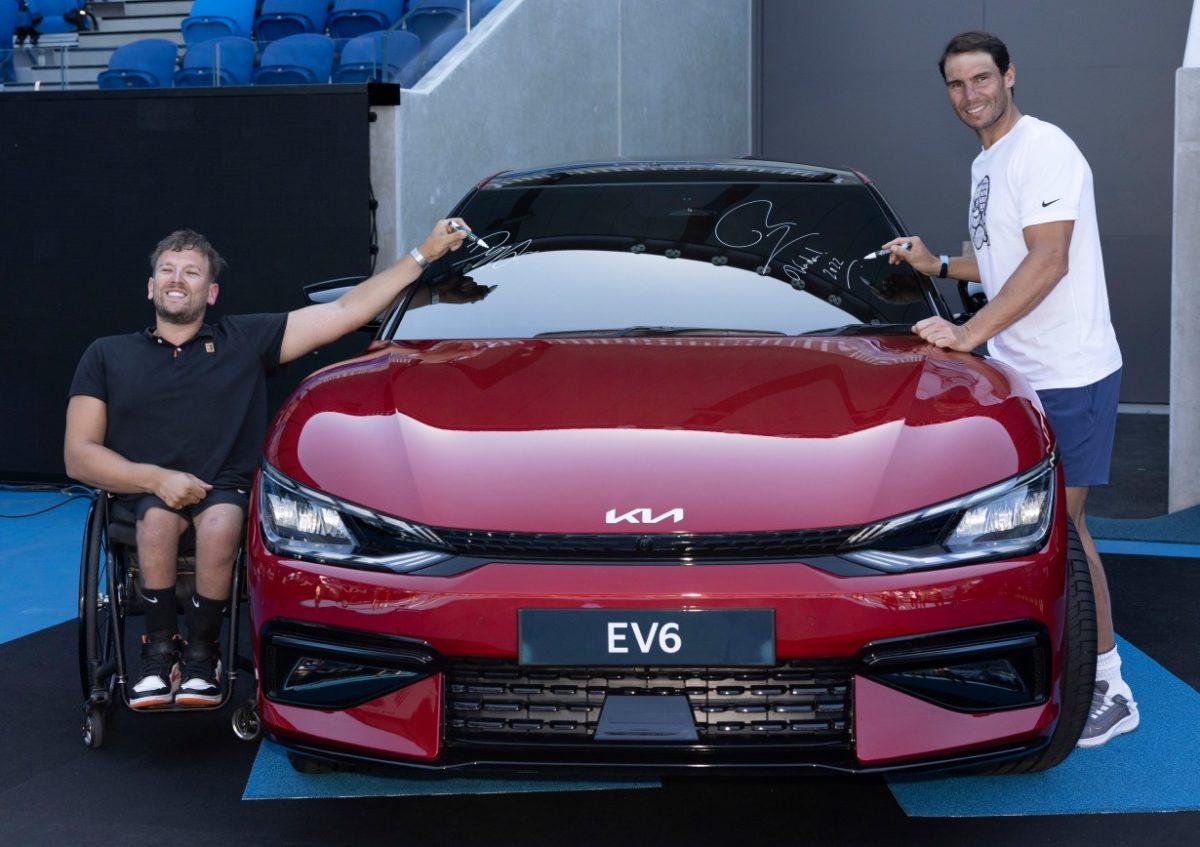 The last 12 months have been pretty massive for you, winning the Golden Slam and announcing your retirement from tennis. Could you talk us through what the last year has been like on a personal level and how it compares to other moments in your career?
It was incredible. It was almost as cool as when I first got on Boss Hunting, back in 2015 when I was crown surfing in my wheelchair. But, if you'd asked me that (a Golden Slam) was a possibility when I came back playing tennis in 2013… I mean, are you joking? I didn't even know what the golden slam was!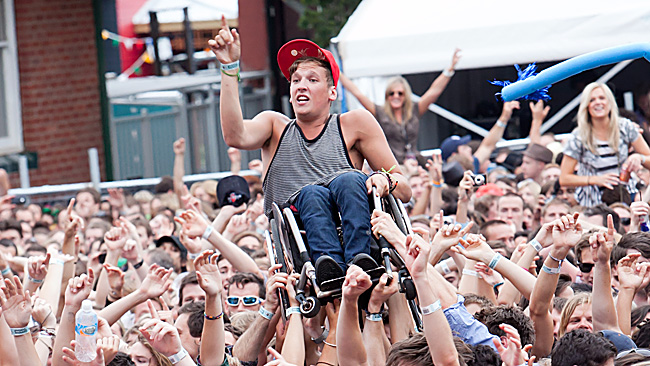 I'm really grateful for the fact that I got to go overseas and do my job last year. If you'd asked me in 2020, "Would you win the Golden Slam?" I would have said, "Mate, we're not even going to play tennis. It's not happening." So I think I really just felt lucky that we were even playing. I think that took a bit of the pressure off, so I just really enjoyed it.
I also sneakily knew I was never going to go back to the Paralympic games. I didn't know if I was going to fully retire, but I knew I wasn't going to do another Paralympics, because I didn't have another three years in me. So when I won the Golden Slam, I took a moment to just really enjoy it. When I won the gold in Rio, I don't even remember the ceremony, because I was just relieved I didn't lose.
So to actually suck it in and enjoy it, that was probably the biggest lesson that I learned in 2021. Enjoy the moment for when it happens, because you never know if it's going to be your last. I really did that.
What led to the decision to retire after the Australian Open? Are you at the top of your game and you've achieved everything you want to in the sport?
When I retired from basketball in 2012, I thought I was retiring from sports in general, but then I became a tennis player. I've been a full-time professional athlete since I was 14 years old, which is a long time. But, if you're going to do this, you're all in, right? If you start not going "all in", one, you are going to lose. And two, you're not going to be the best version of yourself.
I also couldn't retire at the US open because it's not my home. The Australian Open is my home, where I train every day. The Australian people have got around me so incredibly well, I wanted to do it here. Another reason to retire was I don't want to be getting injured. I'm getting a bit older. I'm not old, but I feel a bit washed up, at 31.
---
---
I want to do other things, like the work we do at the Dylan Alcott Foundation, which I love. At the moment, I don't have enough time to do it. I've also got a consulting firm where we educate governments and corporates about disability called GSA. I want to do a bit of acting, I want to do a bunch of different stuff. I can't keep spinning all these plates.
I also hog the limelight a bit, and I don't want to do that. I want people to know other athletes with disabilities, so I'm just really excited. I think it's the right time, and I won't be doing a John Farnham tour, coming back every year. This is it.
Kia has been a key player in the Australian Open for two decades now, and this year they're going electric! How important do you think it is for brands associated with the Australian Open to be more environmentally friendly?
I think it's really important to align yourself with organizations and sponsors who, pardon my French, really give a shit about things that you believe in too. So first and foremost, one thing I love about Kia is they really got behind my ethos, they support the Dylan Alcott Foundation, and they support Ability Fair. They're really keen on accessibility in terms of their cars, but also in their workplaces. So that's really important to me.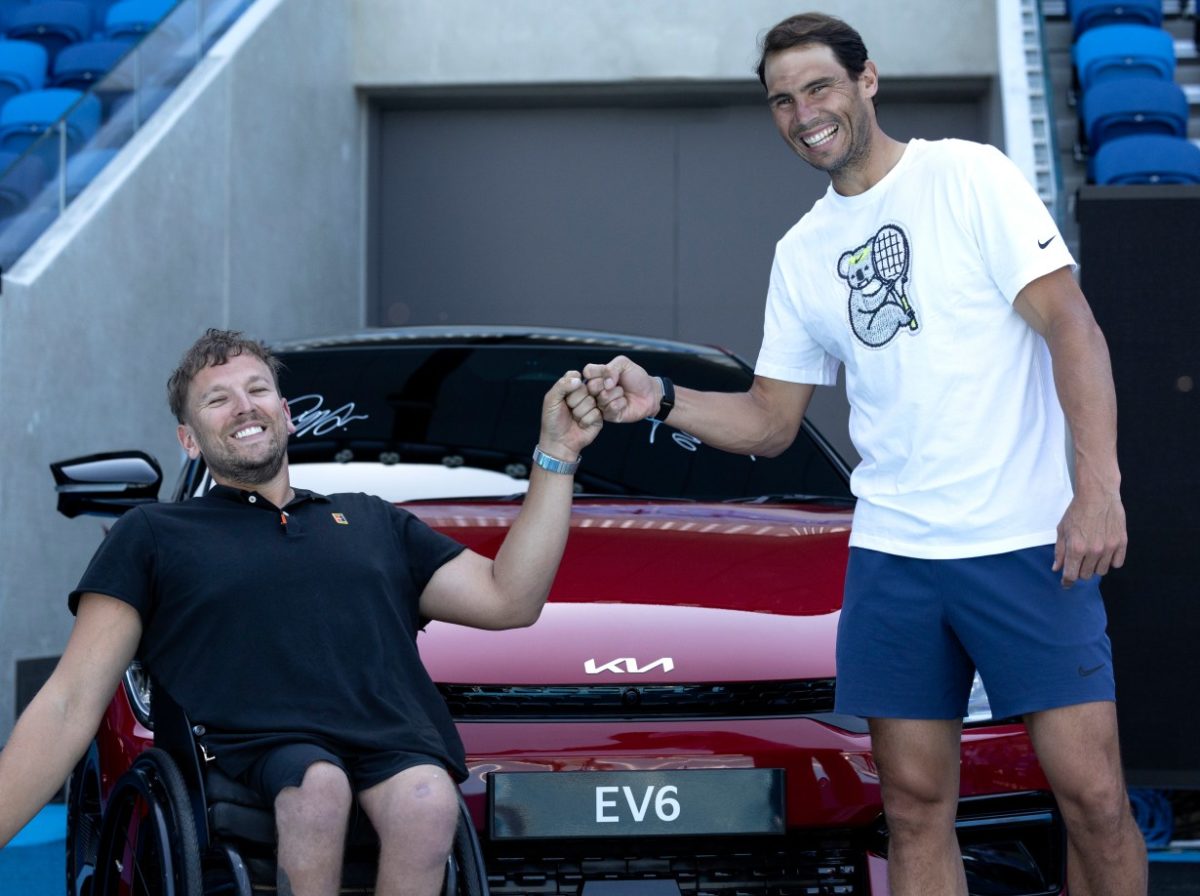 I personally think it's very important to be environmentally friendly and look after the planet, not only for our current generation, but for our kids. I also reckon it's awesome that they've got the new EV6 as a part of the fleet of drivers for the Australian Open this year. I'm really happy that they chose me to be involved, especially as they've got this other ambassador called Rafael Nadal. Haven't heard of him, but he's supposed to be pretty good.
Between your own Kia and getting to and from tennis games over the years, you've probably spent more time in Kia's than most Kia owners – who's the coolest person you've ever shared a Kia with during the Australian Open?
I've had some pretty big people in my car! Well, I've had Rafa. Rafa's pretty big. I think the coolest person I've had was my girlfriend, Chantelle, and my dog Sauce. Obviously, I have to say that.
As well as those two, I've had Peking duck in there. I've had Dom Dolla, I've had Flight Facilities, Benson has been in my car, heaps of people!
---
---
You were just named as the Victorian Finalist for Australian Of The Year for 2022, in part because of the work you've put into the Dylan Alcott Foundation and AbilityFest – what would it mean to you if you were Australian Of The Year?
Well, firstly, it felt ridiculous to win the Victorian Australian of the Year. I couldn't believe it. People like you call me an advocate, but I don't try and be an advocate, I just be me. I talk about things I'm passionate about, and it's just really humbling that people buy into it and want to learn about disability.
There are four and a half million people in Australia that have some form of disability, one in five people. I've got to use my platform to shine a light on that, and help get others opportunities, in employment, in education, in their personal lives, and beyond.
One of the crazy things when I first started playing tennis, was I went to a tennis tournament just outside of Albury. Do you know what the most amazing thing about that tennis tournament was? I didn't know you could drive a car when you were in a wheelchair with hand controls, I didn't know that back then.
Today, people still ask, "Do you drive a car?" and I'm like, "Man, I drive a car like you." But they just don't know, because disability hasn't been mainstream conversation and I think that's what I'm all about changing. Am I going to be Australian of the Year? Absolutely not. No way. Zero chance, in my opinion.
This is set to be your last major tennis tournament – what are you hoping to achieve at this Australian Open?
My best mate, Tim, asked me this other day, "How're you feeling? Pressure? Nervous?" And I go, "You know what? I'm pumped!"
I can see the finish line and I've got no regrets. I'm ready, I'm enjoying it, and I'm just genuinely trying to suck it all in. It's more a celebration, win, lose or draw, I think. I'm just going to go out there and enjoy it and hopefully get the job done for everyone.
You know, I'm just so grateful that when I first played the Australian Open, there was four people there and three of them were my family. Now, we're packing stadiums.
---
---
Apart from yourself, who else should we be paying attention to in this Australian Open?
I'll tell you what, I'm on Aussie watch, this Australian Open. I think there are a few young Aussies, obviously the legend Ash Barty, being one of them.
It's been a tough year last year, because we had to go away and stay away thanks to quarantine. We all really struggled at the end of the year, but we've all been at home, revitalized and we are ready to go. So I think, really watch all the Aussies out there.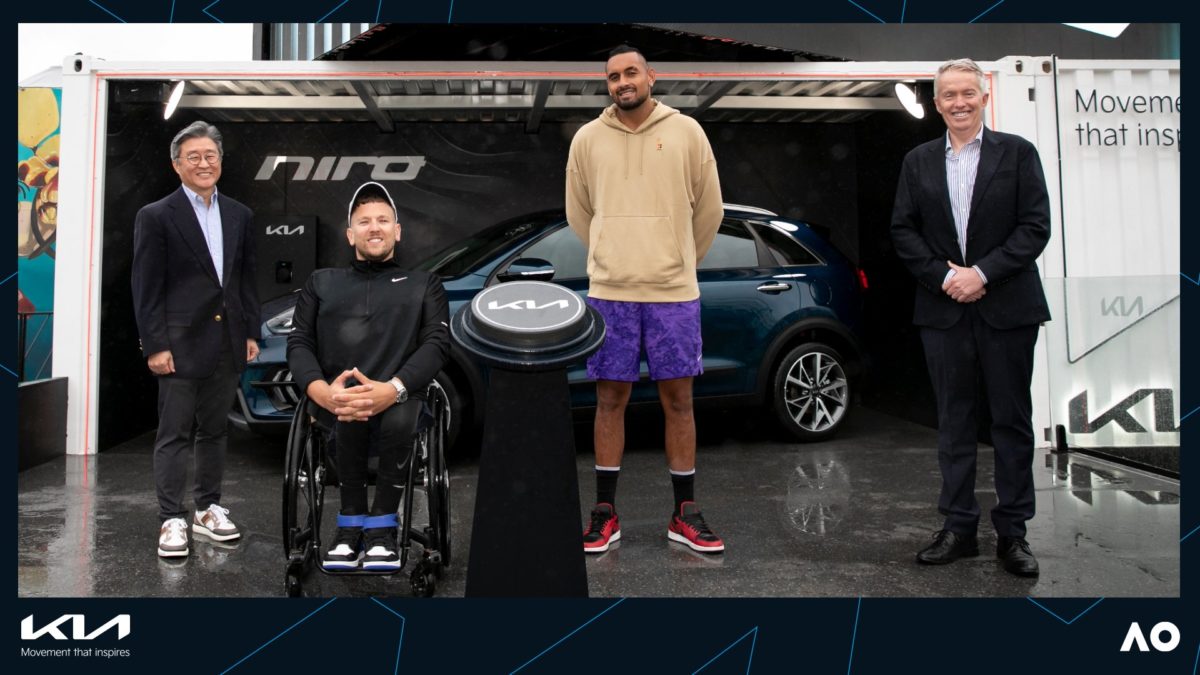 Apart from that, and I'm not just saying this because he's a Kia ambassador, but my main man, Rafa is one to watch too. If he could go 21 would be pretty special as well. There are just lots of good stories, and that annoying wheelchair tennis guy, who's trying to go 16 Grand Slams on his last one.
I imagine you've had a pretty packed schedule as a professional athlete for the last decade and a half, so what have you got planned after the Australian Open and beyond?
Well, I'm due for holiday, that's for sure, I want to have a couple of beers and live my life! I'm spinning a lot of plates at the moment and I'm looking forward to just having a bit more time to myself to focus on what I want to do next. As I said, I've just got a "get shit done" attitude. When I want to do something, I just do it, because there's always a way to do it.
I actually want to try a bit of acting, and I'm in the process of creating a documentary as well. I want to write a script, but also just keep doing things that are associated with my purpose. My purpose isn't winning tennis tournaments and never has been. It's changing perceptions, so people with disability can live the lives they deserve to live. That's the only reason I get out of bed.
So whatever I do, it'll be doing that. Whether it's working in the media or our foundation, whatever it is, mate, that's why I do what I do. That keeps me motivated, and it keeps me happy. I'm looking forward to the next chapter, that's for sure.