The Formula 1 gods are once again smiling upon George Russell after Williams Racing's star talent pushed ahead of defending world champion, Sir Lewis Hamilton, to secure P2 during a chaotic Belgian Grand Prix qualifying event.
Pre-emptive calls for a red flag from Aston Martin's Seb Vettel were ignored; though it wouldn't be long before the occasion copped a red flag anyways after a wet weather-related incident. McLaren's Lando Norris – who had been the fastest driver in both Q1 and Q2 – spun out and planted straight into the barrier at Eau Rouge, effectively wrecking his MCL35M.
The restart, however, proved extremely fortuitous for everyone aside from young Norris (including his struggling teammate, Daniel Ricciardo, who ended the day in P4). As expected, Red Bull's Max Verstappen was once again in contention for pole position against Lewis Hamilton, before Mr Saturday himself, George Russell, got right up front with the big boys.

RELATED: How Fast Is Deadly? A Short Physics Lesson From Max Verstappen's 51G Crash At Silverstone
---
---
At one stage, there was a nail-biting moment when Russell had not only been a tenth of a second ahead of Hamilton – but was also on track for P1 glory. That was until Verstappen absolutely floored it across the finish line, denying Russell by a heartbreakingly slim margin: three-tenths of a second.
George Russell has been in the form of his life this season, consistently elbowing his way up the grid on race day to varying degrees of success, and actually racking up some points for Williams. His performance throughout 2021 has only strengthened the case for his promotion to Mercedes.
Just a month prior, Australian Formula 1 legend Mark Webber confidently stated George Russell would finally be joining Lewis Hamilton at Mercedes in 2022.
"Going up against Lewis is going to be extremely challenging," Mark Webber told Nine's Wide World of Sports.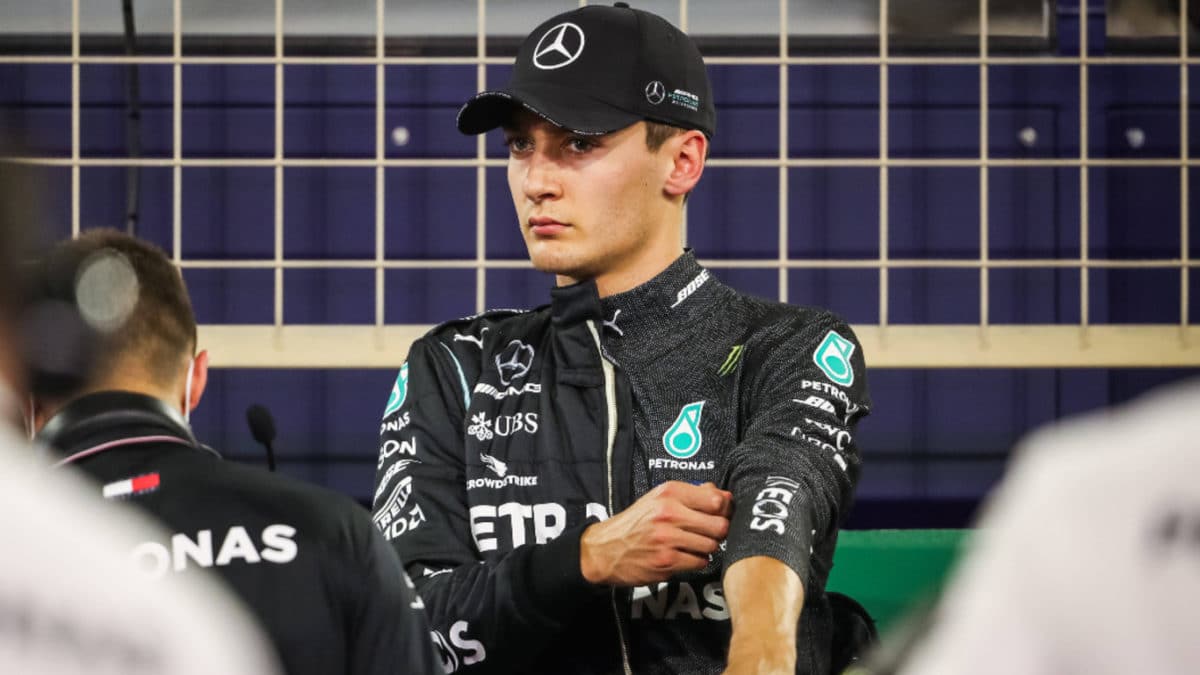 "But George has nearly 50 races under his belt now, so he's ready for it. Lewis went straight in at the front of the grid when he started, which just shows you the calibre of Lewis. Only the very special drivers can do that. 99% of guys need some races to get used to the idea of running at the front."

"George is ready for it, but it's a different thing to qualifying well in sub-par machinery and doing well when there's little pressure on you."
Prior to the current season, George Russell had what was perhaps the greatest audition for Mercedes possible. The emerging motorsport talent briefly replaced Lewis Hamilton at the 2020 Sakhir Grand Prix in tremendous fashion. Narrowly missing pole position during qualifiers to start in second place (deja vu, we know), Russell was 20 laps away from earning his maiden F1 victory… until an egregious pit stop error cost him the W, eventually relegating him to P9.
RELATED: Porsche Is Reportedly Considering A Return To Formula 1
---
---
Like we've mentioned before, the stars might not have aligned on that particular occasion, but they ostensibly have this time around. As Russell's three-year contract with Williams is about to conclude, Valtteri Bottas finds his head on the chopping block due to what has uniformly been deemed a lacklustre season thus far.
While his teammate is currently locked in a close title fight with Max Verstappen, eeking first place in the driver standings after a run of extremely bad luck for the latter, Bottas sits at 4th place in the F1 Championship Standings – trailing behind McLaren's considerably less experienced Lando Norris with 113 points (despite piloting one of the grid's quickest set of wheels).
Fingers crossed George Russell manages to pull out some more racing magic from his nifty bag o'tricks when lights go out for the Belgian Grand Prix tonight.
Belgian Grand Prix Qualifying Results
Max Verstappen (Red Bull): 1:59.765
George Russelll (Williams): +0.321
Lewis Hamilton (Mercedes): +0.334
Daniel Ricciardo (McLaren): 1.099
Sebastian Vettel (Aston Martin): +1.170
Pierre Gasly (AlphaTauri): +1.399
Sergio Perez (Red Bull): +2.347
Valtteri Bottas (Mercedes): +2.737
Esteban Ocon (Alpine): +3.748
Lando Norris (McLaren): No Time
Charles Leclerc (Ferrari)
Nicholas Latifi (Williams)
Carlos Sainz (Ferrari)
Fernando Alonso (Alpine)
Lance Stroll (Aston Martin)
Antonio Giovinazzi (Alfa Romeo)
Yuki Tsunoda (AlphaTauri)
Mick Schumacher (Haas)
Kimi Raikkonen (Alfa Romeo)
Nikita Mazepin (Haas)