If you're down at the Australian GP in Melbourne this weekend you might want to pop by the Versor Tech Hub near Gate 10. What you'll find there is an incredibly unique lifesized LEGO McLaren Formula 1 race car, part of the ongoing collaboration between LEGO Australia and McLaren Racing to celebrate the F1 with no less than 288,315 bricks and a hefty investment of 1,893 hours of labour from a crack team of 27 builders led by LEGO Masters Australia judge Ryan 'Brickman' McNaught.
The blocky McLaren has been so painstakingly detailed that it can even fit a real F1 driver in the driver's seat, hence that photo of Daniel Ricciardo joyfully pretend-driving the LEGO build. And although while it's unlikely to spend any time on the track, the LEGO McLaren car includes a number of mechanical features like moving pistons for the V6 cylinder engine, actual steering from the cockpit, suspension and a locking differential with a removable halo.
No doubt this also serves as a nice little promotion for the more reasonably-sized LEGO McLaren F1 race car kit, which was released recently and retails for $279 with 1,432 pieces. Its beastly lifesize version measures 5.7-metres long and 2.4-metres wide, which is about nine times the size of the collectible kit.
---
---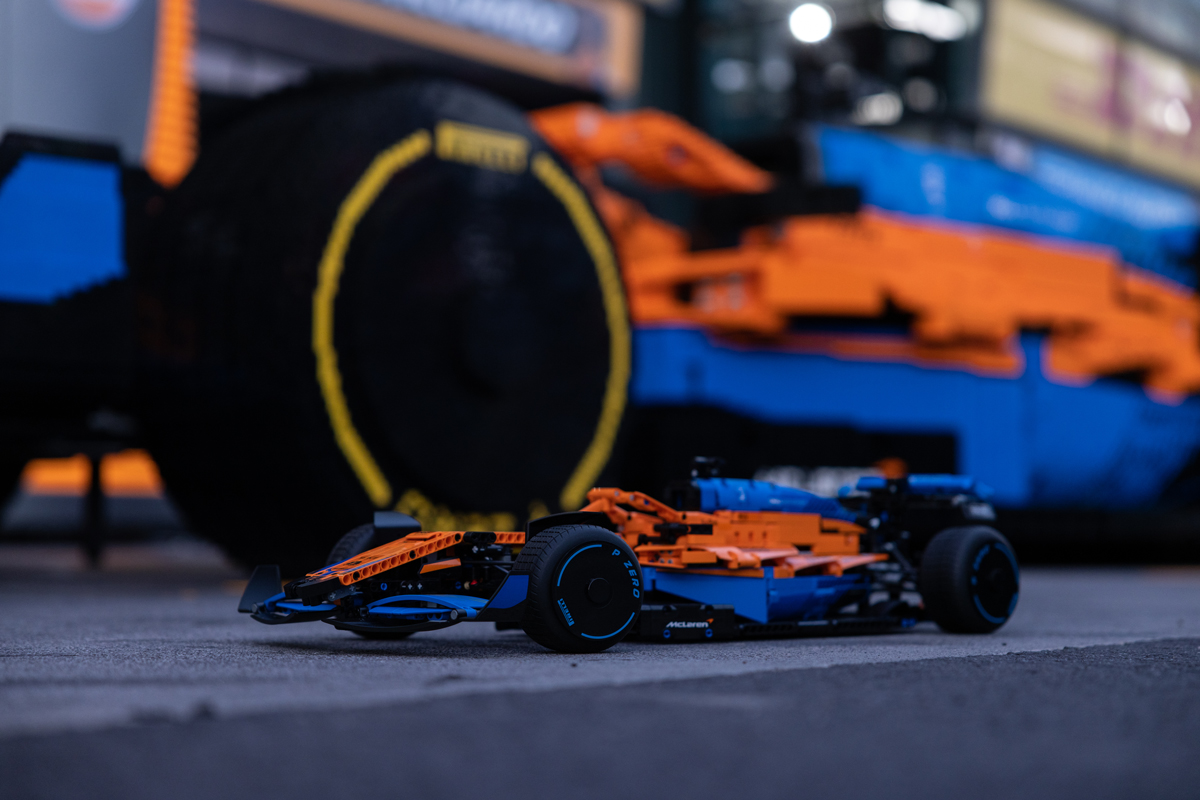 Hitting the Albert Park Circuit to mark the start of the 2022 Australian Grand Prix, the LEGO McLaren car, which is decked out in the Australian F1 team's orange and blue papaya livery, was almost immediately commandeered by Daniel Ricciardo and Lando Norris, kickstarting the race with a bit of kidult charm while onlookers gathered.
"The partnership between the LEGO Group and McLaren continuously develops each time we get together for the next collaboration," said the head of product at LEGO Technic, Niels Henrik Horsted.
"We never stop trying to excite and inspire our fans by pushing the limits of possibility through the technology and designs produced, both on the racetrack and with LEGO building.:
Anyone heading to Albert Park in Melbourne for the Australian Grand Prix this weekend can visit the LEGO McLaren Formula 1 Race Car given it'll be trackside for the duration of the race. For those not in Melbourne, however, you'll have to contend with the smaller version which has just been restocked by LEGO Technic after a swift sell-out.