Floyd Mayweather Jr. beat Manny Pacquiao in Las Vegas last night via unanimous decision, retaining his unbeaten record in the 'Fight of the Century'.
Mayweather landed 148 of his 435 punches, while Pacquiao landed 81 of his 429 total punches. One ringside judge scored 118-110 toward Mayweather, and the two others each scored 116-112 in the boxer's favor.
The five-weight world champion is now undefeated in 48 professional fights, stretching back 19 years.
Six-weight world champion Pacquiao, 36, falls to 57 wins, six losses and two draws.
The 38 year old American started out strong and later withstood some very aggressive counter punches from the Filipino southpaw in the final rounds.
Though Pacquiao repeatedly forced Mayweather to backpedal, the wily American blunted his opponent's best efforts by using his renowned defensive skills while getting in several telling jabs and punches of his own.
Manny Pacquiao: " It was a good fight. I got him many times I saw the punches. I thought I won the fight. He is moving around, it is not easy to throw a lot of punches. I can handle his power. He is not strong like some others. He's not bigger than me, the size doesn't matter, I have fought bigger guys."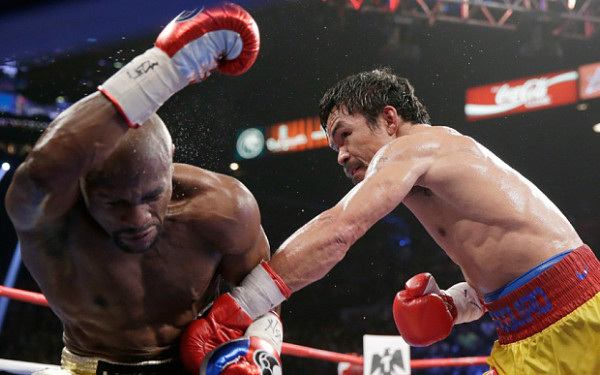 Floyd Mayweather Jr: "First off, I want to thank God. I want to thank all the fans around the world. This was a hell of a fight. I take my hat off to Manny Pacquiao, now I see why he is one of the guys at the pinacle of boxing. I am truly blessed. Manny Pacquaio is truly blessed. I am a calculating fighter. He is a tough competitor. I had to take my time with him. My last fight is in September."
With ringside seats commanding six-figure sums on the resale market even the very wealthy and very famous were forced to call in favors to secure a golden ticket while an estimated 150,000 to 200,000 fight fans flooded into the desert gambling capital to be part of the buzz.
The fight is expected to make Mayweather potentially $180 million and Pacquiao $120 million, depending on pay-per-view sales.