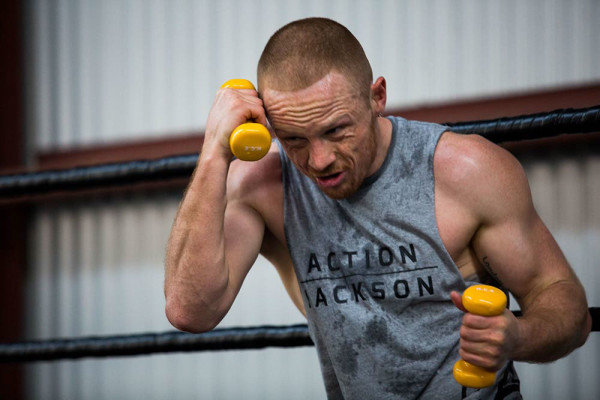 Chances are that following the mayhem of the Mayweather vs. McGregor Money Fight, whilst at the gym you may have been inspired to wander over to the boxing bag and throw a few punches (and possibly the occasional fly kick).
All jokes aside, (when done correctly) boxing is perhaps one of the most beneficial forms of exercise when it comes to a complete, full-body workout. That's why we've enlisted the help of professional boxer, Luke 'Action' Jackson, to put together a proper lunchtime workout to get you fighting fit (no fly kicks permitted).
Luke Jackson is a man on a mission. After winning bronze at the 2006 Commonwealth Games and captaining the 2012 London Olympics boxing team, Jackson decided to turn pro in 2013. Since then, Jackson has been on the hunt and is now the Australian, WBA Oceania & WBO Oriental Champion, boasting a professional record of 14-0 with 6 KOs.
---
---
Jackson is now chasing his dream of becoming World Champion and is looking to bring the undefeated world champion, Oscar Valdez, to his home town of Hobart for a featherweight title fight. But first, Jackson has a date with Humberto de Santiago on September 16 at the Hobart City Hall, where he will defend his WBO Oriental featherweight belt.
Jackson is already passing on his insane work ethic via personal training programs at his very own Action Fitness Centre, but he has also kindly provided us with his favourite lunch hour workout to help break up your work day. Check it out:
Workout (Boxing):
10 min skipping: As a beginner, this is simply trying to skip as long as you can without breaking. To test your focus, you can do a burpee as a punishment for each break. If you're a competent skipper, get those double-unders happening!
3×3 min shadow boxing with hand weights 1kg: For beginners, focus on hands coming back to your face and keeping the combinations simple. As you develop you'll move more on your feet and start mixing up the combos.
3×3 min bag work: Bag work can be one of the most intense boxing training routines if you push yourself. Again, as a beginner focus on good punches and bringing your hands back to your face with simple combos. As you become confident, let go and make those punches hard and fast.
3×3 min tennis ball work: For this exercise, you need a tennis ball attached to elastic on a cap (see video below). Keeping the ball moving with straight punches is not only great for hand-eye coordination, but it is also mentally challenging as you need to focus for the whole round.
What is it about this workout that you like?
I love this type of training because it's YOU vs. YOU. We all love group training and getting motivation from others but there is nothing more satisfying than testing yourself against your personal limits and knowing that you can work hard and achieve new levels on your own. You get out what you put in and if you work hard you'll get great results. I've been boxing for 15 years and I still learn new things everyday that keep me going back for more.
Can you offer any variations on this workout for beginners?
Anyone and everyone can do this workout. All of the aspects have some technique components, but even without formal boxing training doing these four components at beginner level will test your heart rate and build muscle. Beginners can shorten the time limits (i.e. 2 x 2 minute).
What is this workout good for?
It works everything, lungs, arms, legs, core and your mental agility. If you push yourself in this type of training you will get fit and lose weight doing so. As we know, exercise is great for your mental health and as I suffer from mental health issues I find boxing and any sort of fitness training helps me a lot.
What you should be focusing on:
---
---
My focus is on good technique – I remind myself continually during the workout to keep my hands up, punch hard, fast, and move on my feet a lot. Three minutes is a long time for this high intensity training so pace yourself and keep repeating the simple messages in your head. Most importantly, keep moving, work as hard as you can and have fun.
If you were in training, at what stage of that training would you be doing this workout?
I do a lot of this type of work through my 8 week training camp for a fight. Twice to three times a week, then maybe drop it back to once a week as I get closer to the fight to freshen up. This is the type of workout that you can do once or twice a week to support strength and conditioning training and is a very good way to get the heart rate up for those people that may have injuries that prevent them from running.