He's been all that anyone seems to want to talk about since being back home. Between hosting his own youth basketball camps and making public appearances with several hour-long lines forming just to get a glimpse, the Melbourne phenom has built quite the name for himself during his rookie season in the NBA. When presented with the opportunity to interview Josh Giddey, we sure had a lot to cover.
Why is Josh Giddey so popular? Is it due to frustrations with that other guy? Is it because he plays what LeBron described as "beautiful basketball"? Or is it his ability to capture the attention of younger fans with his personality on TikTok? Truth be told, it's probably a combination of all of these things and more.
The incredible 75th anniversary of the NBA this year presented the perfect opportunity to interview Josh Giddey on the history of Australians in basketball, as well as his own experience playing overseas. Having already recorded the four youngest triple-doubles in NBA history, there really wasn't a better man out there to ask.
---
---
RELATED: Josh Giddey Won't Win Rookie Of The Year (But He Probably Should)
It'll come as no surprise then, that the thing that immediately jumped out about Josh Giddey when sitting down for this interview is the ridiculous extent of his height. Anyone could tell you that 6'8″ is tall, but it really is something else when you see it in person. As he ducked his head through the human-sized door, it became so apparently clear that not just everyone gets to make it to the level he's at professionally.
He is also unapologetically an Aussie. The look on his face when he was asked about his ambitions of playing for the Australian Boomers in the Paris 2024 Olympics was enough to inspire confidence in anyone. We also got a chance to talk about his former career mowing lawns for $10, playing against his idols in the NBA, as well as who he least wanted to get into a punch-on with.
Josh Giddey Interview
Good to have you back in town, Josh. What have you been up to while you're here?
I mean, it's obviously been a busy schedule since I've been back. A lot of media stuff, running camps around the country. So doing a lot of things, interacting with different fans and stuff. So it's been fun. It's been busy, but I'm loving being home.
Whether it be getting blocked by Dwight Howard or posterised by LeBron, a lot of players have described their own "Welcome to the NBA" moment. Is there a particular play from your rookie season that stands out to you in this regard?
---
---
Damn, it was probably LeBron – in like my third or fourth game – he iso'd me on the wing. Was a lonely place to be, but probably guarding that guy in an isolation is probably my "Welcome to the League" moment.
Not that you were coming up against anyone like LeBron on the field, but do you feel like playing footy growing up prepared you for the physicality of the NBA in any way?
Yeah, I think it did, because physicality is a big part of it. Football has a lot of tackling, getting hit, and things like that. So it kind of toughens you up a bit and you get used to the contact. Obviously, there's not as much contact in basketball, but that physicality aspect of it, you don't really shy away from it because in footy there's so much contact and hitting, you get used to it.
Speaking of physical contact, in the earlier days of the NBA's incredible 75-year history fights were known to break out a lot more than they do today. That being said, who in today's game would you least want to get into a punch-on with?
There's a lot. Dennis Rodman would be one, Ben Wallace too, there are a lot of those guys. Back then the league was a lot more physical, they let a lot of stuff go. Fighting was a lot more common, but yeah, there's a lot of guys back in the 70s, 80s you wouldn't want to fight.
In today's game, do you have anyone?
God, today's game? Maybe someone like James Johnson. He's a scary guy.
You've said in the past that the Nike Dunks are your favourite shoe. Would a Josh Giddy colourway of Dunks be something of interest to you? What can we expect in the future with your shoe endorsement deal with Nike?
---
---
Hopefully, a signature shoe. I mean, that's the ultimate goal for a lot of players, so hopefully down the line a signature shoe. Right now, I'm happy wearing all Nike stuff. I always have all Nike, so really happy to be with them. And as I said, hopefully somewhere down the line, we can get that done.
I mean, I've noticed you wear a lot of Kobes. Would a signature shoe be that sort of low top kind of design?
Yeah. Have to be low top. I mean I never wore a high, so definitely keep it low.
What appeals about the low top?
I don't know. I really couldn't tell you because I never actually tried a high top, so I'm not too sure. Low tops just looked better to me in photos and on the feet, but I could be wrong.
Before the shoe endorsement days, you've said before that there was a time when you and your mate were mowing people's lawns for $10 to buy a Slurpee. If I may ask, how's the current lawn situation looking in Oklahoma?
We don't actually have a lawn in Oklahoma. We're in a townhome, so there's not really a backyard. But we used to walk around the neighbourhood with our lawn movers, offering $5, $10 to mow nature strips, backyards, front yards, stuff like that. So at the end of the day we usually split the profits, it was like $50 each after four hours. So hard work and not for a lot of money.
Going back to LeBron James briefly, he said that you are a "really, really, really good" player and that you played "beautiful basketball." Can you even put into words what it was like to hear that from the man?
---
---
Yeah, so it's special. Anytime someone like that – of his calibre – says something like that about you or even mentions your name it's special. And for me, LeBron was someone that I looked up to growing up. He was my idol, and role model, so to hear that come from him, it does mean a lot and has a lot of weight behind it.
Yeah, for sure. Would you say he's the greater player of all time?
I mean, I would, but it's up for debate.
With a lot of people calling into question the effectiveness of superteams recently, what do you feel are some of the advantages of building from the ground up with young talent and draft picks such as what you guys are doing at Oklahoma?
I think the big part is chemistry. I mean, look at the warriors, they've had their core group for so long and you can see how connected they are. I think that's what we're trying to build here. We've got all our young pieces together now, and hopefully, that chemistry keeps building and we keep getting better together. Hopefully, our team looks relatively similar going forward and, as I said, that chemistry will continue to get stronger and we'll continue to get better as a team.
Do any of the players on your team such as you, Shai Gilgeous-Alexander, Lu Dort, get much input in, or any input in Sam Presti's moves?
I mean, it's hard, Sam's one of the best in the business. Shai's an All-Star type of player, so I'm not sure what kind of conversations they have, but I've got a good relationship with both Sam and [Head Coach Mark Daigneault] and they're pretty open and honest about the situation that we're in as a franchise. As I said, Sam's one of the best in the business, so we put a lot of trust into him to make the right moves and call the shots.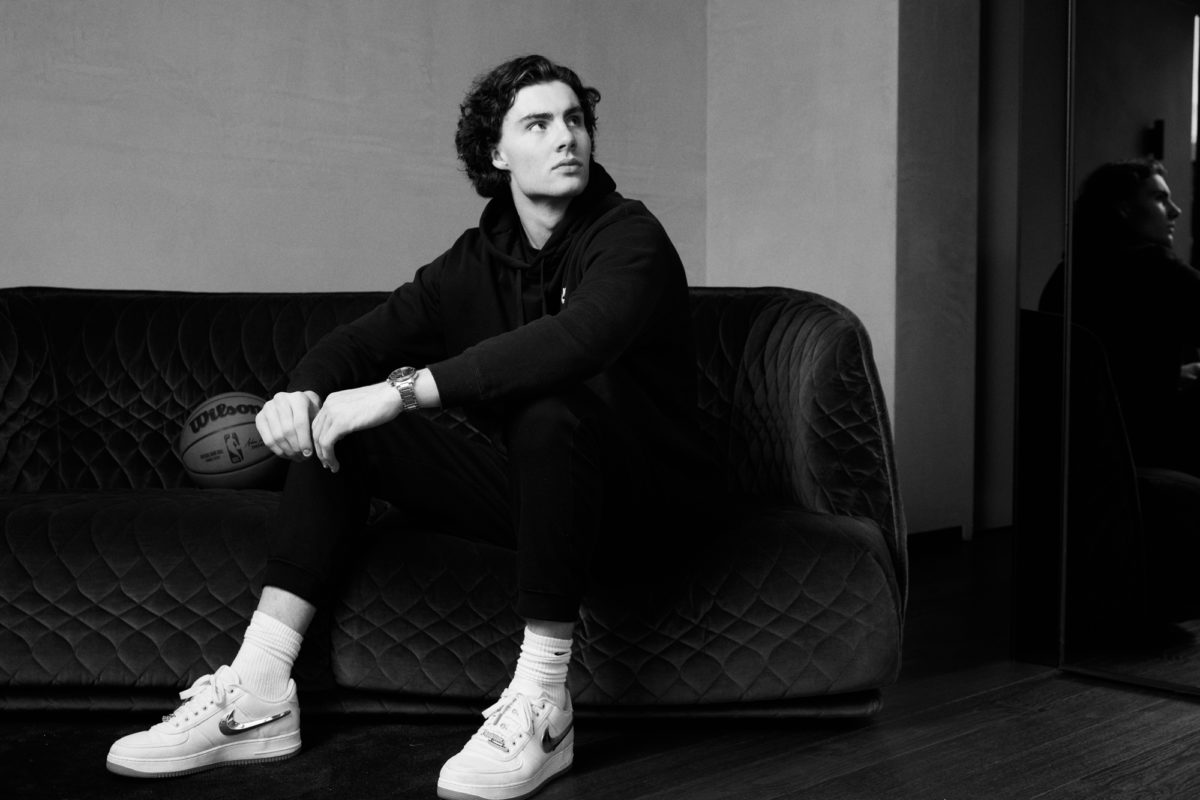 Luka Dončić always has some really interesting things to say about playing in Europe versus the NBA. Ages ago, he said it's easier to score in the NBA due to the things like the larger court and the defensive 3-seconds rule. Since both of those things are also true of the NBL, I was wondering what your own experience with these sorts of adjustments have been going overseas?
---
---
I think the 3-second rule's a big one because big guys have to get out of the paint. Where in the NBL or in Europe, big guys just sit under the ring because they can. They're a lot more physical, they block shots and they don't have to get out. So that aspect is different but I think scoring-wise, I mean, I'd say none of them are easy, but the NBL is tough to score.
You don't see a lot of guys averaging more than 21 or 22 points a game, and that could be because of the 10 minute quarters, but it's a hard league to score in. The NBA is definitely a lot more space – the floor's bigger, and that 3-second rule definitely helps a lot.
Your name has been thrown around in reference to Paris 2024 a lot along with people like Dante Exum, Matisse Thybulle, Dyson Daniels, Simmons, Landale, Mills, Ingles. What do the cards hold for us this time around?
Obviously, their first medal at Tokyo was historical for Australian basketball. And I think the team's only going to get better when we go to Paris in 2024, I think it is. So Australian basketball's really at a peak right now.
I think as those older guys hit the back end of their career, I think there's not going to be any drop off with the new younger guys we've got coming through. So it's exciting times and I think a gold medal next year at the World Cup and then '24 in Paris is really realistic.
If you could only accomplish one, would you rather have a gold medal or an NBA Championship?
They're tough. Yeah, I don't know, it's a tough one. If I could have both it would be great, but a gold medal for your country's obviously, really, really special.
Do you reckon the experience of playing under the FIBA rules will help Australia in the Olympics?
Yeah, I think it will. I personally love the FIBA rules. It's not too different, but there are a few differences. And as you see, when our guys put on the green and gold, Patty, for example, completely turns into another player. So I think the FIBA rules definitely help different guys, but I'm excited. I mean, we're all growing up in Australia used to the FIBA rules. So it gives us a little bit of an advantage, just all being from Australia where we all play FIBA here and it definitely could help going forward into the World Cup and Olympics.
In the history of the NBA, more number one draft picks have come from Melbourne than any other city in the world. What is it about this country that you think produces such promising NBA talent?
Yeah, I think Melbourne – Australia in general – has done a great job of developing their players. You see from Luc Longley, who was the first-ever Australian to play in the NBA, to where we're at now with the younger guys, I think the development at the Institute of Sport, the NBA Academy, stuff like that is setting a really good pathway for guys to make that jump to the NBA.
If you look down the line, a lot of the NBA guys that are Australian have been through the Institute of Sport. So it shows that there's a legit pathway out of Australia and I mean, it's only going to keep getting better and better with the new crop of players we've got coming through.
And finally, I'll leave you with this one. Having finished your first year in the league, what advice would you give to those expected to get picked in this year's draft?
Geez, I'd say enjoy it, it goes really quick. It felt like yesterday I was sitting at draft night, went to hear my name called and the year's already over so enjoy the year. There's going to be ups and downs. Never get too high, never get too low would probably be the big piece of advice I'd give. Because there's so many games, you can't really dwell on the past for too long. So enjoy the year, learn and don't dwell on the past too much.