LeBron James has been a superstar athlete since he was 16-years-old. Listed as 6'8″ and weighing around 250 lbs (113 kg) – with only 6% of this being actual body fat – it's safe to say that King James probably wasn't destined to be an accountant. What people might not know, however, is that American football was actually his "first love" and that LeBron James had two NFL contracts offered to him back in 2011.
As you may recall, that was the year that the NBA experienced its 161-day lockout from July into December that delayed the 2011–12 regular season. It also reduced the regular season from 82 games to just 66 that year. Both the Seattle Seahawks and the Dallas Cowboys wasted absolutely no time in jumping at the possibility of getting this absolute unit on their team. James was so flattered by this that he has these contracts framed in his office as well as the jerseys that were made for him as part of their pitch.
"That's true. [Cowboys owner] Jerry Jones offered me a contract. Also [Seahawks coach] Pete Carroll did as well in Seattle during our lockout time. It definitely got my blood flowing again, and got my mind racing again, thinking about the game of football — you know, being out there on Sundays… I still got the jersey too that Jerry and Pete Carroll sent me from 2011."
---
---
RELATED: LeBron James Is The First Active NBA Player To Become A Billionaire
LeBron James revealed all this on a week three broadcast hosted by the Manning brothers on ESPN2, which saw the Cowboys beat the Eagles 41-21 in a dominant NFC East performance at home. Here, legendary quarterback Peyton Manning went on to describe the possibilities when playing with an athlete of LBJ's calibre on the field:
"I would have thrown so many touchdowns to LeBron down there in the end zone. Put him out wide, throw the fade, jump ball… 75 touchdowns."
And this isn't even that much of a reach. During LeBron's high school years at St Vincent – St Mary High in Akron, Ohio – LeBron accumulated over 700 yards and actually made All-State as a wide receiver in Year 10. He was even better the following year, catching 52 passes for over 1,000 yards and 15 touchdowns. The only reason LeBron gave up football was that he sustained a wrist injury from playing and the people around him convinced him that his gifts were just too important to waste.
Imagine being the poor cornerback from a rival school sitting in last period math, with the knowledge that you would have to defend this absolute man amongst boys right after.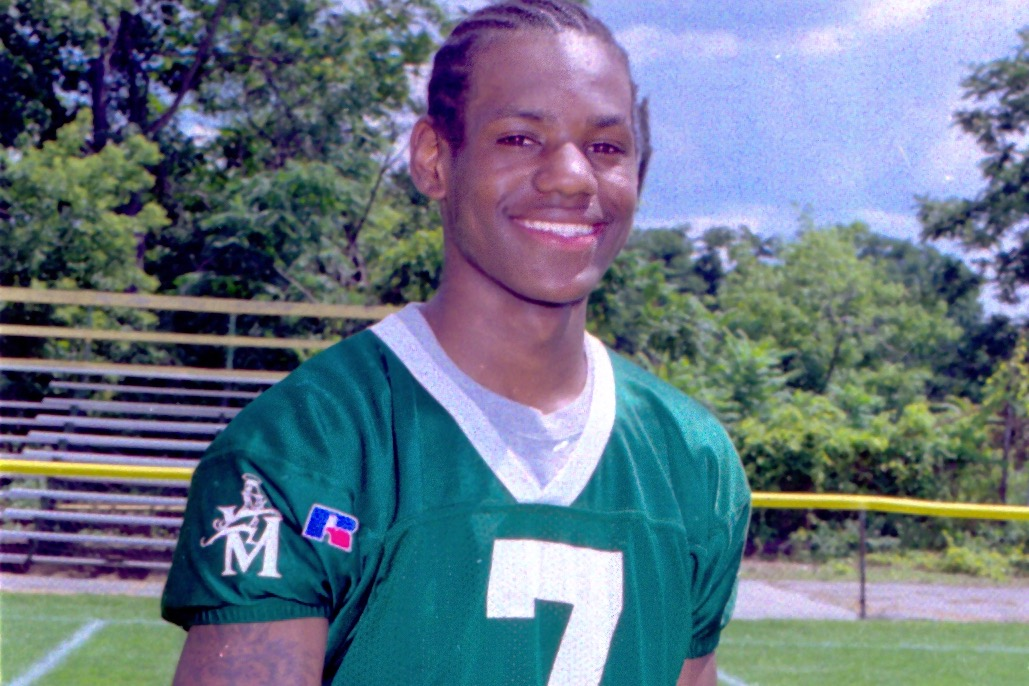 RELATED: NFL Quarterback Aaron Rodgers Is Receiving His First NBA Championship Ring
---
---
Many NFL analysts hypothesise that LeBron's style would share a lot of similarities with Randy Moss, who is commonly held as one of the best wide receivers of all time. To properly get a sense of how much of an unstoppable beast LeBron James would have been in the NFL, here is a side-by-side comparison of his physical attributes with Randy Moss'.
LeBron James
Height: 6'8″
Weight: 250 lbs
Arm Length: 35.5 inches
40 Yard Dash: 4.4 seconds
Vertical Leap: 44 inches
Randy Moss
Height: 6'4″
Weight: 194 lbs
Arm Length: 34 inches
40 Yard Dash: 4.38 seconds
Vertical Leap: 33 inches
While it is true that it requires a lot more than just size, speed, and muscle to be successful in the NFL, we have it on pretty good authority that LeBron James can catch a ball as well. As Moss himself told ESPN in 2009, "LeBron James is the athlete that comes around every so often."
For added reference, the average defensive back is 5'11", giving LeBron what would be a 9-inch advantage over those that would be guarding him at the NFL level. The Seahawks and Cowboys would've seen LeBron James transition to the tight end position with their NFL contracts though, given the possible use for his sheer size and power.
It's probably for the best that LeBron James opted to stay with the NBA the year of the lockout instead of accepting one of these NFL contracts, as he made an appearance in the NBA Finals every year for the next eigh seasons straight. A potential move to the NFL would have deprived us of one of the greatest players of all time. While the jury is still out on any LeBron/MJ comparisons, it's safe to at least say that LeBron would likely have been a better football player than Jordan was a baseballer.
When he appeared on the Sports Illustrated cover at just 17-years-old, LeBron James was famously given the nickname "The Chosen One" and has even gone on to give himself a 'Chosen 1' back tattoo in reference to it. Perhaps a more fitting nickname, though, would be "The Choosing One" since he would undeniably be an all-time great in any sport he chose to sign the dotted line with… There just happens to be a lot of money in basketball.