Granted, the stories surrounding the Michael Jordan mythology aren't exactly the hard-living/hard-partying tales you'll hear about Chicago Bulls teammate Dennis Rodman, nor the statistically mind-boggling sexual exploits of professional lothario Wilt Chamberlain. But what they lack in red-hot details, they more than make up for by depicting a straight-up savage who takes nearly everything personally.
The 6 x NBA Championship winner – the last of which was secured on this day 23 years go – 6 x NBA MVP, 14 x NBA All-Star, and arguably the greatest basketball icon of our time has crafted a legacy of noteworthy achievements with the ruthless anecdotes to go along with it.
Here are some stories which highlight the insanely competitive edge of His Airness himself, the immortal Michael Jordan.
---
---
When he "ended" Muggsy Bogues' career with a single line of trash talk
If trash talk was a discipline, Michael Jordan would be a 10th dan black belt. The sheer destructive nature of MJ's words apparently had the power to end your career, as the NBA's shortest player in history and former Charlotte Hornets point guard Muggsy Bogues can attest to. In 1995, with the Hornets down just one point in Game 5 of a tied series against the Bulls, the 5'3″ talent had the biggest possession of the entire match.
MJ reportedly backed off and said: "Shoot it you fucking midget." Bogues shot and missed by a considerable margin. A year later, Bogues would confess he had never been the same since, believing that single play – and single line of trash talk – had effectively derailed the rest of his career. As per Deadspin, Muggsy Bogues' shot never recovered.
It's worth noting that MJ could dish it out as well as he could take it. In 1987, after dunking over 6'1″ Utah Jazz point guard John Stockton, a fan – which many speculate to have really been Utah Jazz team owner Larry Miller – yelled something along the lines of, "Pick on someone your own size." Shortly after, MJ dunked on the 6'11" Mel Turpin, before asking the heckler whether that was a big enough for him.
When he lost money playing golf drunk… only to win it all back betting on himself that night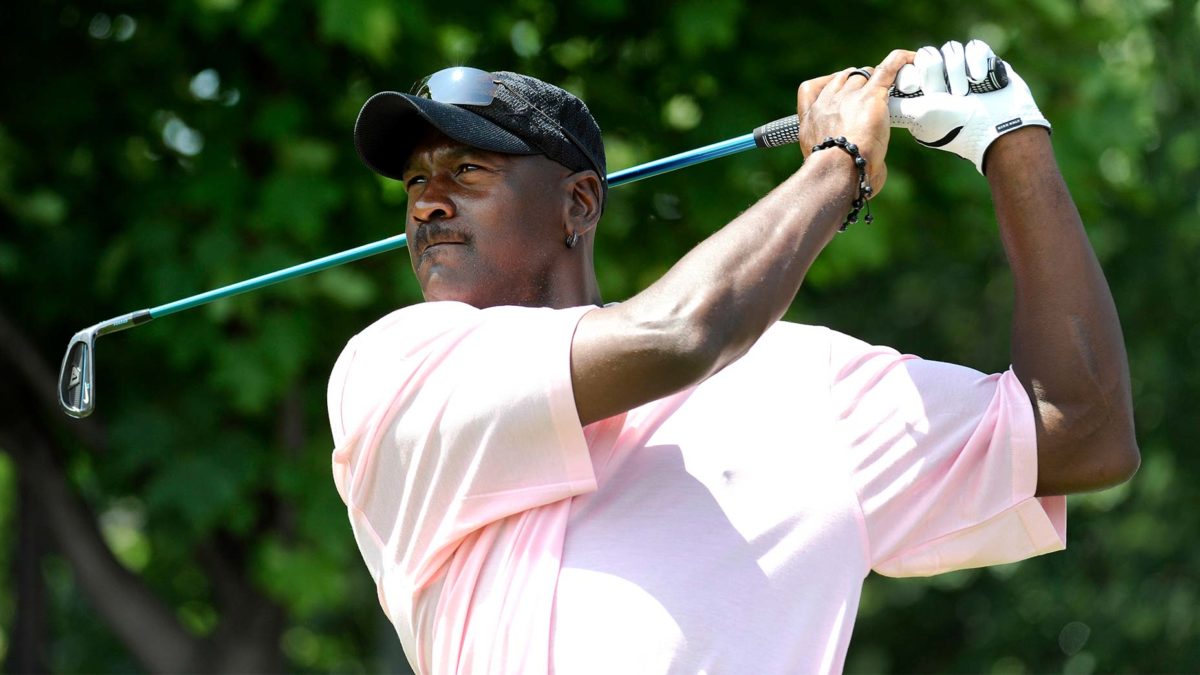 A few years ago, former NHL player Jeremy Roenick recounted the time he logged a cheeky day session with Michael Jordan on the course. As it so happens, Roenick and MJ met to play 18-holes and throw back a few cold ones right before the Chicago Bulls were scheduled to face off against the Cleveland Cavaliers. To make things more interesting, the two blokes thought it'd be a good idea to put some money on the action. The hockey player managed to best MJ. Unsatisfied with the outcome, MJ challenged him to another 18-holes – but to no avail.
"Now we've been drinking all afternoon and he's going from Sunset Ridge to the stadium, to play a game," says Roenick.
"I'm messing around. I'm like, "I'm gonna call my bookie. All the money you just lost to me, I'm putting on Cleveland." He goes, "I'll tell you what. I'll bet you that we'll win by 20 points and I have more than 40 [points]." I'm like, "Done."… Son of a gun goes out and scores 52 and they win by 26 points or something!"
This is where a dose of fact-checking becomes necessary. While Roenick never specifies which game the story revolves around, the closest fit to this incredible narrative would be the Chicago Bulls vs Cleveland Cavaliers game of March 28, 1992. Jordan never scored 52 as alleged, but he did sink 44 points (and right after being on the piss). This led to a decisive 126-102 victory against Cleveland with a 24 point lead, not 26. So while Roenick's version isn't completely accurate, it did happen.
---
---
You can read about it in greater detail here.
RELATED: 7 Times Dennis Rodman Was The Loosest Unit On Earth
When he bet US$300,000 on a single putt
There's really not much to this moment aside from the degree to which Michael Jordan backs himself; perhaps something about his compulsive need to compete and gamble, but I digress. Appearing on The Dan Patrick Show, Charles Barkley shed a little more light on what it was like playing golf with His Airness:
"I've never been under more pressure, and I apologise to Michael for saying this. So we'd be playing golf with certain people for a couple hundred dollars a hole, nothing big. And he'd be playing some guy for US$100,000. He's like, "Charles, pick that up." I'm like, "This putt is for US$200." He's like, "Pick that up, Charles, get out of my way – you're in my line!" I'm like, "How much is that putt for?" He's like, "US$300,000." I said, "Let me get out of your line."… It was crazy man."
When he drove to the gym in a different Ferrari every day for a week just to flex on Antoine Walker
Former Boston Celtics star Antoine Walker was known for spending his money in extravagant fashion, mostly to his own detriment. Beyond blowing every single penny of the US$110 million he earned as a professional NBA player, Walker once made a different kind of mistake when he rocked up to a workout in a Ferrari to flex on everyone present – Michael Jordan included. The latter was reportedly unimpressed by such a weak attempt at being the alpha dog… so he decided to return the gesture in kind by arriving in a different Ferrari each day for the next week of workouts (in matching Jumpman sweatsuits as well). Suffice it to say, Walker was put in his place.
When he turned down a staggering one-year US$25 million contract with the New York Knicks (and leveraged the offer into a pay bump)
Aside from his two seasons with the Washington Wizards undertaken during his second return to the NBA, Michael Jordan was famously loyal to the Chicago Bulls. In 1996, the New York Knicks offered him a one-year contract valued at US$25 million. According to CBS Sports, this represented a 653% raise from his previous salary – US$3,825,000.
To make things even spicier, the Knicks were going to accomplish this by engaging in some illegal cap circumvention, given the green light by commission David Stern. Basically, as the Knicks was owned by Cablevision and ITT-Sheraton, it was within the organisation's power to use MJ for Sheraton hotel commercials, thereby paying him more money, without officially paying him more money.
Anyone else would have taken the money and run. With every intention to build a dynasty without settling for a lesser salary, however, Jordan and his agent David Falk used the New York Knicks' offer to secure US$30 million from Chicago. A year later, MJ's salary was bumped up to US$33.14 million (US$134.4 million in the 2019-20 equivalent of player earnings).
---
---
RELATED: Did Wilt Chamberlain Actually Sleep With Over 20,000 Women?
When he created a US$3 billion sneaker brand after being turned away by Converse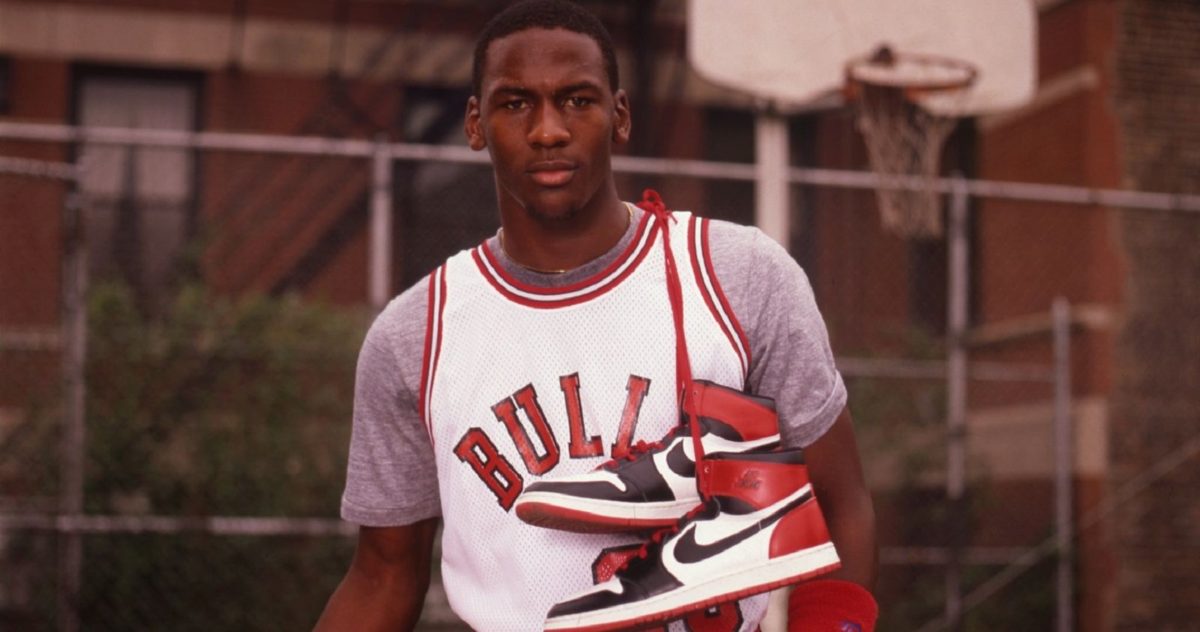 As a rookie, Michael Jordan inadvertently changed the sneaker game (in more ways than one) by signing a Nike contract after Converse refused to meet his demands.
In the 80s, the iconic Swoosh was nothing more than a fledgling company that couldn't compete with the more established likes of Converse – the NBA's staple footwear at the time – or Adidas, who were stronger in every regard from revenue to branding. After some negotiations, Nike welcomed His Airness to the family with an upfront commitment of US$250,000 and his own sneaker line.
Nike initially projected US$3 million worth of Air Jordan sneaker sales at the end of the four-year term. In the first year alone, Nike would sell US$126 million worth of units, almost solely because of Jordan's name, reputation, and stardom. This was, however, just the tip of the iceberg.
As of last financial year's end, estimates placed the entire Nike Air Jordan brand at approximately US$3 billion in value, with MJ himself having pocketed over US$1.3 billion since 1984. As Forbes notes, despite the Michael Jordan Nike contract irrefutably establishing the richest athlete endorsement deal in history, it should really be considered the biggest endorsement bargain in sports – period.
The cherry on top? In 2003, Nike acquired Converse for just US$309 million and Reebok for US$3.8 billion two years later.
You can read about it in greater detail here.
When he scorched the damn Earth during the course of his Hall of Fame speech
Michael Jordan must have missed the memo about being gracious in both defeat and victory. Case in point, his infamous Hall of Fame acceptance speech. As written by ESPN's Rick Reilly, throughout the 23-minute affair, "nobody was spared, including his high school coach, his high school teammate, his college coach, two of his pro coaches, his college roommate, his pro owner, his pro general manager, the man who was presenting him that evening, even his kids."
---
---
Let it be known that MJ takes no prisoners.