I've been lucky enough to do a fair bit of skiing in my time, so 'speaking the speak' is almost like second nature to me. However on my recent trip to the French Alps with Club Med I was quickly reminded that not everybody knows the lingua franca on the slopes. So before you next hit Val Thorens, Hokkaido, or Thredbo, it might pay to take note of some of the ski lingo below.
Après-Ski: Arguably the best time of the day (except the morning of a bluebird). The day of skiing is over and it's time for some drinks. In France we hit the Folie Douce – think pumping music, dancing on tables in your ski boots, and an awesome atmosphere. For those looking to take it a little easier, it's time to hit the sauna and spa.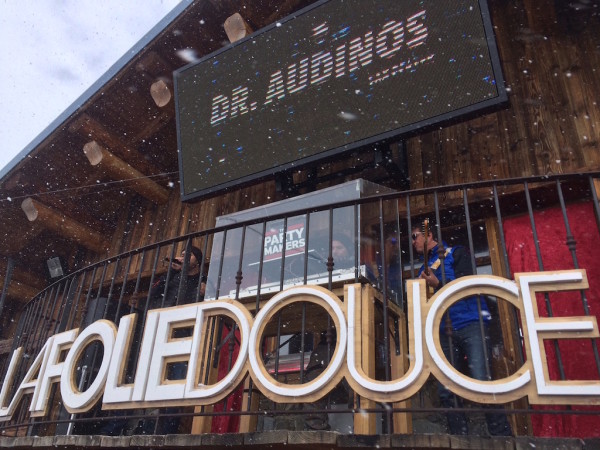 Backcountry: also known as off-piste, backcountry is the area away from the hordes of people on the groomed runs and often where you'll find incredible untouched runs that make for the best day's skiing or boarding you can have. Generally for advanced/experts as the backcountry is unpatrolled and therefore 'ride at your own risk'
---
---
Bail: When you go 'a over t' and unceremoniously find yourself with a mouthful of snow. Funny to watch, not so funny when it happens to you.
Base: The overall average depth of snow at a resort.
Bluebird: Pretty much the holy grail of skiing – a bright sunny day after a night of heavy snowfall means bluebirds are what it's all about. Few and far between, we had one bluebird morning at Club Med Val Thorens and it was unforgettable.
Bumps: strictly speaking bumps are moguls but for the novice it will feel like bumps are pretty much anything you ski that isn't perfectly groomed piste.
Carving: If you enjoy skiing on piste, carving is the goal. Sitting on your edges the whole way down, carving is a series of 'S' shaped turns that look as smooth as butter.
Dump: Not to be confused with the bathroom variety. A dump is the term for a big fall of fresh snow – can result in a bluebird if overnight or a white out if during the day.
First Tracks: As the name suggests – first tracks means you're the first one on a run in the morning (preferably with some deep pow). After a big apres ski session the night before, getting first tracks can be veeeery painful.
---
---
Liftie: The guys who make sure you get on the chairlift safely. Known to party harder than most and often the ones with the most local knowledge, lifties are good people to know.
Line: A potential route down the mountain "check out that line next to that cliff, bro."
Park Rat: Often 12-17 year old kids who refuse to leave the confines of the snow park. Can be identified in the wild by their ridiculously oversized basketball shirts, pants around their ankles, and full tilt boots.
Pow: Short for powder. Pow is dry, fluffy snow which (for those with adequate ability) is the most fun you can have on the mountain.
Punter: a skier or boarder who has no idea what they're doing. Much like a park rat, punters are easily identified on the slopes, this time with bright coloured/unsuitable clothing (sometimes jeans) and a gap between their goggles and helmet. Sometimes known as gapers for this very reason.
Ripper: A bloody good skier who can tackle any sort of terrain with aplomb. What everyone on the slopes aspires to be.
Schussing/Straight Lining: As the name suggests – skiing or riding straight down the mountain without turning. Often passing punters attempting to do the same but in a terribly awkward tuck position.
Shredder: the snowboard equivalent of a ripper.
---
---
Ski Bum: For these guys, skiing or boarding = life and nothing (not even work) will get in the way of their acquisition of first tracks.
Stomp: When you land a trick nice and clean, "she just stomped that landing"
Tracked Out: Usually appears mountain wide at about midday into a bluebird morning. Tracked out is when a slope of once fresh snow has now been skied so much that it's no longer fun.
Waist Deep: An approximate measurement used by those who've just skied a whole lotta pow. "Dude, we just had the most epic session in waist deep powder."
White Out: When it's snowing so much that you cannot see five metres in front of you. Generally not a very enjoyable experience but if you must ski, head to the trees. Otherwise make an early dash to the bar for some extended après .