Boss Hunting has teamed up with Nike to hype the Swoosh's latest running innovation, the Epic React. Check out our take on them here.
There aren't many people across America who don't know Todd Gurley's name. East coast to west, the two-time Pro Bowler is a staple fixture on TV screens and social media as one of the best pro athletes in the business. Impressive for a guy who's only just turned 23.
The former University of Georgia prodigy spent three seasons rushing for the Bulldogs, earning All-SEC honours twice before being taken with the 10th pick in the 2015 NFL draft by the then-St. Louis Rams. Since then, Gurley has taken to the pros like Angelenos take to LA traffic, forging a career as one of the league's most potent backfield weapons. He rushed for 1,106 yards and 10 touchdowns in his rookie season, culminating in Offensive Rookie of the Year honours before stepping up his output in year three with 2,093 all-purpose yards and a league-high 19 touchdowns. That earned the Rams running back Offensive Player of the Year honours and a more-than-honourable second place behind Tom Brady (aka the G.O.A.T) in league MVP voting. All this while enduring an arduous franchise relocation back to America's second biggest sports market after 22 years in the midwest.
---
---
We caught up with softly spoken tailback at Nike's Go LA 10K event in the city of angels last week to chat all things football, sneakers, and life on the west coast.
Tell me a little bit about life in LA?
It's cool, I've been out here for almost three years now and being able to live in a city where the weather's always good, with so much sports on and events like this — I mean shutting down a damn highway for a 10km run just makes it a cool city to be in.
Talk me through the move from St Louis. You spent a year there before the franchise headed west, what was that like?
It's a big change you know. St Louis is a big city but coming from anywhere to LA is a big transition. The weather here is the real kicker but I miss the food out there in the midwest, they love their BBQ like (we do) back home in North Carolina. Still I feel we've made LA home now and I'm loving the west coast.
You're a former Georgia Bulldog. The National Championship game back in January against 'Bama — talk me through the emotions of losing in overtime.
I was upset but not disappointed, you know. We lost to a team that always does it, that's why they're 'Bama. They always find a way to come back, they're like the Patriots — you can count them out but they're never really out. But our guys put up a great effort and it was a great game, I wish they could've got it though.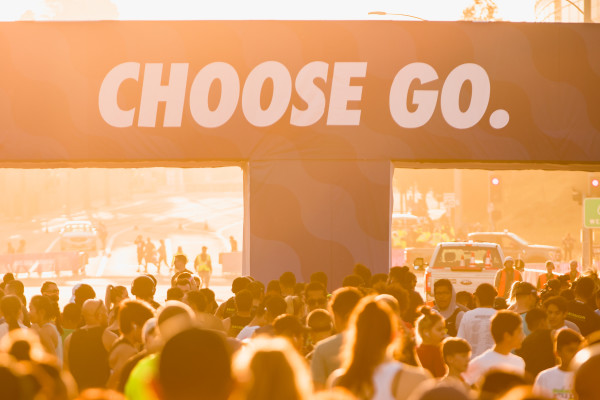 Sean McVay—last season's NFL coach of the year at 31—led you guys to the playoffs for the first time since 2004. What's he doing differently out here?
Coach McVay came in and brought his offensive mind, which is the same thing he did in Washington. He did a great job the previous year at the 'Skins and came out here with a young quarterback in Goff plus guys like myself, Andrew Whitworth, Robert Woods, Sully (John Sullivan) and Sammy Watkins. Everything just kind of stuck together for us and we were able to go out there and make plays. Simple as that.
Talk me through being a Nike ambassador, what's that like?
Nike are one of the biggest brands, and being an athlete growing up and seeing commercials with my favourite athletes wearing Nike makes me super proud to be part of the family today. I was always a Nike kid, but I think everyone has always been a fan of Nike! (laughs). I really see it as a blessing from growing up exposed to the brand, and I love being a part of the Nike family.
The two things I'm noticing that you're wearing are the new baby pink Epic Reacts and a Coachella wristband (it's currently weekend two of the Palm Springs festival). What are your thoughts on the Reacts and which other sneaks are in your current rotation?
I'm a huge fan of the baby pinks! (laughs). They told me about them first and I was like, "no, no way!" It's just the whole concept behind Reacts, they're so comfy. You run and you feel like you got an extra leg boosting you, and they look great — I love the profile. I actually just gave a pair to my trainer in the same baby pink colour because he's so hot on them! Otherwise it's all Nike. I'm loving the Sean Wotherspoons that dropped a few weeks back and I was wearing them this weekend at Coachella (raising his wristband as he laughs). Dope LA vibes – you can't go wrong with those.
---
---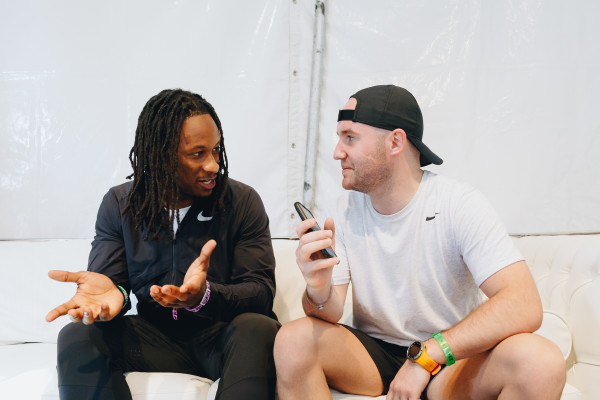 Season 2018 coming up, and you guys have made some massive additions already in Brandin Cooks and Ndamukong Suh. Talk me through running the NFC West and your plans for the season?
You want to take it game by game but it all starts in your division. You have to be able to play well in the division because if you win there, you automatically get a shot at the playoffs. We don't want to get ahead of ourselves so that's the mindset, and obviously we know our opponents in the NFC West so well as they know us so well so they're always the big games. We're looking forward to it and we've got some great competition, Russ in Seattle and Jimmy Garoppolo coming in at the end of the season with the 49ers and making those guys hot, plus you got the Arizona Cardinals who you can never count out with guys like Fitz (Larry Fitzgerald) and David Johnson still putting up numbers.
Who do you see as your biggest divisional rival? Jimmy G and the 9ers, Russ in Seattle or even Sam Bradford in Arizona?
Everybody, man! That's why it's the division and the NFC West is stacked. We've been lucky to go pretty well in the division the past few season but I don't know, hopefully we can go undefeated..?
Lastly, bringing a regular season NFL game to Australia. What are your thoughts?
I'd love to man, that would be cool. We already do games in London and Mexico City so why not. I don't know about the flight though! (laughs).
For a closer look at what went down at Nike's Go LA 10K, check out our full training program and race debrief here. Or, if you haven't already checked out Nike's biggest tech innovation since the launch of the Nike Free, take a look at our take on the Epic React here.