Tyson Fury has definitively proven himself as the WBC Heavyweight Champion. Prevailing over the formerly undefeated Deontay Wilder in just seven rounds via technical knockout, Fury has also managed to preserve his own undefeated status in a masterfully one-sided fight. But there was a moment in the big fella's career where it seemed as though he was ready to throw in the towel.
The fall…
After his 2015 victory over the legendary Wladimir Klitschko, Fury found himself grappling with issues of mental health. Depression doesn't discriminate, and it had set its sights on him.
From there, it was a troubling descent into vices. We all know the story… hell, we've all seen the pictures. The drugs, the alcohol, the binge eating, the astonishing weight gain. At the height of all this, Fury was nearing 400 pounds (over 180KGs).
"My weight was put on through drinking excessive lager," Fury tells Joe Rogan.
"Then I'd stop off on the way home and eat pizzas and kebabs."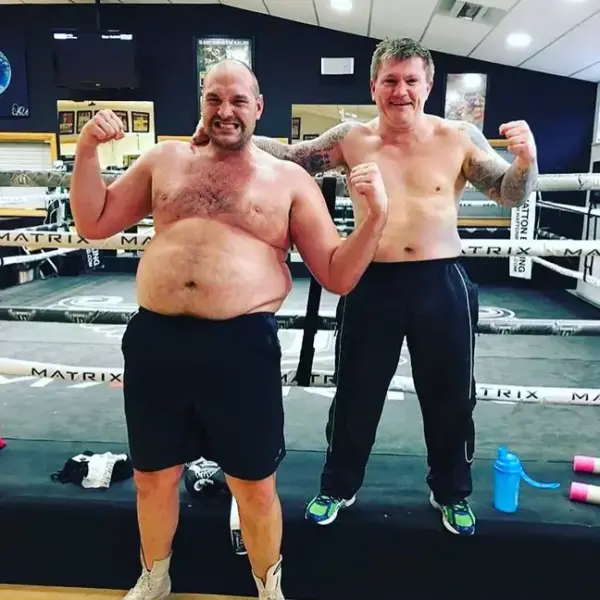 Soon after, it naturally began to impact his professional career. In 2016, due to his lack of activity, Fury was forced to vacate the WBA, WBO, and IBO titles. The Klitschko rematch eventually dissolved with time. And the phone just stopped ringing. Many had written Fury off as a figure of former glory. Someone that had been a someone. Had the world at his feet. Had the chance for more. But just let it – slip.
His cocaine habit was beginning to get out of hand. As he would later reveal, there was even a suicide attempt.
The recovery…
Wilder. It was always about Wilder. This story – the second act, at least – begins and ends with Wilder.
Show me a man who refuses to stay at the basecamp, and I'll show you a mountain waiting to have a flag planted.
Fury decided to kick the habits hard. If nothing else, he knew he could at least control the coping mechanisms for his affliction. Alcohol, drugs, junk food. All three were classified persona non-grata as Fury took it upon himself to get back into shape.
No more pizza, kebabs, or any other bullshit either. From here on out, it was six meals a day consisting of salmon, Greek yoghurt, jambalaya, and vegetables in their original form (not just in the paste or sauce reduction).
"You can train like a Trojan warrior but not eat right and take three steps forward and two and a half back."
Fury returned to the gym with the freshly enlisted help of Ben Davison. Where he once relied on endurance running and long boxing work, he focused on more explosive HIIT-type training.
In 2018, Fury reapplied for his boxing licence through the British Boxing Board of Control. It was all beginning to come together.
The rise…
The return fight – Sefer Sefari. A career cruiserweight with a record of 23-1-0. 21 of those 23 fights ending with a KO. In other words, a contender not to be trifled with. Fury shed over 110 pounds (50KGs) for this one.
The fight started slow. Fury danced around a bit, regaining his rhythm after being warned by the referee twice. He soon hit his pace… as well as Sefari left, right, and centre. Sefari would later retire in round four after copping too much punishment from the Gypsy King. The ball had started rolling once again.
Next up was Francesco Pianeta who held a record of 35–4–1. Like Sefari, he had 21 KOs under his belt. Only this time around, Fury was kept on his toes a little more. The two would go the distance in ten whole rounds before Fury earned the points decision.
After years of putting in the hard yards, Fury finally got the chance to go head-to-head with Wilder. The opportunity he had been waiting for. Against the very man that had reignited the flames within him. As we now know, it would controversially end in a draw despite may believing Fury had it locked down. But no matter – the Gypsy King had secured a different kind of victory that fateful day. One that would echo two years on, decorated by additional wins against Tom Schwarz (then 24-0-0) and Otto Wallin (then 20-0-0), before extinguishing any lingering doubts at MGM Grand Garden Arena on February 22nd of 2020.
Wilder would say during the staredown prior to the historic rematch.
It's quite poetic, really. That something intended to be a barbed bit of trash talk has since become something greater. A testament to how far Fury had come in the years since Klitschko. And a symbol of his defiance in the face of everything that had been thrown at him. From the meteoric rise, to the tragic fall, and once more with an inspiring return.
Make no mistake — the Gypsy King is back. And he's not going anywhere anytime soon.
RELATED: Even Khabib Nurmagomedov's Coach Says Tony Ferguson Is "Not Gonna Break".