"For us, violence is very simple," says Suphat "Dre" Johnstone, one of Fight Club Thailand's (FCT) leading men. "Sometimes when people have a problem they like to end it with violence, but at Fight Club Thailand we always fight first, talk later — and trust me everything will be easier."
Founded a little over two years ago, the group first gained online traction when videographer by day, fight club manager by night Sopon Najnugul posted a video of himself fighting a friend on Youtube. Since then the Bangkok-based club has gone on to hold more than 500 fights, all of which can be found on their channel.
Today the club is run by five people, Chana Worrasat, Harit Churdchoo, Sopon Najnugul, Pawarisorn Phanuwongsakorn and Dre.
Serving as a venting point for young and aggressive men, FCT holds regular underground fight nights, allowing non-professional fighters to go toe to toe. Here, they put the last resort first; it's somewhere you go to exhaust yourself, exhaust any frustrations you might have and you then feel better afterwards while having made a tonne of new friends, they say.
After being inundated with interest online, Fight Club Thailand has garnered more than 72,000 members on Facebook and has hosted more than 300 plus fighters. Those daring enough to fight range from labour workers through to PHD graduates, sometimes men recently out of prison and even women are getting involved in the action. There's a strong interest from the younger generation, however, anyone under the age of 18 requires written permission from their parents who are also encouraged to attend.
The fights run for a single round of 3 minutes with no winner or loser, but end sooner if one of the fighters loses consciousness or is deemed unable to continue.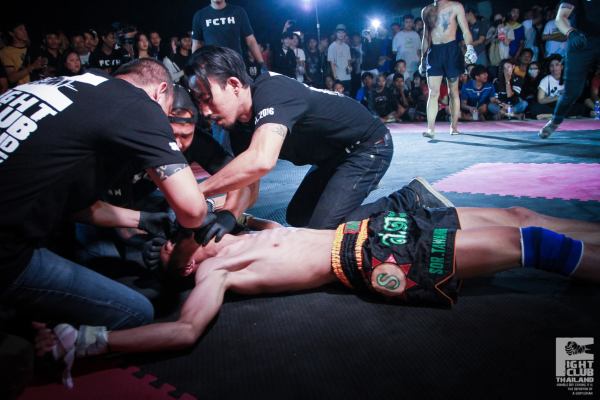 When it first began, they simply wrapped their hands, removed their shirts and fought on on bare concrete, however as the club grew so did the rules. Now, fighters wear mixed martial arts gloves, groin guards and mouthguards and onsite doctors and paramedics are on standby. These are all covered by a 150 Baht ($6) entry fee paid by fighters.
When the fight stops so does any violence. Dre notes that at FCT there's no provoking before or after the fights. In Netflix's new series FightWorld, action movie star, martial artist and show host Frank Gillo pays a visit to the club and speaks to one of the fighters who tells him, "There's nowhere else where you'll finish a fight and say 'thanks, are you ok?' We become friends, for sure."
Boss Hunting was told most magazines who interview the club think they only start events but Dre responds, "we're more than that'. The club offers a new way to see life and change perspective, he says.
In its pursuit, FCT has founded a revitalised young community of once-violent men looking to make a change. While the club isn't ready to share the details of their community and their activities with the public just yet, you can catch a glimpse of some of the work they're doing in a short film which came out last year. In it, FCT is seen at an impoverished school in the beachside town of Rayong, a three-hour drive from Bangkok. "We change people," Dre says.
One of the most surprising things is this brutal sport is born in a country where people aren't often aggressive. In fact, you might find Thai people to be some of the most gentle and passive people you will ever meet. In FightWorld, Frank Gillo concludes, "Muay Thai and fighting are just part of the fabric of this culture."
RELATED: The workout you'll need to get Brad Pitt's rig from fight club