UPDATE [08/12/21]: Construction is officially underway on URBNSURF Sydney – currently (still) on schedule to open publicly early next year.

Plans for URBNSURF Sydney, announced late last year while demand surged for URBNSURF Melbourne, are well underway, and construction for the ambitious $50 million project is set to begin later this year.
Now we finally have our first look into Australia's second ever dedicated surf park, revealing the ambitious project and its located at Sydney Olympic Park, just 14km west of Sydney CBD.
URBNSURF Melbourne popped up at the start of last year, right before the COVID-19 pandemic waved in a raft of restrictions which forced the new venue to close twice before re-opening in October. Despite that, the venue welcomed well over 100,000 guests throughout the year, and that number only shot up throughout a successful summer.
---
---
URBNSURF Sydney is clearly primed for similar success – perhaps more, seeing as the city's summers are typically more demanding. According to renders released this year, Sydneysiders should expect no less than 3.6 hectares of surf culture when the venue opens in summer 2022, which should be more than enough space to meet the inevitably high demand.
RELATED: URBNSURF Review: Melbourne's Favourite Break Is Back To Full Capacity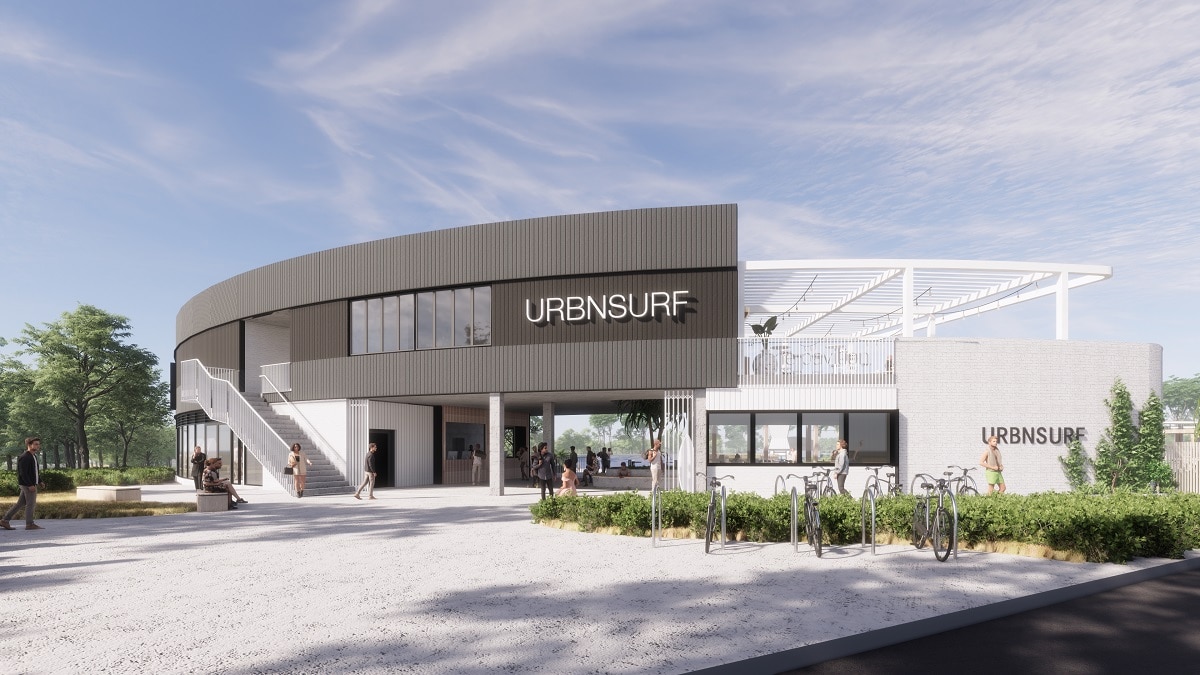 As with the Melbourne original, the diamond-shaped surf lagoon will be driven by a state-of-the-art Wavegarden "Cove" technology, which is capable of generating waves up to 2 metres in height, every 8 seconds. This will allow surfers to catch around 10-12 waves per hour in a non-competitive line-up. This is by night too, since LED lighting will be used to illuminate the lagoon for all shortboards, longboards, bodyboards, kneeboards, and hand planes.
Alongside the waves, the surf park will feature a high-performance centre alongside working spaces, a 2 restaurants – no word on whether or not Three Blue Ducks will be involved – and a rooftop bar, a family-friendly leisure pool, skate park, surf academy, beach cabanas, a yoga studio, a surf shop, a few hot tubs, and a kids' playground. That should be more than enough to classify URBNSURF Sydney as its very own precinct, adding a bit of life to Sydney Olympic Park now that the stadiums are much quieter.
URBNSURF Sydney won't be the last stop on the cards for this growing brand. There are already plans underway for surf parks in both Brisbane and Perth, although visuals and details on both are unlikely to emerge until this Sydney park arrives next summer.
Undoubtedly we'll be privy to more details on the Sydney surf park when construction begins in the third quarter of this year, but until then take a look at these renders and imagine how valuable it's going to be having a legitimate surf park to hopefully thin the crowds that regularly crowd Sydney's beaches and clog the surf.