There's a new kid on the block in the area of men's fashion and that is Melbourne Dapper, a mother/son duo creating a premium range of hand crafted ties, pocket squares and lapel pins for the dapper man.
Established in mid 2014, this small business has its eyes set to take on the world in men's fashion accessories. Offering gents options to cap-off the perfect outfit with distinctive flair, Melbourne Dapper is upping the ante in menswear.
Operating from the northern suburbs of Melbourne, all cotton ties and pocket squares are handmade, all the way from cutting to the final press. Detail and quality are highly evident in Melbourne Dapper's products, ensuring gentlemen look unique and classy at the same time.
---
---
Coinciding with their 2015 campaign launch, we were fortunate in having the chance to sit down with Melbourne Dapper to discuss their business and all things men's fashion.
How did Melbourne Dapper start?
Melbourne Dapper started simply with the fact that I needed ties and accessories for my University placement, so I asked my Mum to make them for me. I guess one thing lead to another, and before you know it, I had my own webpage and Instagram page, selling our unique accessories to the gentlemen of Australia.

What does Melbourne Dapper represent?
Melbourne Dapper represents the finer details in men's accessories. Melbourne Dapper is a culture/a way for men to look the best they can. MD represents men who want to take pride in their appearance. There has been a resurgence of the way men present themselves; classic, sharp and sophisticated. Grooming has become bigger than ever. And men's fashion accessories are huge at the moment, and I guess I wanted to help create those finer details in men's fashion.
What is the idea behind your campaign: Genesis?
Genesis marks the foundations and origins of our brand Melbourne Dapper. The campaign is a stepping-stone for our brand in hoping to reach out to a wider audience to promote our products. We have been extremely fortunate in being able to team up with leading menswear store M.J. BALE and BARED FOOTWEAR in putting together our campaign. And it just shows that we can compete with the best, in complimenting an overall outfit….Which is what we do. It's also a great way to show gentleman how to style, correctly. How to put together and outfit and coordinate colours. Our ties and accessories are unique, so it has been a great opportunity to align ourselves with M.J. Bale & Bared Footwear.
---
---
What are your aspirations for Melbourne Dapper?
Right now, we just want our brand name to reach the men of Australia. Mens fashion accessories are our passion, and ideally, we would love to reach out to smaller retailers/boutiques in the hope for our products to be stocked and readily available for guys to purchase. At the moment, we are solely an online forum so we hope to have a more physical presence in the Melbourne mens marketplace soon. Watch this space.
What is trending in men's fashion right now?
Layering. Winter is the best season for menswear fashion, and layering is so simple but can make an outfit stand out from the rest. In the way of accessories, lapel pins are definitely making a resurgence. Especially with Spring Racing around the corner, we're really looking forward to seeing gents put together their outfits with our accessories.
What's on for the remainder of this year?
Brand identity. We would love to reach as many people as possible. Expose our brand and products. Awareness! We have an Instagram page @melbournedapper and of course melbournedapper.com where our products can be purchased, with free shipping within Australia.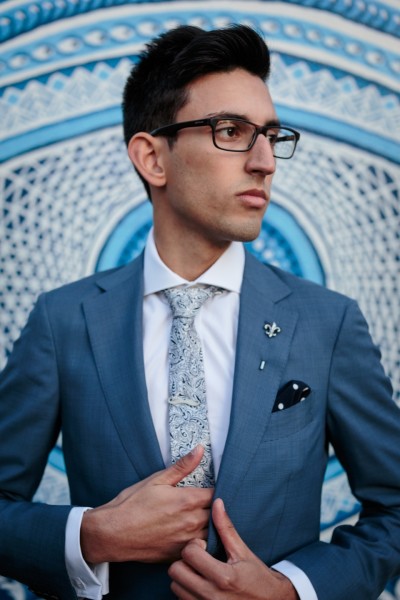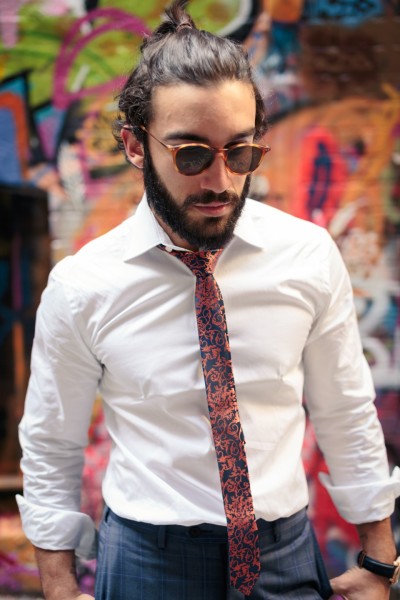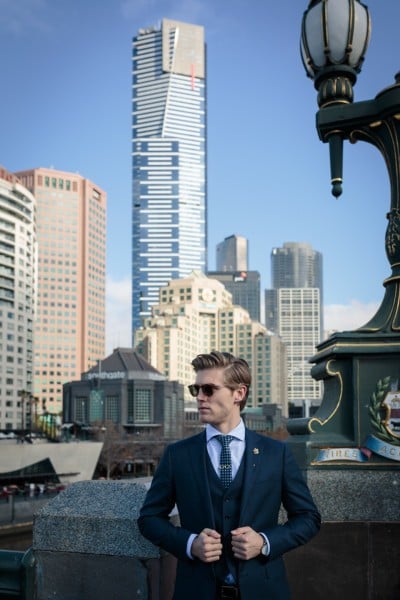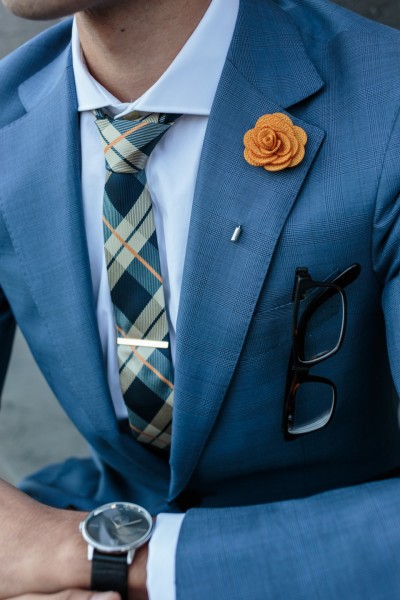 Credit to Yasitha Photography
Suits exclusively supplied by M.J. BALE
Footwear exclusively supplied by BARED FOOTWEAR
Model Talent: Sam Wines, Jude Tyler, Marc Grosso & Laurence Fusillo
---
---