World-class premium luggage supplier RIMOWA has announced a unique and exclusive collaboration with luxury cosmetics company Aesop, known as The Köln Travel Kit. The Aussie skincare gear is secured in a custom-built wooden inlay presented in a sharp RIMOWA case made of their timeless durable aluminium.
"The Köln Travel Kit is a perfect example of functional luxury; a tool for purposeful travellers that encapsulates the thoughtfulness and consideration that both our brands apply to the creative process," RIMOWA's Chief Brand Office, Hector Muelas, explained.
A limited number of Köln Travel Kits will be available for purchase from 26 October 2018 in select Aesop and RIMOWA stores and online. Catch a full breakdown of the limited edition Köln Travel Kit below.
---
---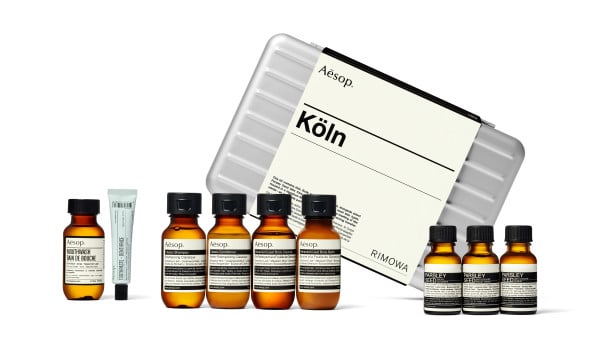 The Köln Travel Kit (RRP: $540 AUD)
Classic Shampoo 50 mL
Classic Conditioner 50 mL
Geranium Leaf Body Cleanser 50 mL
Geranium Leaf Body Balm 50 mL
Parsley Seed Facial Cleanser 15 mL
Parsley Seed Anti-Oxidant Facial Toner 15 mL
Parsley Seed Anti-Oxidant Serum 15 mL
---
---
Mouthwash 50 mL
Toothpaste 10 mL