Balmy evenings, rosé at lunch, and a stacked professional (with a fair share of social) calendar – there's a lot to look forward to when migrating back to the office to finish off the year. While 2021 might be a little different to those before it, there's still no better time to elevate and upgrade your corporate staples with a twist from a sartorial powerhouse like Gucci.
Adapting from the tail end of the cooler months and navigating the post-tracksuit rebound can be tricky. But there's one thing for certain – you can never miss the mark with threads from Gucci, no matter what you leave the house wearing.
Put all of these concerns to rest with a varied head-to-toe ensemble of versatile knit tops, casual blazers, classic trousers, and iconic Gucci loafers.

Whatever's in the calendar when you're back to the office this summer, you'll undoubtedly find the inspiration for it below, from Monday to Friday and beyond.
---
---
---
MONDAY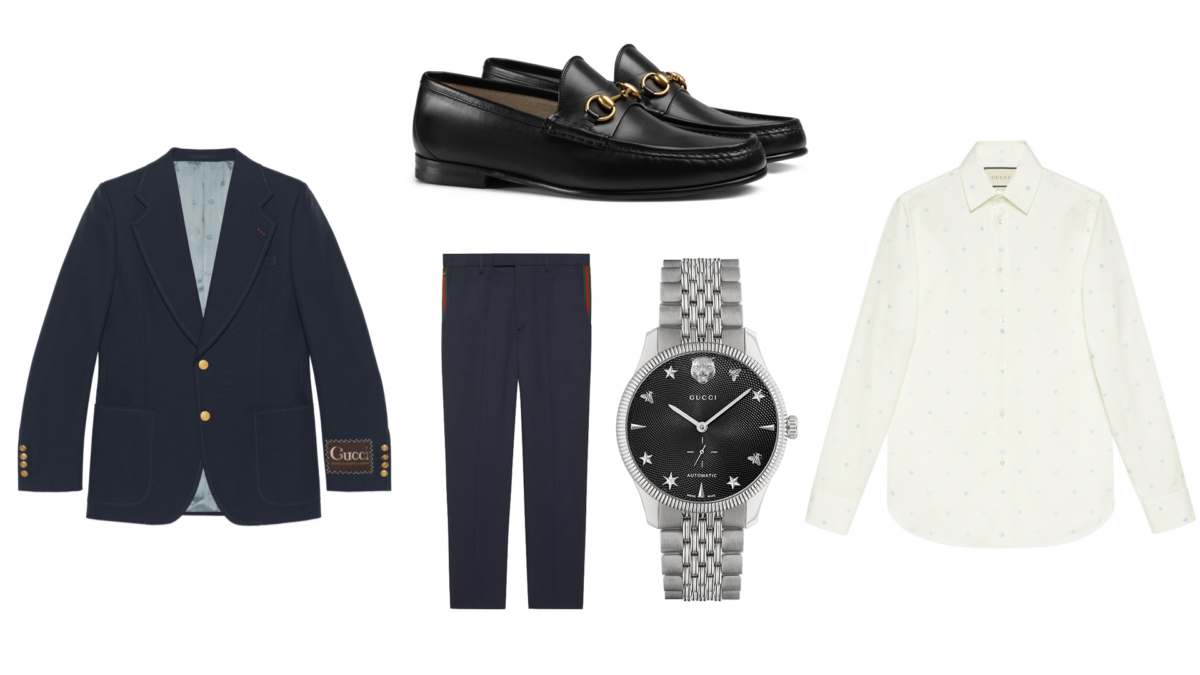 Embracing a traditional design in blue cotton, start the week sharply with a Wool Jacket with Gucci label ($3,190). This sartorial piece will become the hero of this contemporary take on an overall traditional aesthetic, which can be paired with the subtle but iconic Symbols fil coupé Oxford shirt ($1,030). A tailored-inspired Cotton Ankle Pant with Web ($1,245) speaks to the heritage of original House codes and is completed by a pair of Black Leather 1953 Horsebit Loafers ($1,115). Since the introduction of these classic shoes in the 1950s, they've stood the test of time as surefire staples for any sophisticated office outfit.
Finally, while time is more valuable than ever in the corporate world, stay one step ahead of your calendar with the G-Timeless 40mm watch ($2,745). Designed with a black guilloché dial enriched with silver-toned indexes that take the form of House motifs, this timepiece screams classic elegance under the cuff.
---
TUESDAY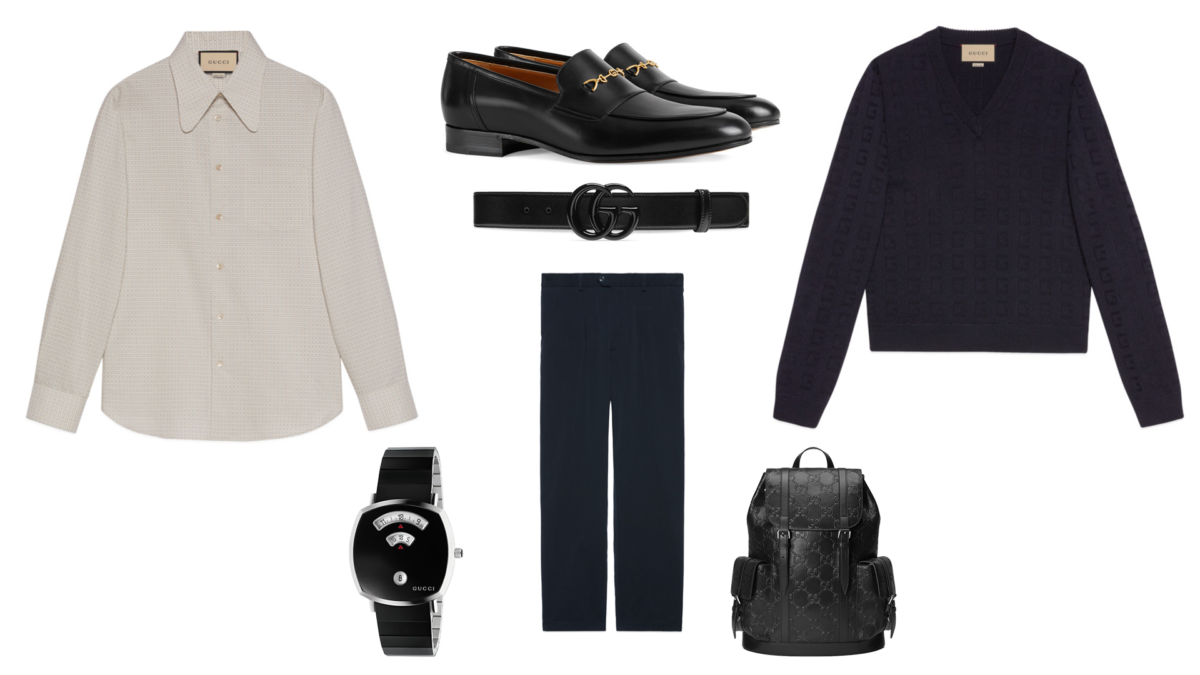 If a blazer is too formal and you'd prefer to ease back into your former office style, then swap the jacket for a Square G wool intarsia cardigan ($1,245) with a V-neck that allows for the pronounced collar of a Geometric cotton shirt ($930) to shine through. Suave and sedated is the look we're going for here, embracing neutral colourways and the power of contrast. A straight leg on the Cotton Trousers with Interlocking G Patch ($1,310) is presented in dark blue cotton gabardine and washed for a subtle vintage effect. The understated luxury is expertly finished for this look with a pair of pointed Men's Loafers with Horsebit ($1,270), a GG Marmont wide belt ($725), and a GG Embossed backpack ($4,995), the latter of which is equipped with multiple pockets inside and out so you can harness both style and function in one package.
Lastly, no man is complete without his timepiece, in this case, a 38mm Grip Watch ($3,420) from the Epilogue Collection. Presented in a steel case and bracelet but covered in a uniquely onyx synthetic stone, you'll be well aware of the day, hour and minute at all times thanks to the three-window dial.
---
WEDNESDAY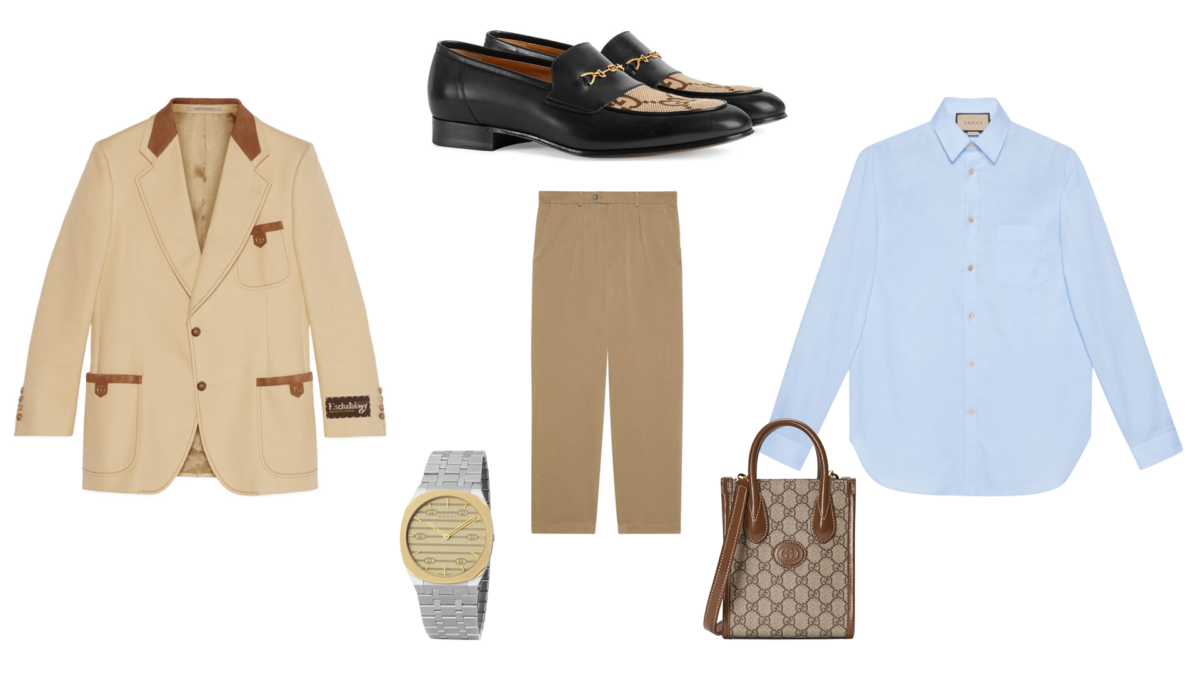 As the mercury rises, there's always a time and place for lighter hues and added expression in your corporate clothing roster. Moving through the working week, embrace the colour tan in a Gucci Cotton & Suede tailored jacket ($3,730) which highlights touches of leather and suede to add an unexpected layering to the silhouette. You similarly can't go wrong with a light blue Oxford shirt ($865) and Cotton trousers with Interlocking G Patch ($1,310) to complete the vintage aesthetic. One of the House's most iconic styles, these Gucci 100 Loafers ($1,350) offer a mix of black leather and maxi GG canvas, while Gucci's 25H timepiece ($3,260) in a 38mm gold-plated casing and integrated bracelet is one of the most handsome watch releases from the House in years. For anything and everything that doesn't fit in your pockets, the Mini Tote Bag with Interlocking G ($1,785) will get the job done.
---
THURSDAY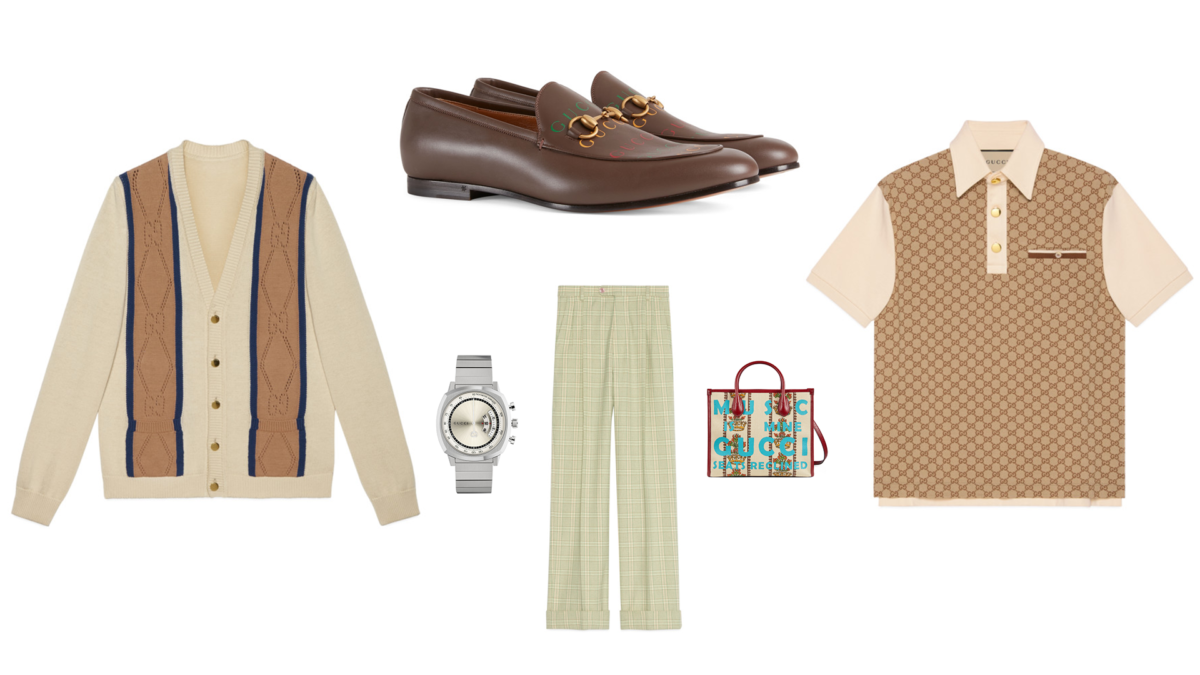 Pushing towards the tail end of the week, the GG Silk Cotton Jersey Jacquard Polo ($1,245) is a surefire option for injecting a key piece of structured personality into these slightly more relaxed outfits. The dark blue trousers from Tuesday would be a nice pairing here, or you can double down on patterns with the Tartan Check Wool Trousers ($1,840). The Gucci 100 Loafer ($1,480) – which honours the House's Centennial – is a sharp addition to this look, this time in brown rather than black, and the shades of brown continue with the GG Perforated Cotton Cardigan ($1,840) inspired by the original Gucci rhombus motif from the '30s. As with all the Gucci pieces in this lookbook, the devil is in the details, and no outfit is complete without the appropriate accoutrement such as a Gucci 100 Small Tote Bag ($3,075) and the gender-neutral Grip Watch ($2,565) in a smart 40mm offering with a two-window classic dial.
---
FRIDAY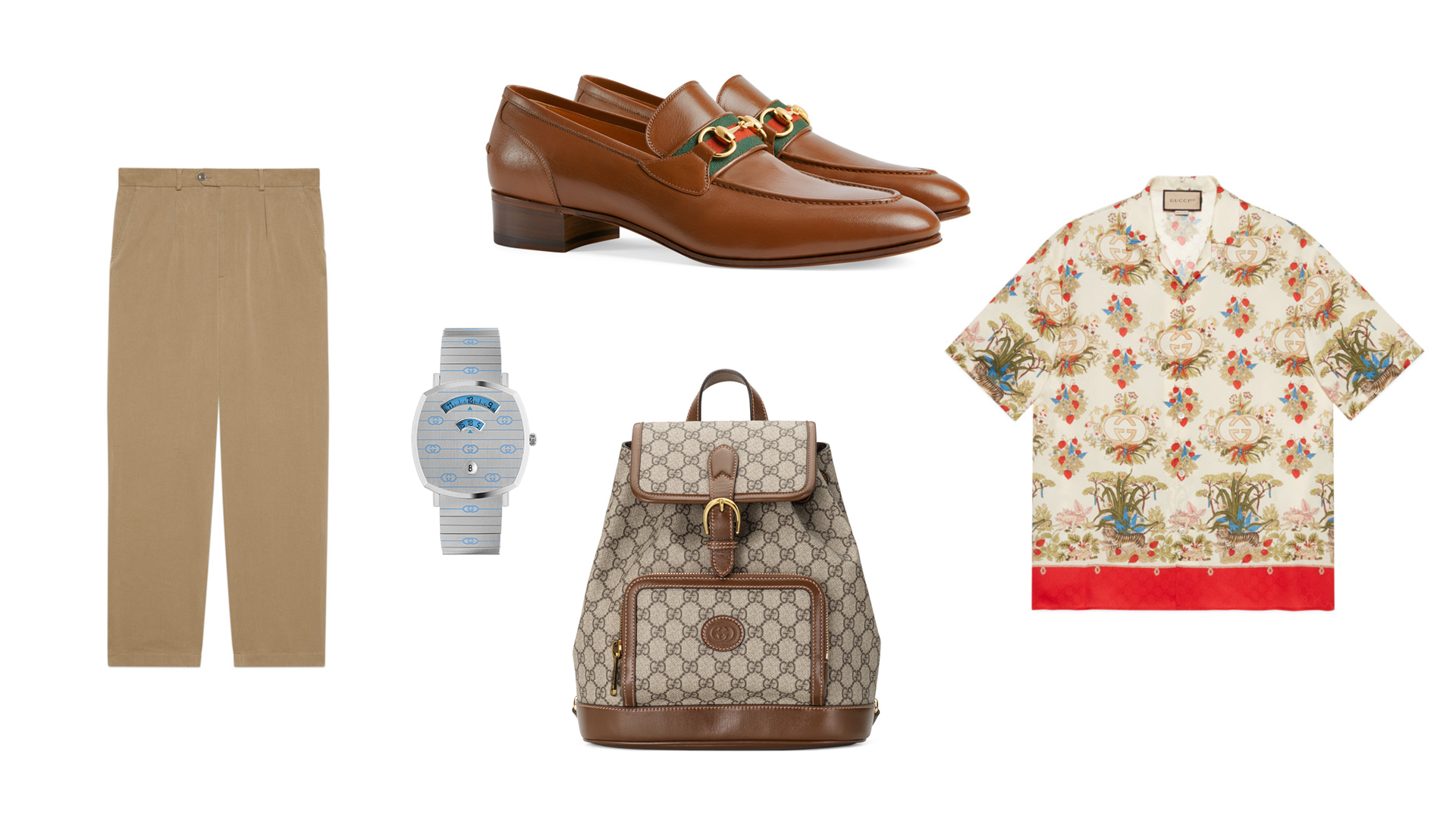 The weekend is basically here, but there's a fine line between keeping it cool and maintaining professionalism as 5 pm fast approaches. The Gucci 100 Floral Print Bowling Shirt ($2,055) will make the transition from your office to after-work sundowners seamless, and the Cotton Pant with Interlocking G ($1,310) returns to round out the tapered but relaxed Friday style. The pop of blue on the 38mm Grip Watch's ($2,630) Super-LumiNova shakes up Gucci's traditional tri-colour uniform. Combine the Backpack with Interlocking G ($2,895) with a pair of Loafers with Horsebit hardware ($1,270) to complete the ultimate end-of-week getup, the latter a slightly more playful shade of brown than previous.
---
---
---
OFF DUTY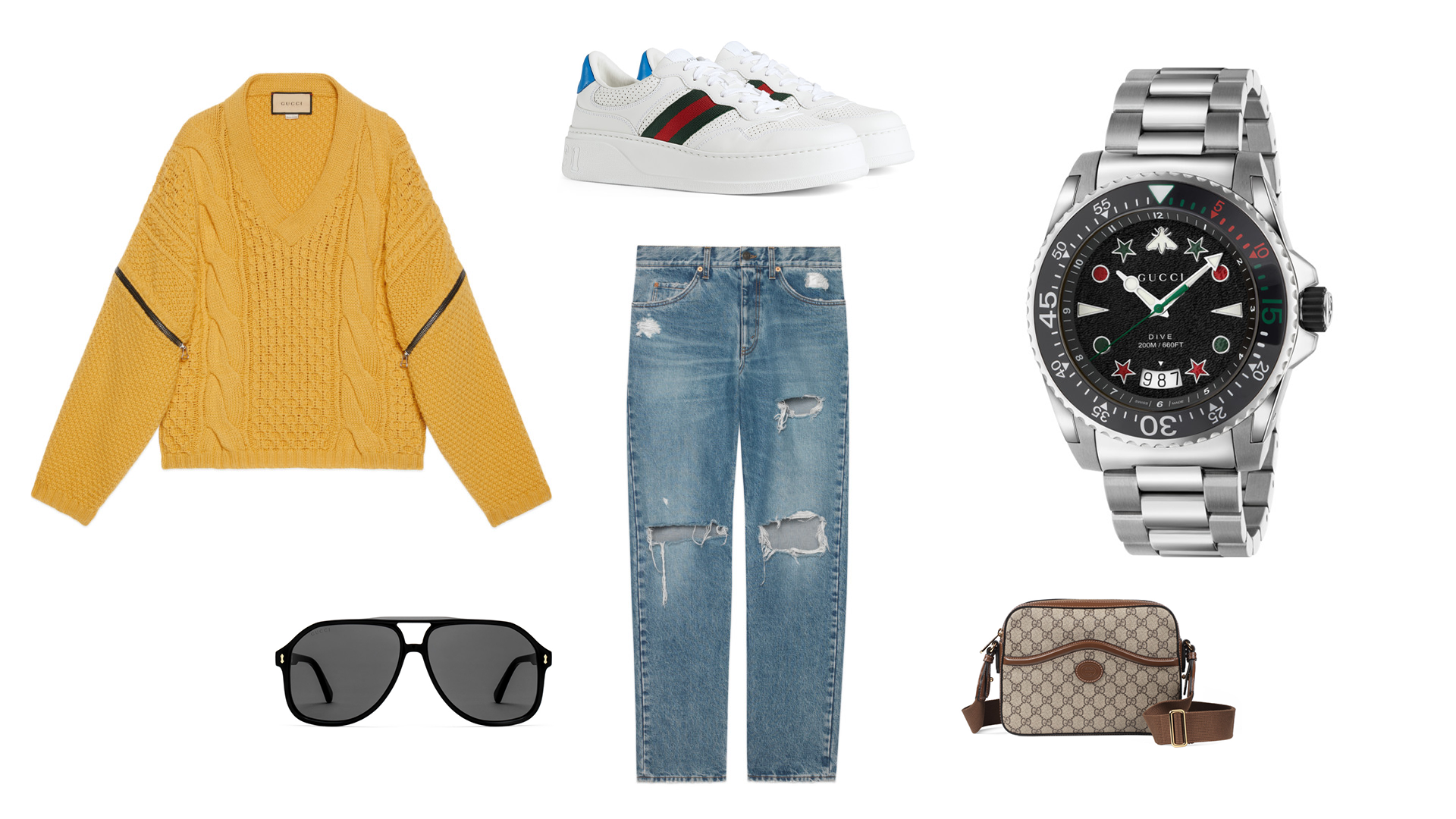 Here we are, what you've been waiting for. Gucci's contemporary take on professional sartorialism ticks the boxes throughout the vocational week, but some of the House's most stylish and sought-after garments are best served off-duty.
Let the bright colours fly with a yellow Cable Knit Sweater sporting detachable sleeves ($1,840) and kick back in the Ripped Eco Bleached Organic Denim Pant ($1,135). As for sneakers, it doesn't get more iconically retro than Gucci's humble nods to its equestrian origins on the Men's sneaker with Web ($1,175). Big and bold are back this summer with the Navigator-frame sunglasses ($575), proudly displaying Gucci rivets on the front and logo detail on the sides. Switch up your wrist game on the weekends for a 45mm Gucci Dive Watch ($2,120) for those days that you're likely splitting your time equally between the waves and dry land. Finally, with less to worry about on the weekends, there's less to carry. The Messenger Bag ($1,785) is crafted from monogram canvas and its Interlocking G has remained one of the most symbolic codes of the House since its introduction.
Discover the latest Gucci collections now.
This article is proudly presented in partnership with Gucci. Thank you for supporting the brands who support Boss Hunting.