A pioneering brand of the HIIT movement and rapid fire group fitness, Barry's Bootcamp has finally made the leap from the USA to Australia. Launching in Sydney via a Surry Hills studio on September 15th, it'll bring a whole new level of intensity to the Aussie scene. Back in July, I was lucky enough to be put through the ringer of Barry's intense workouts before they hit our shores and oh boy was it satisfying.
Entering the world famous Red Room was like venturing into the Colosseum, only with less blood and more motivational trainers. To follow was a truly out-of-body experience which was emulated in buckets of sweat pouring down my face and heavy fatigue reaching the perfectly targeted parts of my body. Luckily through all of that action, the workout is a fairly simple structure and the trainer's instructions help to keep it mindless (which is necessary with all the effort).
Basically, there are two segmented areas; a row of treadmills for big HIIT cardio phases and a floor space with various equipment to get those muscles moving. At the trainer's discretion, you switch between the two, with a bit of leeway in terms of how hard you can push yourself. The studio's workout calendar is uniquely customised to focus on independent muscle groups each day of the week, covering the butt, arms, abs, legs, and chest along with hardcore and full body classes. Best of all they easily fit within an hour-long class.
---
---
Fantastically enough the whole experience will translate into the Australian market, accompanied by Barry's branded sportswear/athleisure apparel in collaboration with Lululemon, a Fuel Bar setup with made to order protein smoothies, and high-end change facilities (incl. Oribe hair products, complimentary towels, wi-fi, and Dry Bar amenities).
So to see how it will all go down I chatted to the Head of Operations Heston Russell who, alongside my epic on-ground experience, convinced me that Barry's Bootcamp Australia will be the new efficient way to get that fitness regime sorted this summer. Heston has brought his expertise over from a government/military training background, starting off as a client at Barry's before transitioning into his current position. Both him and Head Trainer Blake Bridges are leading the launch of Barry's Australia (backed by Fitness & Lifestyle Group) as it rolls out over the next couple of months.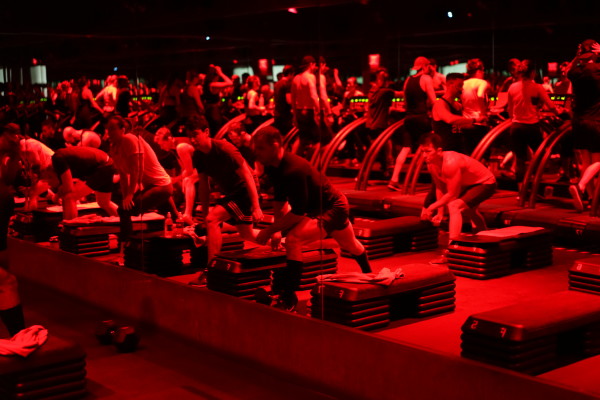 Firstly, why do you think Barry's has been such a phenomenon worldwide?
The key thing that I can really speak to is just how authentic the growth really is. The brand turns 20 this October and there are currently 42 Studios worldwide, so it's developed in such a natural way that the authenticity of the brand has been able to ring true with the first and foremost principle of Barry's. There isn't any mass marketing or mass production, we personally know each and every person that owns and operates a studio internationally or in the US.
With that organic growth, Barry's seems to have been able to avoid fads and BS trends. Do you think that this more authentic offering is going to be unique in Australia?
Definitely, the essence of our business is qualitative as opposed to a quantitative approach. Individuals who know Barry's already in Australia have come out in their droves and they are the salt of the earth people that the brand has been built on over the last 20 years. This means we essentially have the confidence in the experience due to its age and how long it's worked so we don't have to hop on trends or fads. We have all those studios worldwide and not one has been closed all these years. To do that we make each studio bespoke to their individual communities.
Well since it's already such a great experience, has there been any adaptations to bring it here?
A lot of major changes come down to the instructor selection. We need people who appeal to the diversity of the Australian space. We're also working with a local nutritionist in the revision of some of our menu for the Fuel Bar to bring it into that Australian localization. That component is being adapted to still meet the really strenuous nutrition requirements of our workouts whilst also considering what is core to the values within the community.
Secondly, there's an opportunity with the retail and one of the most exciting aspects is studios carrying their own apparel with partners like Lululemon. Again, that focuses on the requirements of our clients, our community and our market within Australia, ensuring we tie everything together to provide the best experience possible.
Lastly, I find it so critical that our studio is really integrated into the local community fabric. With Surry Hills, we plan to be there for a long time so we want to be the best part of that local community. We need to understand and embrace the people around our studio as much as possible.
---
---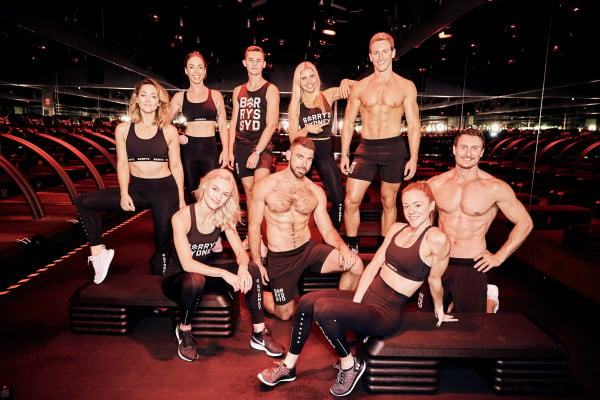 In terms of what customers are getting out of it with these rapid-fire workouts, what would you say is the value that differentiates Barry's from other offerings on the market?
A lot of people will leave whatever fitness they're undertaking and come to Barry's because if you literally have one hour a day, doing it is all you need to do. I can speak to that, in my own fitness journey I have worked out at the elite level throughout my career and I know how my body responds to change. I'm not a big fan of cardio but ever since I first discovered Barry's I would smash my physical tests in the military after having two to three periods where I'd do the classes a couple times a week.
The efficiency is just amazing. So many people do their cardio and do their weights training together. The majority of group fitness that I have participated in within the Australian market incorporates lifting, building, sculpting and toning straight on the top of cardio at the same time. Barry's segments it out instead. You're doing your maximum HIIT training on the treadmill and then on the floor you lower your heart rate back down to build, strengthen and condition. Then you're straight back up there on the treadmill and therefore building this workout that has your metabolic rate continue to burn up to 48 hours afterward.
So from that, we want to focus on building a product whereby you can come every single day of the week and do arms, abs, chest, or back. You can segment it out to your personal fitness requirements and literally within one hour a day achieve whatever the results you want to achieve.
So what should people realise once they embrace the Barry's product?
I want people to come for the fitness, stay for the family. I do look forward to springing into the Australian market with a product that people deserve. I know how much money everyone pours into the fitness industry, myself included, and I want to bring an experience where we are the one-stop shop. You have everything you need under one roof, from your fitness through to your world-class facilities.
To finish off, who would you say the workouts are for?
It sounds so cliche but I'd say everyone and anyone. From someone like myself who's at an elite level of fitness through to my sixty-year-old mother who's done Barry's classes, it is literally is for anyone who wants to participate in a fitness product that will achieve results.
Book your class at Barry's Surry Hills here