One could argue the need for genuinely warm puffer jackets in Australia is a loose argument at best. Though despite how little you might use it, a good quality men's puffer jacket is the backbone of every bloke's wardrobe once the mercury drops into the single-digits.
So which puffer deserves your money? We've collated a list of the best men's puffer jacket brands for everyone – every type of conditions, every style and every price point.
First, let's start with the basics you should verse yourself in before dropping cash on your next piece of winter outerwear.
---
---
Table of Contents: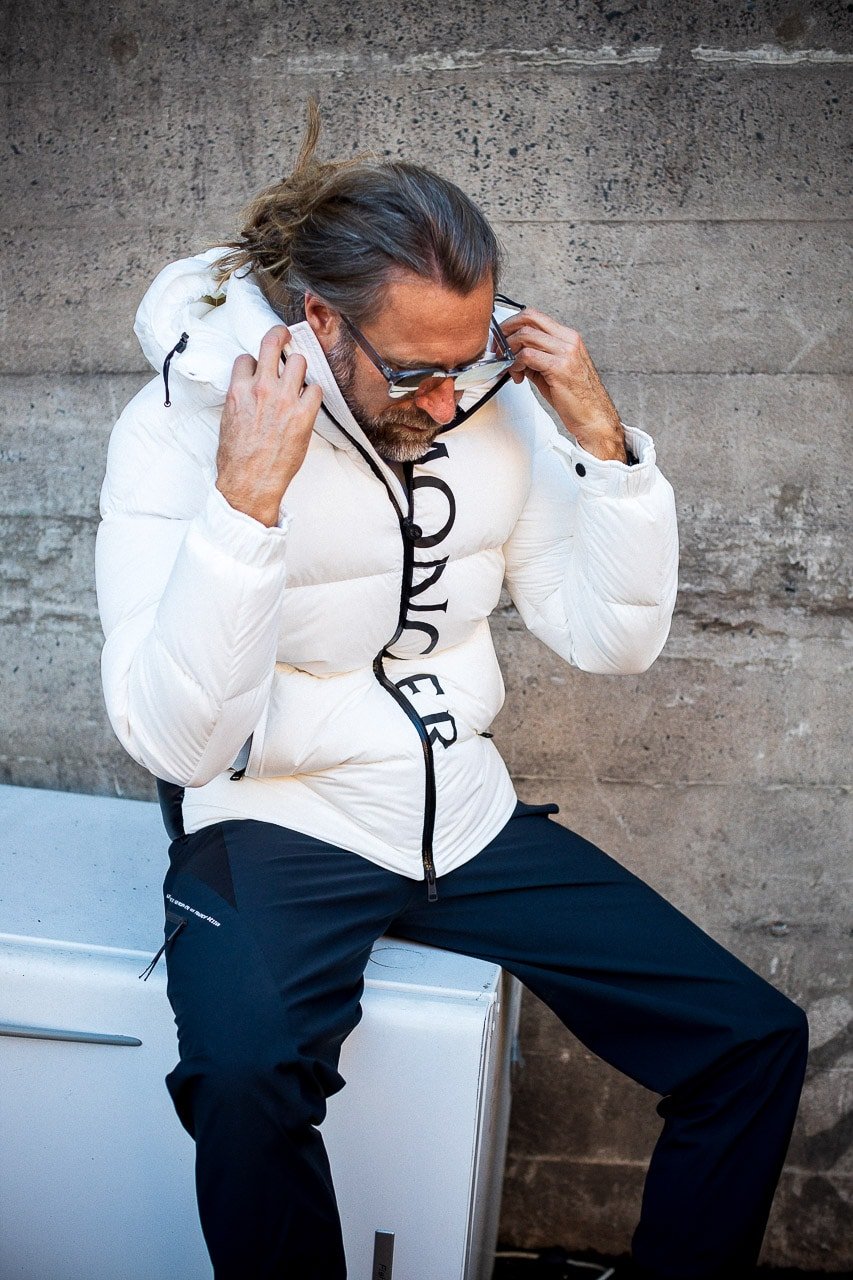 What to look for in a quality men's puffer jacket brand
A puffer jacket is the warmest winter outerwear any man can have in his wardrobe. In the right climate, a stylish, well-made puffer is a strong addition to any winter outfit. But as with any garment, style, aesthetics, and even a brand name don't necessarily translate to quality.
For men's puffer jackets specifically, there are stark differences between those jackets that contain 'down' and those of which the padding is made from polyester. In a nutshell, down jackets offer superior quality and warmth.
So what is 'down' exactly? It's the fine soft feather found closest to a bird's skin. If you want to get really specific, between goose and duck down, the former is the superior insulation material. Regardless, the best of these jackets will almost always use down as the thermal insulator.
Keen observers can determine quality by a quick check of the label or by looking at the online description for the down to feather ratio. For example, a 90% down and 10% feather ratio is one of the warmest insulation ratings you can get, and they decrease from there.
If there's no down to feather ratio, the puffer jacket brand should specify it as polyester. These jackets are bulkier, lesser quality and don't boast the longevity of a genuine down jacket.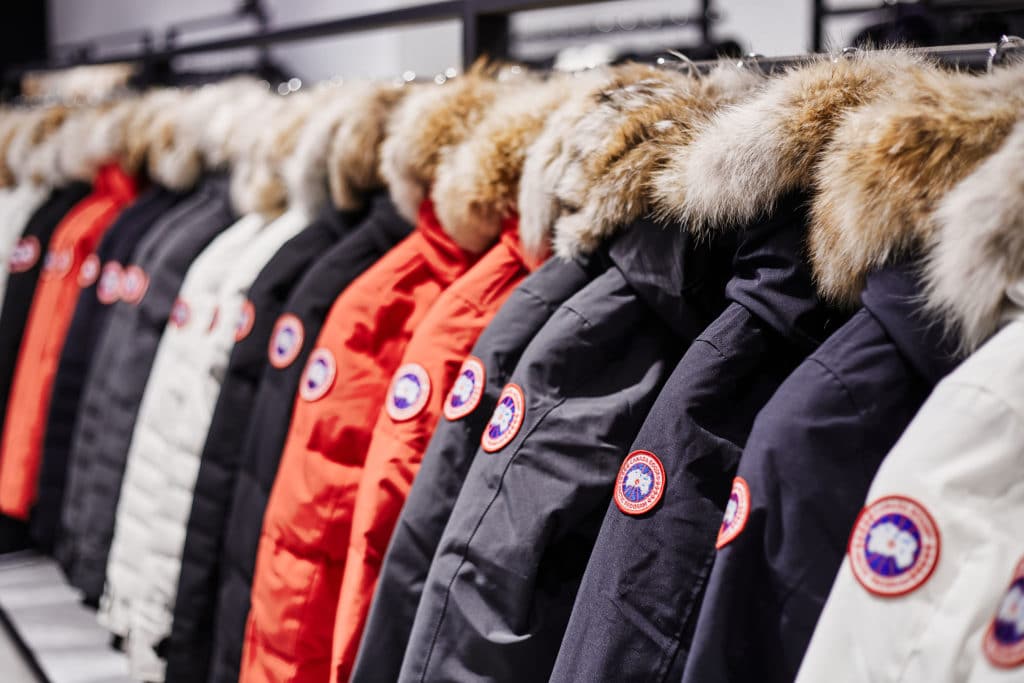 Top-tier men's puffer jacket brands
---
Templa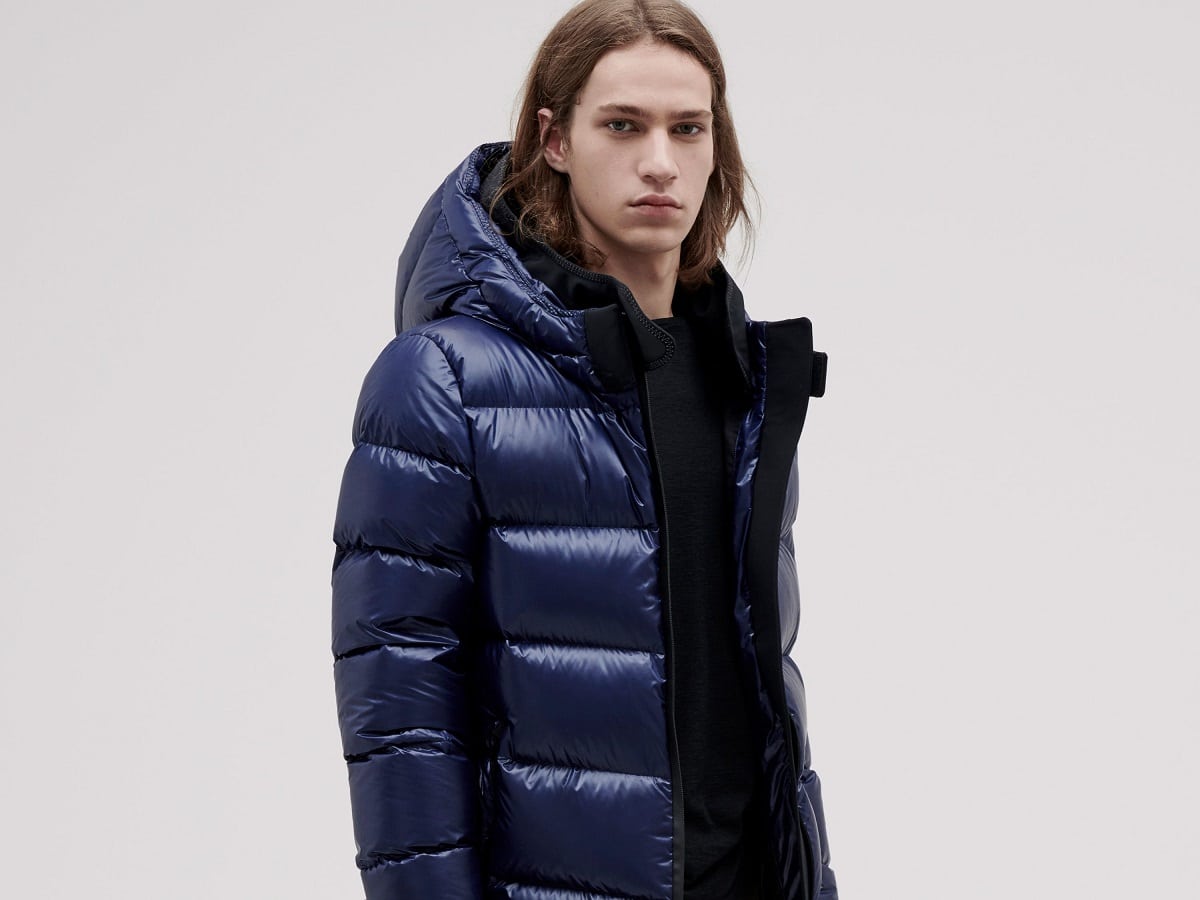 If you're prepared to spend north of $2000, there are only a handful of brands on the market that are worth your time. One of the first you should consider is Templa. Gradually shifting focus from the slopes to the streets over the last few years, Templa is renowned for delivering some of the best urban outerwear you can buy.
Consistently 800 fill (90% down to feather ratio) – and sometimes even better – Templa's subdued colours and slick matte finishes make this puffer jacket brand one that is almost unrivalled.
---
---
---
Moncler
The reason I said Templa was almost unrivalled, was because no conversation about the best men's puffer jacket brands is complete without a nod to Franco-Italian outerwear specialists, Moncler.
Founded in 1952 by René Ramillon and André Vincent, the brand was born in the alpine region near Grenoble, France, and weaves some of the finest down jackets on the market. Unlike Templa, they also dabble in a full wardrobe offering – everything from sneakers to accessories and other men's apparel.
---
Arc'teryx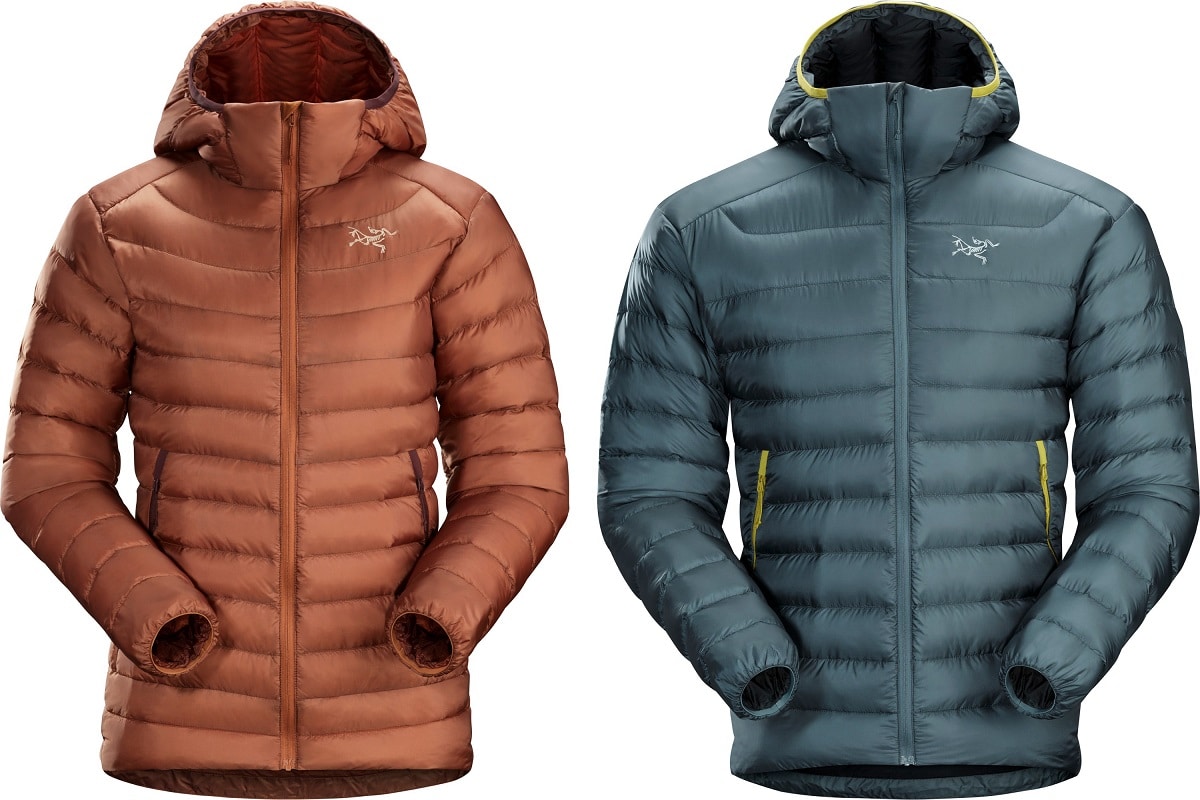 Revered for their proven endurance in the elements, jackets from Arc'teryx are the finest technical outerwear you can buy for fast-paced activities. The Canadian company was founded in the mountains of North Vancouver by climbers who literally relied on it in life or death conditions. The articulated construction of Arc'teryx's puffer jackets ensures mobility, and their insulated hoods provide coverage without compromising the wearer's range of vision.
---
Canada Goose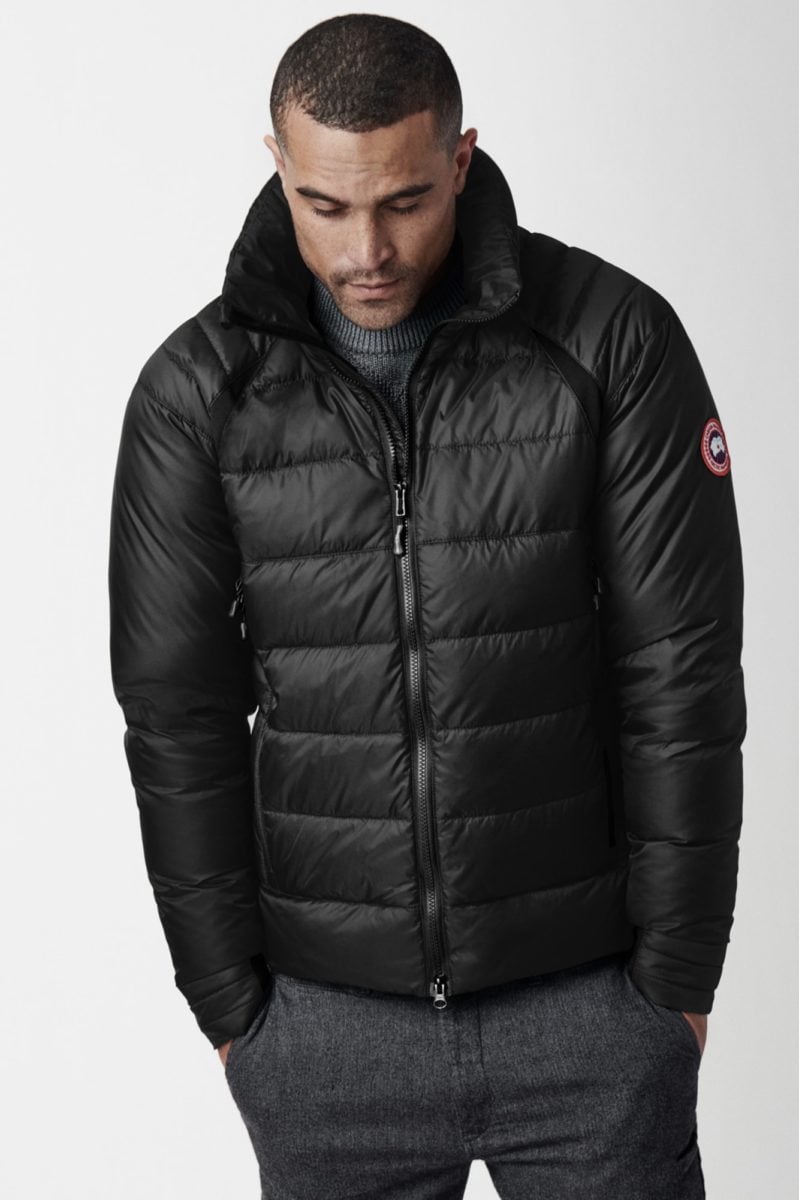 One of the most celebrated high-end down jacket manufacturers is Canada Goose. Their 60-year history is peppered with sub-zero milestones including Mount Everest summits, South Pole traverses, Arctic scientific expeditions and polar bear conservation initiatives. Canada Goose is as iconic and admired worldwide as it is durable and a worthy label to consider for your next purchase.
---
Descente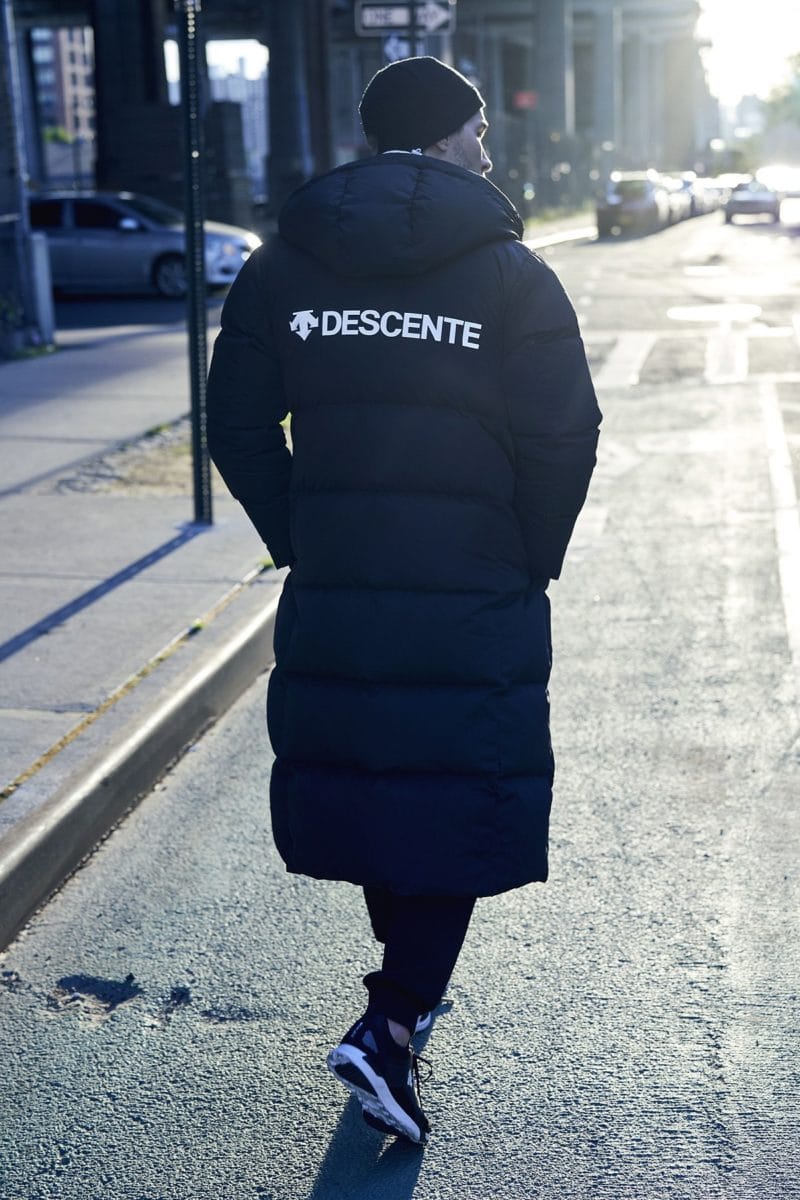 The gold standard for ski-suitable puffer jackets and technical outerwear is Descente. Despite sourcing a French word for its re-brand in 1961, Descente is a Japanese ski sportswear label hailing from Osaka and was established way back in the 1930s. The company backs Japan's most successful athletes, and while its range of padded jackets isn't a huge one, the classic 'less is more' approach by the Japanese is sometimes all you need.
---
Moose Knuckles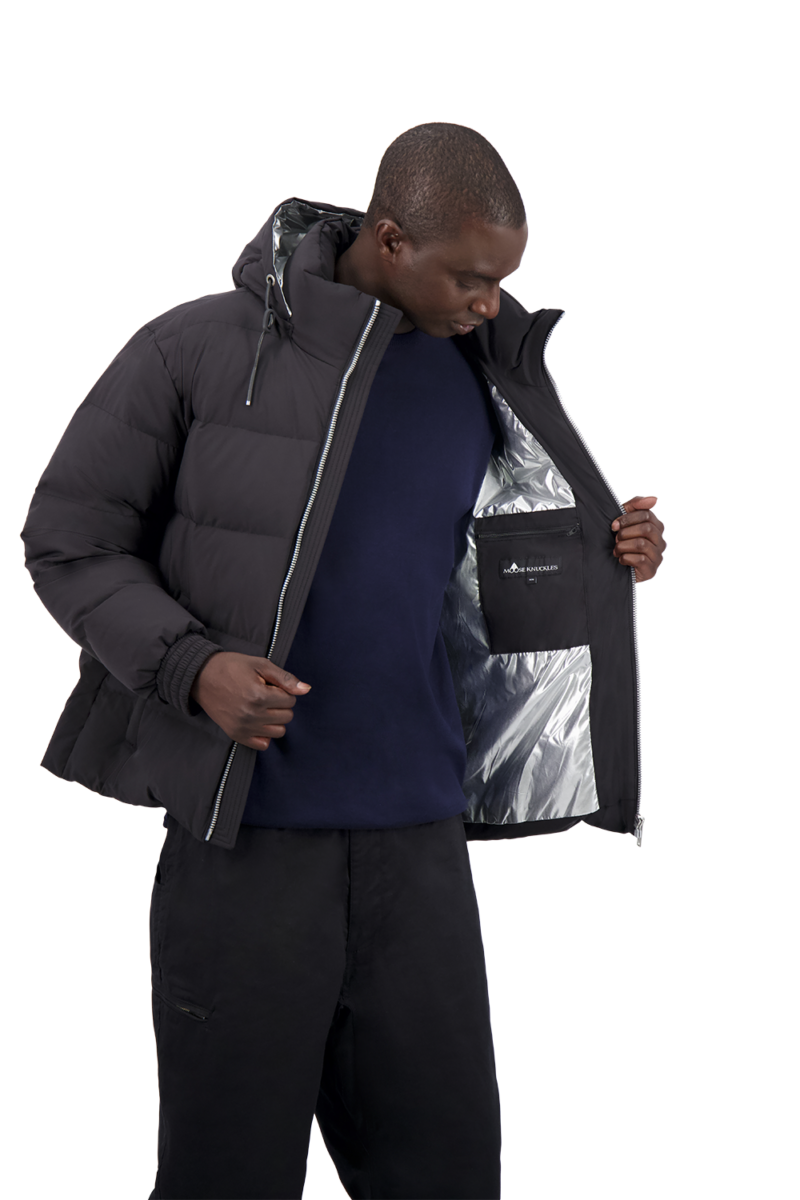 You're looking at well over $1,000 if you want to get your hands on a Moose Knuckles puffer jacket. The premium Canadian brand was founded in Montreal by Will Poho in 2007, since becoming one of the most sought after luxury brands in Canada, expanding to now include a number of signature puffer jackets like The Dugald, which combined contrasting high-gloss and matte shell fabrics and features an 80/20 loft down fill with an oversized hood, and the high-performance Javelin with 90/10 goose down fill, four internal pockets, adjustable straps, heat-retaining lining, and a cell service blocking pocket.
---
Mid-tier men's puffer jacket brands
---
Ralph Lauren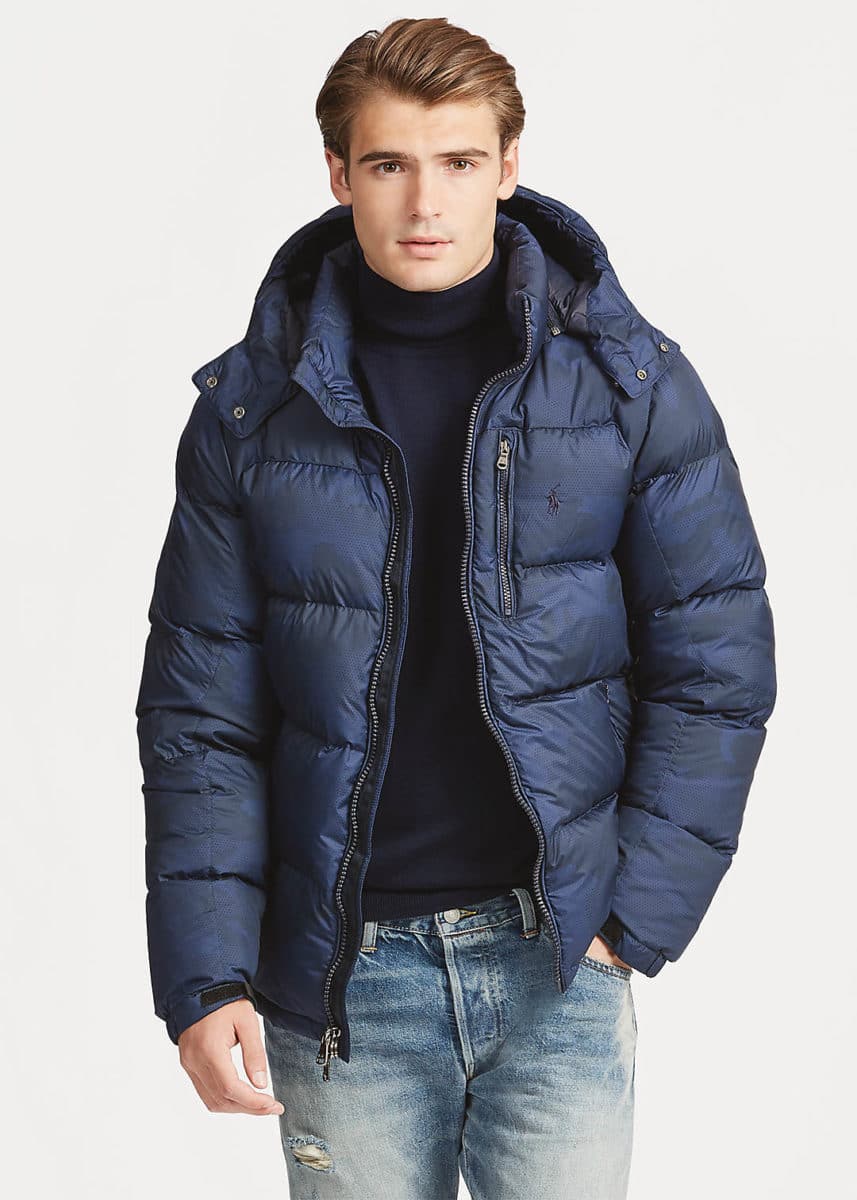 While not exclusively known for their padded jackets by any means, one shouldn't overlook Ralph Lauren for their exceptionally stylish puffers that boast the quality to match. From casual shell jackets perfect for Aussie winter to full-blown fur down jackets, Ralph Lauren bridges the gap between affordable style and top-tier treatment.
---
Helly Hansen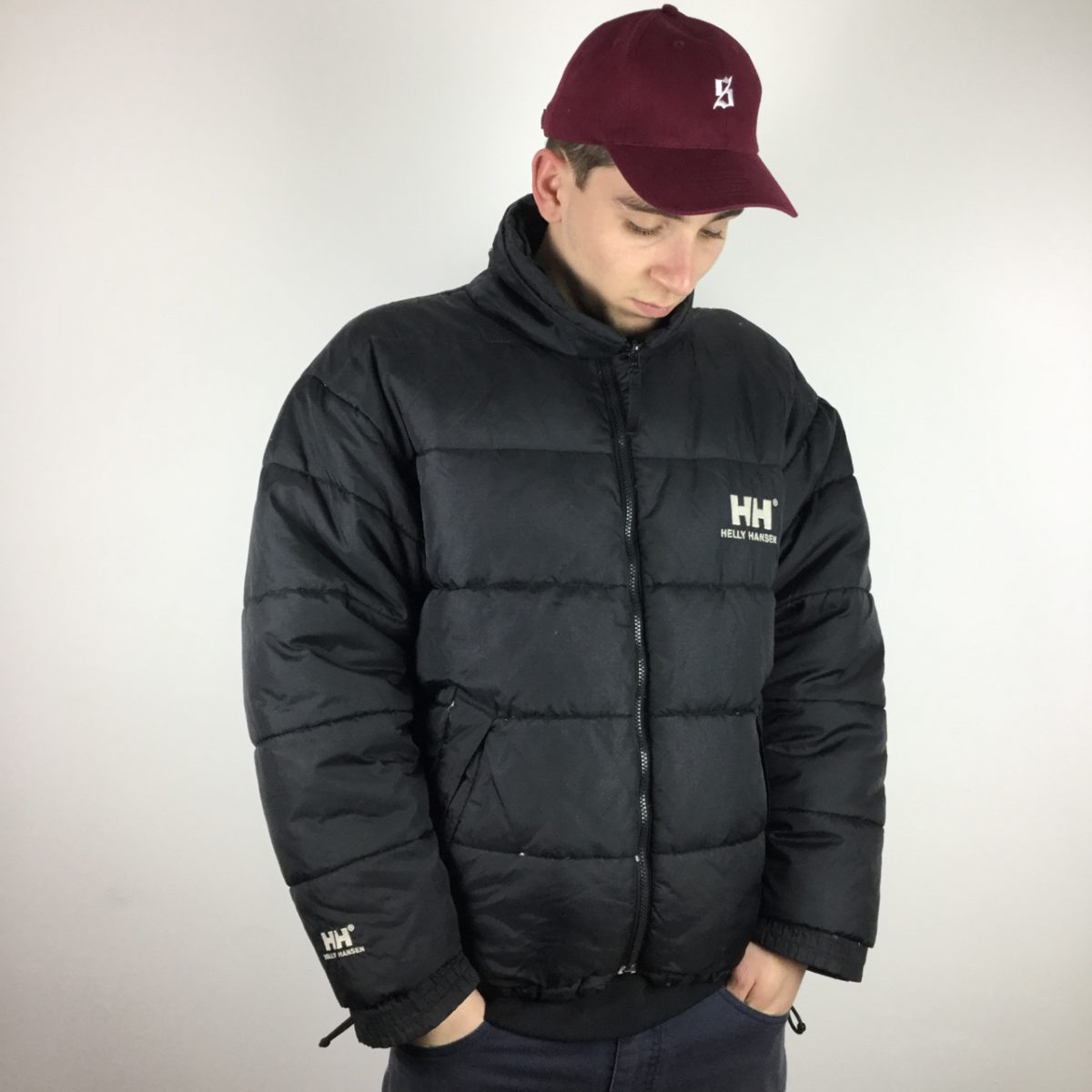 Helly Hansen manufactures some of the finest technical shells in the game with their forte being weatherproof windbreakers. But that doesn't mean they let things slide on the puffer and parka game. In fact, their waterproof party trick translates to their puffers also, meaning they'll be both warm and water-resistant the entire time you're out in the elements.
---
---
---
Edmund Hillary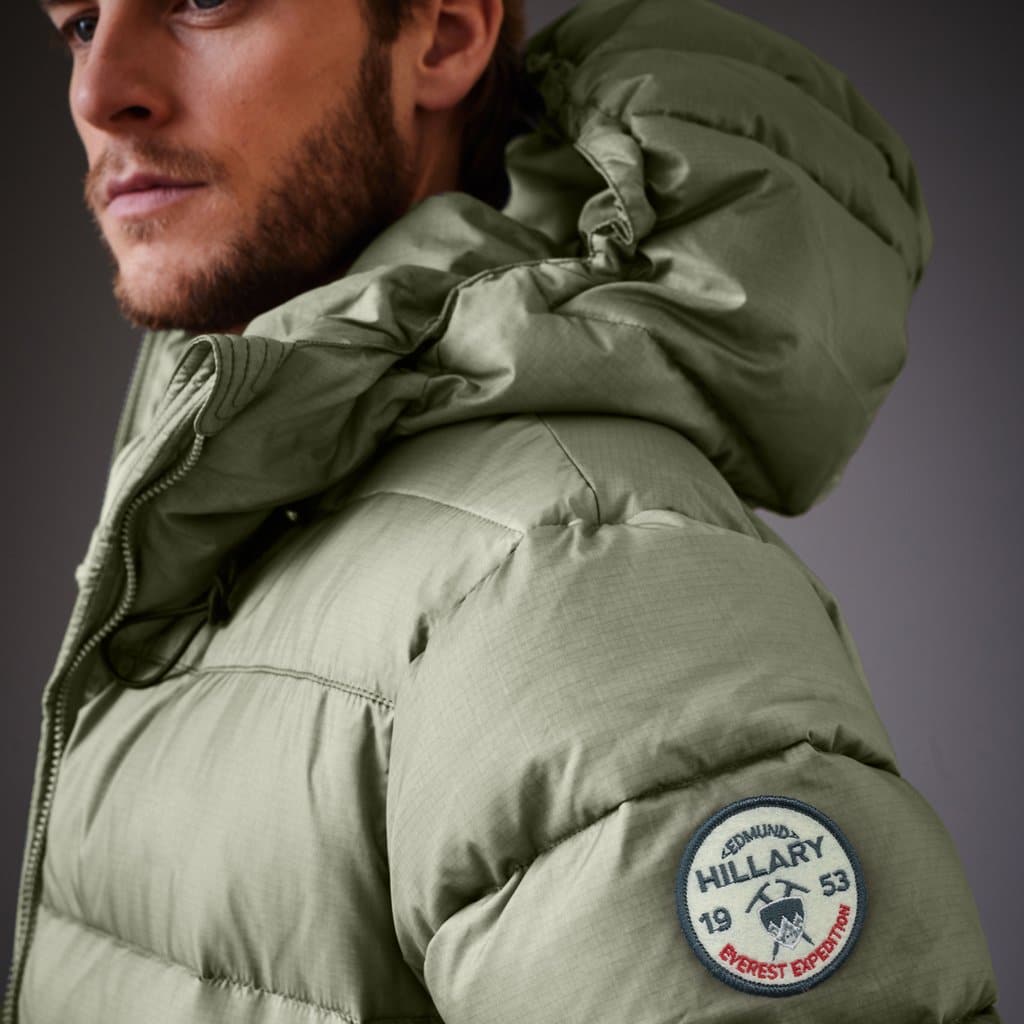 Inspired by the world-famous Kiwi climber of the same name, Edmund Hillary, many of the garments from this label have replicated the original fabrics and construction methods used in his 1953 summit of Mount Everest.
The label's strong New Zealand personality yet British design is perfect for the outdoorsman who appreciates a homage to pioneers and the gear that allowed them to succeed.
---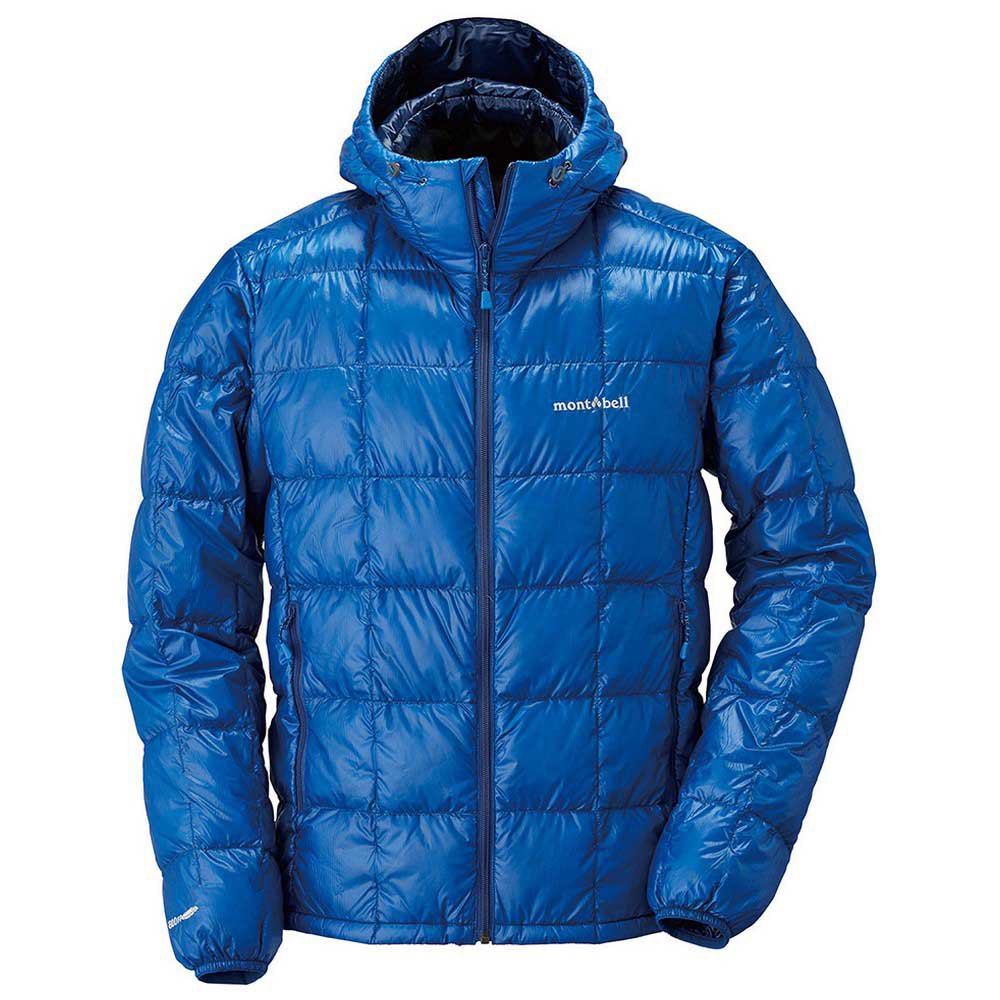 Montbell
Founded in 1975 by intrepid Japanese explorer, Tatsuno, Montbell has fast become one of the most reliable labels for high-quality, lightweight outdoor clothing that tracks across numerous categories, including sleeping bags and tents. Their puffer jackets are particularly attractive, reasonably priced and stylish with plenty of options.
One of their more popular jackets, the Superior Down Jacket, uses anti-static treatment to improve comfort, demonstrating the subtle attention to craftmanship that makes Montbell typically stick out far beyond its price point.
---
Huffer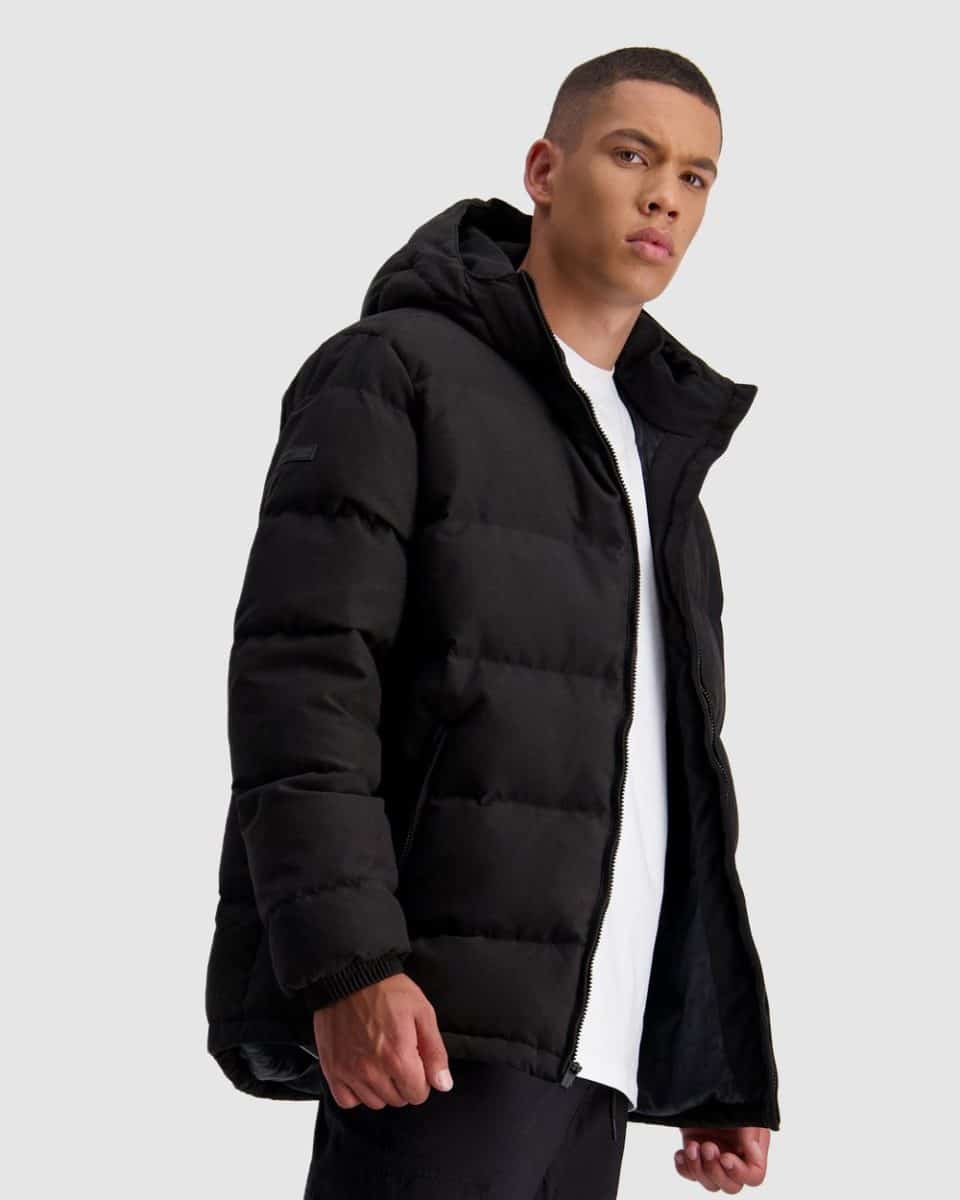 Another puffer jacket label born across the ditch is Huffer, one of New Zealand's most iconic labels designed for the people who spend equal parts of their time in the streets and in the mountains. Windproof, Gore-Tex rated and 90% goose down, Huffer delivers premium threads that look good no matter what you're doing.
---
Rab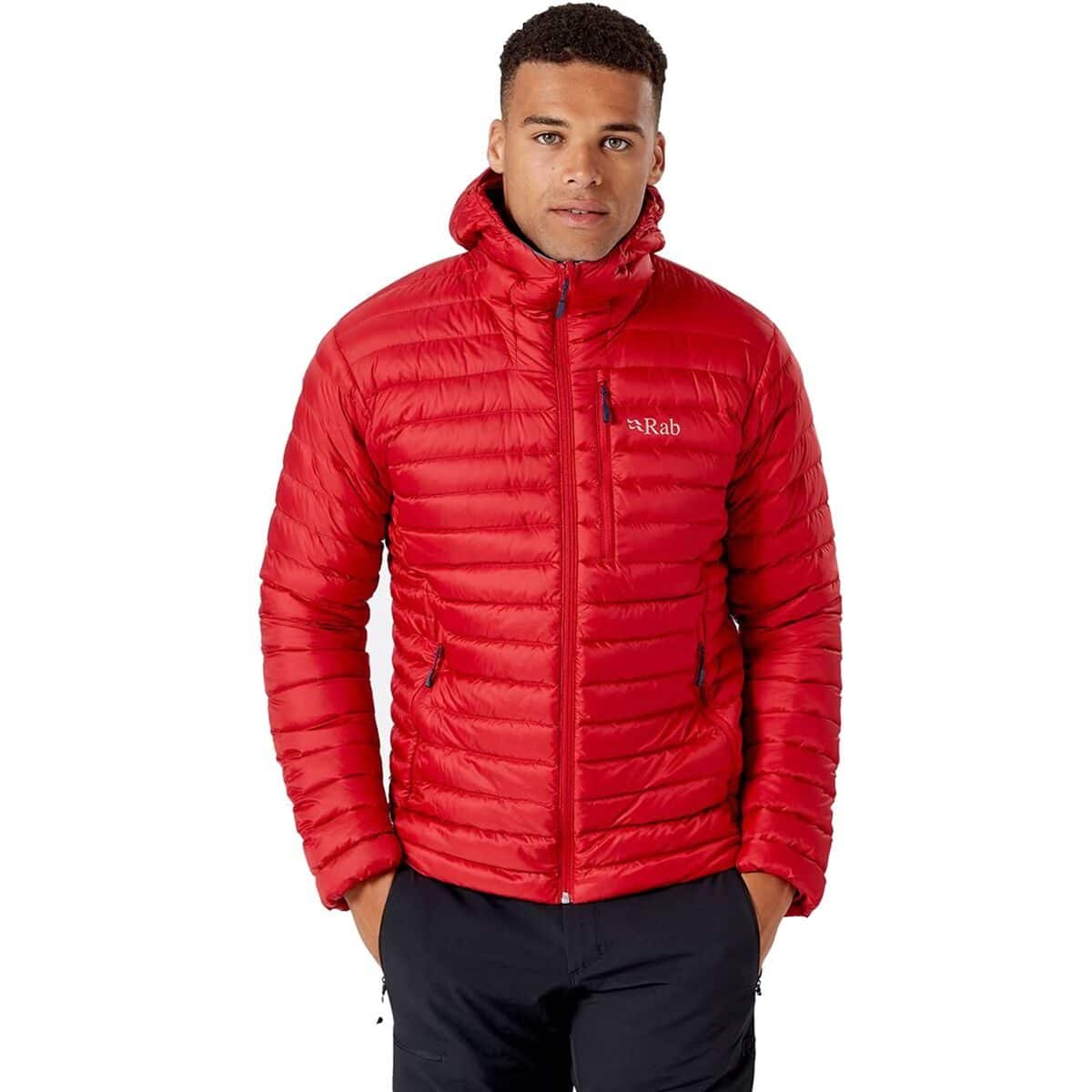 Rab pride themselves on ultra-lightweight down-filled mountain jackets that are slim and packable to ensure you don't waste precious space no matter the adventure you're undertaking. This incredibly well-respected label is a favourite amongst hikers and outdoorsmen of all disciplines.
---
Peak Performance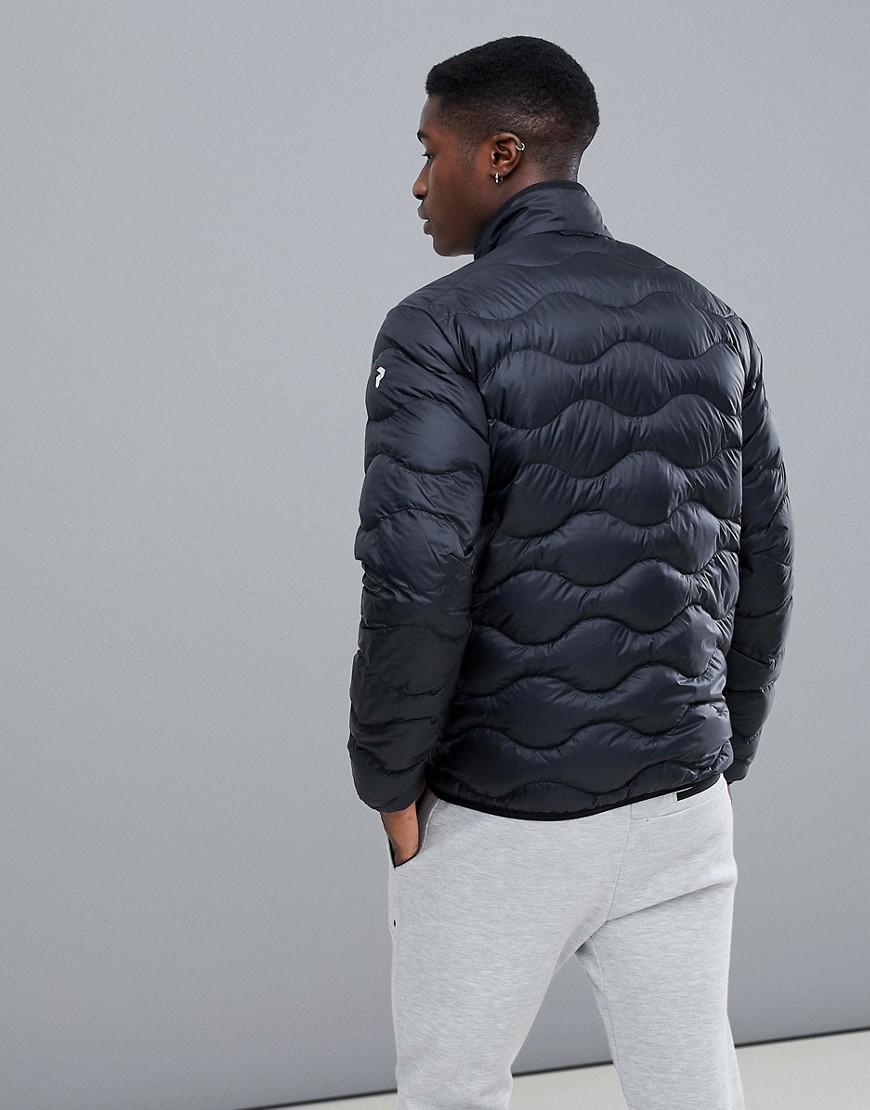 Similarly to Rab, Peak Performance is specifically suited to those who spend the majority of their time in the mountains. Their jackets are crafted from a ripstop fabric for added durability and can be used as layers under a shell or as the perfect standalone jackets year-around.
---
Patagonia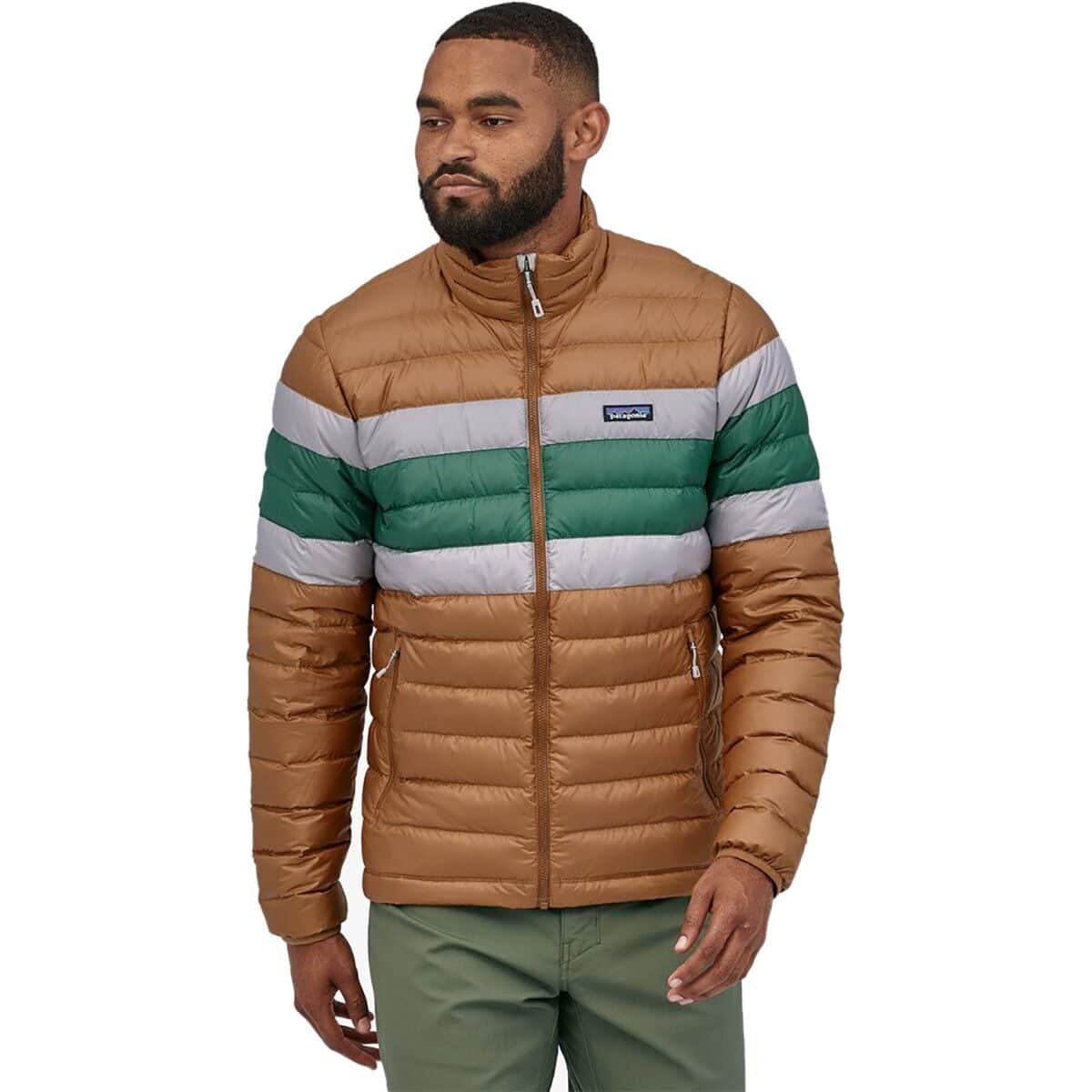 Californian apparel label Patagonia is in business to save the planet, with every garment on offer – including their puffer jackets – made with organic cotton since 1996. Patagonia offers both synthetic and down puffer jackets that are light, compressible and suited to a variety of activities and conditions.
---
---
For nearly 35 years, Patagonia has also pledged 1% of its sales to environmental groups and grassroots initiatives around the globe, totalling over $89 million so far.
---
The North Face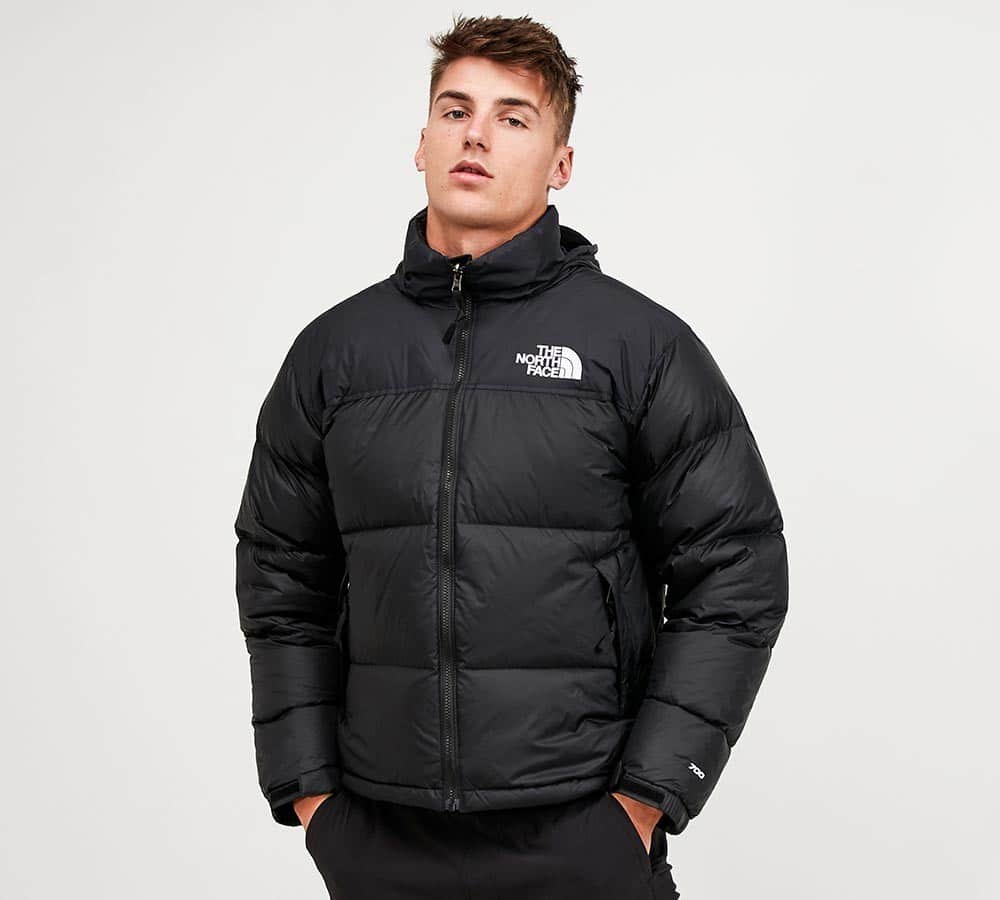 The North Face is one of the most recognisable outdoor brands in the world. They claim to "push the boundaries of innovation so that you can push the boundaries of exploration." You always know what you're going to get, and when it comes to puffers, they do these staples extremely well.
---
Napapijri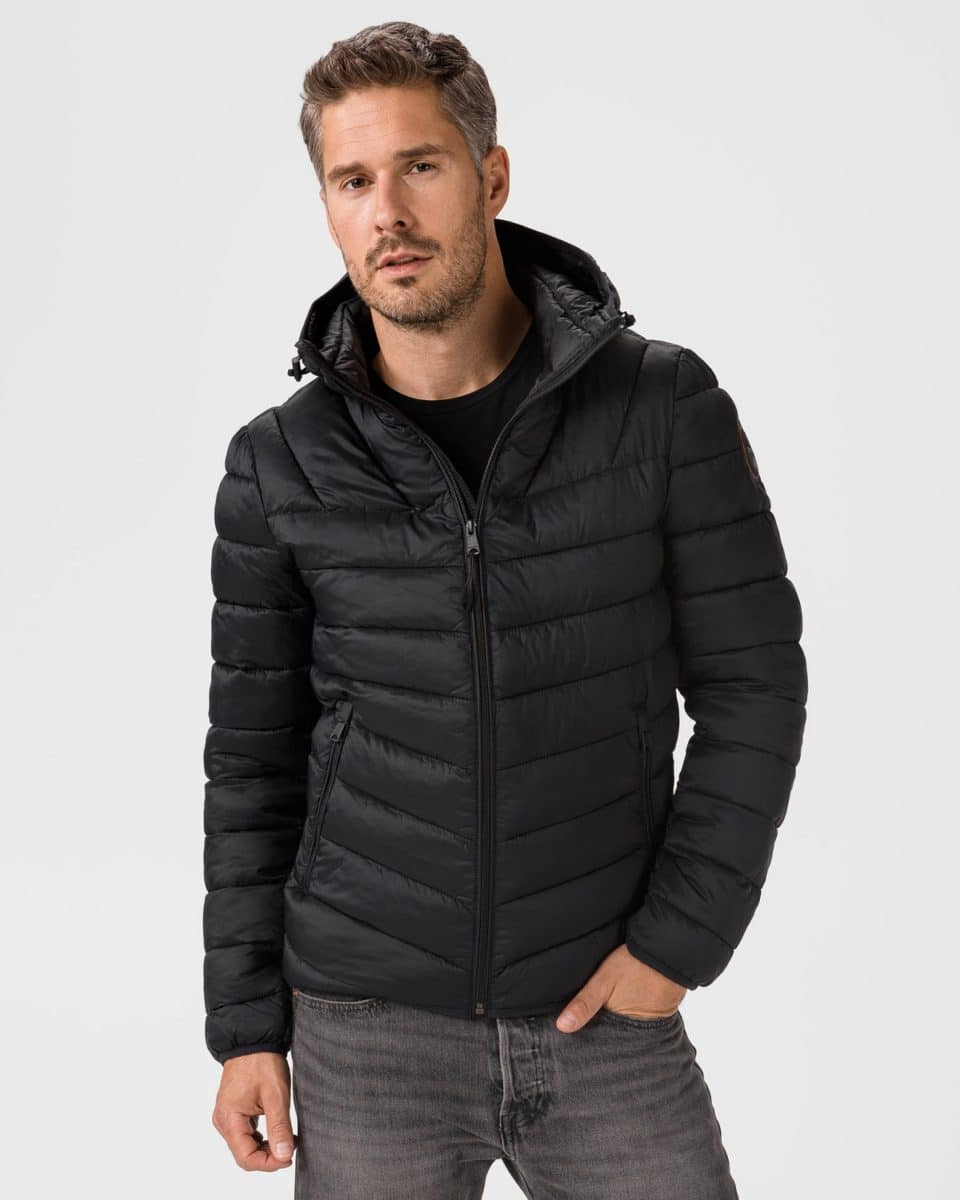 Napapijri is a premium yet laid back Italian apparel label owned by the same parent company as The North Face. Despite being known for their iconic rainforest anoraks, Napapijri's men's puffer jacket range is a small but popular option for those looking for something a little left of field.
---
Affordable men's puffer jacket brands
---
Outerknown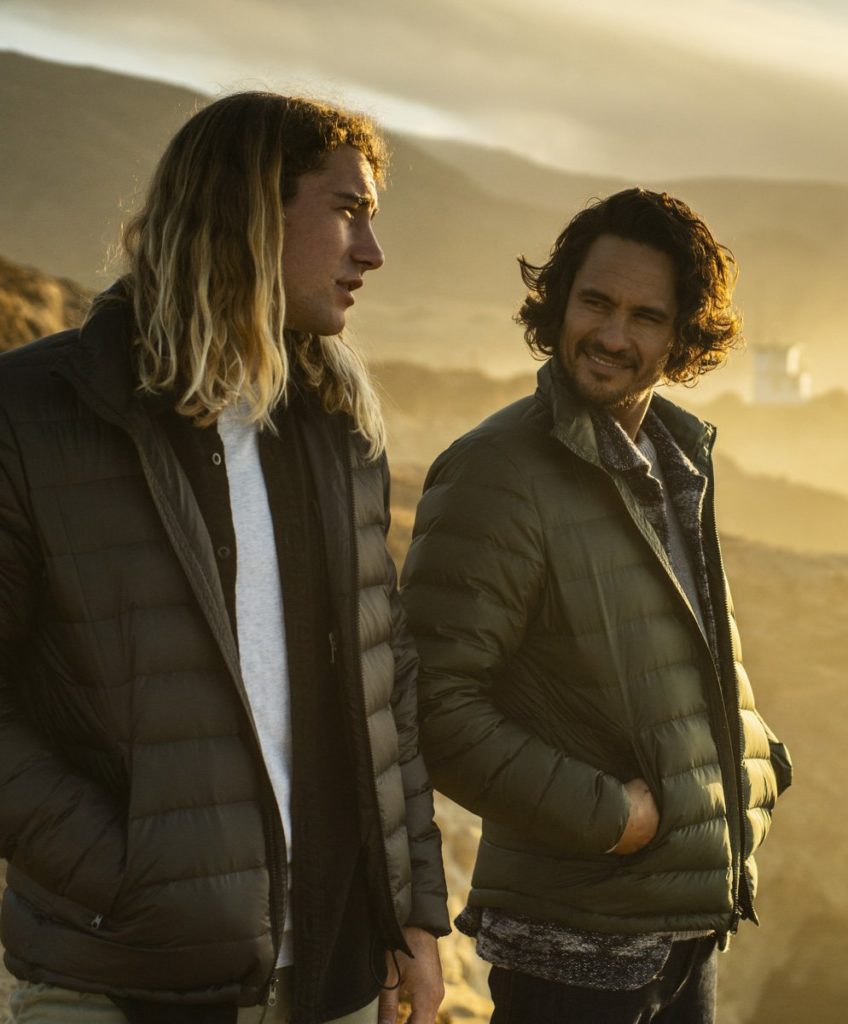 After 20 years of sponsorship from Quiksilver, 11-time world surfing champion and environmental activist Kelly Slater chose to part ways with the label to establish Outerknown.
Championing recycled and organic materials to create a collection of everyday essentials for men and women, Outerknown have also branched into puffer jackets. Their staple is a 700-fill duck down insulation layer with a rip-stop exterior and insanely packable construction that'll be the go-to for your next cool weather adventure.
---
Uniqlo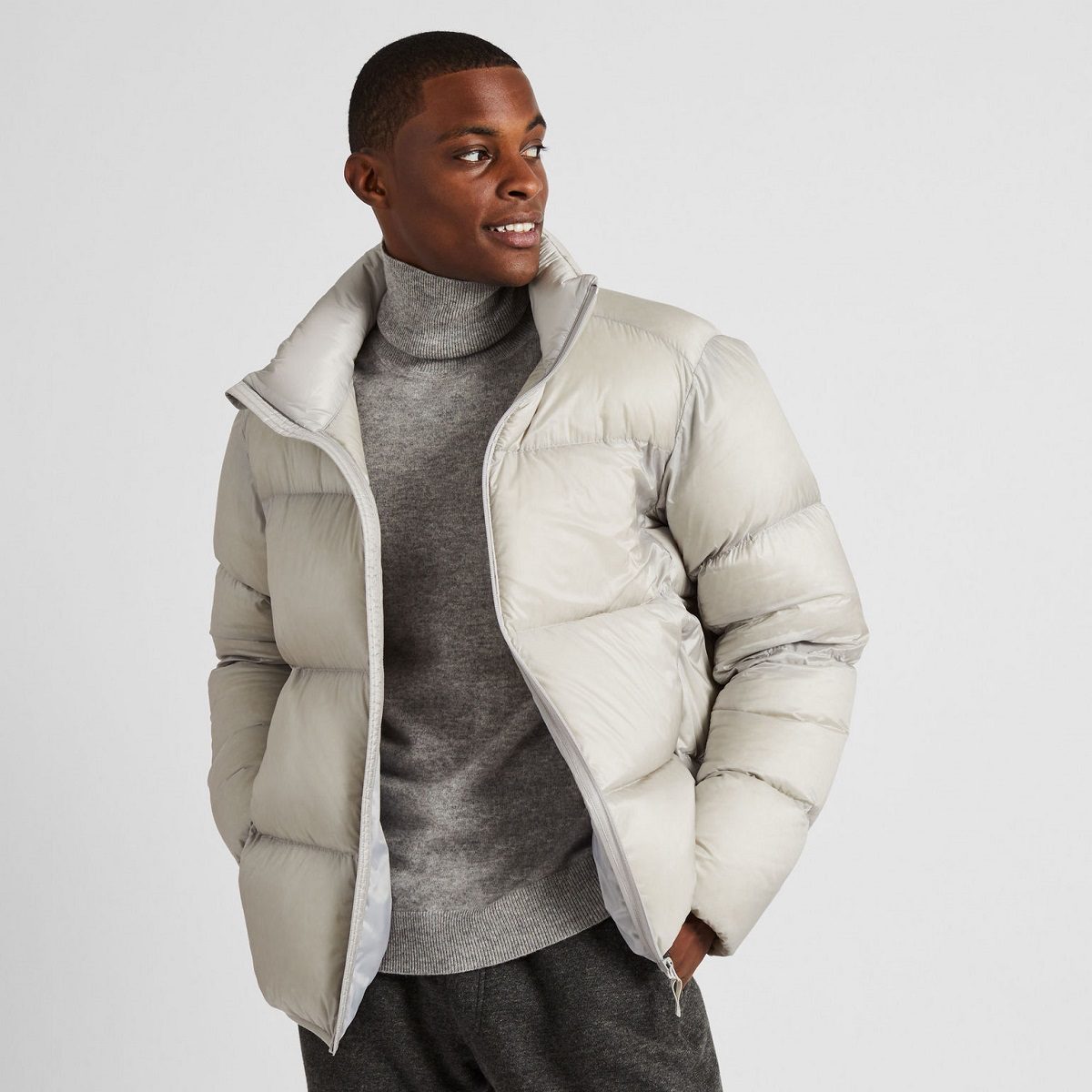 Don't knock Uniqlo until you try it. Price for product, Uniqlo's typically lightweight jackets are extremely good value and surprisingly warm. Given they only just crack the triple-digit
price tag, this exceptional buy is the ultimate grab 'n' go piece.
They look great, feel great, and while they might not boast the longevity of other brands on this list, they're perfect for the once-in-a-blue-moon usage you'll likely need in Aussie winter.
---
---
---
Save The Duck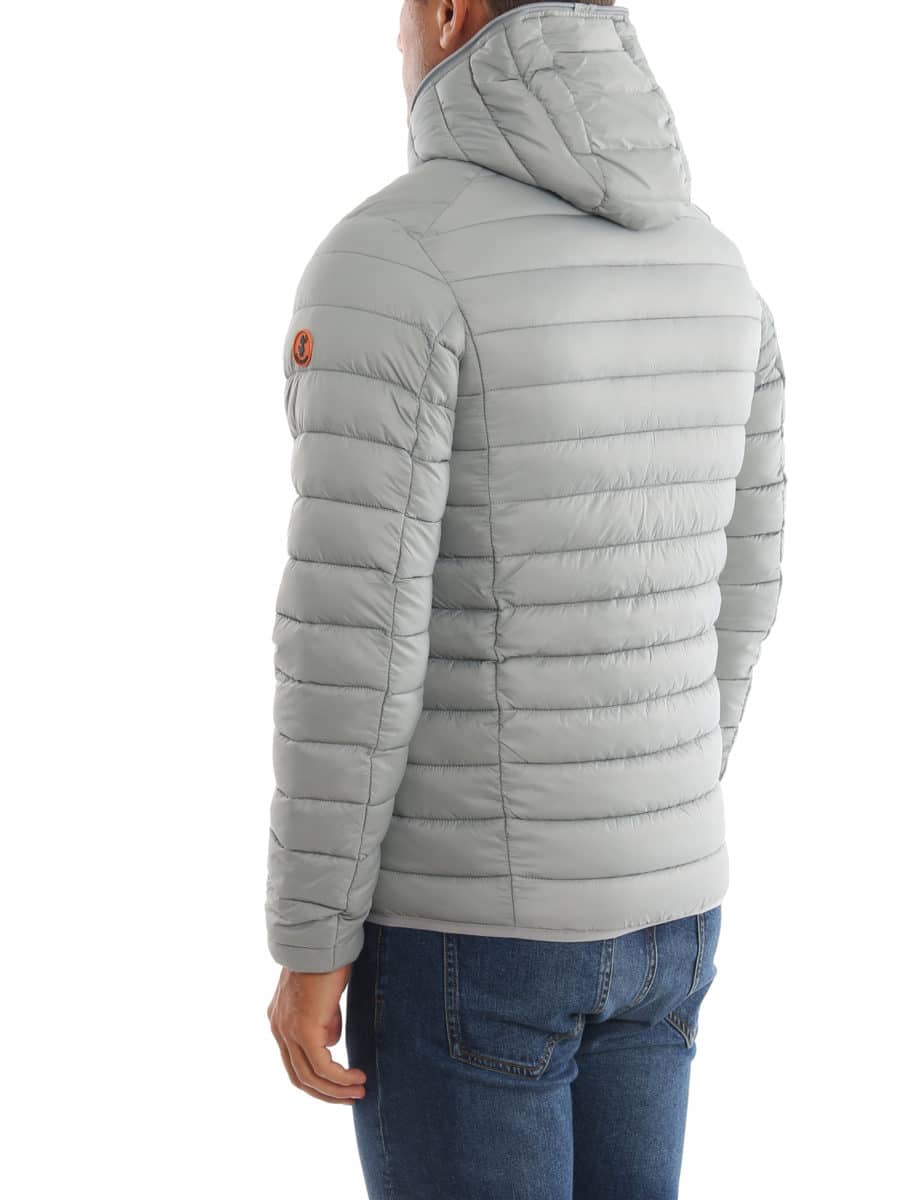 Contrary to every other label on this list, Save The Duck has replaced goose down used in quality puffers with Plumtech. This state-of-the-art technology harnesses a revolutionary synthetic down fibre made from recycled plastic. Affordable, sustainable, and different.
---
Colombia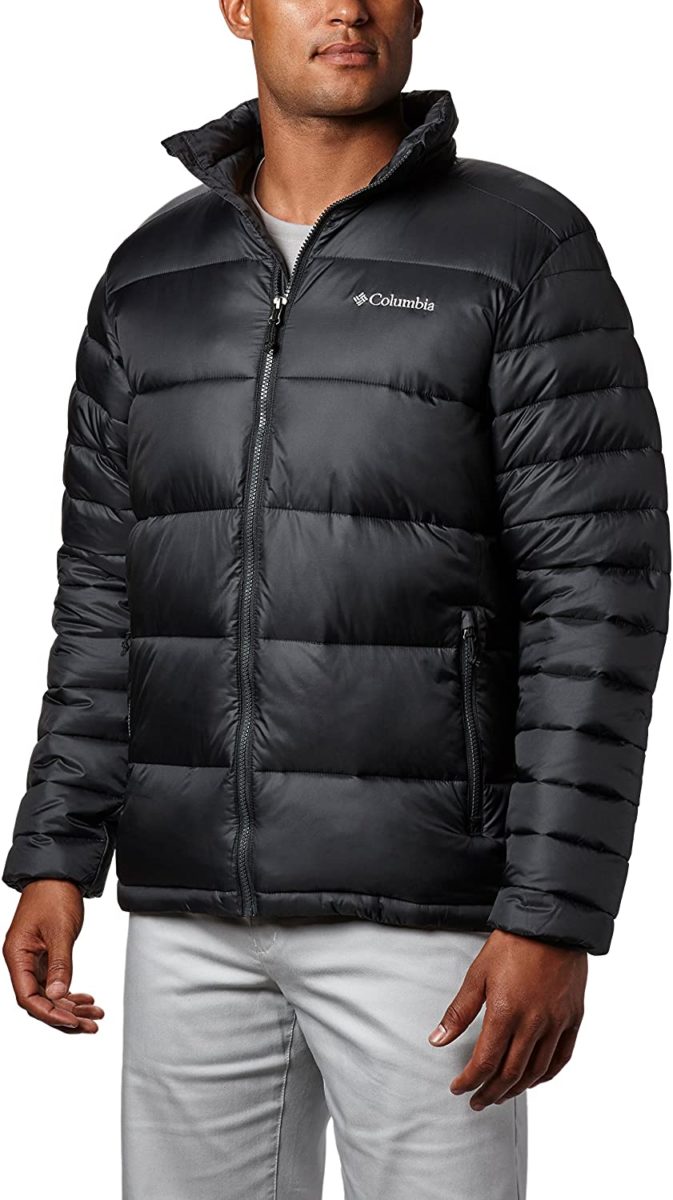 Colombia is a staple name that's pushing a century in the outerwear market. Classic Colombia tech includes their trademark Omni Heat thermal-reflective lining in puffer jackets that gives wearers a soft, next-to-skin feel while keeping them dry and warm with 800-fill power down insulation.
---
Marmot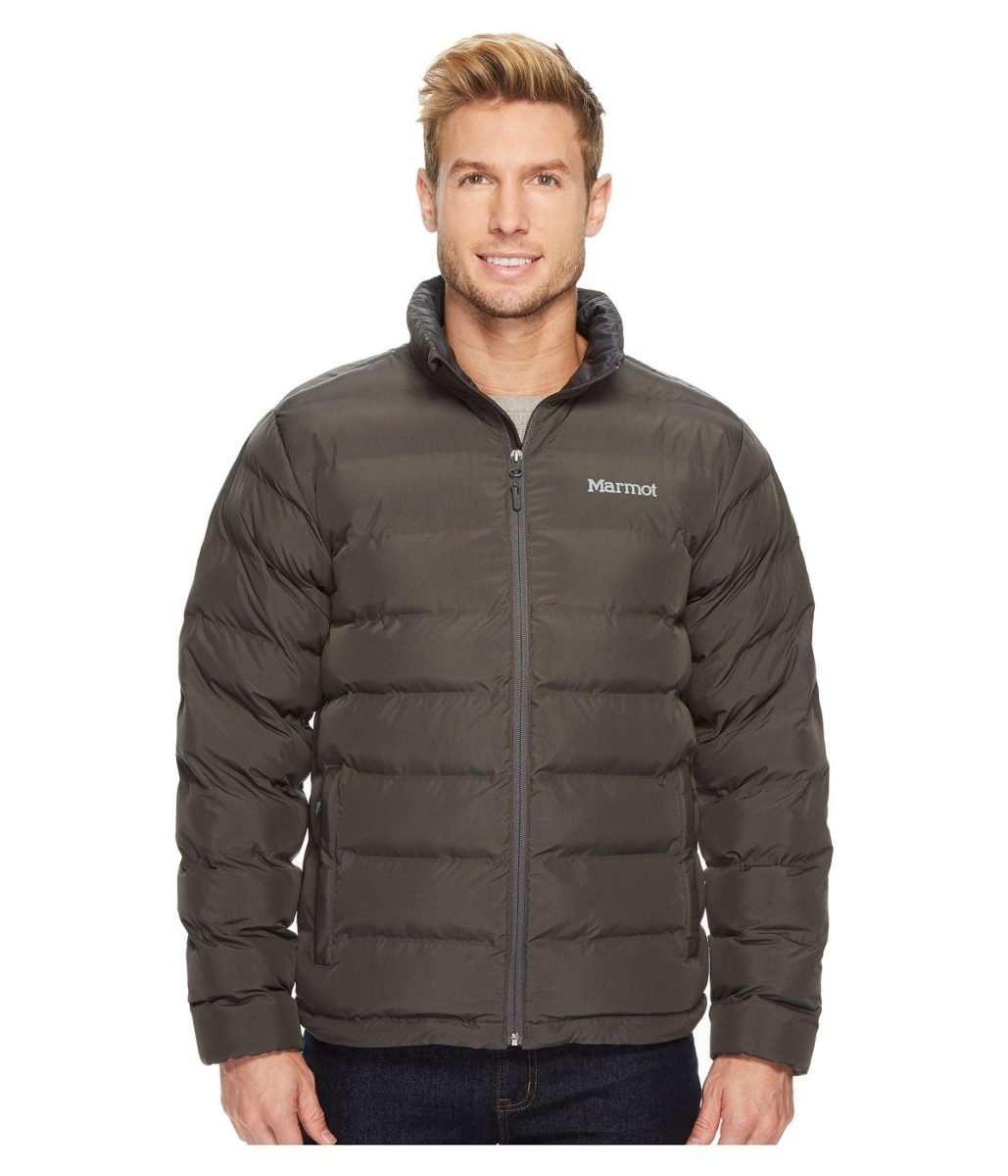 Marmot was founded by two mates during a college trip to Alaska. In a chance meeting with Joe Tanner of W.L. Gore & Associates, the team brainstormed a new concept of all-weather performance fabrication called Gore-Tex.
Today, Marmot is the oldest customer of W.L. Gore in the world outdoor market and this brand pedigree translates equally to their men's puffer jackets on offer.
---
Kathmandu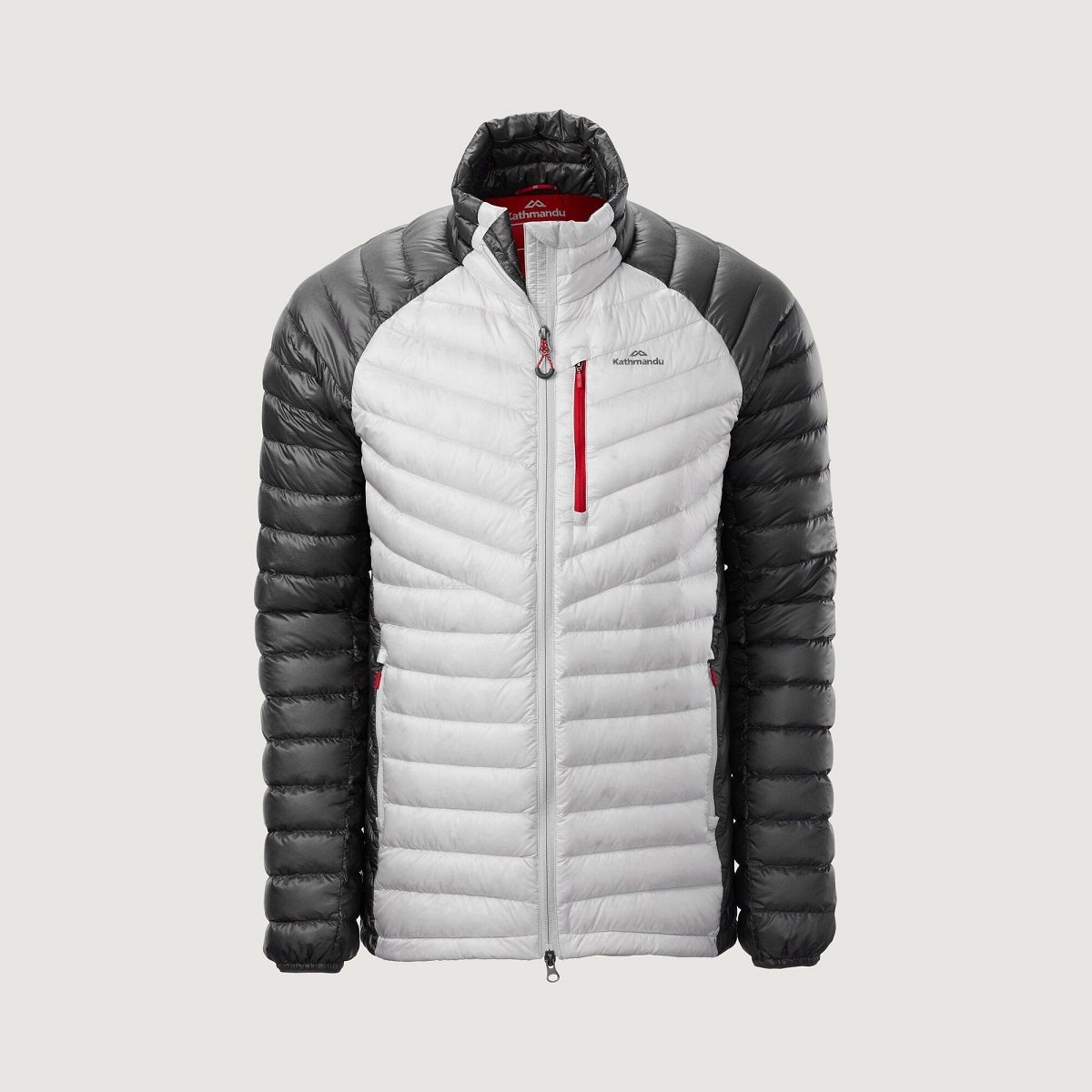 Last but never least, New Zealand outdoor label Kathmandu might be the female equivalent of R.M. Williams during winter (every woman and her dog has one of these jackets), but perhaps that's a sign of their affordability to quality ratio. Starting at exactly $100, Kathmandu's puffer jackets are local outdoor gear at its finest.
Cost per wear is always high with one of these, and if you're on a budget, you can hardly ever go wrong with a mens puffer jacket from this reliable brand.
---
Now check out our favourite looks from Moncler's FRAGMENT collection.