Let's face it: wearing an old band tee and sweatpants that are a size too big/small isn't going to cut it if you're looking to upgrade your pyjama game. Ill-fitting sleepwear can cause you discomfort throughout the night and, in the worst case scenario, even cause you fatigue.
But with the right set of pyjamas though? You'll sleep like a baby.
Enter our PJ-focused buying guide: in which we're recommending the men's pyjamas that encourage sleep; are comfortable to wear; allow for ease of movement; and most importantly – look good.
Read on for our full list of the 13 best pyjamas for men in Australia in 2023 below.
RELATED: The Best Men's Puffer Vests You'll Want To Don For Winter 2023
---
Best Pajamas For Men Of 2023 Overview (Unranked):
---
Derek Rose Men's Pyjamas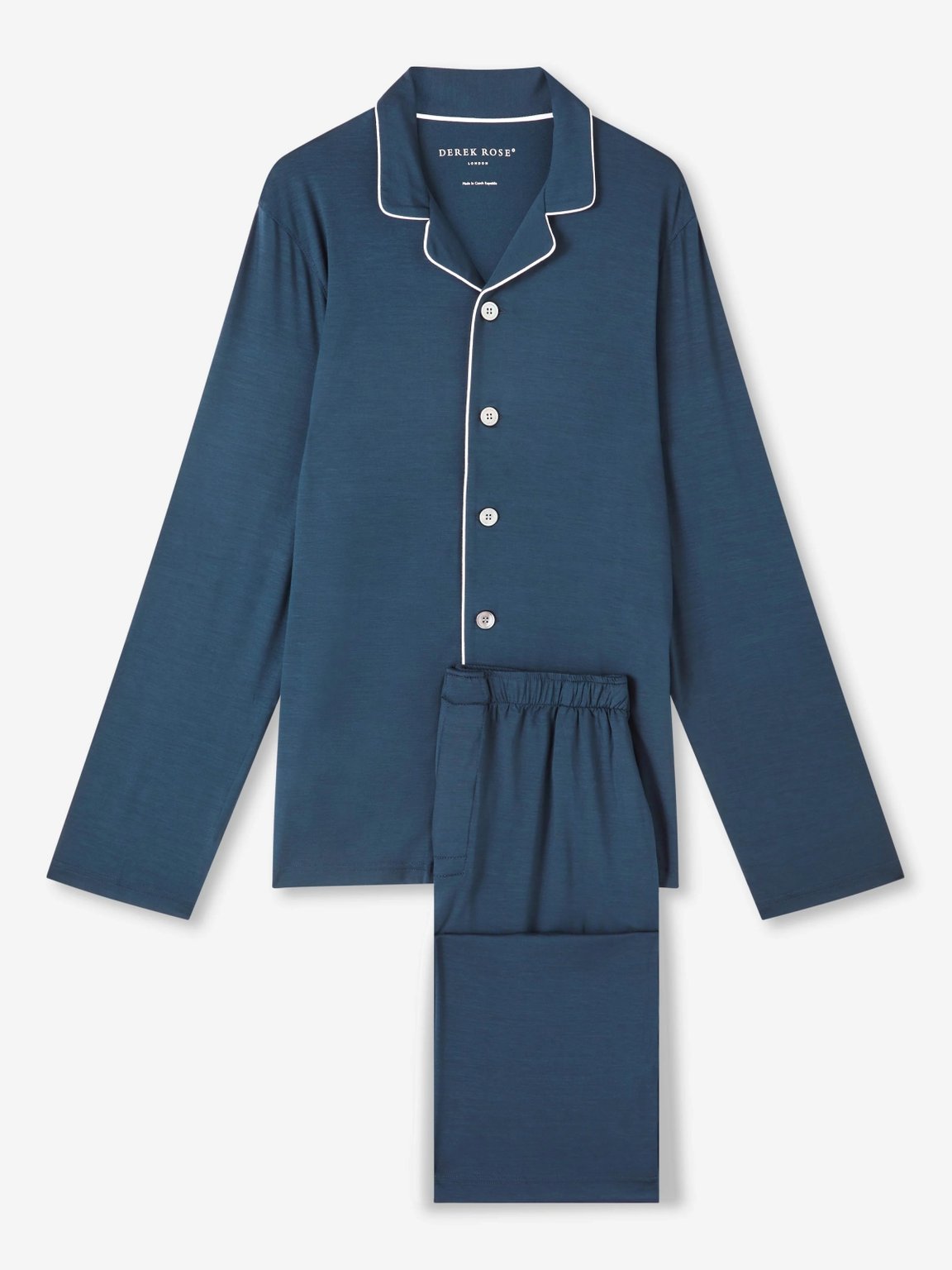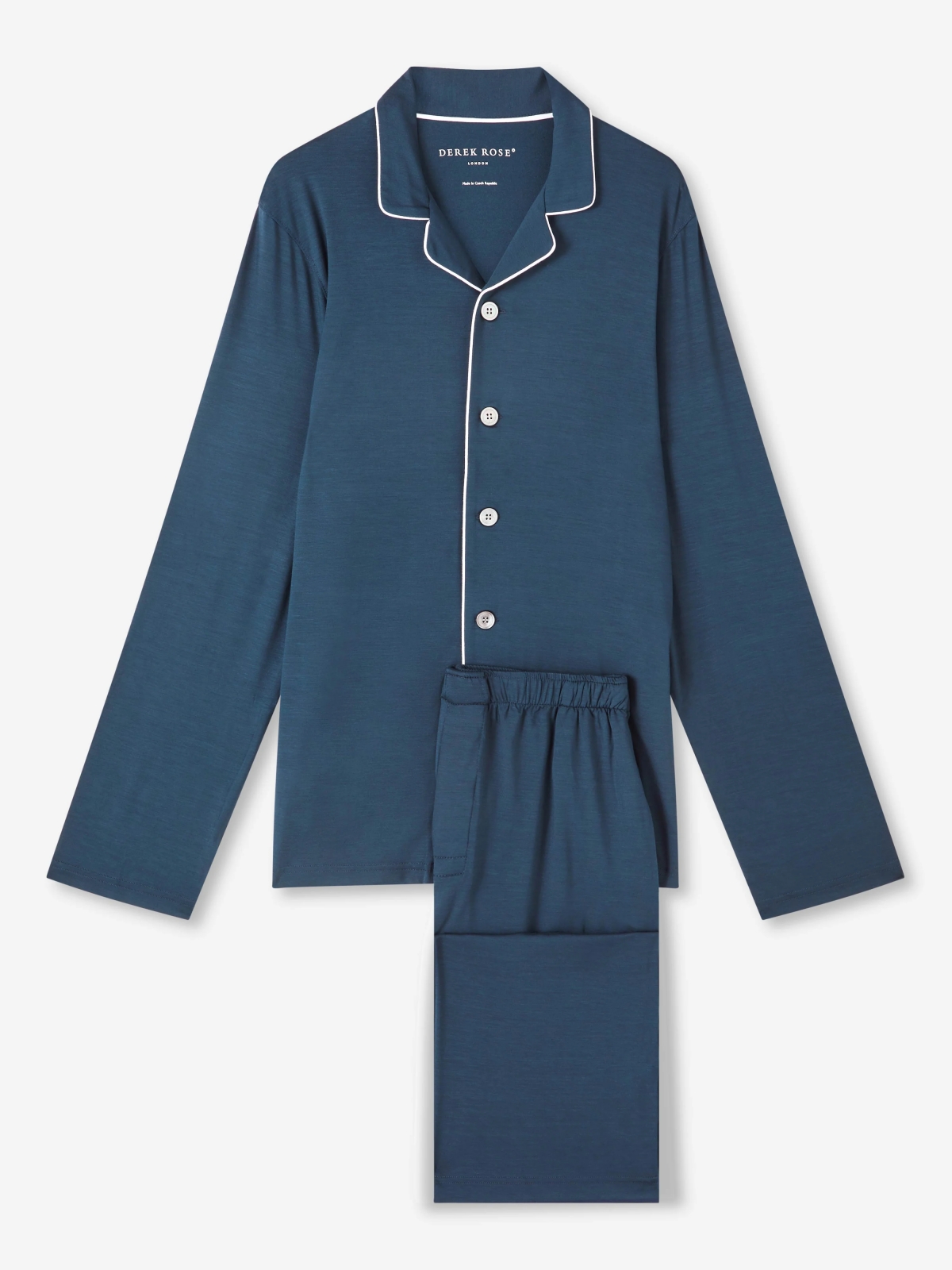 DETAILS
Material: Micro-modal stretch fibre
Machine washable
Available in multiple colours
Sleep through the night in comfort and style in this classic pyjama set from Derek Rose. The matching long-sleeve top and bottoms are made from a blend of stretchy micro-modal fibres.
Made with an extremely durable fabric, these garments won't pill regardless of how often you toss them in the wash. Handily, they're also thermostatic: ensuring you stay cool regardless of how warm it gets at night.
Instead of using the typical drawstring, the trousers are cut with an elasticated side and back; ensuring you can get a streamlined fit without any uncomfortable bunching around the waist. The magnetic fly closure ensures easy opening and closing – making those impromptu nighttime trips to the bathroom that much more convenient.
Note, in line with Derek Rose's sizing, the shirt might run small – especially for men with wider shoulders.
---
New & Lingwood Brushed Cotton Pyjama Set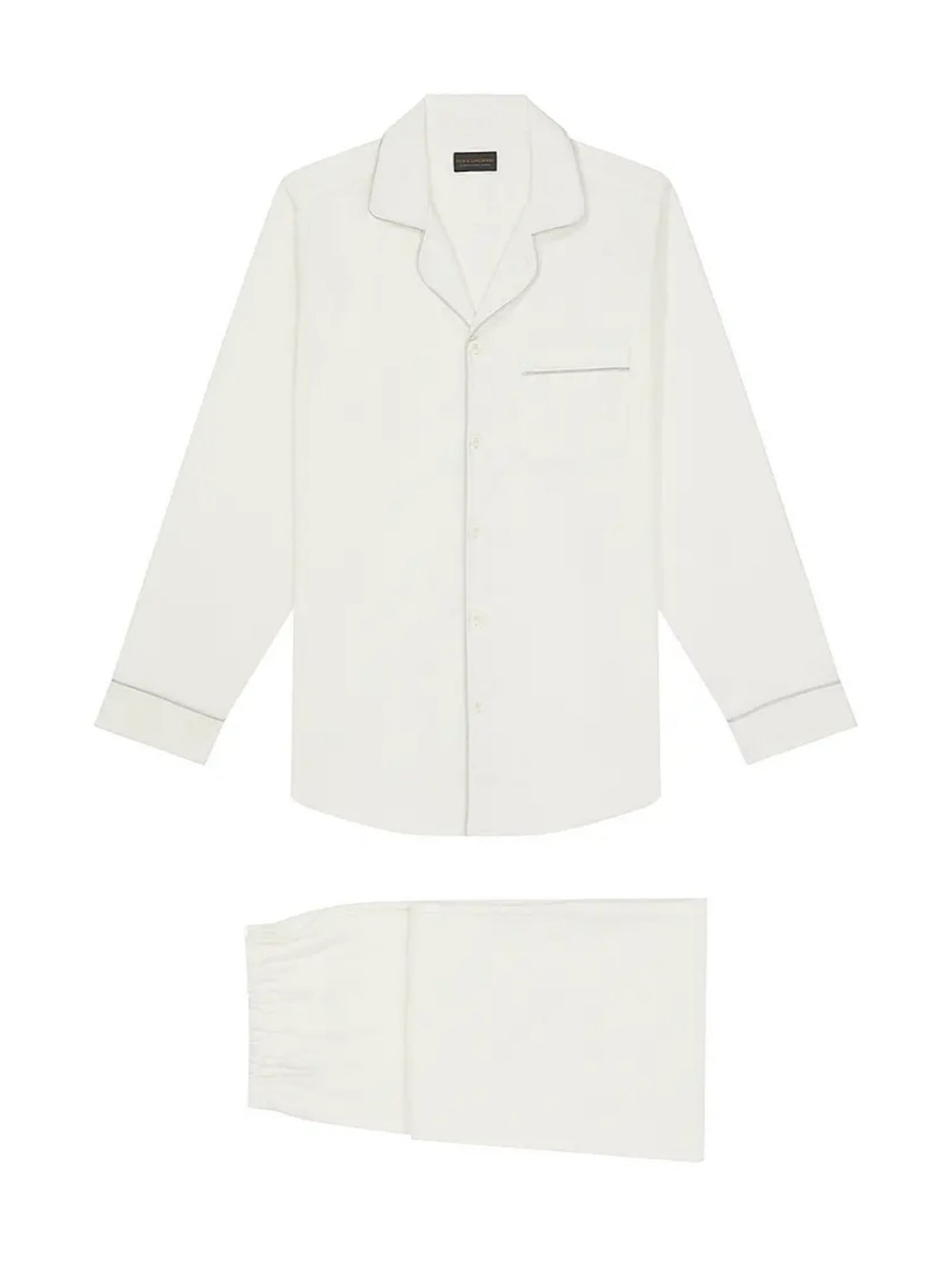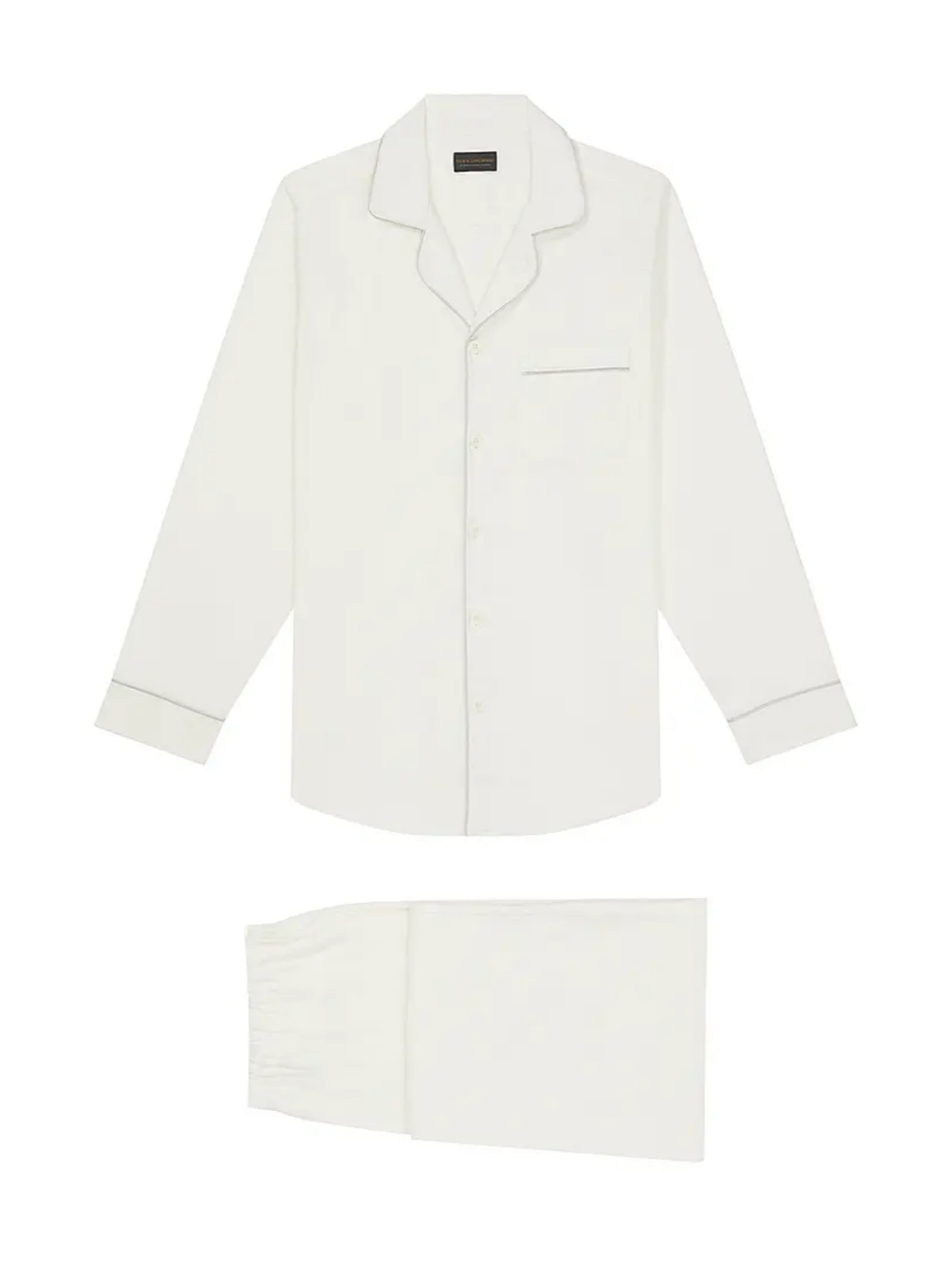 DETAILS
Material: 100% cotton twill
Available in white & yellow
Machine wash at 30 degrees
This men's pyjama set from British heritage label New & Lingwood improves with each subsequent wear – becoming super buttery soft with repeated washing and time. The colour-matched top and trousers are made with 100% brushed cotton jacquard; allowing you to stay warm on chilly nights without overheating.
No matter your sleeping position, these pyjamas won't restrict your movements – they're cut with plenty of ease and a roomy true-to-size fit.
Piped silver trim on both the pants and the shirt give these best cotton pyjamas a sophisticated look. Note however that the former can be a bit wide for some.
---
Eberjey 'Henry' Tencel Modal Long PJ Set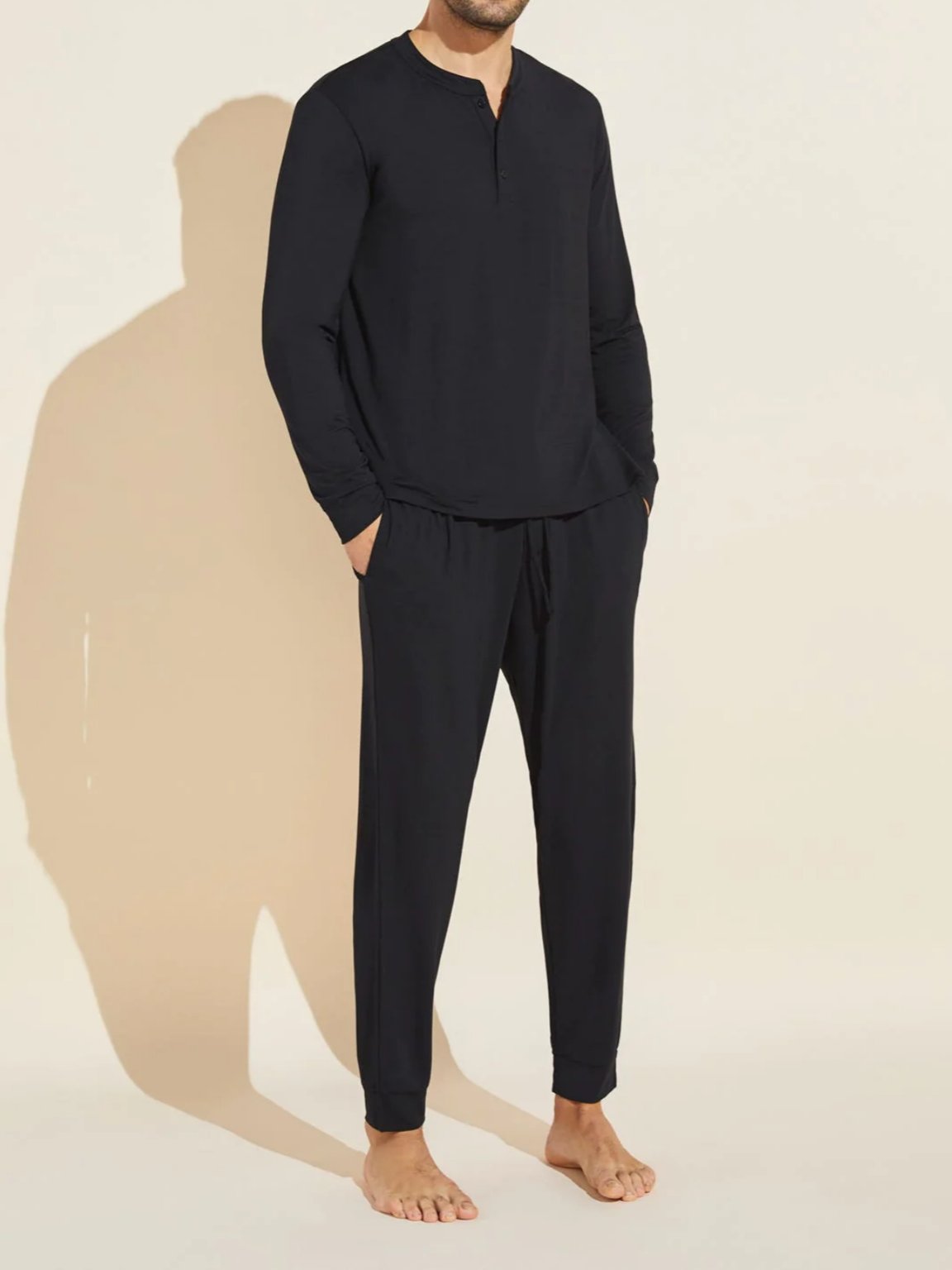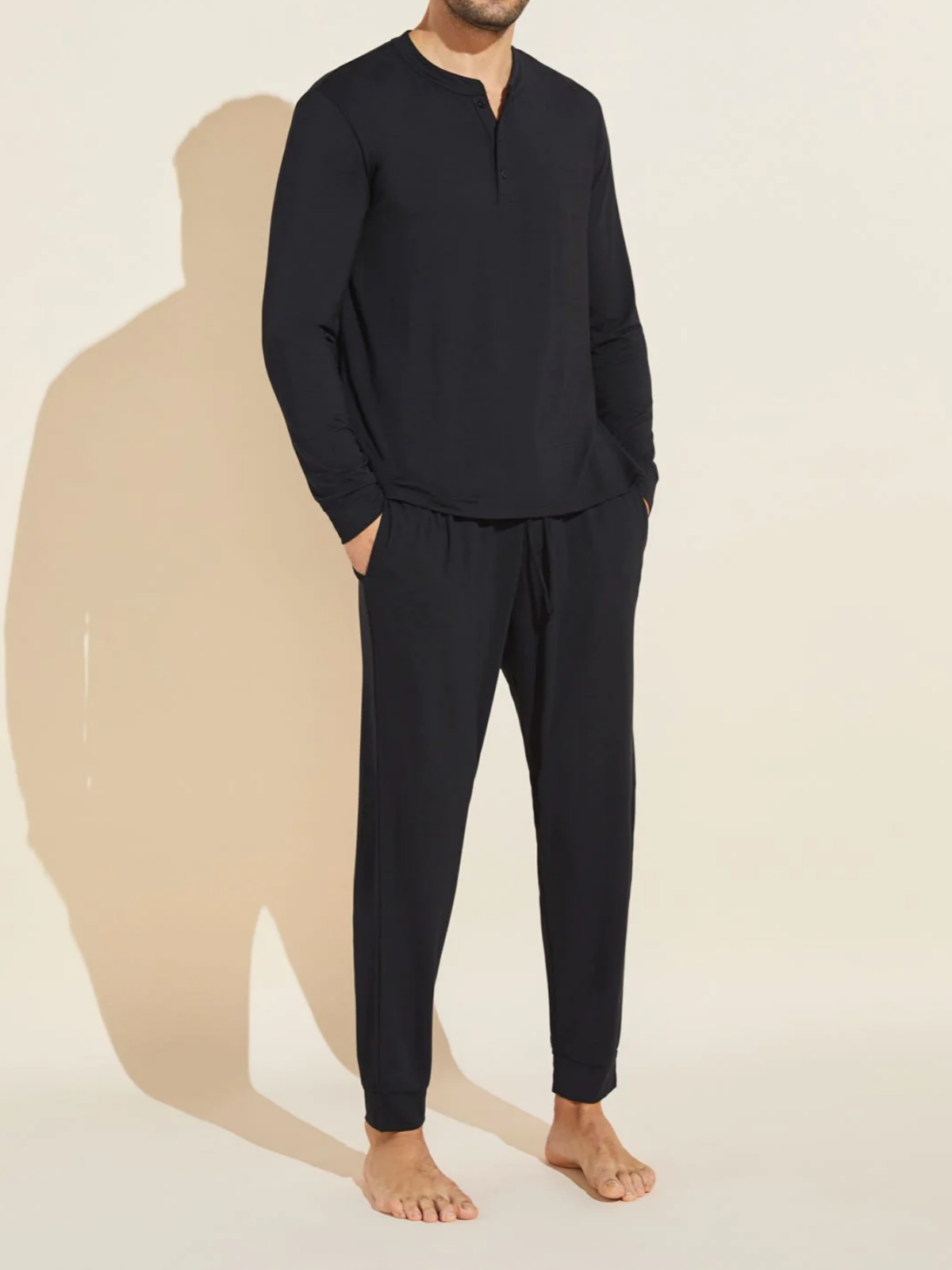 DETAILS
Material: 95% tencel; 5% spandex
Available in multiple colours
Elasticated waistband
Whether relaxing at home or getting a good night's sleep, Eberjey's 'Henry' model is a comfortable and long-lasting style that is right for the job.
The Henley-style shirt has a relaxed fit, and the casual lounge pants offer round-the-clock comfort. The combination of an elastic waist and drawstring ensures a comfortable fit and the latter's adjustability mean you're never far from your ideal fit.
These pants are even cut with side-entry pockets – making them one of the rare pyjama styles in which you can do a quick dash to the grocers or out for the morning paper.
Some men may not feel comfortable with the tighter fit around the ankles or the stretch knit fabric.
---
Peter Alexander Grey Check Bamboo Set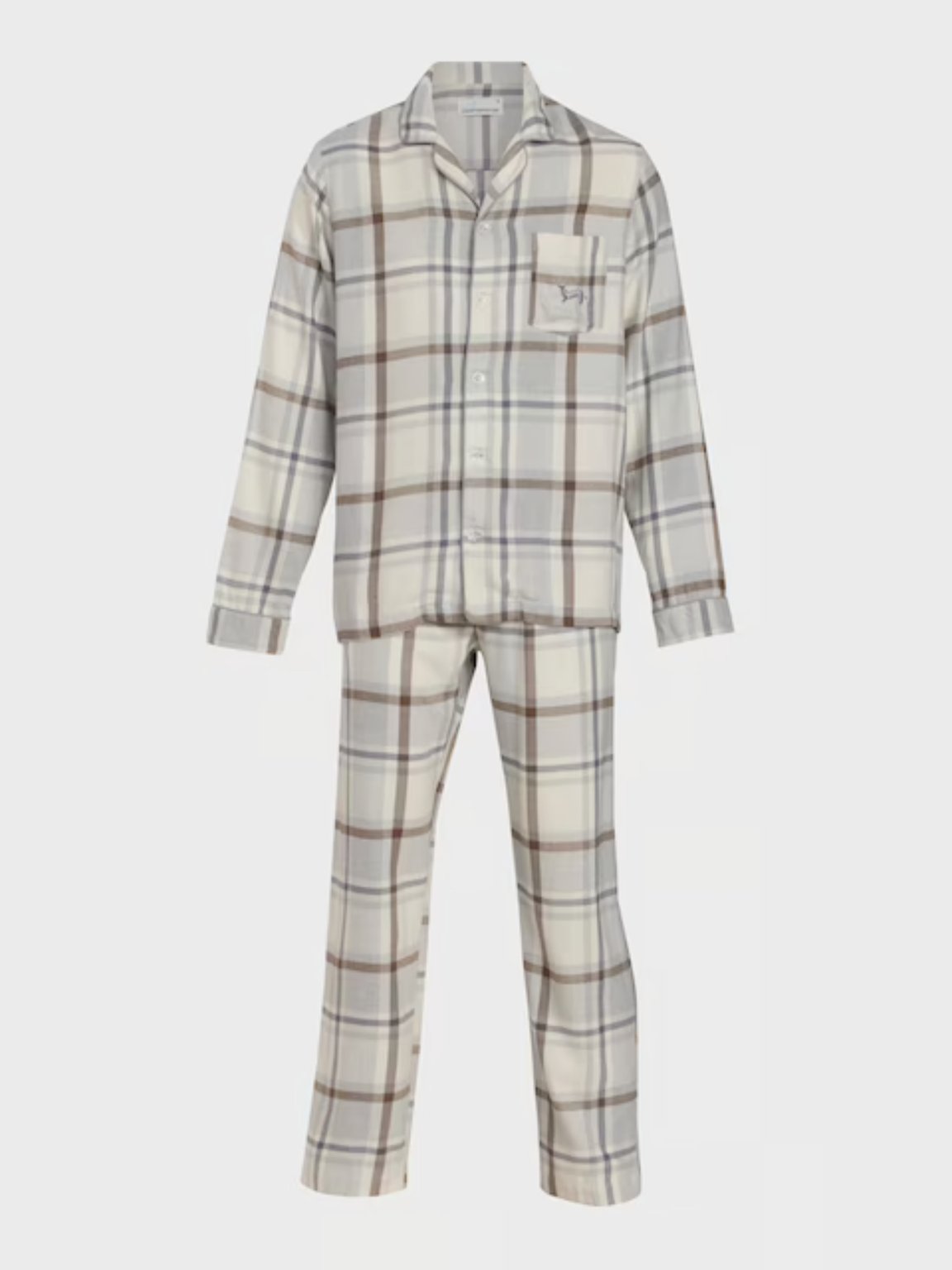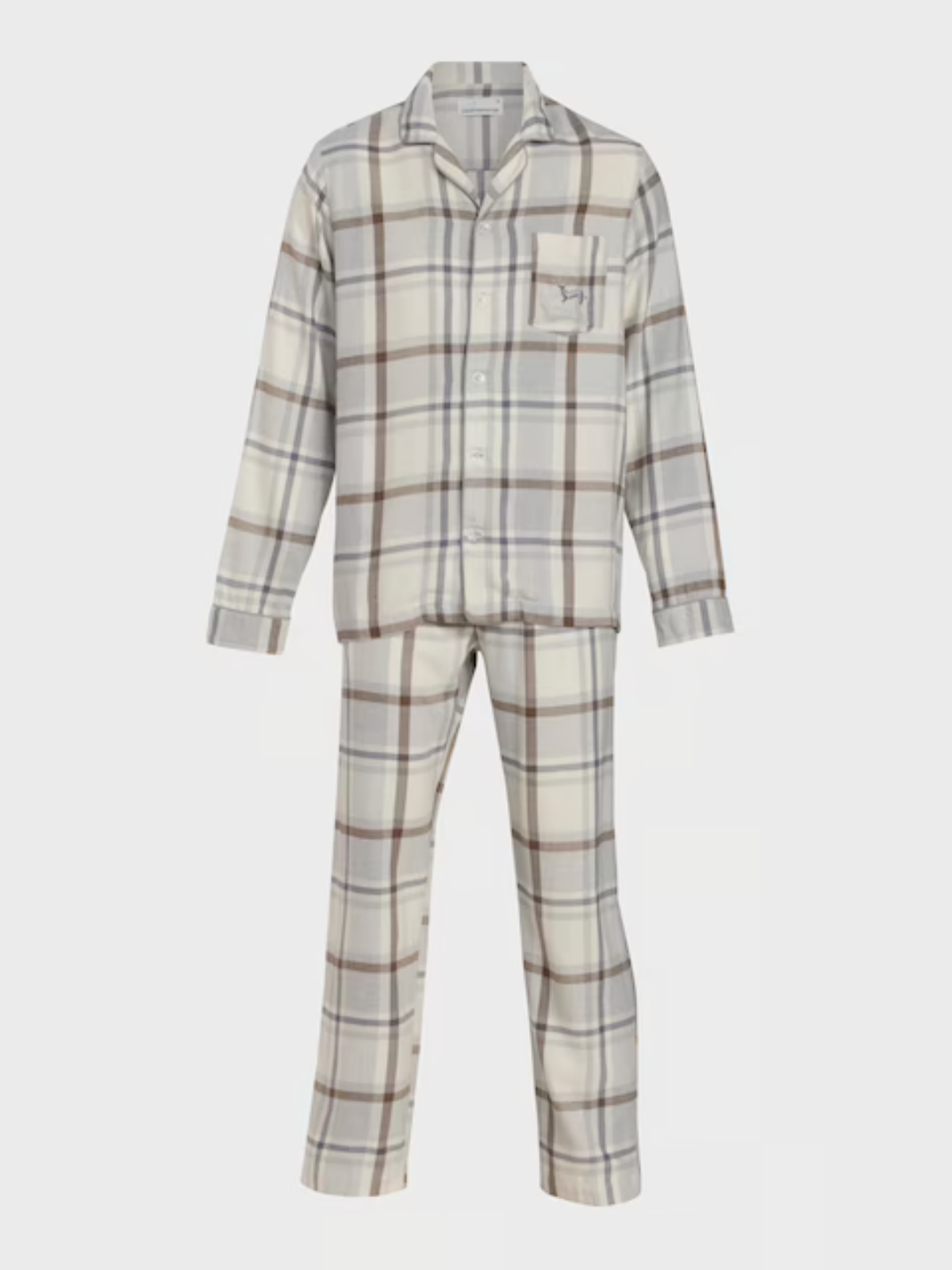 DETAILS
Material: 70% viscose bamboo; 30% cotton
Treated for a flannel-like finish
Machine wash cold
Get ready for cooler temperatures with this checkered, blended flannel pyjama set. The matching shirt and bottoms blend cotton flannelette and bamboo fibres allowing you to stay warm and comfortable throughout the night. You may not need to break out an extra blanket, as these plaid pyjamas will keep you toasty.
The collared shirt has a spiffy front pocket and an elastic waist. The adjustable drawstring makes it easy to always get a comfortable and secure fit. For added movement, the pant legs have a straightforward design that prevents chilly breezes from going up your legs.
---
Paul Stuart Cotton-Poplin Pyjama Set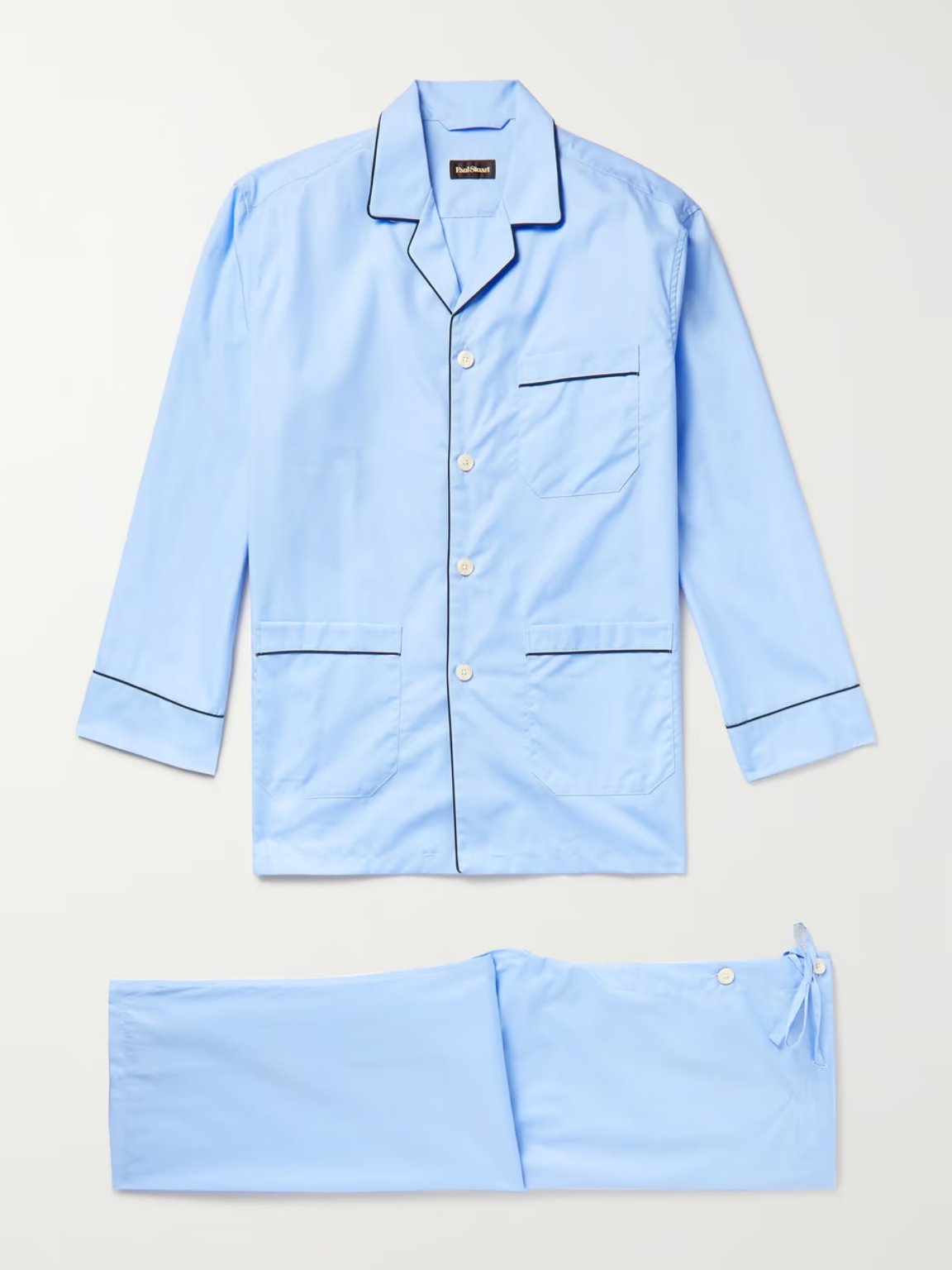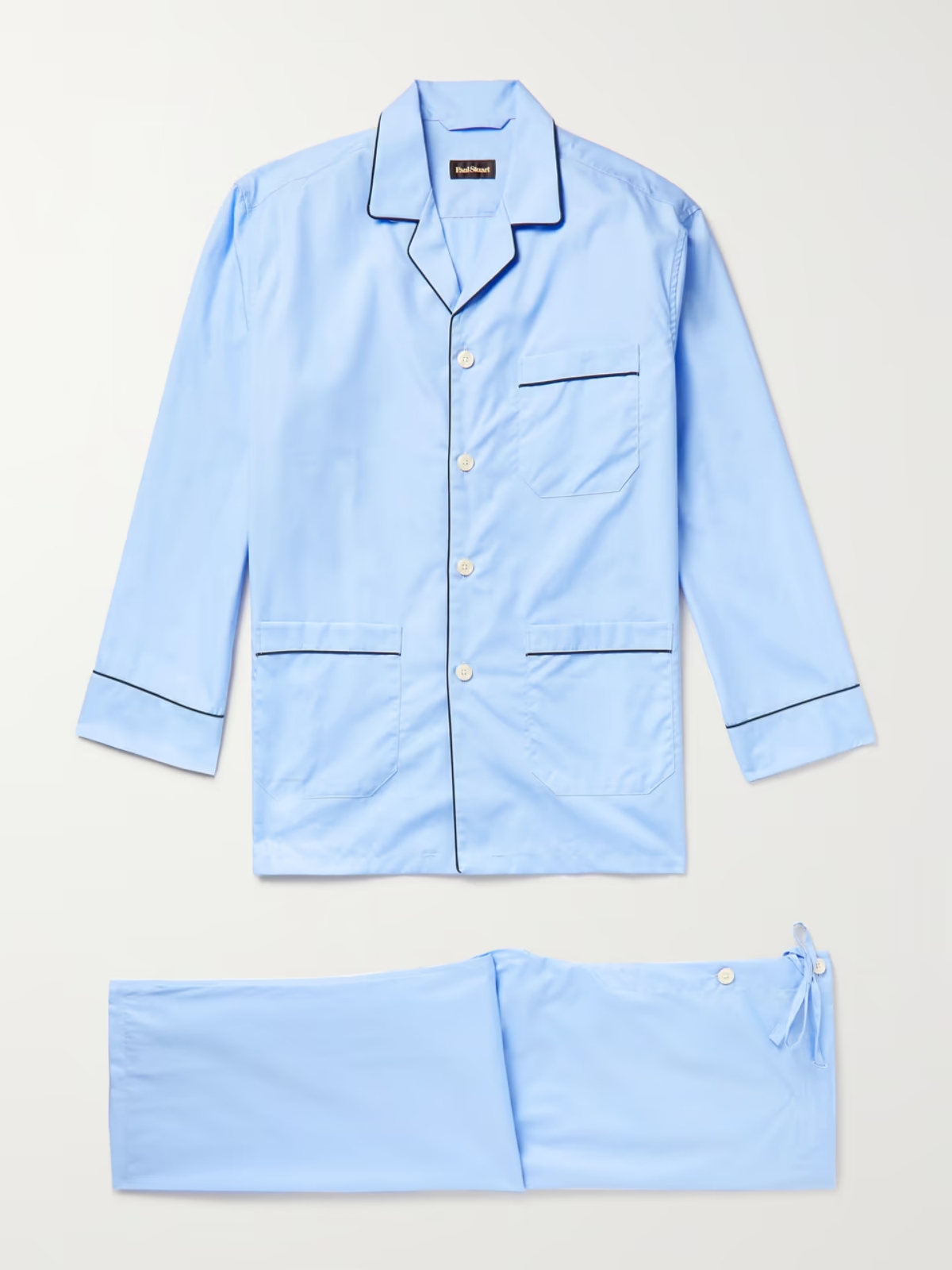 DETAILS
Material: Light blue cotton poplin
Trimmed in contrast piping
Machine wash cold
Made by legendary New York clothier Paul Stuart, these highly breathable pyjamas are a great lightweight option amid transitional weather. The light blue PJ set consists of a collared long-sleeve shirt; and matching drawstring trousers both made from a highly breathable poplin cotton.
The drawstring allows you to adjust the waist for a comfortable fit.
The fully buttoning placket gives this pyjama set a bit of detail; and ensures a nice neat front even when you have friends or guests in the domicile. Cut and sewn in a manner not dissimilar to tailored shirting, this is one you might even get away with wearing outside the house.
---
Emma Willis 'Cashmarello' Pyjamas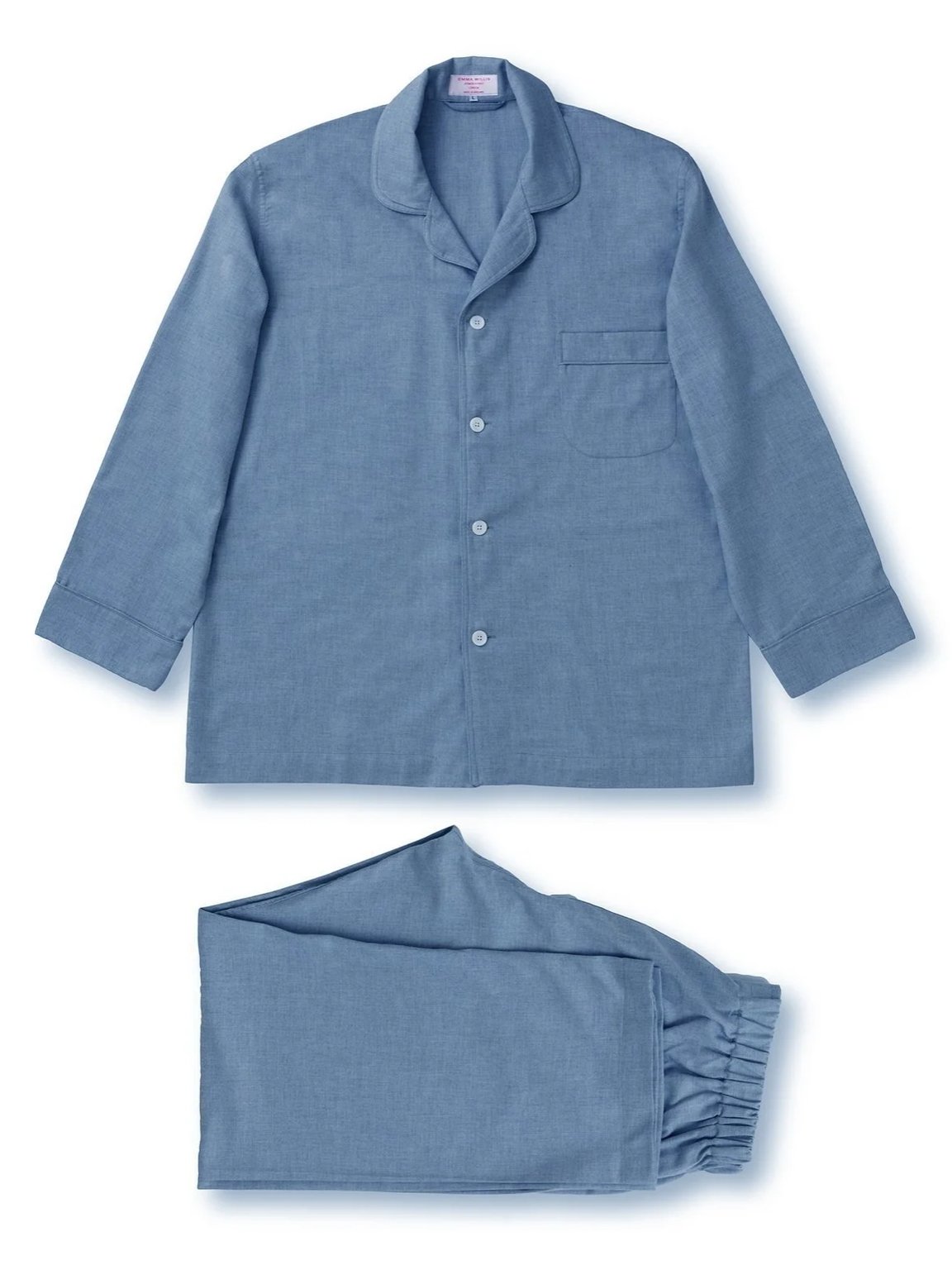 DETAILS
Material: 85% cotton; 15% cashmere
Genuine MoP buttons
Hand-wash
These pyjamas, crafted by royally appointed English shirt maker Emma Willis, will likely have you settling in for a warm cuppa and marathon of Paddington. The set is hand cut and sewn in Gloucester, giving you a superb and comfortable fit that's worthy of a King.
The lightweight pyjamas are made from a blend of Swiss cotton and cashmere. This unique fabrication ensures sleepwear that is comfortable and adept at the task of keeping you warm on chilly evenings. 
Hand-rolled piping gives the set an understated and elegant appearance, complete with authentic mother-of-pearl buttons, while the wide elastic around the waistband keeps the pants firmly in place.
---
Desmond & Dempsey Men's Pocket Pyjama Set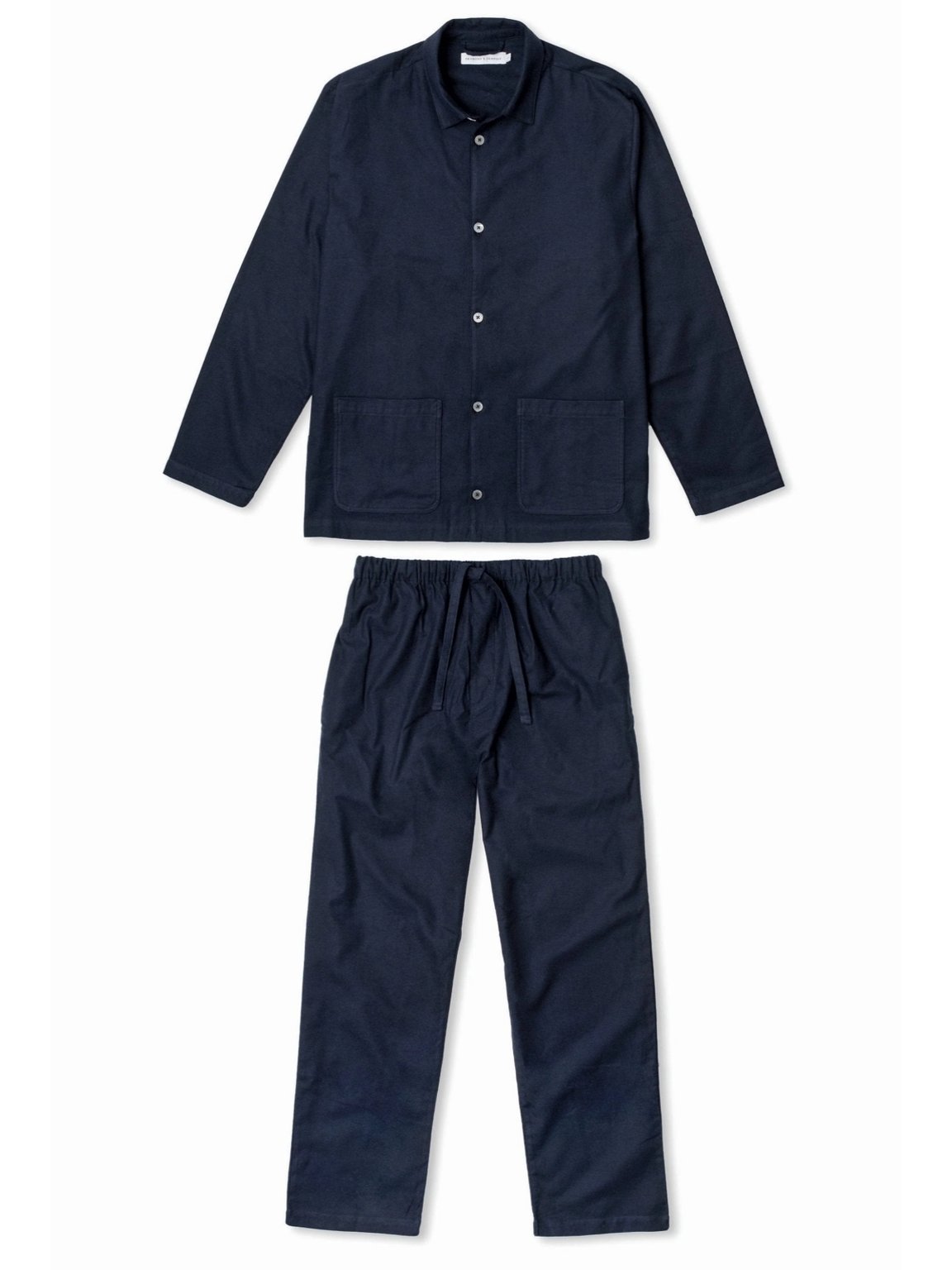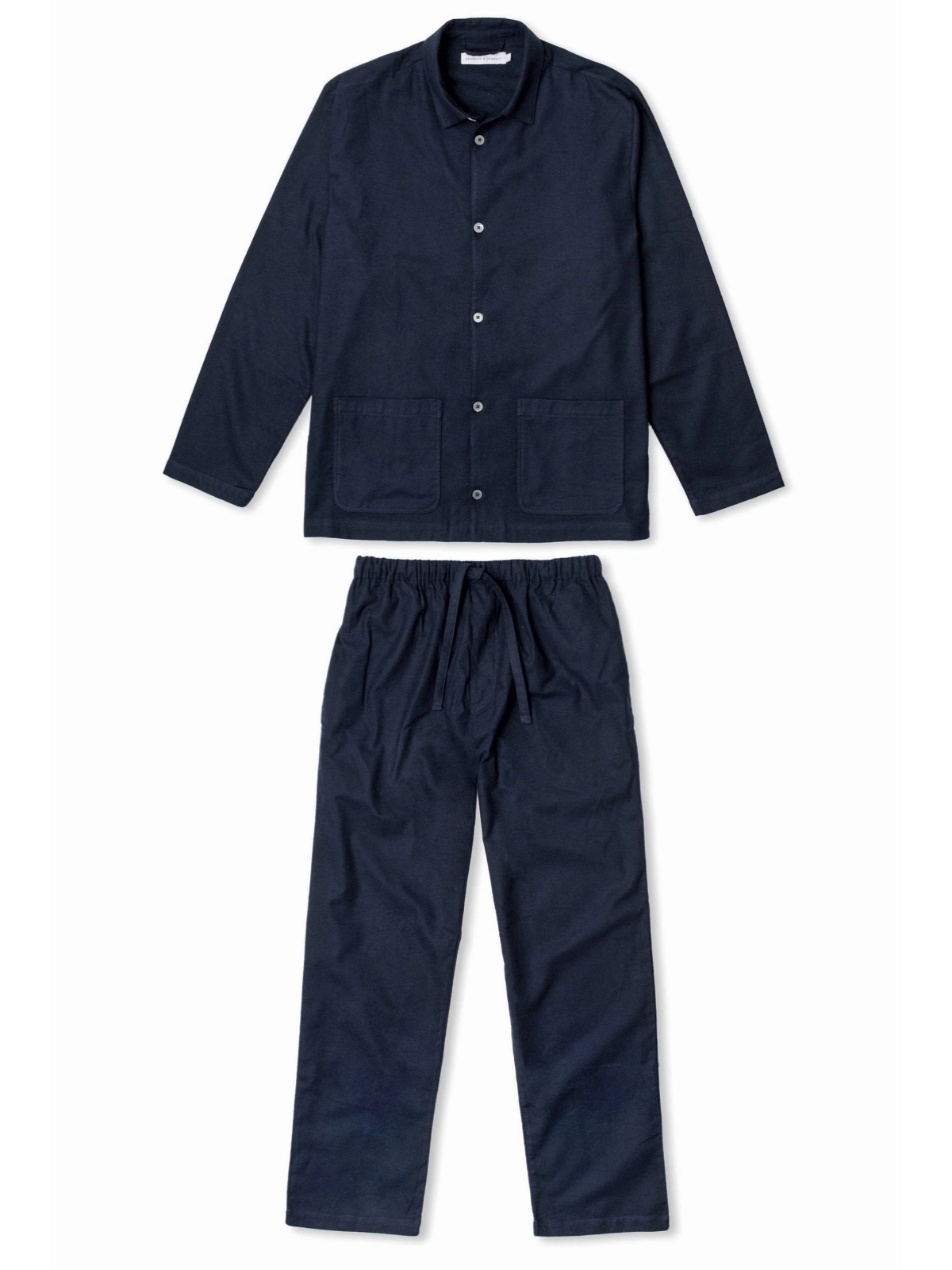 DETAILS
Material: 100% brushed cotton twill
Can add complimentary monogram
Machine wash
Crafted from brushed cotton, these pyjamas are as soft as they are elegant. The long-sleeve shirt buttons up to the neck, giving it the look of a button-down; while long, loose-fitting trousers provide maximum comfort without compromising on sharpness. The looser fit ensures a range of comfortable movement – no matter whether you're sleeping or cooking breakfast.
The pants taper at the ankles to prevent cold drafts. You can also take advantage of the roomy front pockets on the shirt. However, in a few cases, the button-up style of the shirt may not appeal to all men
---
Cleverly Laundry Camp Collar Superfine Cotton Pyjama Shirt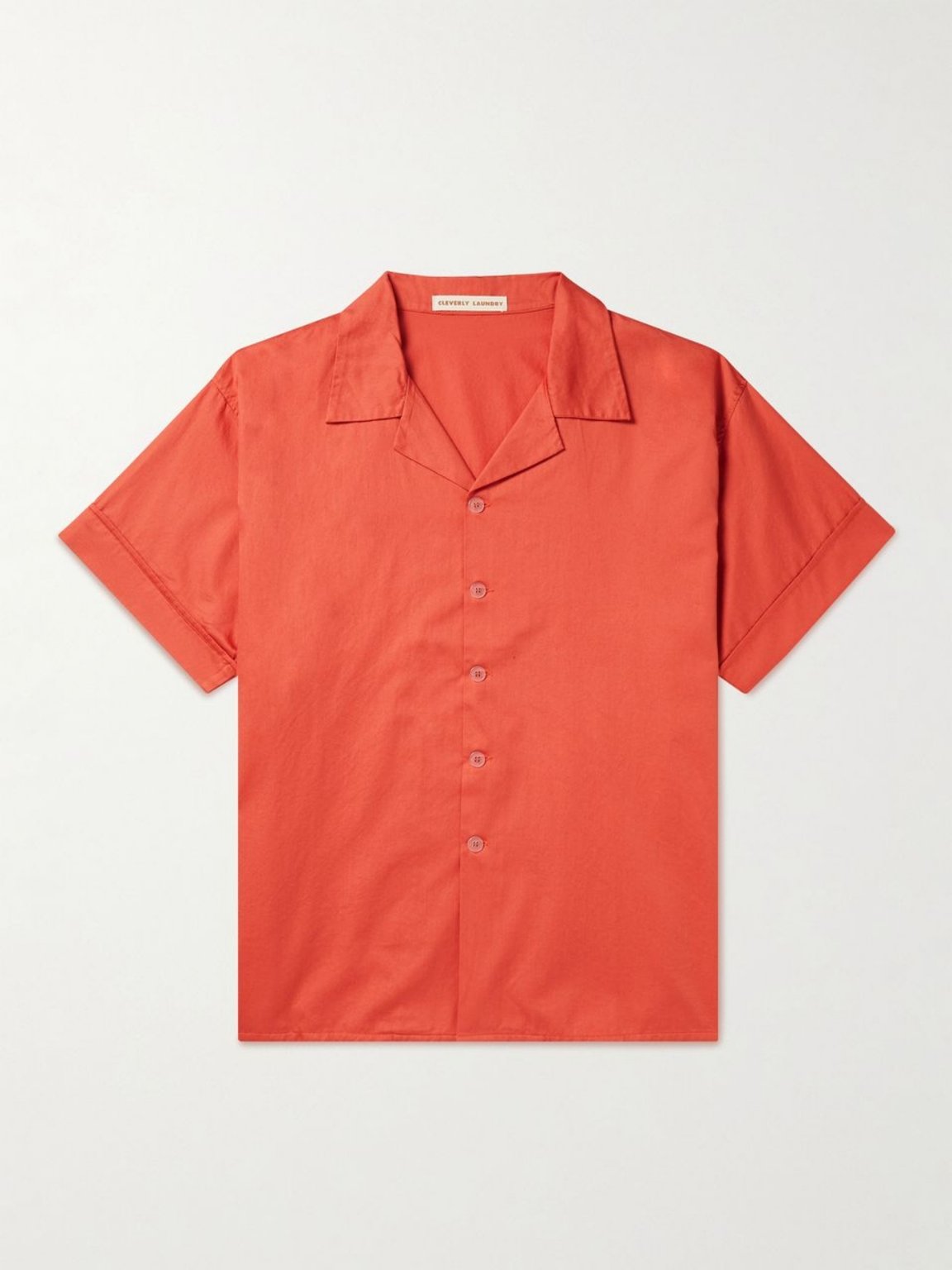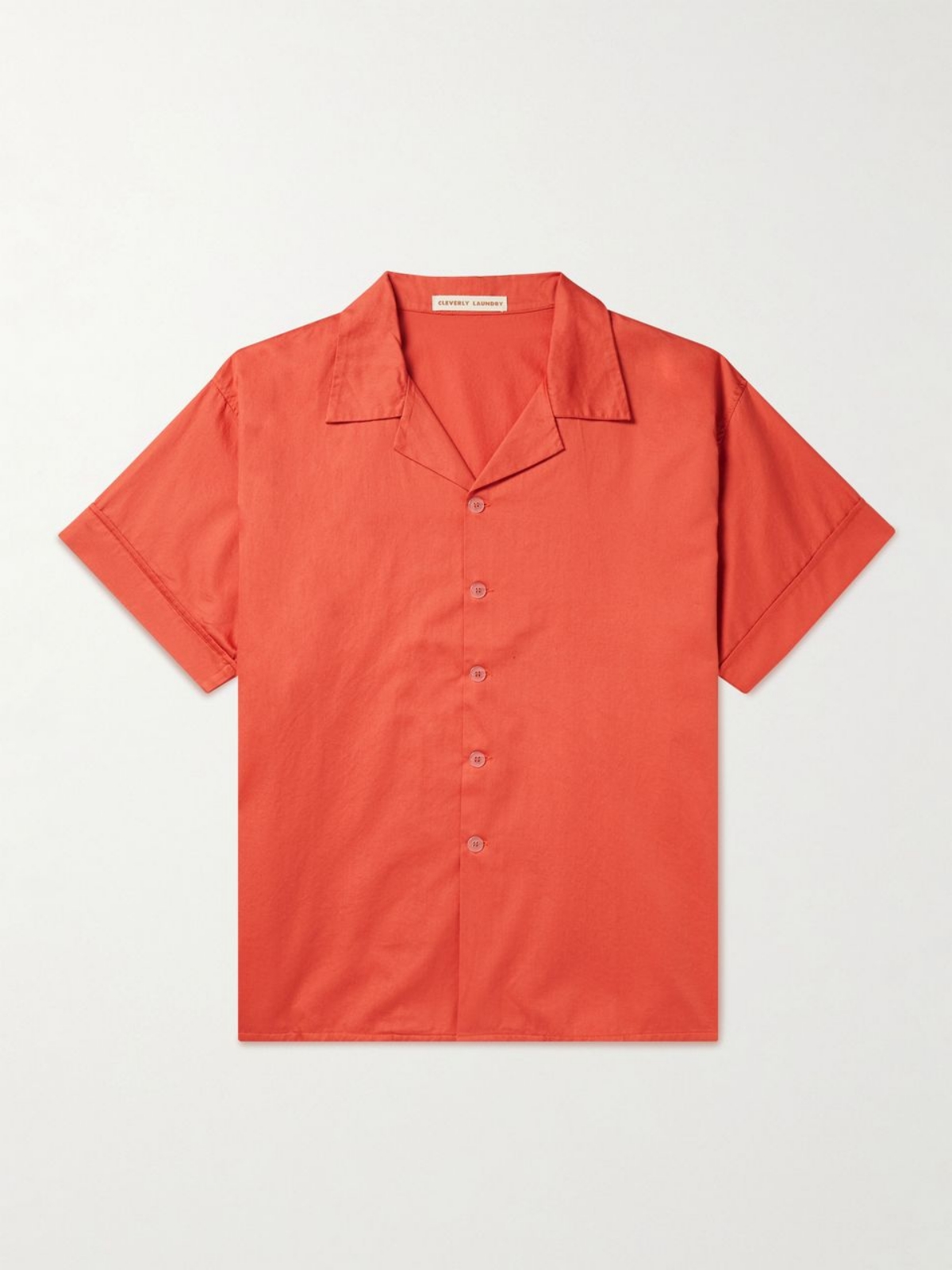 DETAILS
Material: Superfine cotton
Camp-collar design
Machine wash
When the weather calls for lightweight summer pyjamas, look no further than this set from Cleverly Laundry. The pyjamas include a matching short-sleeve shirt, and you can add the comfy knee-length shorts for a little extra. This way, you have an affordable pyjama set for summer.
The campfire style is perfect for warm nights and relaxing days. Some friends and family may not even realise you are lounging in your pyjama shirt.
To ensure quality, the cotton yarn is spun in-house. It produces a superfine yarn prized for its softness, durability, and absorbent properties.
Those that run hot can stop waking up drenched in sweat and use this dress code to stay dry and cool on the hottest nights. However, it's important to note this is not a pyjama set. The price only includes the shirt.
---
CDLP Satin Trimmed Lyocell Twill Pyjama Set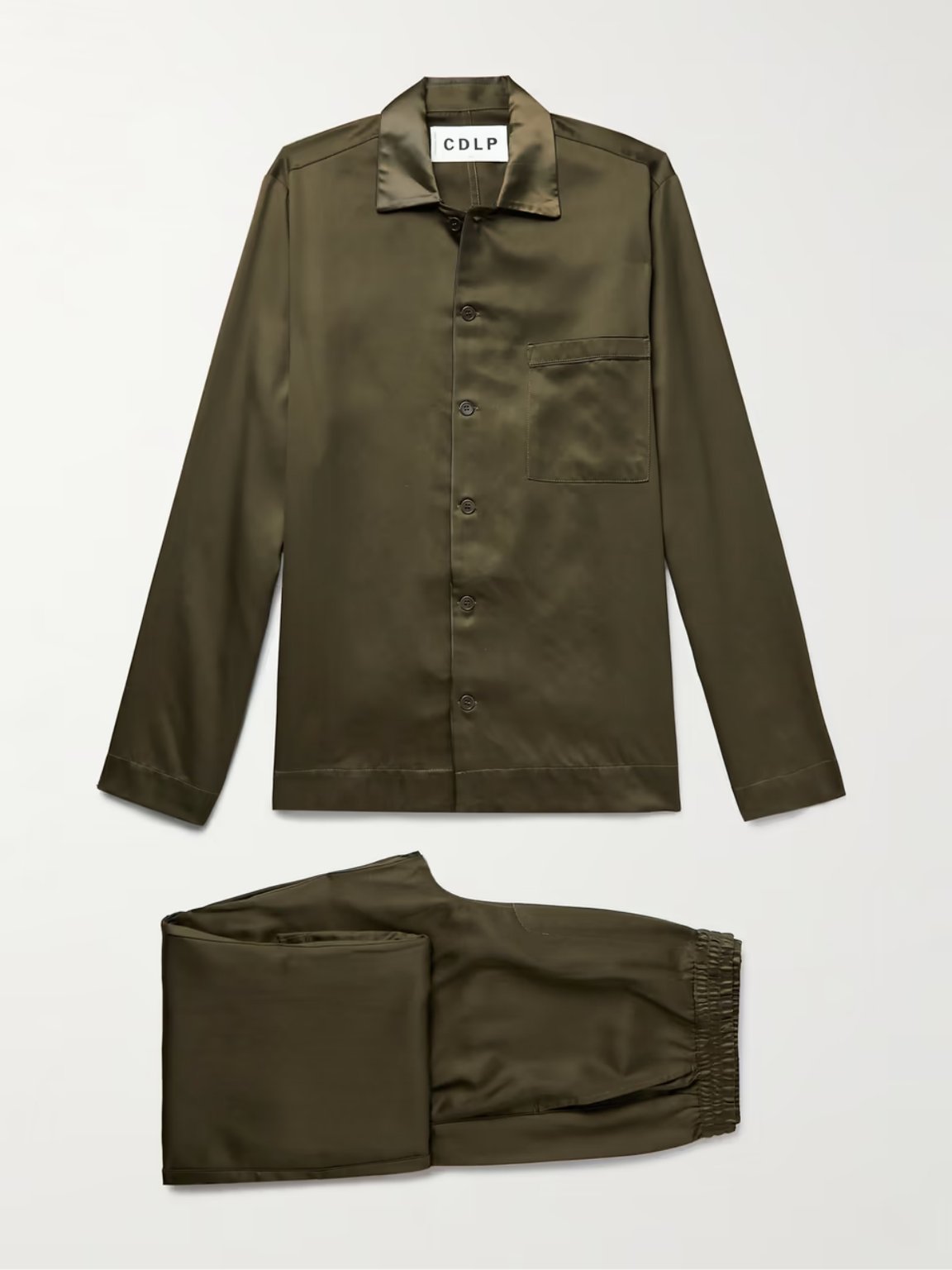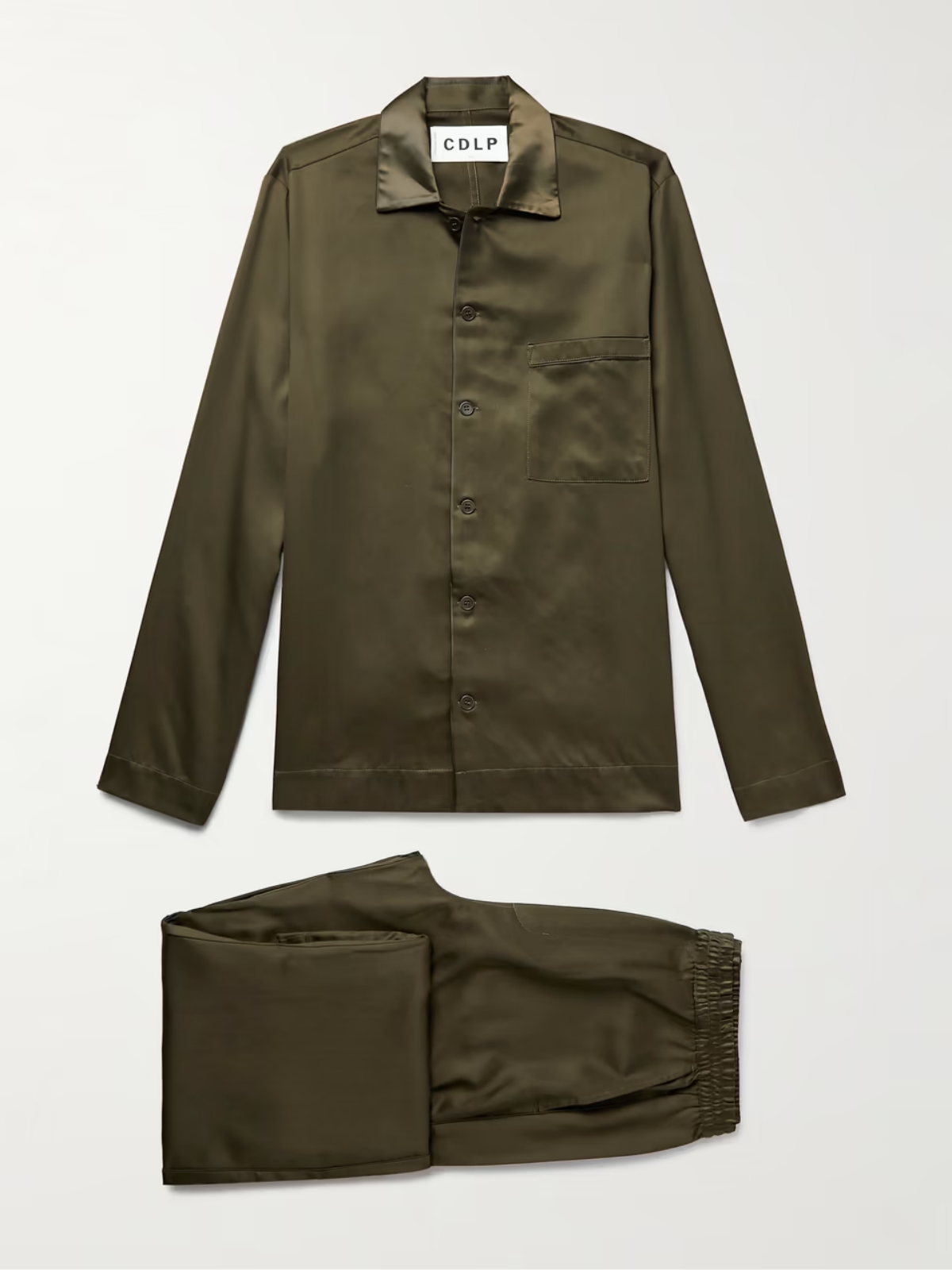 DETAILS
Material: Lyocell twill w/satin trim
Elasticated waistband
Machine wash
This satin pyjama set from CDLP strikes the right balance between comfort and sophistication. The matching long-sleeve collared shirt, and relaxed-fit trousers have an understated elegance that many will love. Some guys even claim these are the best men's pyjamas they've ever owned.
Made from Lyocell twill, the fabric is soft, durable, and retains its colour. The pyjamas will stay looking like new, even after multiple washes while the shirt is trimmed in luxurious satin to ensure it adds to the casual elegance.
The pants have an elastic waistband to provide you with a comfortable, non-restrictive fit. The waist also features a drawstring, so you always have the perfect fit.
The shirt typically runs true to size, but be sure to roll up those trouser hems!
---
Polo Ralph Lauren Tartan Check Pyjama Set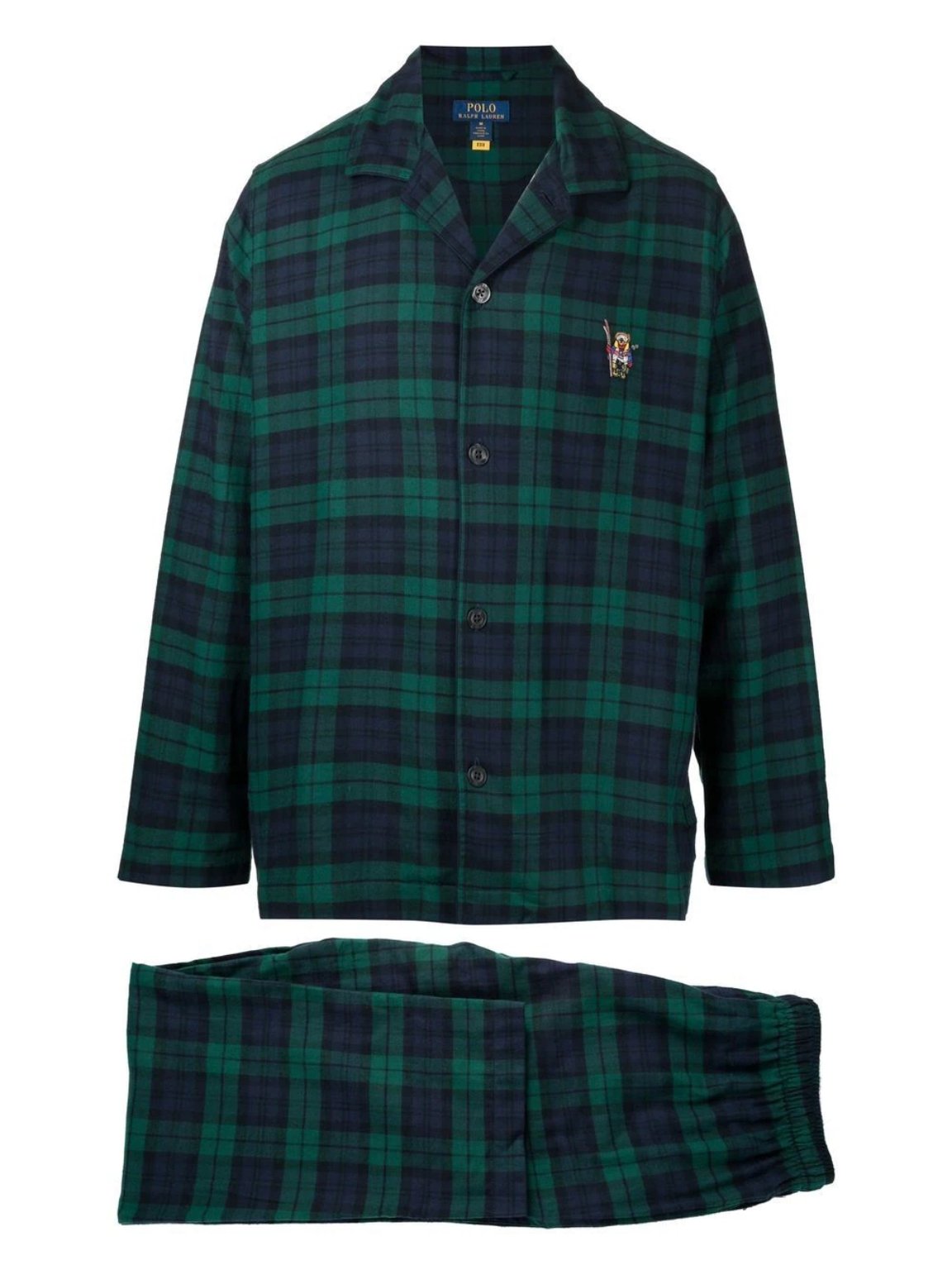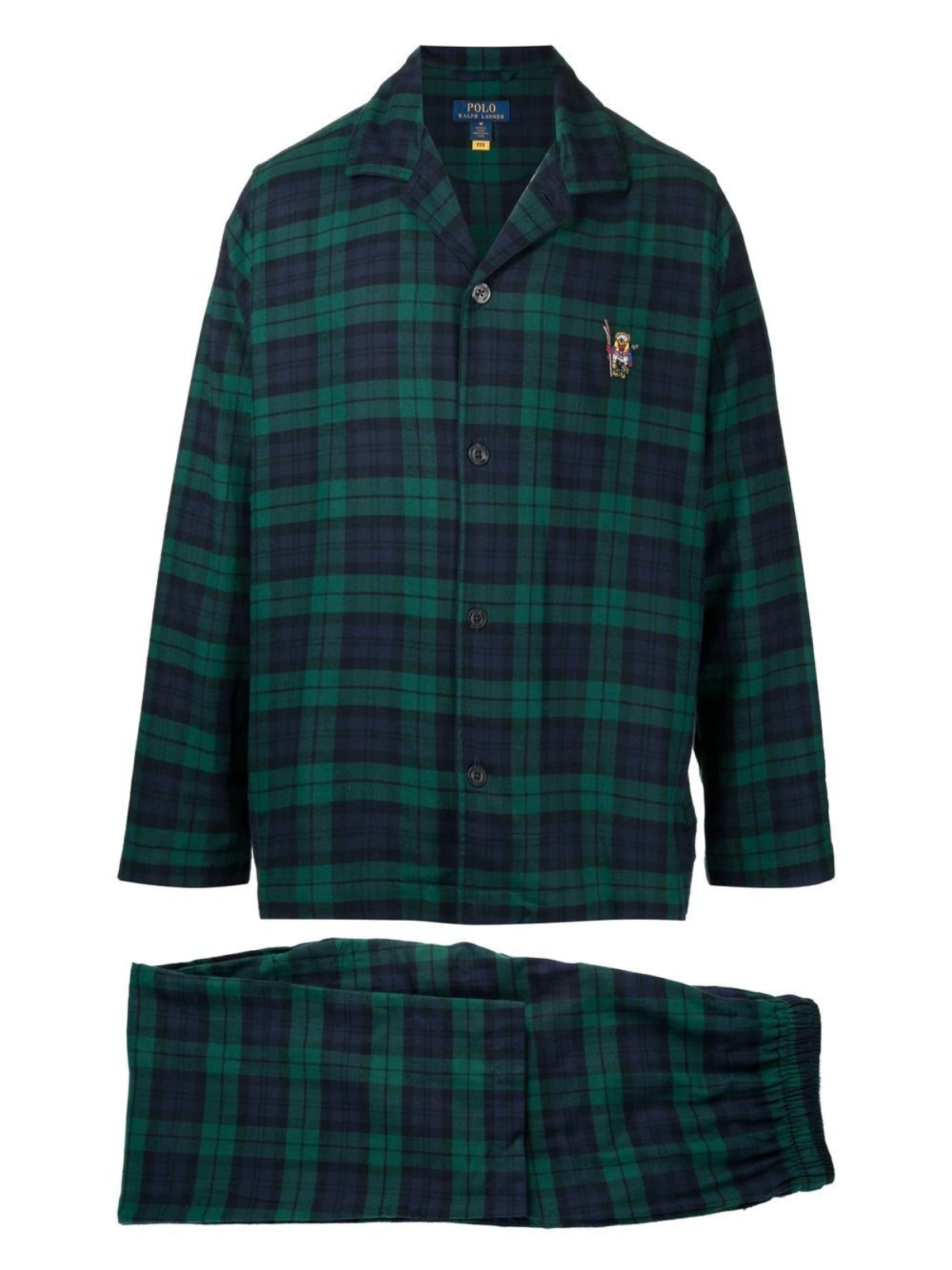 DETAILS
Material: 100% cotton flannel
Elasticated waistband
Machine wash
The name Ralph Lauren is synonymous with relaxed preppy style – and this tartan check pair of pyjamas for men is a fitting reminder of why.
Dark green and navy blue plaid give this style a sporty, sophisticated appearance; but you shouldn't get too serious when wearing these pyjamas. They also come with a fun 'Polo bear' logo on the chest.
Cotton fabric provides both warmth and comfort, which ensures your bedtime routine is comfortable through cold nights. A straight-leg design gives you freedom of movement, helping restless sleepers not get tangled in their pyjamas. 
These pyjamas are great for cooler temperatures but may be too heavy in the spring and summer.
---
Thom Browne Tartan Flannel Pyjamas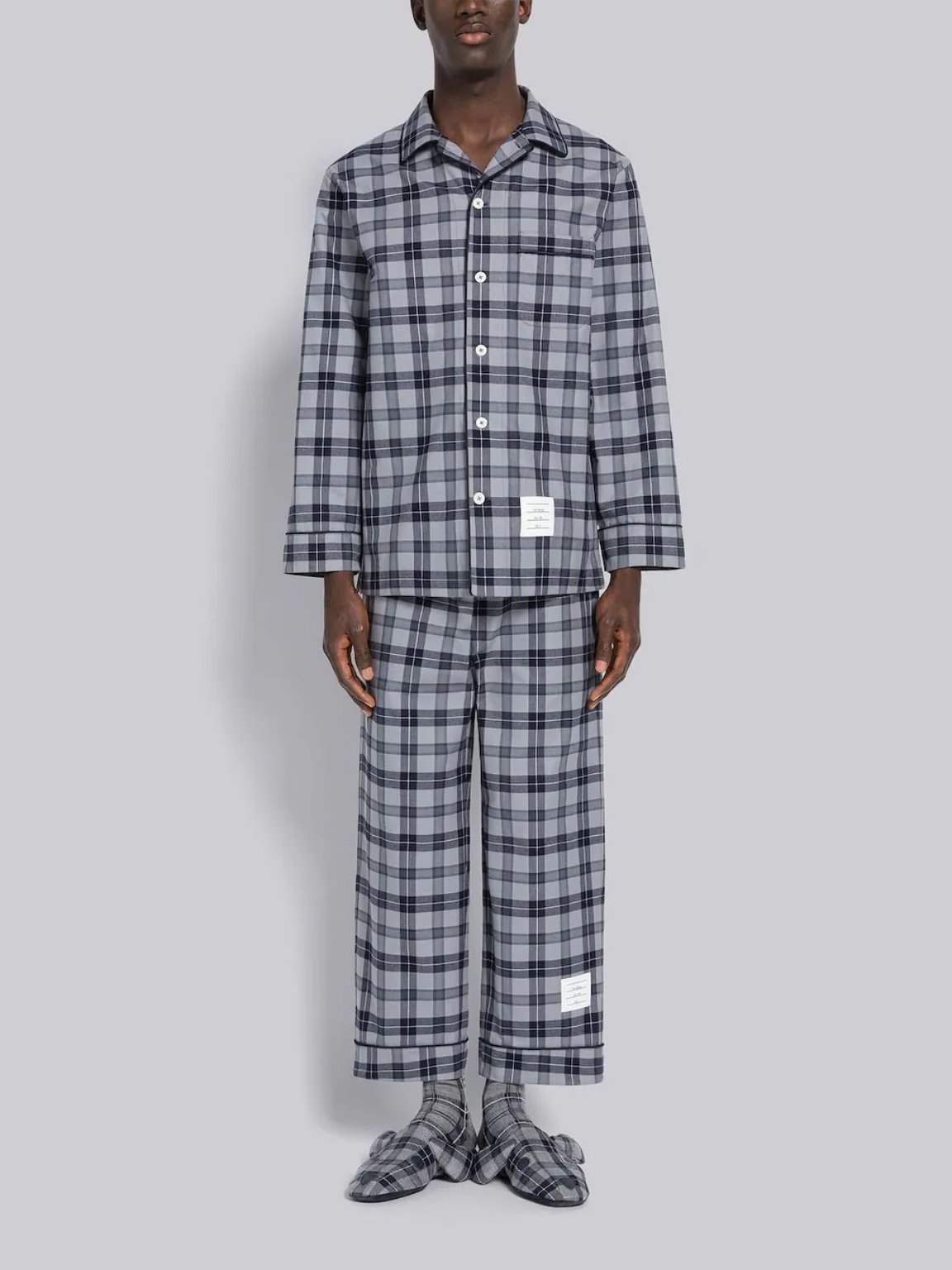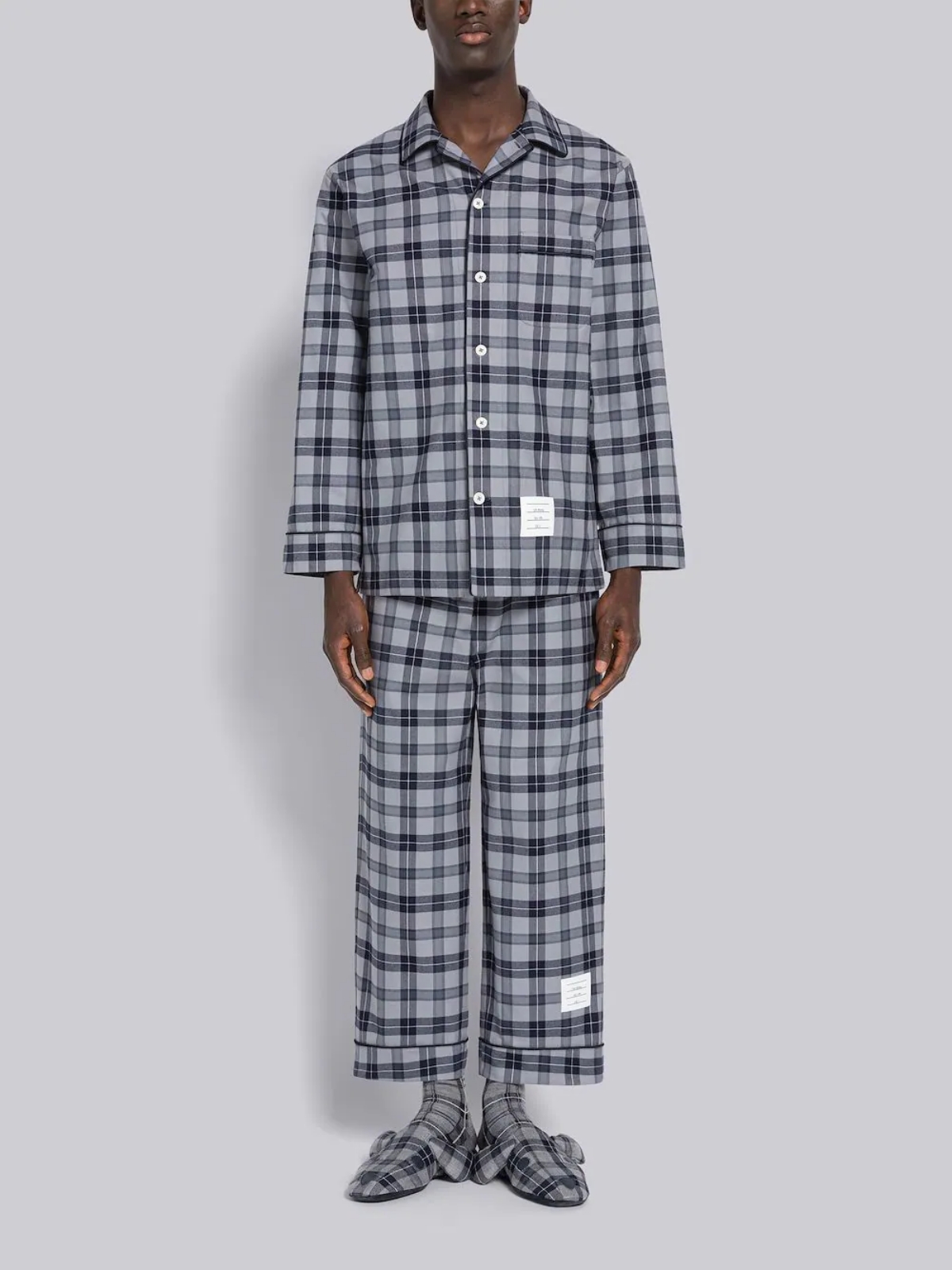 DETAILS
Material: 100% cotton
Elasticated waistband
Machine wash
Immediately recognisable thanks to the squared white applique logo, this set of flannel pyjamas from New York fashion king Thom Browne is bound to add a bit of pizzazz to your loungewear wardrobe.
The tartan design gives these a fun and stylish air; while the wide leg of the trouser allows for freedom of movement, whether sleeping or trying to get comfortable on the couch.
Piping on the bottom of the trouser hem adds an irreverent touch, while the waistband is elastic, so you always get a comfortable fit. In true Thom Browne fashion – even in the privacy of one's own home – these are cropped well above the ankle.
---
Tekla Off-White Oversized Pyjama Shirt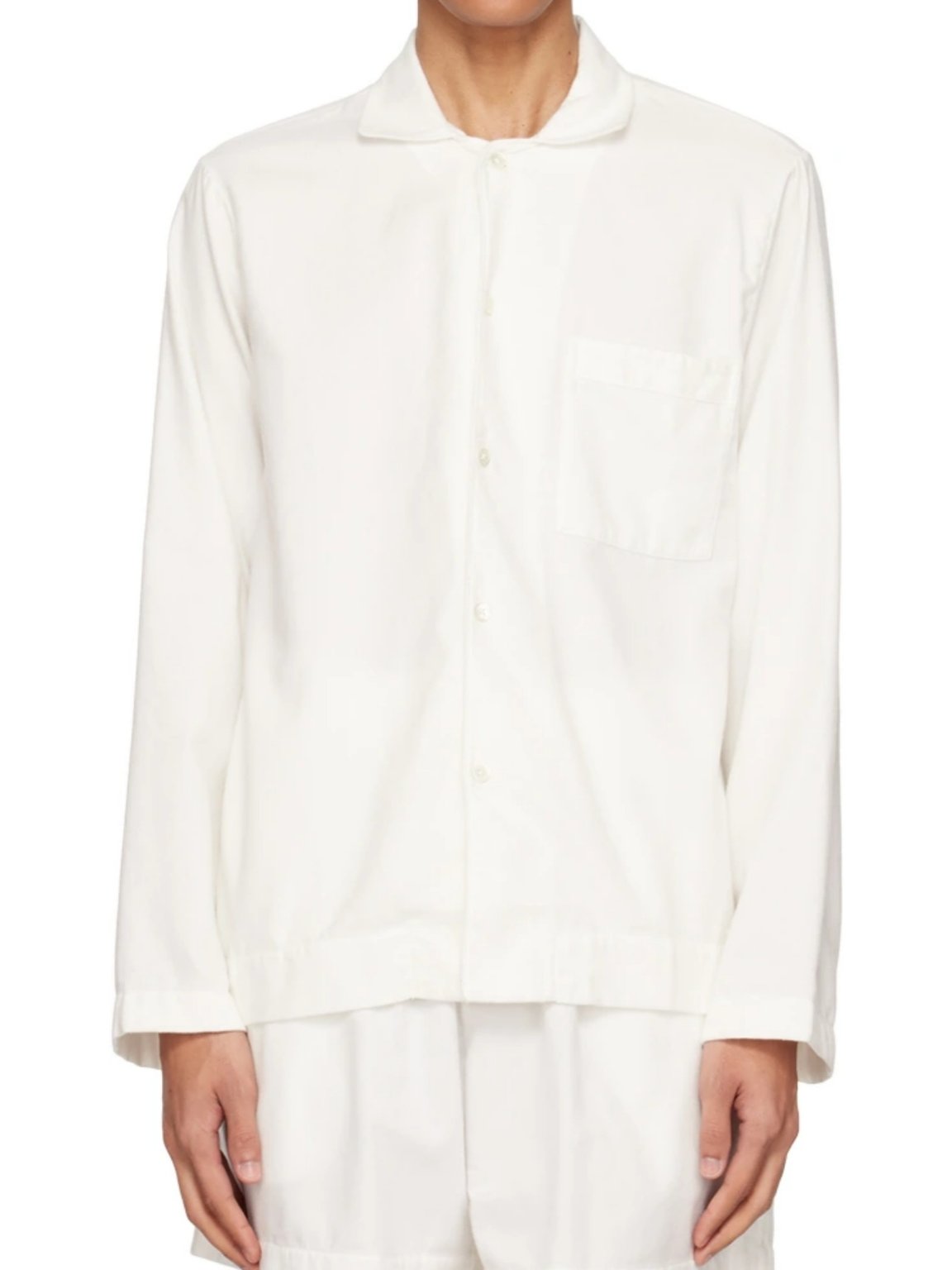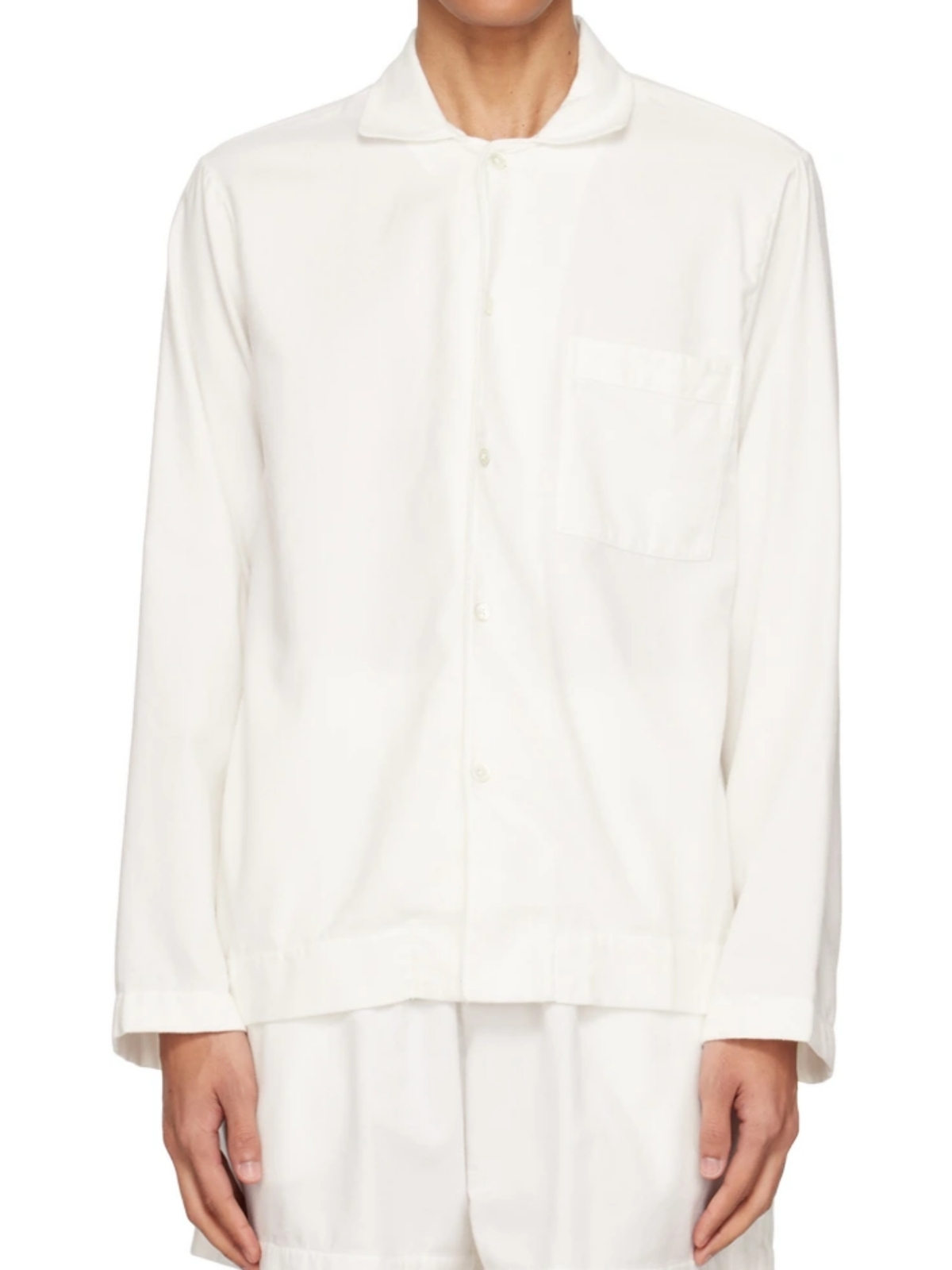 DETAILS
Material: 100% Oeko-Tex® cotton
Genuine MoP buttons
Machine wash
This pyjama shirt from Finnish textiles incubator Tekla resembles an oversized dress shirt: so much so that you can even do the morning coffee run in it – no questions asked.
Made from 100% cotton, the shirt is as comfortable and durable as your favourite t-shirt. A chest pocket, spread collar, and mother-of-pearl buttons give this a casual elegance – no matter whether you're reclining at home or out to brunch.
Additionally, its softness only improves with repeat washing. A roomy fit ensures your movements are not restricted at nighttime, though the wide sleeves have a habit of riding up one's arms – only a minor inconvenience.
---
Hanro 'Night & Day' Pyjama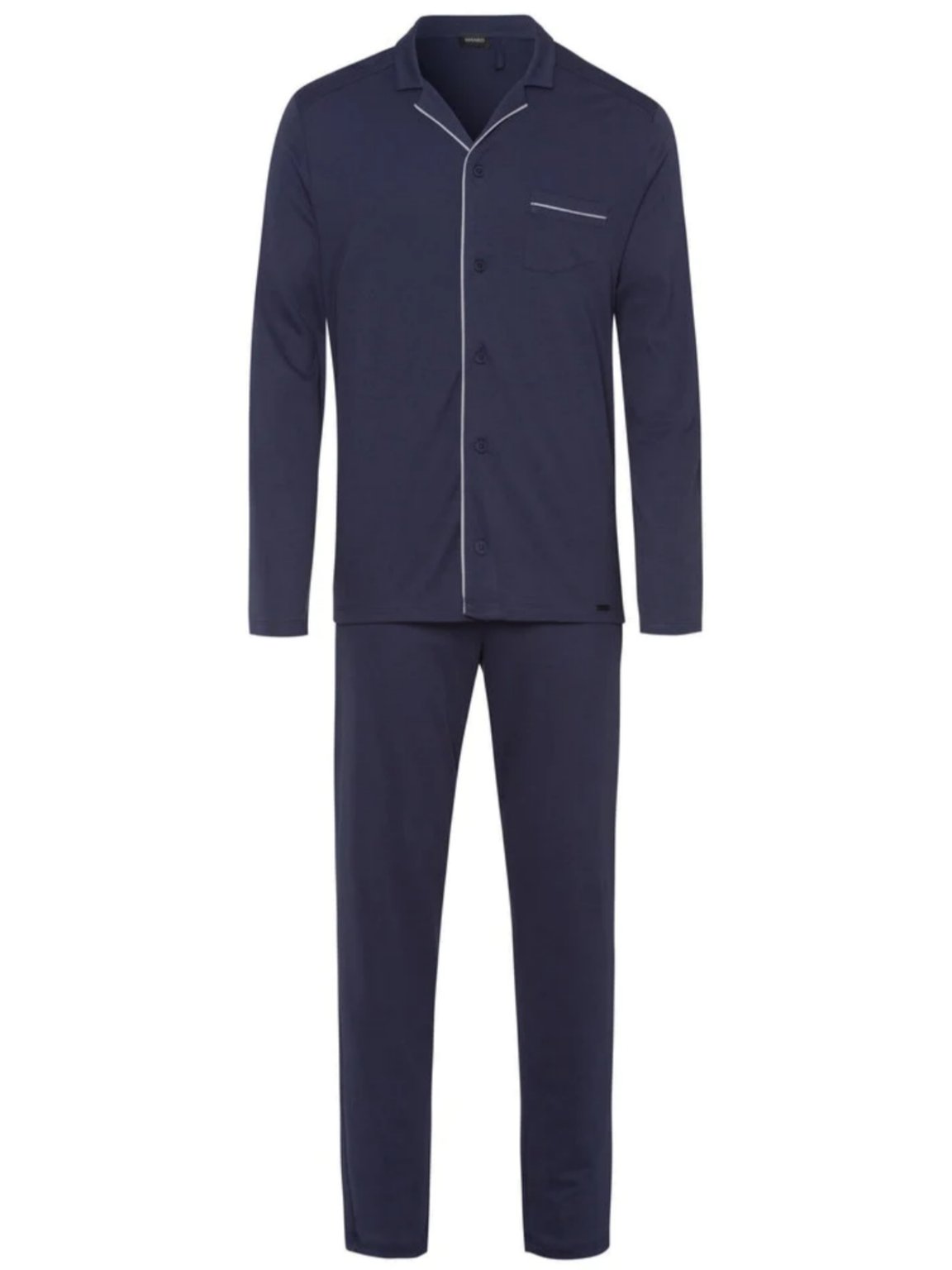 DETAILS
Material: 100% cotton
Elasticated waistband
Machine wash
Hanro's 'Night & Day' pyjamas are aptly named. The pyjama set works great for lounging and sleeping. 
The versatile set is made from 100% cotton for incredible softness and long-lasting durability. The piping on the shirt adds a slightly dressy touch, but it doesn't interfere with the pyjamas ability to help you sleep comfortably at night.
The pyjama pants pull easily on, and stay in place, thanks to the elastic waistband. While this quality set isn't super affordable, its comfort and style make it worth the price.
It is important to note that this pyjama set may run a little small, especially for guys with developed muscles.
---
Best Pyjamas For Men – Frequently Asked Questions
What are the most comfortable pyjamas for men?
Some of the comfiest pyjamas for men are made from 100% organic cotton. The fabric is soft against the skin and ideal for sleeping in warm and cool weather. The pyjamas should also be long-sleeved, have an elastic waste liner and pockets to keep their phones.
What is the coolest/most thermostable pyjama material?
Microfibre fabrics like Tencel are the coolest pyjama materials to wear. The fabric pulls moisture away from your skin, keeping you and the bedding comfortably dry. Hot sleepers may want to switch to this material, especially if they continuously wake up drenched in sweat.
What are the best pyjamas for hot weather?
Some of the best men's pyjama sets for hot summer months are often linen or microfibre. Both types of materials work to keep you comfortably cool at night.