The Blueprint Series is a rolling release of profiles on individuals from any walk of life, pioneers of what they do best. From athletes to artists, fashionistas to entrepreneurs, this series gives you a personal insight into the minds of masters at the apex of their respective professions.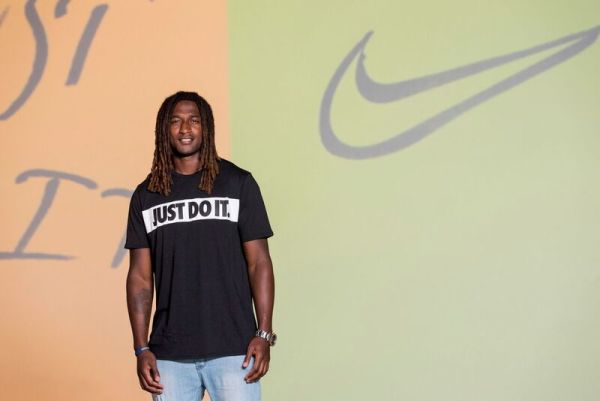 Earlier this week Nike Australia hosted a panel with some of the country's top athletes, including Andrew Johns, Steve Moneghetti, Nic Naitanui, Kyah Simon, Kim Ravaillion and Hayley Wilson, to launch its new brand campaign; focusing on 'No Turning Back' moments in sport
The campaign was developed as research reveals the amount of pressure Aussie kids face in sport and aims to inspire young athletes to play like there is nothing to lose and release their competitive spirit. The panel discussion focused on the personal make or break moments of the athletes, the current pressures facing young people in sport today and what can be done to inject fun back into sport.
---
---
Entering the sport of AFL at the relatively late age of 13, West Coast's Nic Naitanui is one such person who has benefited from being able to play without fear and make mistakes in his earlier years. Over the past 10 months Nic has also gained a different perspective on sport, something which Australia is clearly in need of.
Ten months ago, Nic was on top of the world after kicking the winning goal in the dying seconds of the match to beat Greater Western Sydney. The goal saw the Eagle's get over the line by just one point. Devastatingly though, just a week later Nic Nat would tear his ACL – these things happen when you're over two metres tall, weigh 100kg and have a vertical leap of 3.62m. Nic's injury essentially derailed West Coast's premiership hopes, and has seen him sidelined ever since.
Before he jets off to America in a few weeks for further rehabilitation on his knee, we caught up with the man affectionately known as 'Nic Nat' to discuss a range of things, including his make or break moment in sport, what he has learnt during his rehabilitation and whether or not he favours Speedos over footy shorts in the pool.
What words do you live by?
Probably something I was told as a youngster by one of my high school teachers: Dare to dream, aspire to inspire.
What are your three most treasured possessions?
My family, my photos and my Nike sneaker collection. It's not really one thing, more a whole room full of things.
---
---
If you weren't playing AFL, what would be your ultimate alternate career?
I'd love to be a professional surfer. The lifestyle is something I'd really love.
What do you consider to be your greatest achievement?
I just started my own academy which helps kids out. That's probably my biggest achievement starting that foundation. The foundation works at giving kids an opportunity to play sport and helps them with their off field stuff as well.
So going with the theme of today, in regards to your sporting career, what was your "No Turning Back" moment?
For me football was something that I wasn't the best at, it wasn't natural to me as I started a lot later. I started when I was probably 13 or 14, most guys start at five or six-year-old in Auskick, but I played Rugby and Basketball. It was just all about having fun and having a go. Like Joey (Andrew Johns) said, we learn the best by having fun and making mistakes.
It got to that point then where I had to make a decision about which sport and which path to follow and I think I made a pretty good choice in playing AFL. After that it was more so just having a go and proving people wrong. That was me pretty much it through my whole junior and teen years. In a foreign sport for me my drive was how can I can better myself, make it, and prove people wrong.
Is there one particular game in your career that stands out?
---
---
Kicking the winning goal against GWS last year is definitely one. That was one I enjoyed. It's a long flight coming home from Sydney back to Perth, but after a win like that you're so much more comfortable.
But the North Melbourne game and kicking it (a goal) after the siren was probably my biggest moment. The pressure is on you and you don't want to miss. That's probably one of the most memorable sporting moments I've had.
Which player has had the biggest influence on your career?
Dean Cox, a fellow ruckman. He actually visited my school when I was kid, so having that experience and then also being able to play alongside him, and then to have him as a coach has meant he has probably had the biggest impact.
What are some lessons you have learnt whilst trying to return from serious injury?
Resilience and overcoming adversity. You have that throughout your whole life, but injury is probably one of those things that can really get you down. Just knowing there's something worth while having as end goal can really help. It just teaches you to set goals and do everything you can to achieve them.
What sort of training have you been doing whilst you have been unable to run?
---
---
Swimming, which I struggle at. I'm like Eric the Eel. Also, I ride bikes, row, kayak -things like that. But before that it was mainly just in the gym just working out that way.
My next question then, football shorts or Speedos?
Speedos are the way to go. If the Olympians are doing it, we're doing it.
What are you thinking about during that training? What motivates you most to get back on the field?
I guess just being stuck in that cardio room smelling your own sweat. You get sick of it after a while. You just want to get out of there and get some fresh air and smell some green grass. You feel like you're a bit on the outer when you're in that rehab group as well. You just want get back out into that main group with everyone else because you do miss out on a fair bit.
What does life after football look like for you? You recently had a stint in the commentary box last week for the West Coast V. Geelong game. Is this something you might want to pursue?
That might be something a little bit later on down the track, but I might have a bit of a rest after footy. The commentary stuff would be a bit of fun but I'm more so interested in looking after the foundation.
To be honest I'll probably just be back in Fiji sipping on coconuts and laying around.
---
---