Love it or hate it, the floral has become a staple of men's fashion – from Elvis Presley to Kurt Cobain to Donald Glover. Styles, cuts, and prints of the floral determine a man's fashion worth. Is he just a daggy dad on vacation in Hawaii? Or is this a seasoned summertime hunk who knows the intricate importance of the floral shirt? This piece will address two questions:
Why do floral shirts, to this day, maintain relevance?
How do we best rock the floral print?
As history has shown, this form of flower power isn't going anywhere. Here's why.
---
From Hawaii To The World
Before the late 1950s and the emergence of modern pop culture, flowers on garments were seen more than most on women. Think the classic nuclear family: dad would suit up in his white dress shirt and navy blue for another day at the office while mum donned her flowery frock for a hard day of cooking, cleaning, and looking after kids. How times have changed! Men's clothing was simple, monotonous, and set in its ways. No real men wore floral print. That is, of course, until they did.
---
---
In its very essence, rock 'n' roll was the counterculture. And through subversion, rockers were swapping in sad suits for free-flowing florals. Although bands like The Beatles and Rolling Stones moved through this evolution with ease, no one did flower power better than Jimi Hendrix – King of Woodstock.
But unlike the hippy movement which died due to a rise in conservatism and dips in psychedelic drug use, the floral fought on. Correlating with the rise of rock 'n' roll and the rebel culture, the aloha shirt was becoming one of Hawaii's main exports and was quickly becoming the summertime uniform for visiting Americans. The aloha meant freedom and relaxation. No more plain whites, or deep, boring blues (at least for a couple of weeks each year). The flowing floral matched the happy and carefree attitude of the island-hopping tourist.
Witnessing the continuing success of the aloha, many fashion brands saw the opportunity to make floral a year-round, mainland phenomenon. Soon, floral prints were seeping into the mainstream – no longer reserved for the rebel or the feminine. Nowhere was this more evident than on the big screen.
RELATED: 5 New Fragrances To Stand Out From The Crowd This Summer
Iconic Appearances Of The Floral Shirt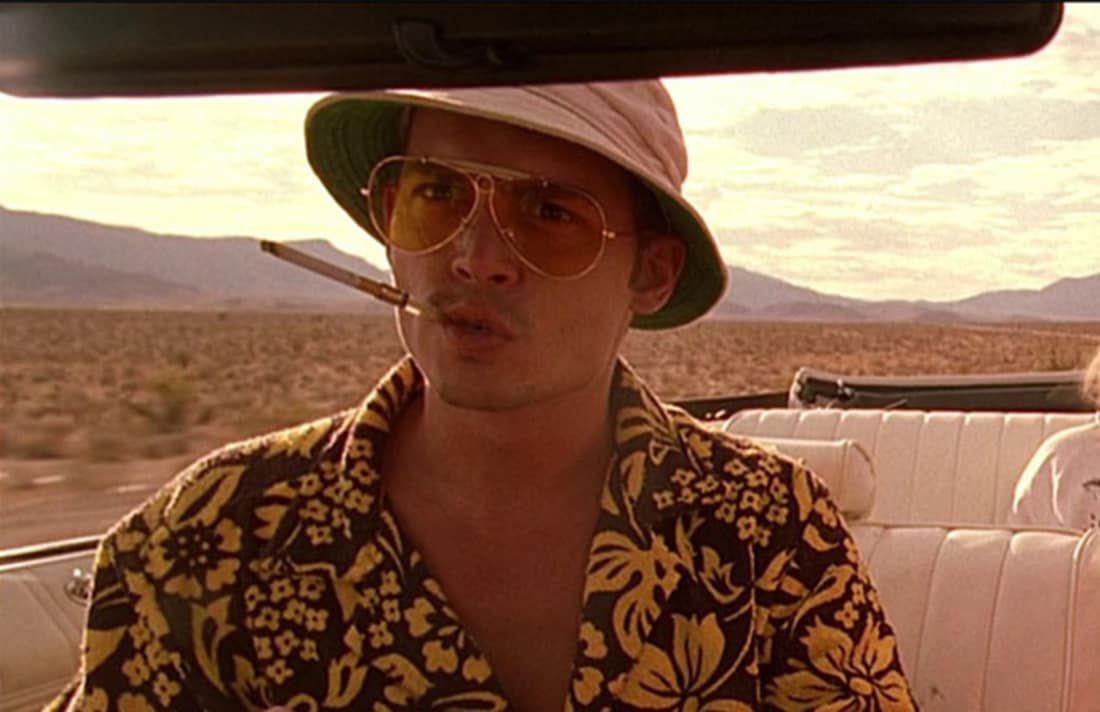 No film or TV show based in an exotic location is complete without a gentle influx of characters wearing floral. How else would audiences know they were on a beach (other than the fact they were on a beach)?
The floral shirt and Tom Selleck burst onto screens in 1980 in Magnum, P.I. A nod to the program's Hawaiian setting but also a display of Thomas Magnum's exuberant character.
Although Tom Cruise's Brian Flanagan spent the majority of Cocktail working New York bars, the protagonist spends some time in Jamaica, translating his appropriate sense of fashion from the city streets to the Caribbean beach.
---
---
Ten years later the cult classic Fear And Loathing In Las Vegas saw Johnny Depp rock the floral shirt – not because of where they were but because of who his character was. Raoul Duke was never accustomed to following the rules so why start with fashion? Donned perfectly with a bucket hat and aviators.
And who could forget a young Leo in the 1996 adaptation of Romeo + Juliet? This film was ruled by the floral shirt. Even late-teenage gangsters were now rocking what was once considered to be a feminine fashion choice.
Despite what it looks like, cigarettes are not an essential accessory to floral prints.
If you're still not convinced of the manly, gangster legacy that the floral shirt now commands, then here's an action shot of Al Pacino in Scarface to drive my point home.
Even Daniel Craig's James Bond opts for floral when chasing bad guys through Madagascar.
In the 1990s, when the floral print was clearly at its peak in the culture, the go-to for subverting style expectation lay within this wonderful picture of Nirvana rocker Kurt Cobain.
The dress may be a little extreme. If you're looking for a modern-day creative genius to emulate, you can't go wrong with everyone's favourite renaissance man, Donald Glover AKA Childish Gambino.
---
The Modern Look
It's official. The floral was, is and, for the foreseeable future, will always be in. So much so, it, and perhaps the neck scarf battled hard for the top trend at Pitti Summer this year – which is reassuring but also slightly depressing. Like every Pitti trend, some executed the floral shirt with true panache, others with the stench of desperation. Here are a few examples.
---
---
Rolled long sleeve with a neutral background can rarely go wrong. This shirt's patterns aren't too daring but bold enough to work as the feature garment in an otherwise simple outfit.
A white tee or singlet under the floral adds another level of urban realness to the classic short-sleeve look. Also blends nicely with the large white patterns of the shirt. Interestingly the floral shirt maintains its credibility in both long and short sleeve variants.
If pulled off correctly, the aloha under the blazer, or for something a little different, the safari jacket can be a big hit. A word of warning: the floral print can easily be overdone. Like old mate below.
---
Where To Buy
Brands like Valentino, Prada and Gucci prove that even a casual floral shirt can easily venture above the $1,000 mark. If you've got that kind of moolah, be my guest. However, there are plenty of florals that don't break the bank but still fit nice and turn heads.
Indonesian brand Tropic Thunder offers some excellent affordable selections averaging around the $25 mark, however, the shipping costs more than the shirts at roughly $32. The site also offers new patterns every week so check back often. J.Crew usually has a couple of nice floral options and are always running a sale so you rarely pay full price for anything. This Daisy Print is a nice option for AU$81.
If you want to step it up, quality comes standard from the guys at Gianetto Portofino but won't come cheap (going for about $200+ AUD), but it's worth the coin. Running with the blue, the 'Blue Flower Field' extends a 'blue and white floral fantasy with red highlights'. Finally, the long-sleeve 'Vintage Floral Linen' is a winner for all casual occasions – beach or city. Hitting the top end you might want to investigate Neapolitan producers Vanacore or Salvatore Piccolo.
Whether you've found inspiration from some culture icons or just hope to emulate the modern look, it's hard to go wrong with a solid floral. From Bondi to Noosa, this summer will be another season of floral shirts. Best to get it right.