Despite bowing out of the world game over seven years ago, David Beckham remains an idol to millions of people across the globe. His marriage to ex-Spice Girl Victoria Beckham and philanthropy work has helped keep him in the public's eye, all the while holding his unspoken status as one of the world's most stylish men.
A bonafide fashion icon, Becks has pioneered some of the most emulated looks in men's sartorial fashion over the past 25 years. From his ever-changing hairstyles (remember the mohawk? *shudder*) through to his expensive collection of made-to-measure suits and casual everyday tee and jeans look – the former Manchester United player has worn it all and continues to inspire men around the world with his accessible choices.
We can't all bend it like Beckham, but we sure as hell can dress like him. Here are a bunch of easy ways you can channel the football legend's influential style.
---
---
Staples never go out of style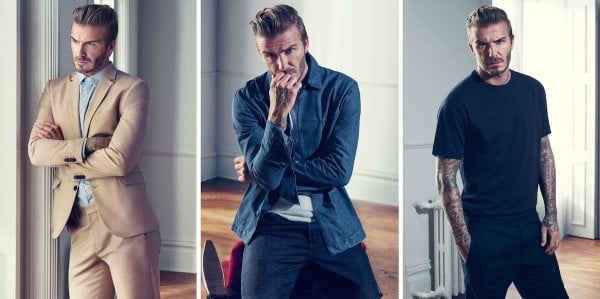 Old mate Becks doesn't have to do much to retain his ethos of cool, and neither do you. Just adhere to the time tested classics which never go out of style. Beckham's wardrobe is based around tailored suits, well-fitted jeans, leather jackets and stylish shoes all in simple colourways that are easy on the eye. At the end of the day, they're items of clothing every man should have in his collection, at least before the age of 25.
Becks takes influence from style icons like James Dean and Steve McQueen, always opting for quality and simplicity. When he's not suited and booted, Beckham is a huge fan of a vintage jacket to make a statement when paired with a basic tee/Chelsea boot combination.
A two-button, tailored suit is infinitely more versatile than you first thought
During his early career at United, Beckham wasn't the best dresser. Something he himself admitted on The Late Late Show With James Corden a few years back. Since entering his 30s, Becks has ditched the leather suits and all-white boy band ensembles he used rock on the red carpets for a more considered, classically tailored approach.
When it comes to his extensive suit collection, Becks keeps things straightforward, favouring a fit that's not overly structured alongside dark colour palettes (blues, greys and blacks) which accentuate his boyish good looks; and can be worn in a large variety of combinations. Pairing these suits with tees and sneakers is a common look, while the two-piece classic matched with a light coloured shirt and sharp flat pocket square are also a favourite. Occasionally, Becks opts for a two-tone contrast during the British summer months, like at Wimbledon, for example.
Hair today, gone tomorrow
="20450,2045117441,17442,17443,17444,17445,17446,17447″]
Becks is fairly reserved when it comes to his choice of clothing, as demonstrated by the classics as we've seen so far. But the same can't be said for his hairstyles. Golden Balls has never been shy of experimenting with his hair, helping pioneer the man-bun years before it became an expected look for local hipsters, while also somehow managing to make the mohawk not completely hideous. He's also shaved his head, worn cornrows (we don't recommend this at all), bleached his hair and even rocked a comb-over. Only Beckham could get away with such a history.
Despite the variety, Becks has always worn his hair to play to his strengths. Blessed with a chiselled jawline and pronounced cheekbones, recently he's made sure to keep his hair out of his face while rarely sporting a full beard, preferring a little three-day growth to enhance his mature look, but one that doesn't overpower his pretty boy charm. The lesson here is to wear your hair however you like and don't be afraid to take chances, just be certain your new trim fits the shape of your face.
The Peaky Blinders look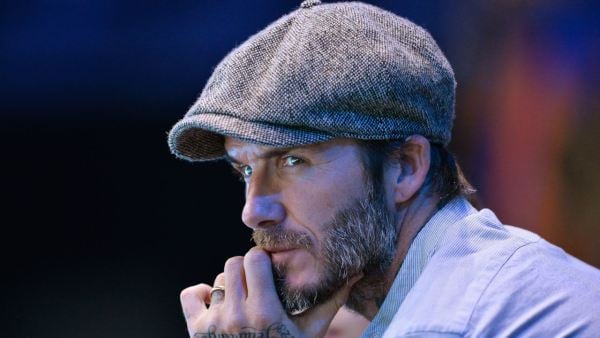 If changing your hairstyle every six months is too much work, then why not take a chapter out of Beckham's playbook and grab yourself a flat cap? Surging in popularity thanks to the BBC drama Peaky Blinders, flat caps are a unique accessory for those starting to thin out up top or give their outfit a subtle edge.
---
---
Becks loves the flat cap so much his fashion label Kent & Curwen collaborated with the Peaky Blinders team for a 1920s-inspired capsule collection. Previewed in January of 2019, the collection includes trousers, jackets and of course, flat caps.
All hail the 'All-Black Power Play'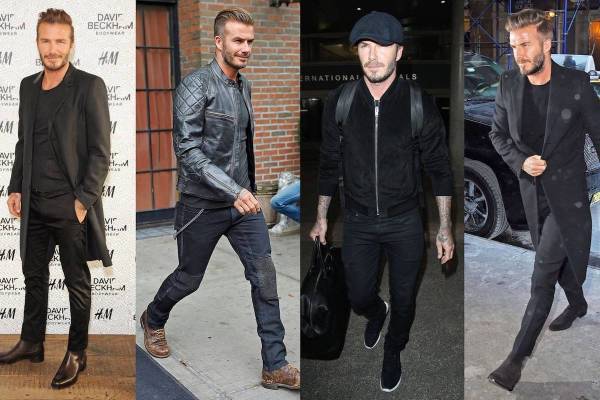 The common theme surrounding Beck's style is keeping things basic, so it's no real surprise he loves getting around in a confident all-black get-up. From all-black suits to black bombers, cap and shoe combos, Becks loves a good monochrome outfit. All-black is an outfit choice that not only makes you appear slimmer. but also an easy combination of clothing you most likely already own. Making it even easier to achieve Beck's cool style.
The best thing about wearing all-black is while it's almost too simple of an outfit, it's not something commonly done by many people. Thus making it a powerful statement across all levels of dress codes. Plus, if you ever want to spice things up by adding some colour to your outfit, all you have to do is try a pair of brown boots or a flannel shirt.
If David Beckham doesn't quite nail the style you're after, it might be worth checking Jason Statham's wardrobe go-to's for alternative inspiration.