With the recent news that Goldman Sachs has officially got with the times and relaxed its dress code to 'suit and tie optional', we thought it high time to help you all kill the office dress code. We've partnered up with the legends at transparent/ethical fashion label Everlane, to bring you six of the best looks for nailing office casual. They've just started shipping to Australia so head to their site now and get the wardrobe sorted.
Before we get underway, however, it's important to note that there's a fine line between casual and business casual. To take a leaf out of Oscar Wilde's book, "you can never be overdressed or overeducated." Take note – even if your office dress code doesn't exist, you'll usually go a lot further by dressing up rather than dressing down. Slim chinos, an Oxford shirt, and a pair of R.M. Williams will get you seen in a much more positive light by management than trackies, a ripped t-shirt, and some 10-year-old Air Max '90s.
Denim Shirt, Stone Chinos, White Sneakers
It's a look that's crept into the office in a big way over recent years, and if you're not rocking the denim shirt and chino/beige chino combo, you're missing out. It's the perfect combination of preppy and street and won't look out of place in most non-corporate environments.
---
---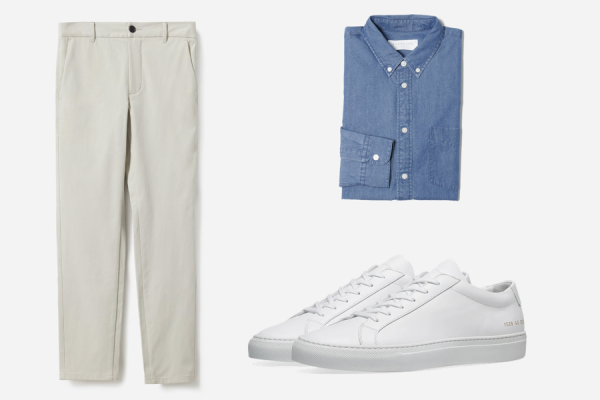 Stone Performance Chino (~$96) by Everlane, everlane.com; Medium Denim Long-Sleeve Shirt (~$82) by Everlane, everlane.com; Original Achilles Low Sneaker ($459) by Common Projects, endclothing.com
Chinos, Button Down Oxford Shirt, R.M. Williams Boots
The simplest and most classic look on this list. If there's one outfit here that is least likely to offend literally anyone, it's this. Choose any muted colour of chino, pair it with a light-toned shirt and top (or bottom) it off with a quality pair of leather boots, and you'll both be in business and winning business.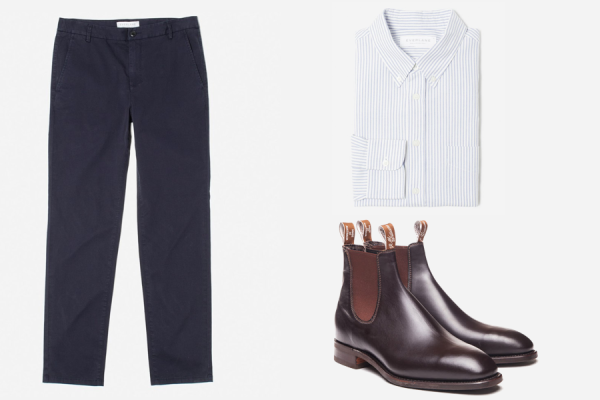 Comfort Craftsmen Boot ($595) by R.M Williams, rmwilliams.com; Japanese Slim Fit Oxford (~$82) by Everlane, everlane.com; Midweight Slim Chino (~$96) by Everlane, everlane.com
Blue Jeans, Long Sleeve Tee or Polo, Chore Jacket, New Balance 1500
Skewing to the more casual end of business casual, this outfit is perfect if you're working in a more creative industry, but maybe not the best idea if you're dressing for casual Friday at Bain & Co. A functional chore jacket/jean combo is super versatile and will pair nicely with a considered pair of sneakers.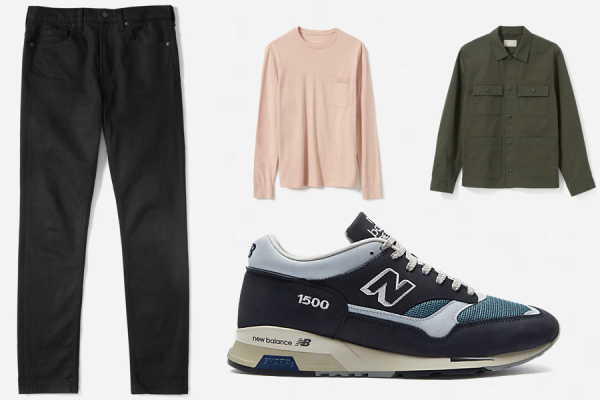 Slim Fit Jean (~$97) by Everlane, everlane.com; Cotton Long-Sleeve Pocket Tee (~$34) by Everlane, everlane.com; Chore Jacket (~$124) by Everlane, everlane.com; 1500 Made In UK ($280) by New Balance, newbalance.com.au
Navy Blazer, White Shirt, Khaki Trouser, Suede Oxfords
If you're just dipping your toes into the world of business casual, this is a great place to start and arguably the most versatile combination on the list. To avoid your Navy's looking almost, but not quite like a dressed down suit, opt for a linen blend blazer against wool or cotton trousers for a difference in texture. A classic white shirt can't be beaten and a pair of suede Oxfords suggest you're a man who knows how to take care of his shoes…and business.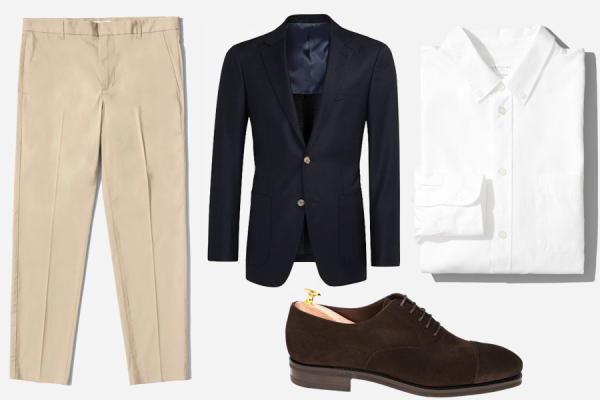 Havana Navy Jacket ($699) by Suitsupply, suitsupply.com; Air Oxford Shirt (~$82) by Everlane, everlane.com; Air Chino (~$81) by Everlane, everlane; Dominic Loafer (~$175) by New Republic, shopnewrepublic.com
---
---
Indigo Jeans, Crewneck Tee, Cashmere Crewneck, Desert Boots
Perfect for a Winter's or Autumn day at the office, this Scandinavian style combo is a favourite of ours and is all about clean lines and tones. Go for dark indigo jeans and choose a characterful colour for the crewneck – think a plum, agave green or mustard. A quick roll of the cuff will sit nicely above a pair of desert boots, but be sure to leave the funky socks at home.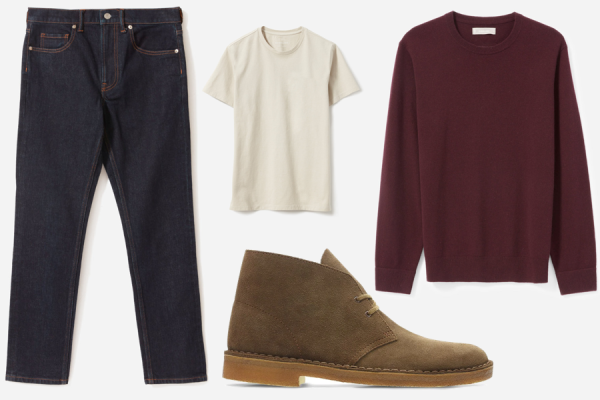 Heavyweight Slim Jean (~$97) by Everlane, everlane.com; Relaxed Crew Tee (~$45) by Everlane, everlane.com; Cashmere Crew (~$141) by Everlane, everlane.com; Desert Boot 3 ($190) by Clarks, clarks.com.au
Blazer, Pale Blue Shirt, Tie, Chinos, Penny Loafers
If you're a finance or accounting intern who's still too nervous to shy away from the strict dress codes of years gone by, but want to tone it down just a touch and go for the ultimate in prep-school looks, we've got you covered. This outfit sits in the not-quite-a-suit category but still formal enough to get away with wearing it in almost every professional setting thanks to the addition of the removable tie and the sophisticated yet relaxed penny loafers. Exchange the loafers for a pair of white sneakers if you want to go for more of a tech billionaire look.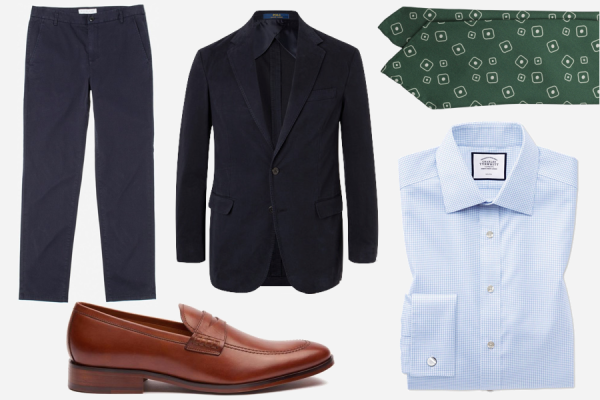 Unstructured Cotton-Blend Twill Blazer (~$485) by Polo Ralph Lauren, mrporter.com; Sky Blue Check Shirt ($79) by Charles Tyrwhitt, ctshirts.com; Green Handrolled Madder Silk Tie (~$144) by Berg & Berg, bergbergstore.com; Mid-Weight Slim Chino (~$97) by Everlane, everlane.com; Dominic Loafer (~$175) by New Republic, shopnewrepublic.com