When M.J. Bale went to California to shoot their new spring collection, they were pointed in the direction of an antique garage as to where they might find a car to include in some of their photos. It seems appropriate that the first car they chose just so happened to have once belonged to the late Steve McQueen. CEO Matt Jenson lists the 'king of cool' and avid motor enthusiast as one of his style icons and the source of much of his inspiration: Although the car was understandably not for hire, looking at M.J. Bale's new range at their Paddington store in Sydney, one can't help but be reminded of the the man's confidence and timeless, insouciant coolness.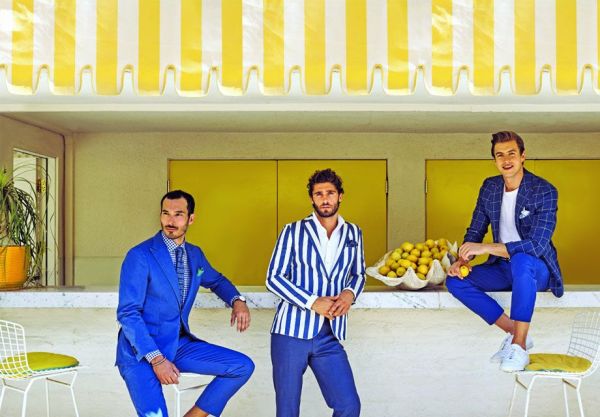 This confidence, Head Designer Daniel Fitch says, is one of the inspirations for the new season. The other is Paris' iridescent light over night skies. Daniel says the offset colour pattern which is evident in the range, came to him as he and and Mr Jenson were on a flight from Paris to Mulan. The clear white warm chalky colours are apparently what they saw as they stared out the plane window.
One piece that stands out from the rest is their bomber; made of a lightweight Italian denim shirting fabrication with an indigo dyed rib. The lightweight material means that differentiates out from traditional denim jackets, and this sort of courage to stick out from the rest is what the range is all about. Hence, Daniel says that the key items for the season really are the bold items. Its not just about a bold statement stripe or a check or just a jacket, they have tried to incorporate this sense of boldness into their shorts, trousers and even their tees and polos.
---
---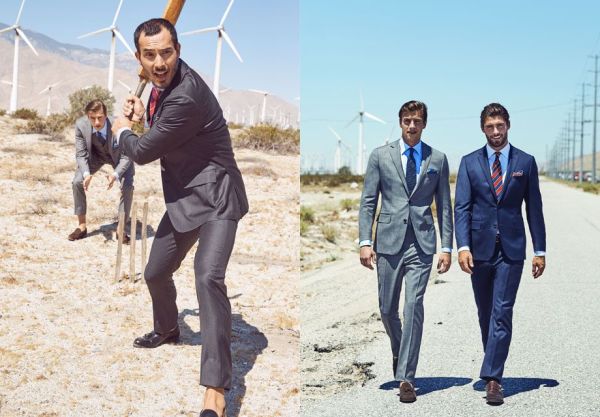 This boldness is especially evident in a pair of cotton linen blend suits in the corner of the display, one blue and the other green, both being of the sort of subtle pale colours that fit Daniels skyline description. The suits are perfect for anyone who wants to be a little extravagant and stand out, but may be lacking the confidence to do so. Daniel says that a lot of the time guys think they've got to do stand out through patterns or shape. However, he says the best way to stand out is sometimes just through a simple bold colour. These suits will allow the wearer to stand out amongst a crowd in a subtle way, instead of a 'hey I'm wearing a bright red suit' kind of way.
Not only is M.J. Bale's collection bold, it also quite large. They of course have their new tuxedo range which Daniel describes as their 'bread and butter.' The shawl lapel and peak lapel tuxedos have a very James Bond essence about them and power suits also return in pin stripes, tone on tones, windowpane checks, Prince of Wales checks and traditional greys and charcoals.
M.J. Bale SS16 started rolling out in early August with the whole range dropping by the end of September.