It's that time again when the Aussie male collective dust off their best threads for a month of pre-summer indulgence in day drinking and a cheeky punt. While every man might think they're bringing their suiting A-game there's always someone that slots in a few rungs higher on the social style ladder, dressed just a little sharper than they are.
It's not because of money. It's not because of looks. The real reason they're ahead and you're behind is because you're missing one of our golden tickets to effortless Spring Racing cool. We've kept the rulebook short and sharp so this year you've got no excuse.
Ditch the belt.
Unless your body type specifically needs a belt, there shouldn't be a belt anywhere in your outfit. A outfit, like this one from Calibre, should fit your body to a tee. If you're buying off the rack, that's fine, just spend a little extra coin to get it tailored to near perfect. This is especially relevant for suits of lighter shades such as soft blues, greys and beige. Any belt worn with these suits will be too dramatically contrasted. It looks tacky, so remove the belt and get your suit fitted properly.
---
---
Sort out the blue suit/brown shoes combination.
No blinding electric blue suits this year please gents. This is an outfit that can look incredibly cheap if done incorrectly. Either try a softer shade of blue (without the aforementioned belt) or a dark navy. If your shoes are going to be brown, do your best to make them as dark as possible or it'll look like you just came straight from your Year 10 school formal.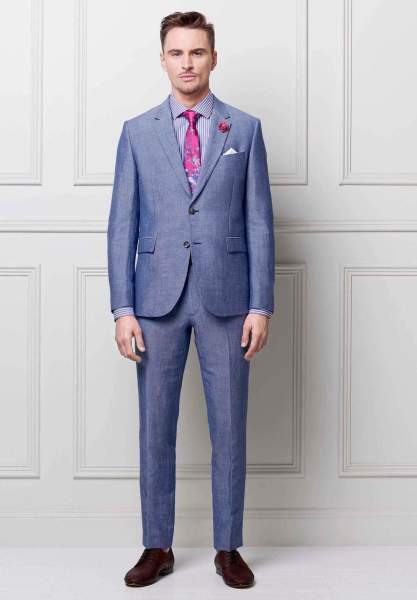 Keep your pocket square tight.
Less is more. Sharper is better. A colourful pocket square is great, just keep it reined in so it doesn't drown out other aspects of your outfit. Other accessories to consider would be a tie bar or a lapel pin to tighten your look up even further.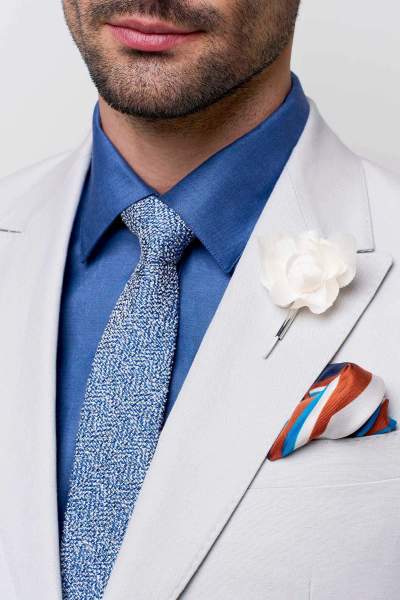 The days of skinny lapels are over.
If you're planning on wearing a suit that's lapel width – at its widest point – is less than 7 centimetres, put it in the bin. As a bloke's body grows, his suit must grow with him. Get it sorted.
Decide on your trouser length.
While the length of one's trouser is entirely subjective, you've got to be mindful of sending the wrong message. Your whole suit could fit perfectly, but a strong break in the trouser that rests on your shoe will look heavy and misjudged, implying you only got the job 90% done. Don't half arse it, slightly shorter is usually better if you're unsure.
For God's sake, wear whatever socks you want, just promise us you'll wear socks.
If you nail the trouser length, you can nail the sock game. But to nail the sock game you need to be wearing socks in the first place. Unless you're boating through the islands of southern Italy or strolling the Champs-Élysées on a balmy summer's evening, you need to wear socks. Full suits always require socks. Wear whatever kind of flamboyant crazy socks you want, but for God's sake just wear some. Check out Calibre's range of socks here for a start, the Burlington Clyde designs are our faves.
The Windsor knot is dead.
Every bloke with any knowledge of menswear sports a four-in-hand knot. Prince Charles wears a four-in-hand. Also known as the schoolboy knot, this tying method is simple and easy not to cock up. Shop some gorgeous Calibre ties here.
---
---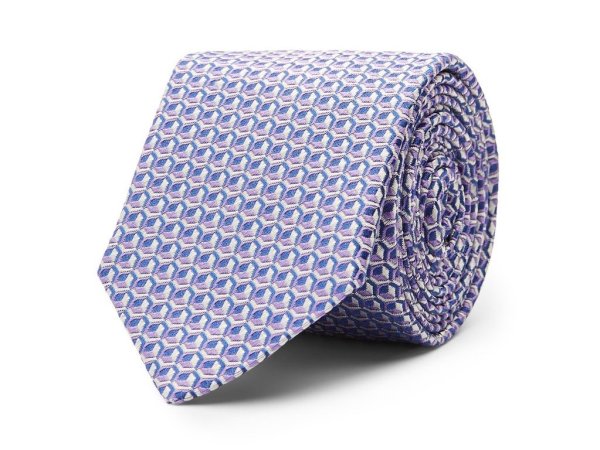 If you're wearing a tie (and you should be), don't you dare undo your top button.
It looks messy and you may as well have not worn a tie in the first place. If tight shirts are your caveat to this rule, consider getting one tailored to give you the perfect breathability around your neck while being able to keep the tie on all day.
Lose the bulge.
And by that we mean lose the wallet. Don't actually lose your wallet, just take the essential cards, pop them in a sleeker cardholder and leave the clunky thing at home. You don't need cash or coins these days, you don't need your expired student card from 2008. A driver's license, two cash cards and a phone is the minimum kit required. Slim it down.
Upgrade your kit.
Don't be that guy that wears the same suit to the same race day three years in a row. Invest in two or three premium set-ups, have them tailored and then rotate accordingly while adding the latest accessories each year to keep the overall look fresh.
Shop the best of Spring Racing at Calibre.