When Prada first launched their environmentally friendly fabric "Re-Nylon" back in 2019, they did so with the promise it would ultimately replace their entire production of conventional Nylon. This year, expressed in a restrained and monochromatic collection created with Adidas, Prada is making good on this promise for sustainability, with luxe takes on our favourite sportswear staples.
Given Prada's storied connection to Nylon that spans decades, this is a big deal for the Italian label. While nylon's reputation was once of a fabric only used as an affordable after-thought, the brand has worked to make nylon their signature as well as a staple in contemporary luxury fashion, since Miuccia Prada first began working in the family business in 1978.
The iconic Prada backpack is one example of nylon's success, which became a popular part of 90s minimalism and put the fashion house back on the map. Prada doesn't just use nylon in their backpacks, with the fabric being used in everything from their jackets to their bucket hats. Now, that's all by the wayside. With a greater emphasis on sustainable fashion in the 21st century, the company has looked to move on from non-biodegradable spun plastic, which includes nylon.
---
---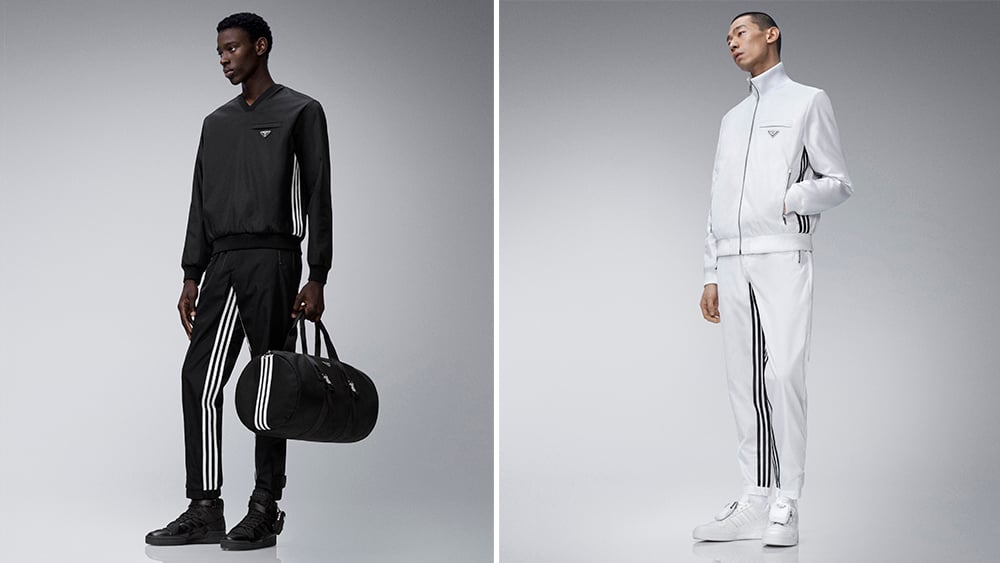 RELATED: Why The YEEZY x GAP x Balenciaga Collab Means Serious Business
Here, it's all Re-Nylon. From the ready-to-wear to the sneakers and bags, everything is created from recycled ocean plastics and textile fibre waste. The company even goes as far as to make the claim that Re-Nylon can be purified and recycled indefinitely.
This new Adidas collection is the first example of the Re-Nylon vision being fully realised and marks the dawn of a new era for the Italian luxury brand. While the Italian luxury house and the German sportswear giant previously collaborated Adidas Superstar re-editions and the Luna Rossa 21 sneaker, the environmental focus on this particular collection makes it the largest to date.
The clothing itself sees quintessential Adidas tracksuits with sleek Prada elements: the stripes on the track pants run along the inseam and the standard coach's jacket has been extended to be a knee-length coat. Accessories include a sporty riff on Prada's best-selling bucket hat and backpack as well as duffle, tote, and belt bags. True to Prada's minimalist DNA, the entire range is available in either black or white.
As far as the footwear goes, we have been given some of the Adidas' Originals Forum with the Prada touch. The addition of removable Prada mini-pouch attachments featuring the house's signature enamel metal triangle logo. Both the high-top and low-top variations are finished with Adidas' classic three stripes, but rendered in buttery Prada leather. The new collaboration droped on January 14th at Prada boutiques as well as both Prada and Adidas's websites.