Last week saw the announcement of a new global ambassador for iconic brand Tommy Hilfiger. After revealing it's new apparel partnership with four-time World Champions Mercedes-AMG Petronas Motorsport earlier this year, the America clothing empire has appointed F1 legend Lewis Hamilton to represent the menswear side of the brand. It truly comes at an epic time as the Australian Grand Prix hits it's peak this weekend, bridging the gap between style and motoring with someone who's been at the forefront of fashion for many years.
In this interview, Hamilton reveals his thoughts on Tommy Hilfiger as a brand and his spectacular career progression thus far. Read on below and gear up for a massive weekend of F1.
Starting from the beginning, what inspired you to become a Formula One driver?
---
---
I used to watch the Grand Prix races with my dad growing up, and I wanted to be Ayrton Senna. Everyone should dream big, and I've never stopped pursuing mine since then.
What was the first car you ever drove?
Growing up, one of our neighbors owned a radio-controlled car and he let me have a go when I was about four or five-years-old. It was super fast, and my dad couldn't believe how good I was at driving. I then began to participate in radio-controlled car races hosted in a farm in the countryside. I was at least ten year's younger than everyone else.
When it comes to races, what are you usually thinking before you start? And during?
I always remain focused on the job at hand, to win the race, and everything else is just noise. Thanks to years of experience, I'm able to compartmentalize what's not important at that moment, and concentrate on getting myself and the team standing on the podium at the end of the race. Mental power is everything.
Any rituals or do you use a charm for luck before an important drive?
I have a good rest the night before the race, and arrive at the track the next morning full of positivity. Before qualifiers, I listen to my favorite tracks, and pray for everyone to be safe.
---
---
What has been the main thing you've taken away from Formula One?
Formula One racing is truly a team sport. When I stand on the podium, I represent my Mercedes-AMG Petronas Motorsport team of more than 1,500 amazing individuals. I'm so proud to work with the most passionate, talented and dedicated people in the industry. We're always relentlessly pushing the boundaries and growing together in order to beat our rivals.
Why partner with a brand like Tommy Hilfiger?
Tommy Hilfiger is an iconic American brand that was impossible to miss as a kid, whether you were into fashion or not. Fashion is a growing love for me, and having attended the Tommy Now runway event for several seasons, I'm always amazed at how the brand is able to reinvent itself with every collection and through innovative technology. That takes a lot of creativity, and I'm super excited to join the Tommy Hilfiger family.
Where does this love of fashion come from?
Growing up, all my family's money went into racing, buying tires and fuel, so fashion is something I was quite oblivious to. I started exploring fashion in my early 20s, and I've grown to feel more confident about experimenting with different styles, and just being myself. I'm fortunate to have friends who work in the fashion industry, and I'm constantly fascinated by their creativity.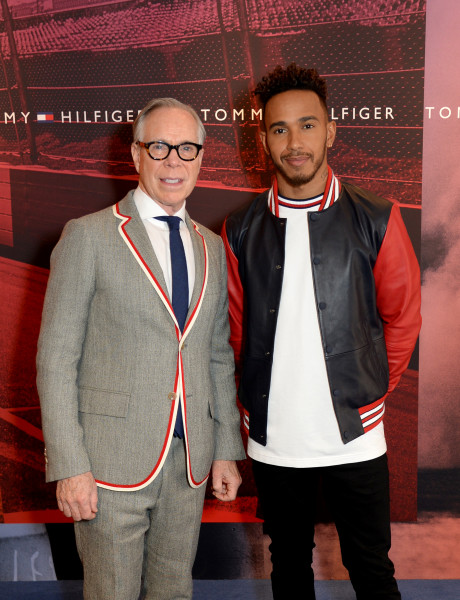 Do you resonate with the man himself, Tommy Hilfiger?
I've always admired how Tommy never gave up on his dreams of building a global lifestyle brand,even when times were tough. I believe that when you get knocked down, it's not how you fall that matters, but how you get back up, and Tommy and I both take life lessons away from these moments. Always believe in yourself, and don't let anyone tell you that you can't achieve your goals.
---
---
So what drew you towards the brand's designs?
I like to stand out from the crowd, and Tommy Hilfiger's cool, all-American designs allow me to add an effortless yet sophisticated twist to my outfits. From perfectly tailored suits to playful and elevated pieces, it's a brand that caters for any occasion.
Give us a rundown of the fashion essentials you cannot live without.
Everyone should have a well-tailored suit. Wear it with a freshly pressed shirt and a great watch, and you can't go wrong. A pair of well-fitted jeans is always a wardrobe essential. When I'm at home, I'm very casual and love to relax in tracksuits. I don't like to dress like everyone else so I pick bright colors and patterns, adding my personal twist to the outfit.
How would you describe your style?
My style is always evolving, that's what's great about fashion. I'm always seeing new designs that push the boundaries, and think "I'd love to wear that." I don't like wearing the same as everyone else, and love to mix street-styles with high-end luxury brands.
What's your fashion advice for guys?
Why wear the same as everyone else? Fashion is about experimenting. Men should be confident about trying out new things. Do whatever suits your personality and your emotions, and take the time to find your style. Don't try to be someone else. That's all that matters.
---
---
Who inspires you?
My father is my hero. Growing up, he spent all his savings and worked four jobs to support my racing career. His unwavering support and belief in my dream brought me to where I am today. I've always admired and been inspired by Nelson Mandela. I'm fortunate to have met him at his 90th birthday party. He told me that even at his age, he is always learning – so I still have a long way to go!
What then drives you forward professionally?
As a kid, I always dreamt of being a Formula One racing driver. I never lost sight of that dream, even when people said it would be impossible. I've now won my fourth World Championship title. My family and I are proof that if you follow your dreams with everything you have, they really do come true. I've been driving for 25 years, so it will take time, and hard work. I would never have made it to where I am today without my family and more than 1,500 team mates.
To finish, what's your most important goal in life?
In racing, the goal is to continue to win races and excel in every opportunity I get. Beyond racing, I want to try as many things as possible, like producing music, being involved in fashion, as well as working more with kids and supporting organizations that help animals.
Presented in partnership with Tommy Hilfiger.