Before COVID-19 ruined everything, sustainability was THE hot topic from classrooms to boardrooms the world over. And when it comes to boardrooms around the world, one industry which regularly cops a lot of stick when talking sustainability is the fashion industry. But some fashion brands are leading the rag trade down the path to redemption. We've spoken to three slow fashion companies who we think are building admirable sustainable business models – we asked them to talk us through their products, what makes them sustainable, and what they've learned along the way.
Sustainability – not environmentalism
There's a whole lot more to sustainability than sorting your recycling and taking the bus. It's a beast of a field, stretching from the molecular level through environmental impact, economics and onto human rights. It's the stuff of PHDs, and we're definitely no experts, so we've asked someone who is to give us a heads up on how to tackle this meaty subject.
The Triple Bottom Line
Graz van Egmond is CEO of Banksia Foundation – a not-for-profit that runs the microscope over businesses and publicly recognises those achieving big things in the eco-friendly field. She tells us the UN Sustainable Development Goals are the gold-standard for measuring sustainable performance, but a simpler introduction to it all comes with The Triple Bottom Line. The TBL says a sustainable business model brings three social and environmental factors into balance – care for people, care for the environment, and economic viability – people, planet, profit.
---
---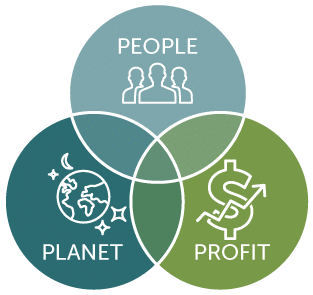 "The triple bottom line integrates everything…how we affect environment, how we affect each other, and underpinning all of that is financial viability…it's a much broader perspective on how we can live better and work better into the future."

Graz van Egmond, CEO, Banksia Foundation
So with that in mind – here are three sustainable fashion brands we think are giving the TBL a good nudge. To keep things simple, we're highlighting their work on one prong of the TBL per brand.
Environmental Sustainability icebreaker
Scientists have recently made a disturbing discovery that synthetic microfibres we send down the drain in a clothes wash, quickly make their way back – through our food. So that snapper you had for dinner may literally have come with a garnishing of jocks, and probably not yours. More worryingly, we don't know what health impacts the fibres bring with them – but the indications are they're not good. However outdoor ethical fashion brand icebreaker is taking a leadership role in bringing awareness to the issue, while also offering some solutions.
Where it all started
A chance meeting with a Kiwi merino wool farmer who had created some thermal underwear from merino wool led the company's founder, Jeremy Moon, to create icebreaker – now a global brand for men's and women's outdoor clothing. In 25 years their range has grown to include sweaters, jackets, t-shirts, socks, and underwear. Moon didn't raise the business just on great fibre, but on a business philosophy that incorporated nature's regenerative and balanced properties into operations. Though the fibre certainly sits at the centre of things.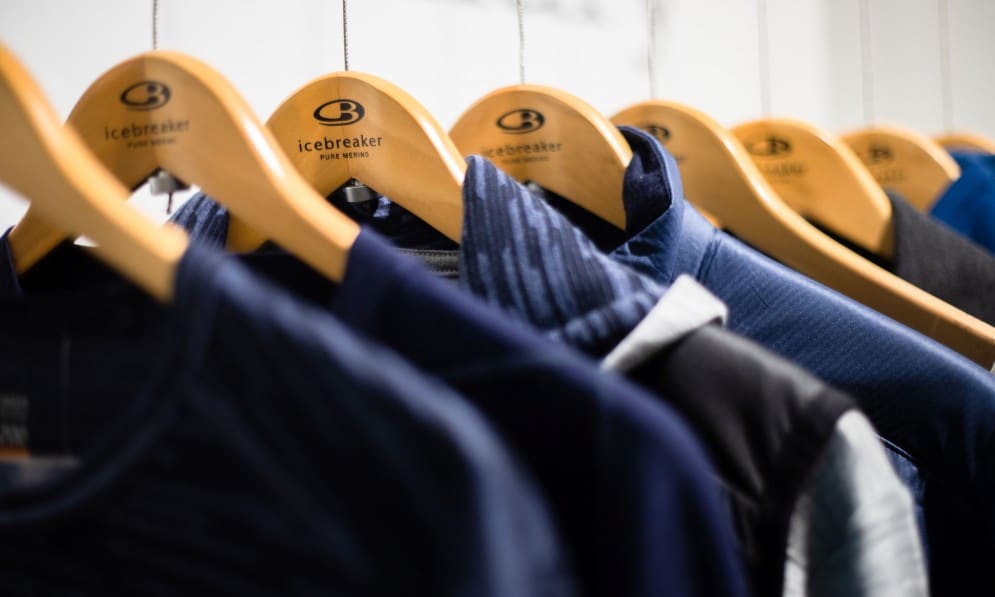 The fibre
Merino wool is the king of sustainable materials. It's uber comfortable, it's silky to the touch, it's long-lasting, isn't bulky like wool, and has an uncanny ability to keep you warm in cold conditions and fresh when things warm up – making it ideal for outdoor wear. It also packs a knack for keeping you dry as its fibres absorb moisture off your skin and transfers it to the outside of a garment where it evaporates, pretty impressive right? Well, we're only getting started.
An inconvenient truth
First, we need to deal with the cold, hard truth about the environmental impact of our clothes. We could talk about fashion companies using chemical dyes, plastic packaging, carbon emissions and so on – but the damage we're talking about happens a little closer to home, in fact right inside your home – in your laundry no less.
Back in 2011 a team of scientists led by a senior lecturer at The University of NSW, Dr Mark Browne, released a report revealing the ocean along many of the world's shorelines contained significant build-ups of microplastics and synthetic microfibres. These are frighteningly insidious and have infiltrated their way into the tissues of oysters, prawns, fish – everything up and down the ocean food chain – including us. We still don't know their health impacts, but synthetic fibres traditionally don't mix well with humans – exhibit A: asbestos.
---
---
So what's that got to do with clothes? Well, Browne and his team revealed that washing one garment releases over 1,900 synthetic microfibres into our oceans via sewage outlets. Not just through the first wash, or the second – but in every single wash. Multiply that by the number of garments you throw into a wash, then multiply that by the number of washes you do a week, then multiply that by the number of people in your house, your street, your city – and things start getting ugly.
But never fear, because merino wool is coming to the rescue – and this is where icebreaker has been doing some pretty stellar work.
Merino wool – a superhero fabric
The brand brought the microfibre issue to the market through its #teesforgood campaign. The campaign's tagline 'What impact does your T-shirt have?' highlighted merino wool's remarkable odour-resistant qualities. icebreaker claims their high quality, merino wool t-shirts stay fresh after multiple days of use – unlike your synthetic-based fast fashion t-shirts which can get pretty manky after just a day in the sun. The #teesforgood campaign also came with a challenge: how well does your merino tee hold up after seven days of use without a wash? The brand bets it'll hold up pretty well.
The upshot of all of this is that clothes made from natural fibres stay fresh longer so generally require less water across the life of the garment – and when you do wash them, you're mainly sending natural fibres down the drain. You do have options when it comes to having nice things and caring for the environment.
Who's buying?
We asked icebreaker's Vice President, Global Brand & Product Carla Murphy if the market really cares enough about sustainability to prioritise buying sustainable clothing. She pointed out that ten years ago we all looked at organic fair trade food and beauty products and wondered if they were just a fad. This 'fad' has grown seven-to-ten times faster than other categories in the ensuing decade – a genuine shift that indicates consumers are making conscious choices.
But she added these 'conscious consumers' aren't an easy sell – they won't sacrifice style and performance for the sake of sustainability but are indeed asking 'why can't we have it all?'
Murphy referenced one brand's emphatic response to this question, achieving iconic status in the process – Tesla. They offer a slick, stylish, high-quality cars that scream to a woke market 'you can have it all!' And as both icebreaker's and Tesla's success suggests, consumers are responding with open wallets.
There's a lot more to icebreaker's sustainable fashion than can we can cover here – like the assistance they provide farmers to develop good land-care, their use of plant dye in manufacturing, or their sponsorship of French swimmer Ben Lecomte's freestyle odyssey straight through The Great Pacific Garbage Patch, there's quite a list. They're definitely worth checking out if sustainability's your thing. A good place to start is with their Transparency Report which they release every year detailing their performance on sustainability including their work with the other two prongs of the Triple Bottom Line. You'll find it on their website – 2020's report came out on September 1.
---
---
Social Sustainability Clothing The Gap
Clothing The Gap manufactures sustainable fashion items that save lives by funding health programs for Aboriginal Australians. But their clothes achieve more than healthcare, they bring people together to help create a more supportive and just society. 'Creating a just society' may sound like something from a comic book, but read on and you'll see these guys have runs on the board.
Free The Flag
You may have been aware of a story currently making headlines concerning image rights to the Aboriginal flag. Headlines reading Free The Flag appeared through major news outlets after the AFL received letters of demand over the use of the famous Aboriginal emblem. The flag is held under tight copyright by a clothing company who guard it with vigour. Indigenous players especially reacted with uproar and the headlines ensued.
Free The Flag isn't the snappy copy of a news editor but was coined by Clothing The Gap long before the headlines. The streetwear brand includes t-shirts, beanies, hoodies, singlets, and activewear amongst other non-clothing items like reusable bags. Their products usually feature a line of copy provoking conversations around indigenous issues – examples being Always was Always Will Be, Shades of Deadly, Fearlessly Progressive, and Free The Flag.
It's unlikely that Clothing The Gap's formative days came with hopes of media coverage including imagery of the entire Collingwood AFL team training in their t-shirts. Not because this type of coverage felt like a pipe dream, but because funding health programs was all they initially had in mind.
The power of merch
We spoke to Clothing The Gap's General Manager Laura Thompson and Chief Creative Officer Sianna Catullo, both from Spark Health – a health service that runs programs amongst Aboriginal communities. Spark Health designed its own clothing to hand out to participants as program-themed 'merch'. The merch proved so popular they soon used it to create an income stream separate from government support, and Clothing The Gap was born.
When cultures collide
To legitimately support their programs – their sustainable fashion collection needed a wide target market that included non-indigenous Australia. Things went well – and in a revelatory moment, they saw that when indigenous and non-indigenous people started wearing the same clothes, enormous potential arose for bringing them together. But Catullo was quick to point out they hit inevitable cultural hurdles.
"When we started marketing out to the non-indigenous population – I was like 'where do we start?' Something with loud Aboriginal designs was maybe a bit too scary or daunting for non-indigenous people."

Sianna Catullo, Chief Creative Officer, Clothing The Gap
The solution was to tone down the traditional indigenous designs of their activewear (which they still retain as a line), and adopt block colours for their streetwear but with definite touches of Aboriginal influence. The lines of copy feature distinctly Aboriginal colours, and usually include subtle references to Aboriginal design and imagery (including the flag).
---
---
Thompson feels the fashion brand found a niche market, offering non-Aboriginal Australians a means of supporting Aboriginal Australia through fashion.
The power of fashion
There's no ignoring Clothing The Gap's achievements in both 'fashion' and sustainable fashion. They've pushed the Free the Flag campaign onto the pages of mainstream media, and Thompson tells us sales alone will soon support the health programs without government assistance.
The high quality, sustainable clothing collection has caught the eye of radio hosts, celebrity chefs, and football players – and without putting too fine a point on it, provided a degree of hope to Aboriginal Australia.
'The reason we want to see non-Aboriginal people wear our clothes is not just because it allows us to be sustainable financially as a business…when we see non-Aboriginal people wear our brand, as Aboriginal people we feel heard and we feel supported.'

Laura Thompson, General Manager, Clothing The Gap
The brand is young – but it's taken Thompson, Catullo and their team on a wild ride from running health care programs to running a fashion label with a national profile. Thompson tells us she's never had as much influence as she does through fashion – and that's definitely a common thread amongst all three brands we spoke to. Fashion has street cred, sex appeal, it defines 'cool' – it's hard to think of an industry better placed to create change.
Economic Sustainability Outland Denim
'We're taught to measure the economic impacts only in the countries that generate the profit. But if you were to look at some of the biggest most successful brands – you might find they wouldn't be profitable if they had to pay what it really costs to take a resource from there and bring it over here'

James Bartle, Founding CEO, Outland Denim
There's a reason fast fashion sweatshops exist – cheap labour creates fat margins. Outland Denim thinks differently, the sustainable fashion brand was created to rescue women from sex traffickers through giving these women more than a job with great working conditions – but through giving them independence. In the process, the brand slew a Golem of Western industry and proved that spending more on the ground floor can still achieve big margins.
While travelling in South East Asia Outland Denim's Founding CEO, James Bartle was struck by horrific accounts of sex trafficking in the region – where young, poor, and vulnerable women are forced into sex slavery. His gut said these women's best hope of escaping these grim circumstances was through financial independence, and he returned to Australia determined to build a business that could provide that.
---
---
This led to the creation of Outland Denim – a manufacturer of men's and women's denim jeans, jackets, and shirts (along with some organic cotton products also). It took Bartle 6 ½ years to develop the brand, supply chain and design the business model – it has been in operation for the last 4 with manufacturing based in Cambodia. Like icebreaker, the sustainable fashion brand has something bigger than profit in its DNA – impact on people.
Thriving not surviving
Outland Denim doesn't just front up by paying these women a liveable (as opposed to a minimum) wage – but equips them with fundamental life skills most of us take for granted. Of course, training women to become skilled denim seamstresses offers a solid career path (denim products are a highly challenging branch of clothes manufacturing), but Outland Denim also provides training in literacy, finance, and English amongst other skills – filling the skills gaps created by a life of poverty.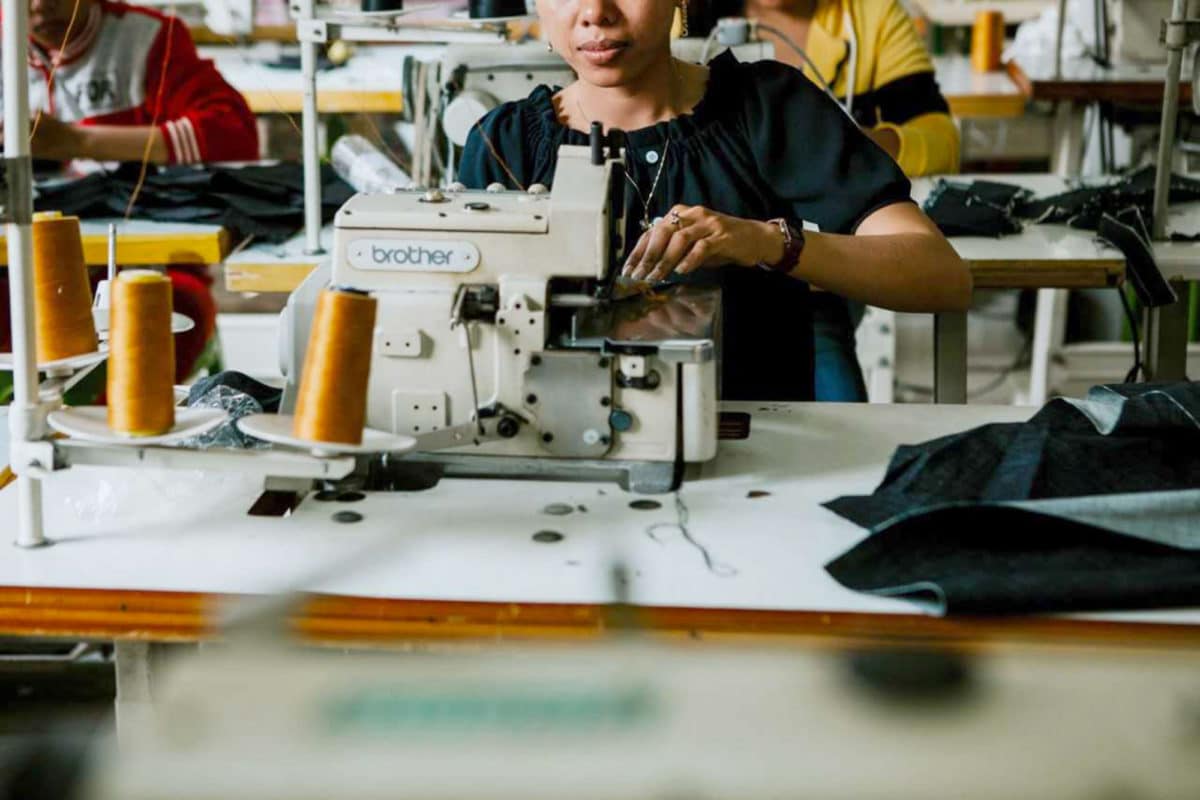 But this type of socially sustainable business model is expensive. How can a business support sustainable fashion goals and remain competitive? We spoke with Bartle who was quick to make one point from the get-go – don't skimp on quality.
How to make values work in business
A lot of NGOs have gone down the path of using industry to support communities stuck in poverty, but these businesses usually fail – simply because there was nothing great about the products. They expected consumers to support them as value-statements. But successful businesses don't sell values – they sell great products, Bartle knew avoiding a product-as-charity business model was vital.
But this still begs the question of what model does work. Turns out a big part of the answer lay in bringing these good values back a step from the business/consumer relationship of the charity model, and into the employer/employee relationship. This isn't just the good and right thing to do, it is also good business.
At this point we need to return to the elephant in the room – Western business has a sketchy rep when it comes to operating in developing nations – business 101 dictates cutting costs to the bare bone, typically at the expense of workers. But Bartle's experience begs to differ – it shows putting good values into the nuts and bolts of business operations may come with outlay, but also comes with dividends.
"I see it that as businesses embrace these kinds of practices – where their workforce is valued the way they deserve to be – they will also see other benefits arise that do impact the bottom line."

James Bartle, Founding CEO, Outland Denim
You're only as good as your people, so make them good
A case in point – Outland Denim trains their seamstresses to make the entire denim garment – not just how to sew on pockets or buttons. Highly skilled seamstresses make great garments, full stop, but highly skilled seamstresses also make versatile employees, who are able to jump in anywhere along the production pipeline, providing big wins in terms of efficiency.
---
---
Another hidden gem in Bartle's business model is that by investing heavily in their staff and equipping them with skills that serve them and not just the company, employee morale is high. So when things get crazy, and the business grows quickly – they can call on a highly-skilled, highly devoted workforce who will give their all.
Sell, sell, sell
The brand can't cover the extra costs that come with sustainable fashion just on the back of a motivated workforce with premium working conditions – they need big turnover with big margins. Margins don't just make the brand more money but put more cash in the pocket of sales staff every time they sell Outland Denim's products – making them want to sell the brand's clothes.
These margins don't make Outland Denim the cheapest products on the shelves – but they're not the most expensive either. Their mission is to convince people used to paying $80 for a pair of jeans to start paying $200, this comes with promoting the awareness that purchasing Outland Denim products is to be part of something bigger.
Sink or swim
Like icebreaker, the brand has crunched the numbers and knows that the conscious consumer market exists and is growing. The fashion brand is also big on environmental sustainability – they made the decision to buy their own plants giving them total control over production and its impact. Again this comes at a cost – but one Bartle says brands avoid at their own peril, and on this he is blunt.
'in my opinion, brands that don't offer something to society are eventually going to die out'

James Bartle, Founding CEO, Outland Denim
What's next?
There are tonnes of more established global sustainable fashion brands – Nudie owning organic cotton & Outerknown championing recycled materials, spring to mind – out there making headway into creating more sustainable ways of operating; many doing more than others, in what is a time-consuming and evolutionary process.
One thing that has come through loud and clear from talking with these sustainable fashion brands is that they can't operate sustainably on their own. To make it work, fashion brands must work closely with fair trade fabric growers, their manufacturing supply chain, transport partners, and their consumers. Then when you take into account the big picture – even dialogues with their competitors are important. We asked Carla Murphy at icebreaker whether the brand would help competitors if they asked them for advice on how to put more sustainable systems in place. For her, it was a no-brainer, of course, they would.
'What we're really passionate about is how do we get a far bigger movement where there's more voices and more collaboration. The best thing about sustainable fashion is that it is made up of so many amazing initiatives. And when you come together, competitors or not, you start to be able to do the right thing for the planet and the fashion industry.'

Carla Murphy, Vice President, Global Brand & Product