Welcome to Fragrance Friday, where each week we'll be keeping you abreast of the newest and most iconic releases in the dynamic world of men's fragrances. Born out of the desire to showcase one of the most overlooked, yet versatile, elements of any discerning man's style this weekly column will help you finesse your own signature scent.
A few weeks ago I took a look at Memo Paris Corfu with its multitude of ingredients distilled into a focused and addictive summer scent. This week, we take a trip to Florence with a close look at Santa Maria Novella, the official local supplier for Officina Profumo Farmaceutica di Santa Maria Novella, which is one of the world's oldest pharmacies, dating from 1221.
While Santa Maria Novella has launched a number of fragrances in Australia lately, it's Santa Maria Novella Melograno that is sticking out to us based on its fascinating, almost soapy profile defined by pomegranate. I haven't seen this note used too much lately, which adds a lovely layer of surprise and distinction to the Santa Maria Novella range, which spans skincare, bath, body, home, and pet products.
---
---
As always, to truly appreciate a fragrance, you need to understand the lineage behind it. The Officina Profumo Farmaceutica di Santa Maria Novella was established in Florence in the 13th century by Dominican monks whose main aim was to cultivate medicinal herbs in their gardens in order to prepare balms, ointments, and pomades for their convent's infirmary. This legacy has been continued by sheer dedication to artisanal procedures, kept consistent and genuine to stay true to the pharmacies history.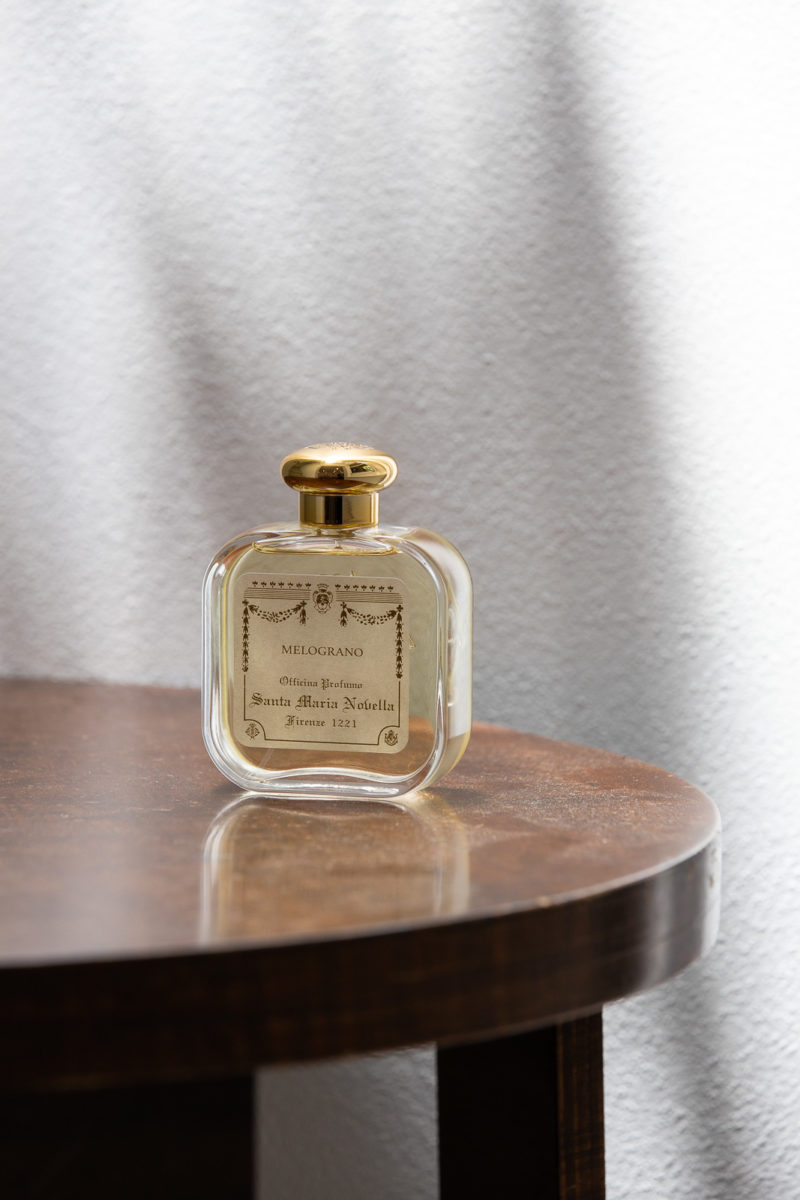 RELATED: 32 Best Perfumes & Colognes For Men In 2021
The moment you catch the opening of Santa Maria Novella Melograno, you'd understand that this came from a company that has a deep history with medicine. Now I'm not saying it's an overly medicinal scent, but there are certainly elements of that, starting off with a burst of floral, citrus notes that quickly blends into those more powdery, soapy notes that strongly remind of an exceptionally clean space. In fact, this luxury perfume is perfect for those who want to constantly feel like they've just come fresh out of the shower, with the addictively sweet note of the pomegranate forward throughout the entire life of the Eau de Parfum.
Throughout its life, pomegranate is supported by various complementary ingredients like ylang-ylang, bergamot, and rose on the opening, iris, oakmoss and vetiver in the middle, and patchouli, vanilla and amber at the base.
By the time the fragrance dries down, the soapiness disappears a little bit and you get a sweeter, more oriental version of the opening, speaking highly of the recipe that can stick with pomegranate so well but artfully take you through various permutations. The ability to balance consistency and change has always been a challenge with these hyper-specific fragrances that focus on an overarching note and try and bring nuance to it. For that reason, Santa Maria Novella Melograno stands out clearly in the newly launched range that has come to Australia.
Top notes: Bergamot, rose, ylang ylang, cyclamen, orange, pomegranate.
Middle notes: Iris, oakmoss, vetiver, cedarwood, hawthorn, tobacco, fern.
Base notes: Patchouli, cistus, vanilla, amber, opoponax.
Santa Maria Novella Melograno is now available in Australia at $148 for a 100ml bottle.
---
---