Welcome to Fragrance Friday, where each week we'll be keeping you abreast of the newest and most iconic releases in the dynamic world of men's fragrances. Born out of the desire to showcase one of the most overlooked, yet versatile, elements of any discerning man's style this weekly column will help you finesse your own signature scent.
It's been a few months since I've really fallen in love with a scent that skews heavily towards those smokier, masculine profiles. Every now and again, especially when winter rolls around, I'd lean closer to those fragrances that would vaguely resemble fine spirits. I'm really loving Kilian Angel's Share right now, which I'll probably look at a bit closer later this season, which smells like a fine aged cognac that the sweetness dialled up. But this week I'm taking a look at something that's a bit closer to a whisky that's been spent decades hopping around sherry casks. What's more, is that it's an Australian fragrance – Who Is Elijah Haze.
Who Is Elijah is a Sydney-based fragrance house that was founded by Raquel Bouris in 2018. She also happens to be the nose behind Haze, as well as Who Is Elijah's other expressions like the signature HIS | HER and Nomad – the former an instant sell-out every time it's released, and the latter an incredibly interesting and slightly divisive scent that's grown on me a lot these past few weeks.
---
---
It's Haze, however, that I've chosen to highlight from the brand because, as mentioned, it's an ideal winter fragrance that successfully expresses all of its notes with reasonably strong projection and exactly the kind of presence you'd want from a scent in the colder months.
The young label, which specialises in affordable unisex fragrances and prioritises ethical and sustainable formulas, is often overshadowed by those bigger names in the growing market of niche fragrances. Bouris' story is, after all, quite modest.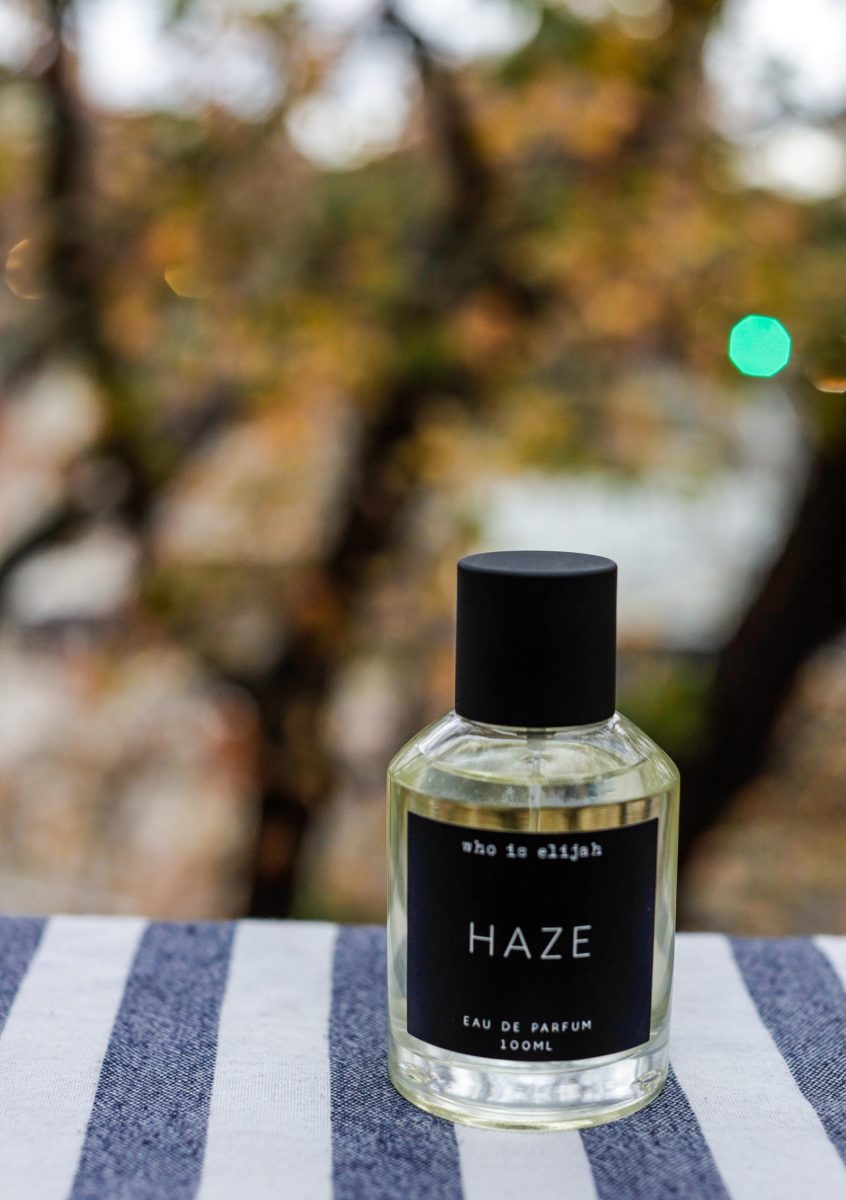 RELATED: Best Perfumes & Colognes For Men
She started Who Is Elijah out of the corner of a two-bedroom apartment, selling direct to customers before locking in wholesalers in both Australia and the US. Her Eau de Parfums have since been reasonably well regarded amongst style writers.
Who Is Elijah Haze launched back in 2020 with a fairly standard bill but one that's worked up quite well, especially when compared with something like HIS | HER which is more impressive on the dry-down than it is on the opening. Haze catches you almost immediately.
The top notes are pink pepper, orange blossom and clove, and while I think the pink pepper is lifted a bit too much in the first few minutes the opening does settle quite nicely to land on something sweet without being cloying or powdery. Although it does tread a fine line. Blokes who'd rather something less overtly sweet on the opening might want to look elsewhere.
The woody aromatic fragrance doesn't waste much time melting on through to the heart notes, which bring about a bit of a nutty texture with guaiac wood and juniper coming through before the more pronounced and punchy base of cedar, vanilla, peru balsam and cashmeran takes hold. By this point, it's all sumptuous and smoky without being too masculine. It is unisex after all, so if you like your fragrances slightly more flamboyant that a typical men's perfume then you should enjoy this one from opening to dry-down.
---
---
Considering it's price, I wouldn't expect Who Is Elijah Haze to sit so close to the skin as to offer any notable longevity. An Eau de Parfum would generally give you 5-6 hours, and this definitely sits at the lower end of that range. Apart from that, sillage is quite strong for a good few hours before the scent weakens on the dry-down and becomes more than just a nice smelling, almost slightly gourmand fragrance that is warm, intimate and perfectly pleasant for both the office and a special occasion.
Top Notes: Pink pepper, orange blossom, clove
Middle Notes: Chestnut, guaiac wood, juniper
Base Notes: Cedar, vanilla, peru balsam, cashmeran
Who Is Elijah Haze is available in Australia for $115 (50 ml) or $159 (100 ml).