Summer '22 might have experienced a few false starts this year, but with the season now emphatically in full swing, it's time to embrace any and every excuse to sharpen up your holiday aesthetic.
With a stacked social calendar across friendly, family, and professional gatherings comes the fun challenge of matching your wardrobe to each occasion. Owning your unique style while staying figuratively and literally cool as the mercury creeps up can rattle the best of us, but one thing's for certain – you'll never miss the mark with threads from Gucci, no matter what you leave the house wearing.
Boss Hunting has teamed up with Shaun Birley for the Gucci Holiday Gift Edit, an ensemble of garments and accessories styled for both work and play.

Whatever's looming in the calendar this festive season, you'll undoubtedly find the inspiration for it below, from Christmas parties to New Year's soirées and beyond.
---
---
---
The Layover
As the barriers to interstate and international travel finally come down, it's essential you don't let your thread standards slip when moving between engagements this holiday season. Shaun has embraced relaxation and comfort for this first outfit, heroed by a jersey polo sweatshirt presented in orange, white and blue and featuring an effortlessly cool vintage Gucci logo. The logo theme continues with the drawstring canvas trousers and is finished with a pair of box-fresh white sneakers. A 38mm Gucci G25H timepiece dons the wrist, to ensure he's never late for a flight, and is accompanied by various accoutrement – statement luggage pieces that the Gucci powerhouse has excelled at for decades.
---
Poolside
From the plane to the pool, it doesn't get much better than this ode to both the traditional and the contemporary nature of the House. The preppy inspiration of the wool knit jumper in this look is a practical addition to have close by if the southerly summer change rolls through during the late afternoons, and is offset by oversized lounge shorts and matching logo slides. Championing the best of European aesthetic down under are the Navigator sunglasses, inspired by the underground mood of the '90s, paired perfectly with the online exclusive Ophidia case for Beats headphones to keep the poolside tunes rolling 24/7 throughout your downtime.
---
Aperitivo Cool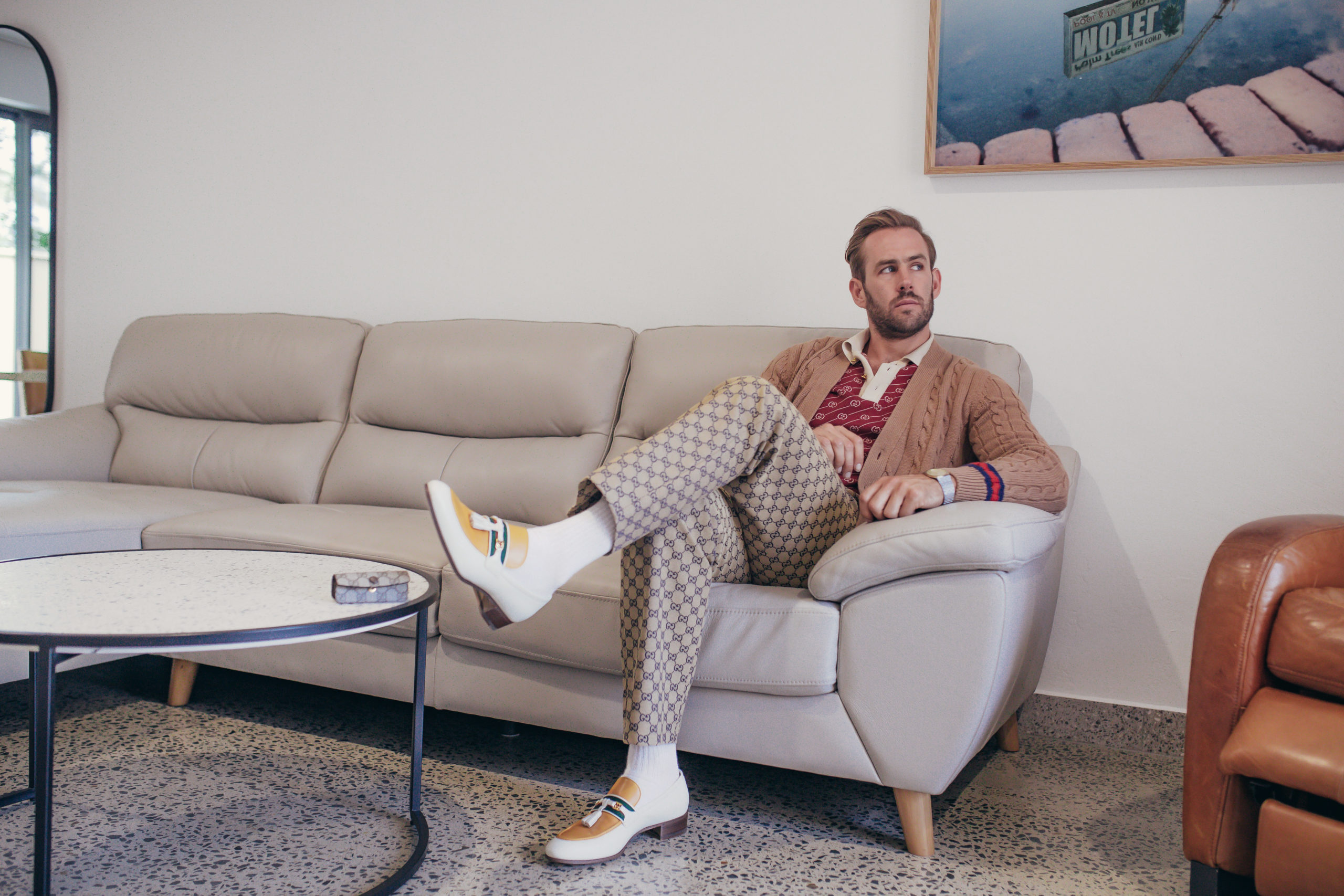 Be it a round of post-Christmas lunch Negronis or hosting at home with friends and family, you can elevate any off duty look by starting with a Gucci staple – these iconic tassel loafers in contrasting colours. As day turns into night, the versatility of an androgynous cable knit cardigan will be a huge asset, adding an extra layer of sophistication and practicality to the functional GG diagonal silk polo. Thankfully, you'll never miss aperitivo hour either with the G25H on your wrist.
---
A Summer Night's Soirée
While all the luxurious informalities we've explored up to this point will be a welcome change after a chaotic final dash to end the year, we've spent too much time indoors not to don sharper threads for those milestone evening soirees this season. From New Year's Eve to client gala dinners, Gucci's new, maximalist version of its historic monogram animates a selection of ready-to-wear garments suited perfectly to the occasion, such as this jumbo GG canvas jacket in black. A french collar on the light blue cotton shirt allows the blue silk tie to get the attention it deserves, and 38mm Grip Watch in grey PVD keeps the dark knight theme running right down to the cuff. Finally, a Gucci Bestiary card case keeps the silhouette of both your jacket and trousers in check as a slim and lightweight alternative to a bulky wallet.
---
This article is proudly presented in partnership with Gucci. Thank you for supporting the brands who support Boss Hunting.