When the New Balance 237 launched in February, designer Charlotte Lee described it as a runner-inspired lifestyle shoe that can be "worn with anything". Positioned as the ideal balance between style and performance the 237 draws on numerous models from the past to deliver a prominent heritage aesthetic with an oversized 'N' logo, and dramatic angular outsole inspired by the COMP 100, a lightweight racing shoe from the 1970s.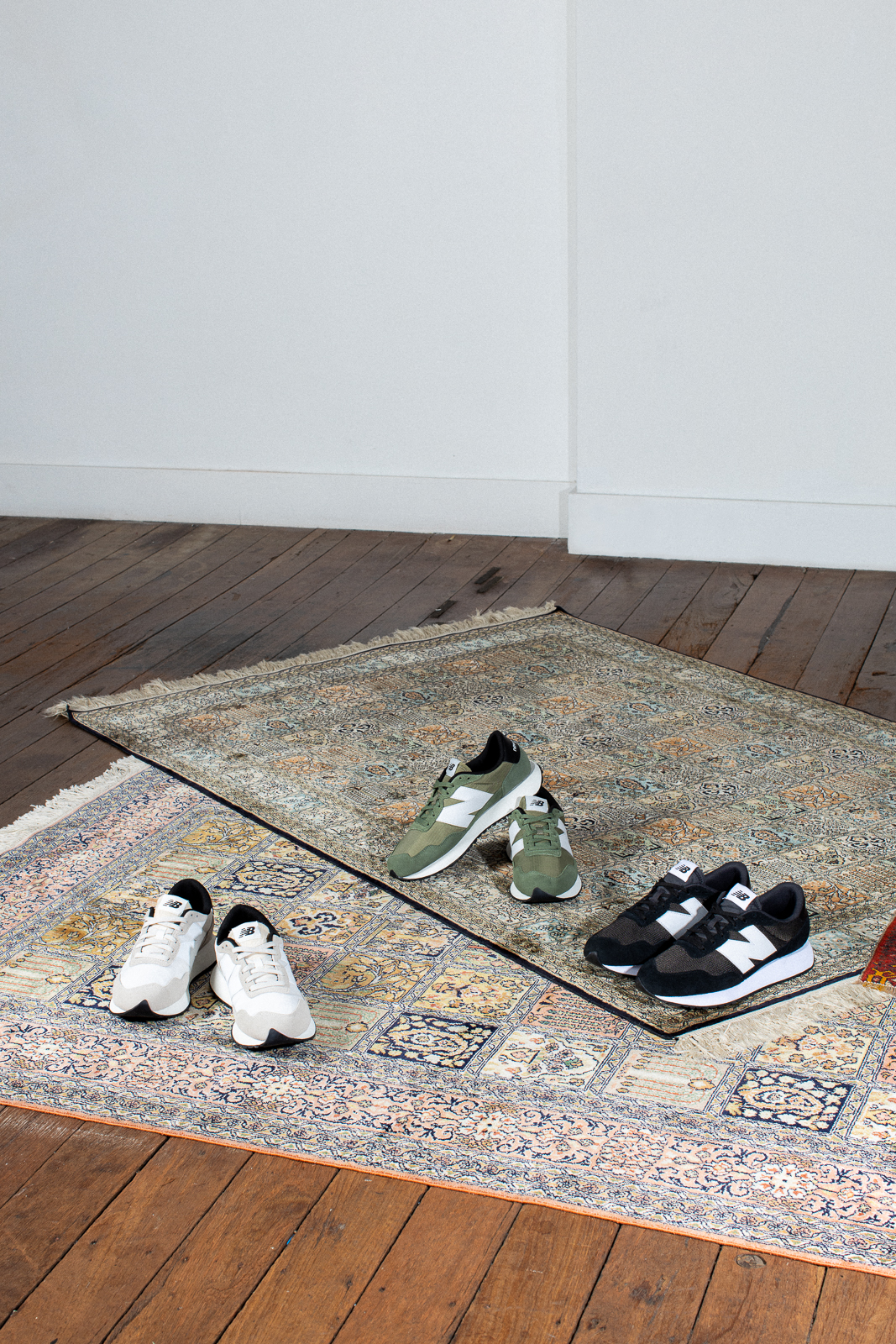 In 2021, the arrival of Aimé Leon Dore's Teddy Santis as Creative Director – as well as continued collaborations with the likes of ALD and Beams – has further cemented New Balance's commanding influence over the wider industry, dominating the retro "trend-forward aesthetic" it (essentially) established.
Following the vibrant introductory colourways inspired by the seasons, the New Balance 237 now arrives in foundation palettes of white, green, and black also known as 'Timberwolf with sea salt', 'Norway spruce with covert green' and 'Black with magnet'. Drawing on Lee's styling sentiment, these block colours, combining textures of suede and ripstop, provide the wearer with unlimited possibilities for occasions either dressed up or dressed down.
---
---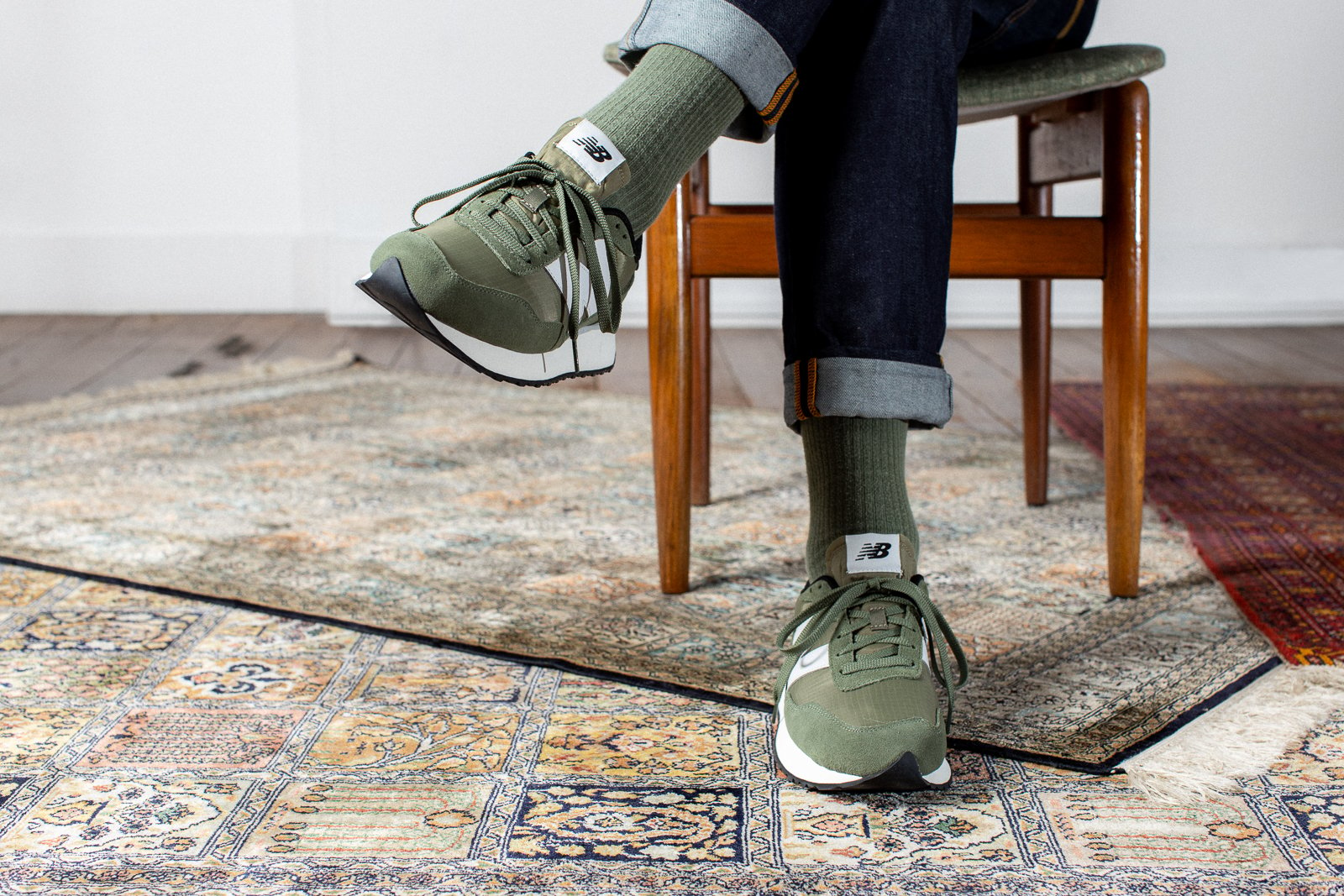 We took to the studio with all three colourways, capturing their versatility alongside key wardrobe pieces from our friends at Commas, Nudie, REMY, Rodd & Gunn, Suitsupply, and Venroy.
Once you've enjoyed the looks, we're giving you the chance to win all three colours for yourself. Scroll down to enter, or just click here.
Denim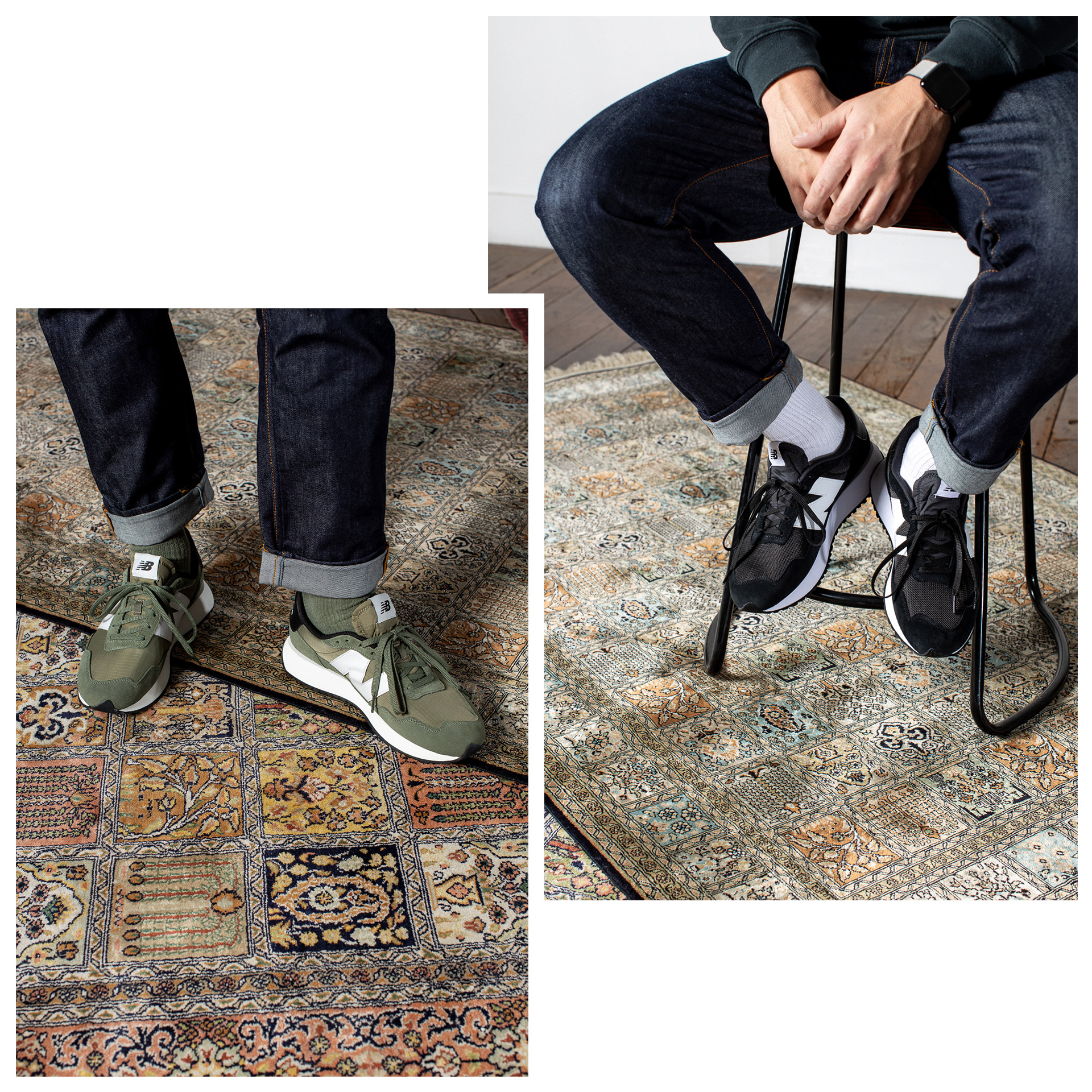 Whether your preference is 32 Oz. selvedge or 11.5 Oz. comfort stretch, you can rest assured your 237's are going to accompany all walks of denim. Pair with a white crew sock for an overtly sporty aesthetic or roll to reveal a complementary colour – admirers will respect the additional touch of effort you took coordinating your ensemble.
Sweats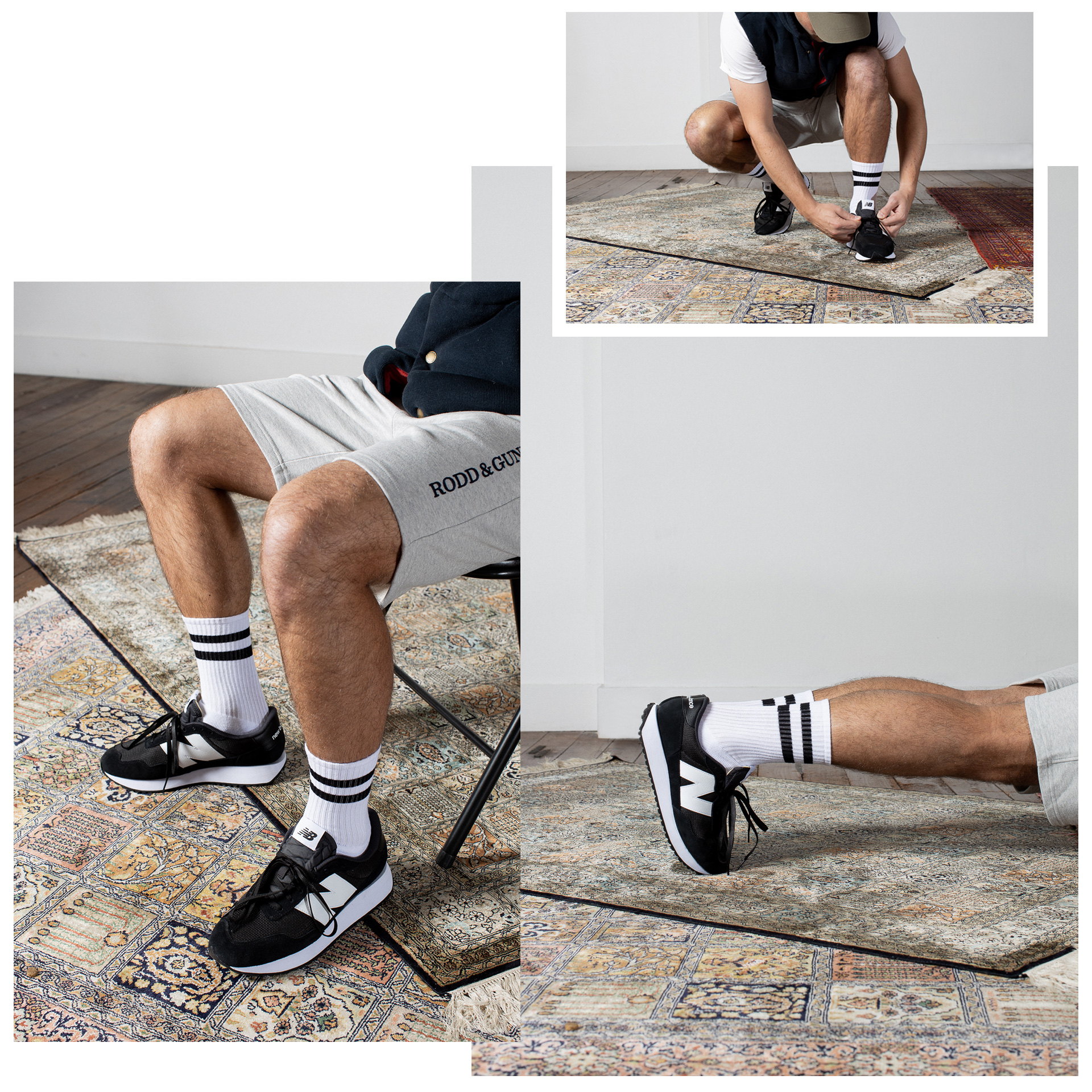 Inspired by a heritage track shoe and intertwined with the best features of the 327, the 237 is just as at home walking the 'Tan as it is popping fresh yellow balls from the can. Contrasting tones of black and white complement a grey marle sweat short, while a bold striped crew sock (ideally mid-length) will accentuate those calves you've been busy working on.
Swimshorts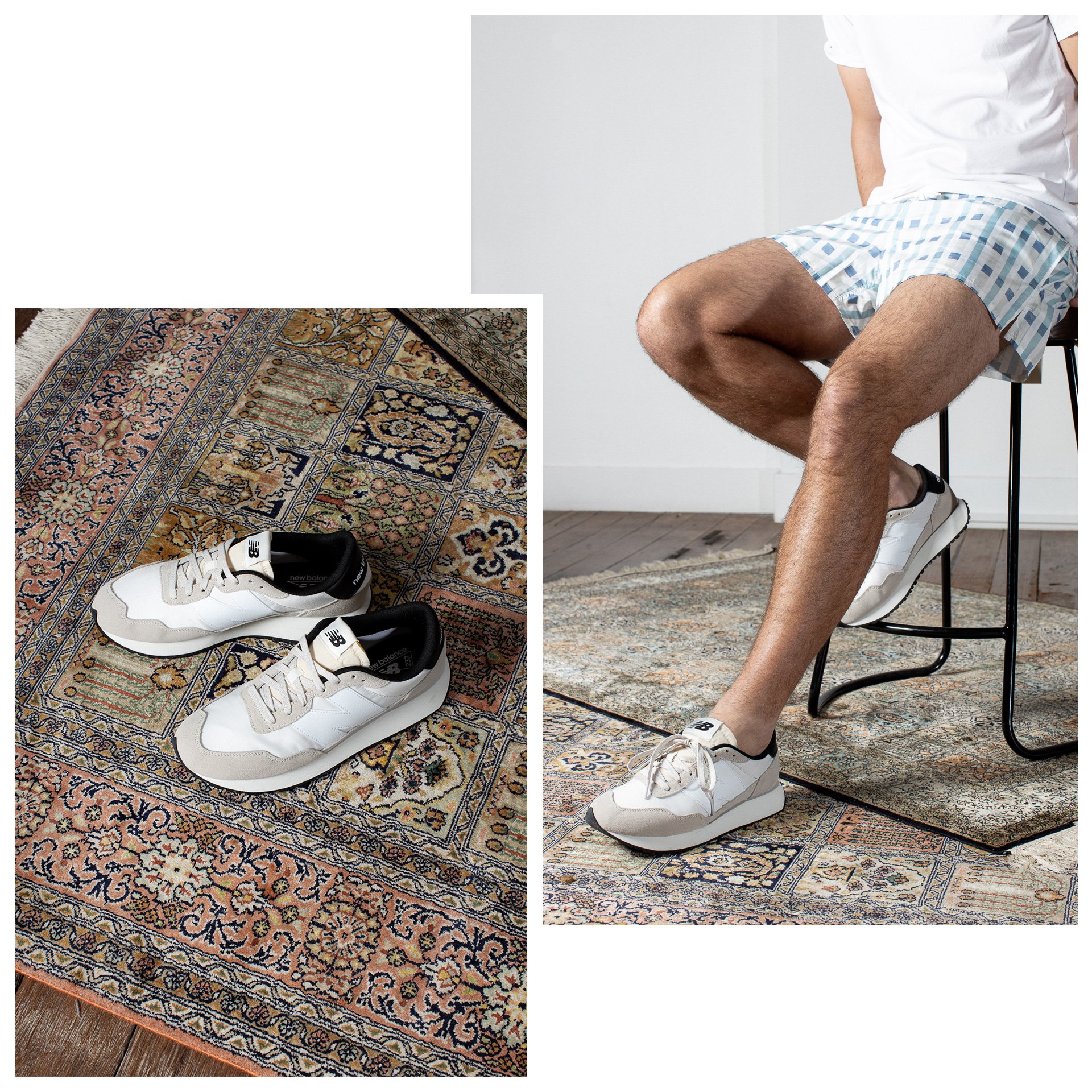 With next to no clothing required in summer, it's vital you make the pieces you are wearing count. A premium pair of swim shorts will elevate your summer regalia by the pool, on the sand, or with a cocktail in hand. Of course, a seamless transition from beach to bar requires suitable footwear – something that demonstrates your Dickie Greenleaf demeanor – worn sockless for an extra level of nonchalance.
Chinos
When it comes to pants, embracing the cream, the bone, the white, the off-white, the ivory, or the beige is the easiest way to showcase your sartorial edge – especially when it comes to chinos. Look for a brand with a varied selection of weights, stretches, and lengths. Choose a cuffed leg for formal pairings with a penny loafer, or dress it down with a buttoned-up short or long-sleeved polo, a reserved sock, and a crisp pair of New Balance 237s in your desired colourway.
Cords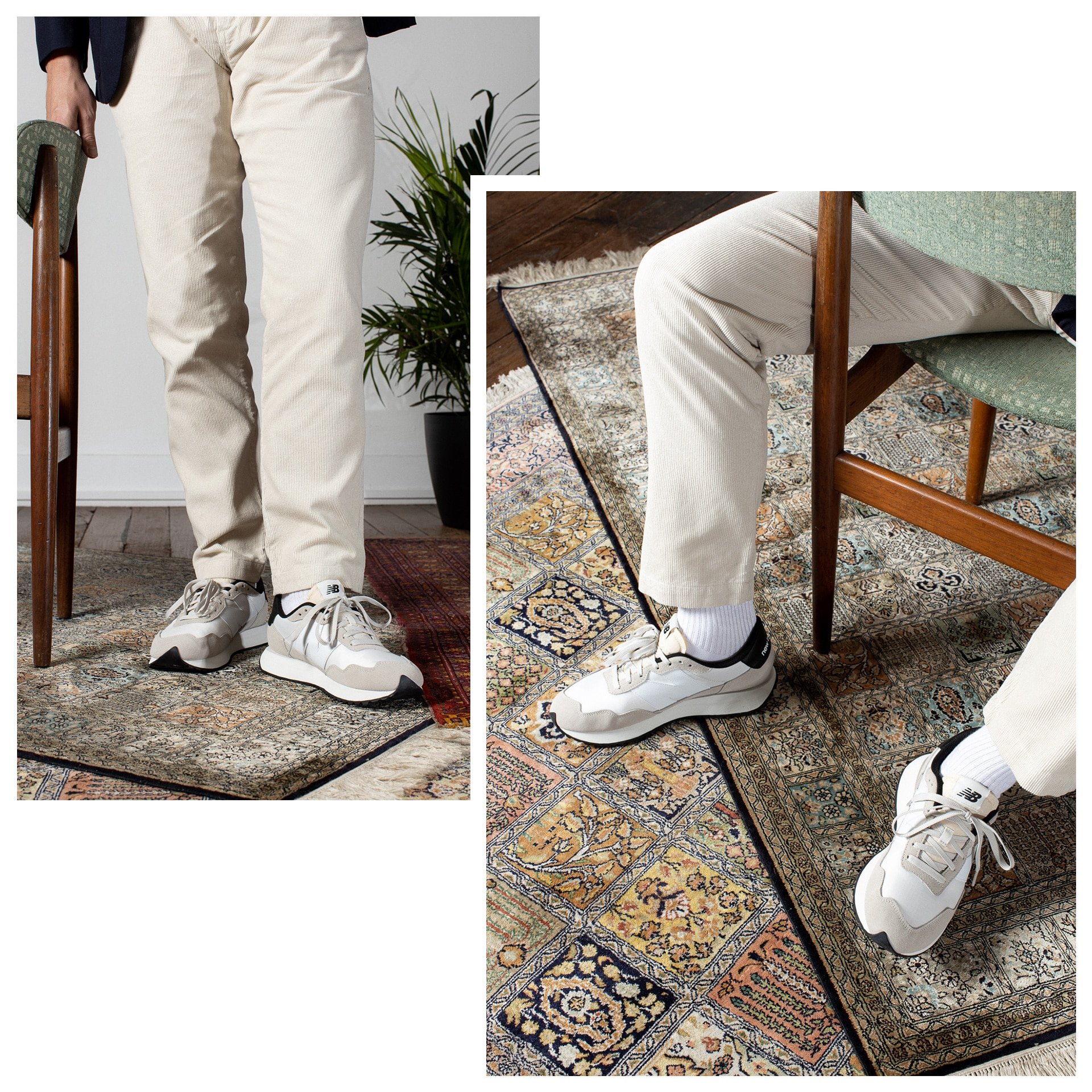 Cords are one of the easiest ways to add intrigue to your outfit, without the need to layer. The coarse texture unites with the 237's suede upper, while the Oat harmonizes with the Timberwolf and Sea Salt palette. Worn above the waist and paired with a contrasting light woolen sports jacket and white socks screams Pimms in Holland Park after a day at Wimbledon.
---
---
Trousers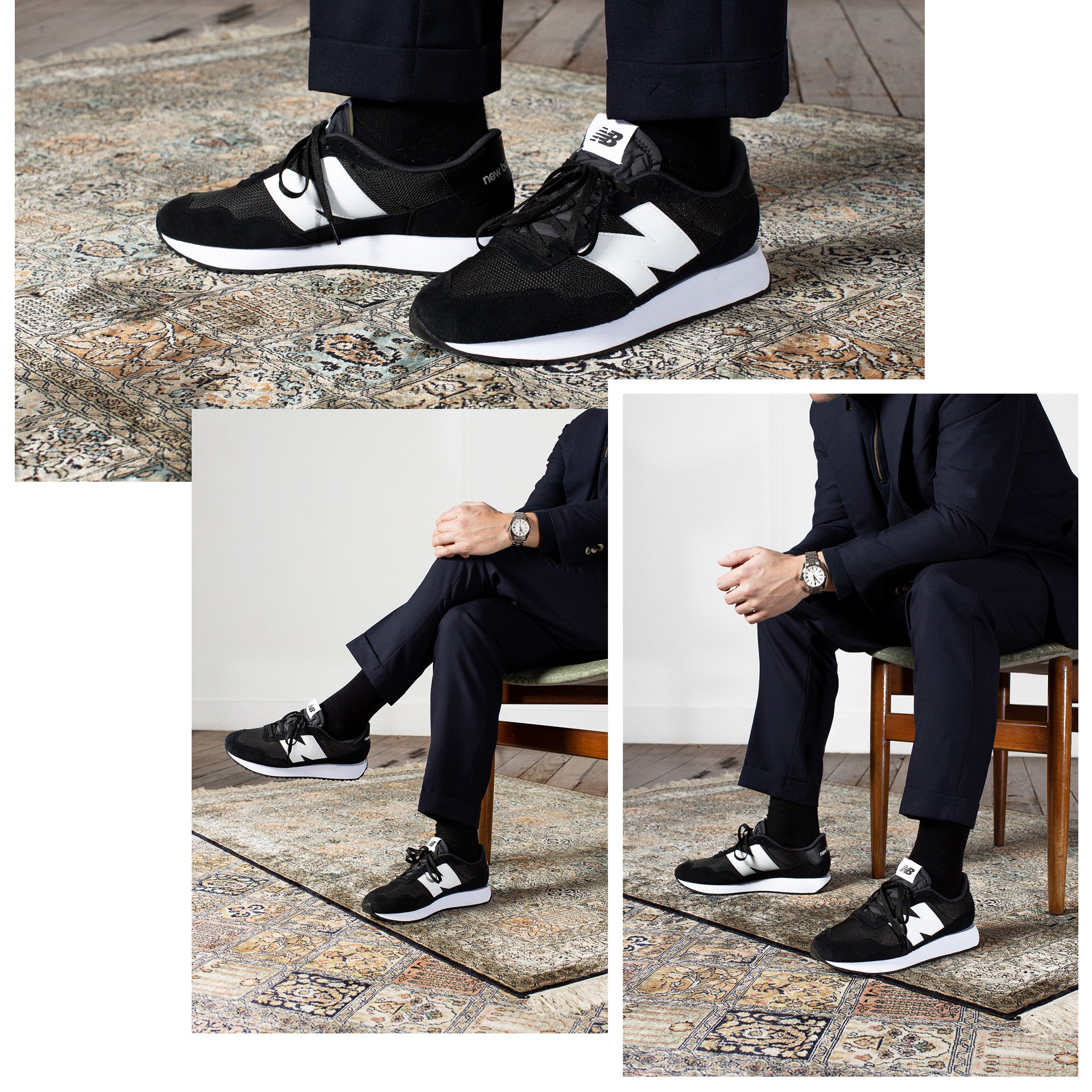 Reserved for the quietly confident, the suit with sneakers is a strategic and sophisticated choice that – when done right – speaks volumes of its wearer. Again, cloth texture is the key to success. Opt for linen or wool, like this Dugdale Brothers cloth, that provides excellent breathability in all seasons and versatility, in its ability to be worn as a suit (save the tie) or separated. Black 237's are a subtle nod to a progressive style, not all will embrace.
UPDATE: Congratulations to competition winner William C and thanks to everyone who entered!
The New Balance 237 is priced at $130. Shop the collection below.
This article is proudly presented in partnership with New Balance. Thank you for supporting the brands who support Boss Hunting.