We take footwear very seriously here at Boss Hunting. From dress shoes to sneakers, we advocate a high-quality, well stocked shoe collection to ensure you're ready for any occasion. Unfortunately much like the metric vs imperial measurement system, shoe sizes differ across the world, which can make it particularly hard to buy shoes online from overseas. To help, we've pulled together an Australian men's shoe size conversion guide – including converters for US shoe size to Australia and EU shoe size to Australia.
Men's Shoe Size Conversion
US Shoe Size To Aus / Euro Shoe Size To Aus Converter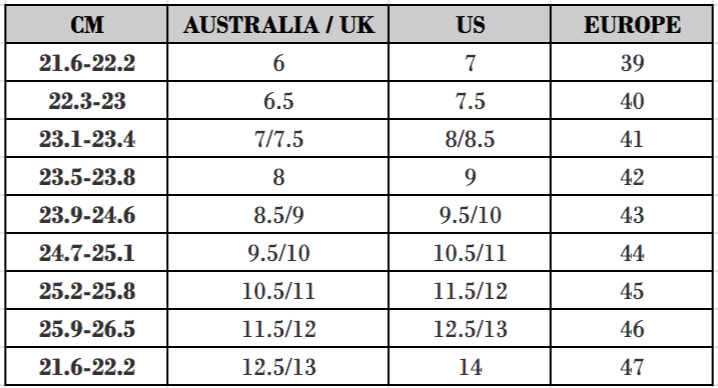 Once you get through the men's shoe size conversion chart to find your size, it's worthwhile digging a little deeper to truly find the perfect fit for your next purchase. After a direct match, check out the below questions for some further context around your best fit.
Why are there different men's shoe sizes?
The concept of a shoe size actually originated with the Romans, who developed a system of measurement based around barleycorn. By today's standards, an inch would equal roughly three barleycorns – a measure which was officially signed off by British royalty all the way back in the 14th century.
---
---
By this measure, 33 barleycorns would equate to the average male size 11 (US) shoe. The basis for the shoe sizing system across the United Kingdom and Ireland, it has extended to the majority of the Commonwealth including Australia. This system also translates over to US shoes but is slightly tweaked simply due to a difference in the starting point for the measurement. Always down to one-up another country, whilst the UK starts at 0 the US instead starts at 1. This is the same for Canada as well.
For European and Middle Eastern nations, Paris point measurement instead helps to determine sizing. Defined as 2/3 of a centimetre, the unit was invented by French shoemakers in the 19th century. This measure is a much higher number than the rest and can be roughly calculated by multiplying your foot length by 2.
Internationally, shoe sizes are regulated by the International Standards Organisation who determines the references for each country via the mondopoint system. First proposed in the 1970s and brought in during 1991, it's only used for military footwear, ski boots, and ice skates at this stage but can act as a common ground between countries. This includes the main conversions for US shoe size to Aus and EU shoe size to Aus.
How do you determine the best fit?
Beyond the size of the shoe itself, which is determined by length, there needs to be further evaluations for the overall fit as well. This means looking at how elements like width play into the overall comfort of a shoe.
Environmental factors play a major part in how shoes fit, so they're an important consideration when it comes to purchasing your next pair and determining the best size. During the day your foot expands from continued walking or standing, so the best practice is to measure at the close of business to ensure the biggest length of your foot for constant comfort. It's also worth chucking on a pair of the socks you'll typically wear with the shoes. Thicker socks for runners or winter boots will require spaciousness while a normal pair means you can be true to form.
Tightness is something that we all deal with for new shoes and it usually comes down to the width of the shoe. Width is not something brands clearly note and it usually varies with the length of the shoe. Shoes go by a standard width but there are also brands that offer narrow or wide variations to choose from. We also expect shoes to expand the more they wear them, AKA "breaking them in", but tightness can be something that never goes away depending on the narrowness of the fit.
The chart below will help determine what width variation you may need if on offer. Matched against a shoe size, it'll further help you to find the perfect fit.
---
---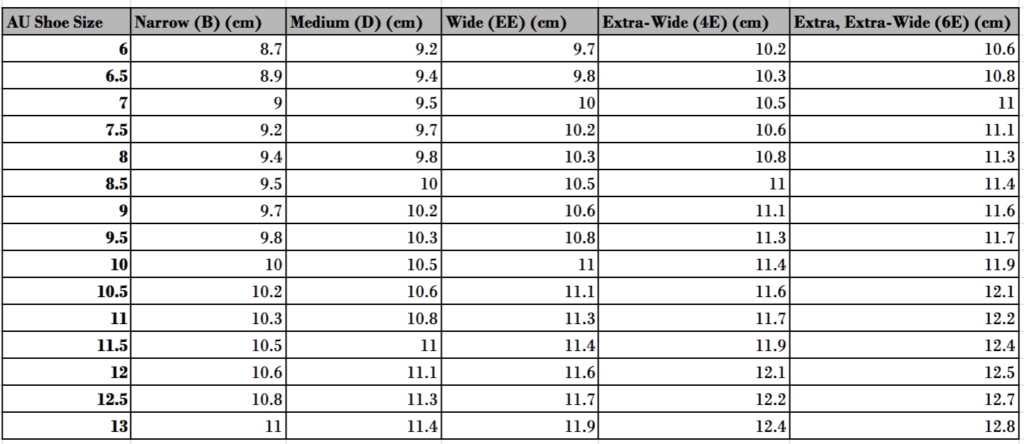 What should you look for in a badly fitting shoe?
A bad fitting shoe often results in two typical signs related to wear. After purchasing and actually trying on a pair of bad boys, keep an eye out for these signs to ensure you have the best fit possible – especially in conjunction with other health conditions.
The first and most obvious element to note is the presence of heel slip, which is a clear indicator that a shoe is too big. It can also show that you're not going hard enough on the lacing and that your heel may be too narrow for the shoe or require breaking in.
The second sign to keep an eye out for is gaping. Usually a result of flat fleet, gaping is when your feet look for the arch support they need on the inside quarter of the shoe. The pressure this creates causes the mouth of a shoe to gape at both ends, widening and loosening its grip. Keep this in mind when shopping, as some shoes will have in-built support and others won't. Don't fret if they don't, off the rack orthotics will generally be able to help if your shoes are super flat.