Just in time for Earth Day 2022, New Balance has given the mother of all sustainability-focused glow-ups to one of its most beloved footwear designs — the 574. Initially developed as a casual sneaker with cross-trail technology, over the decades the 574 has morphed into something vastly more influential. Like most other revered sneaker silhouettes that dominate the zeitgeist, it somehow manages the impressive paradox of being lofty yet accessible: a shoe that's as enjoyable and interesting to professional creatives like Salehe Bembery as it is to that one mate of yours whose Instagram is dedicated to "accidentally fire" George Constanza fits.
This unveiling of multiple riffs in the core 574 line-up heralds the next phase in New Balance's 'green leaf' standard: a consumer-focused certification introduced in 2020 that has helped the company meet its sustainability targets for various high-volume materials. By 2025, New Balance's goal is to source 50% recycled polyester and 100% preferred leather.
RELATED: New Balance Links With Dover Street Market For A Fresh Take On The 991
---
---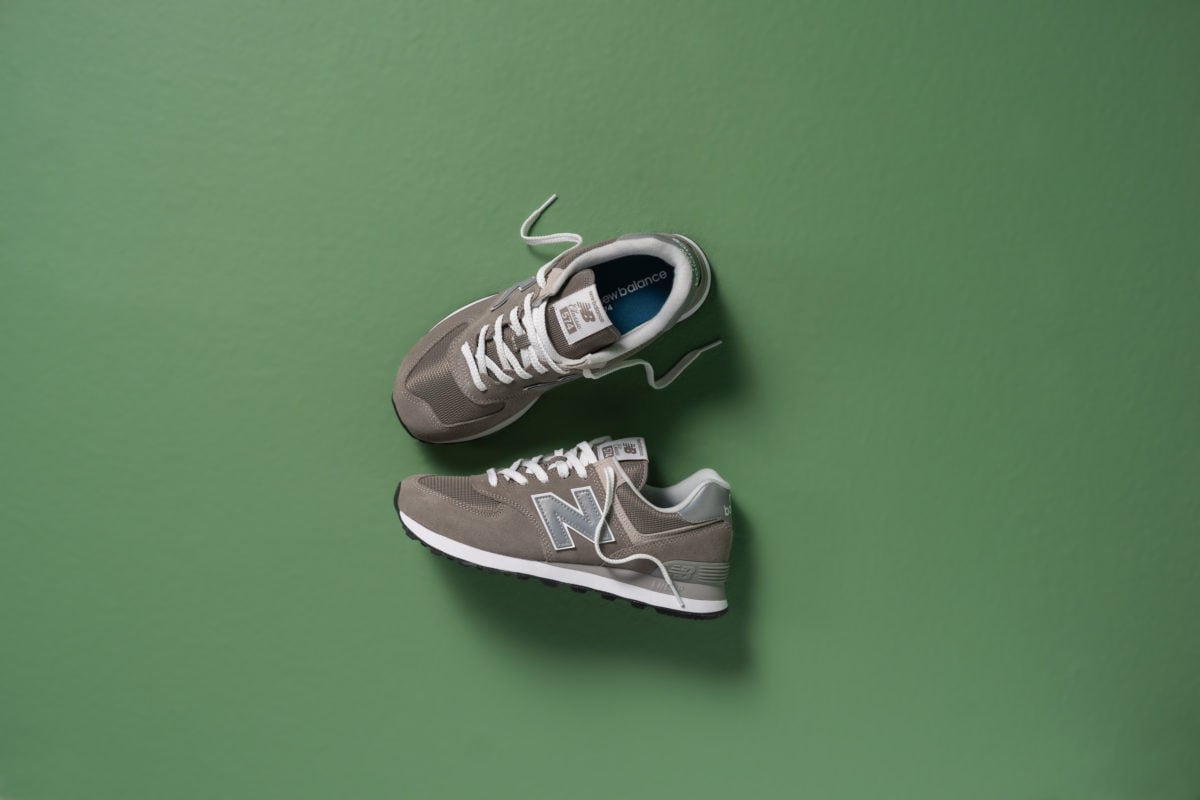 In that sense, it's helpful to think of the green leaf standard as a kind of quality seal — giving shoppers the knowledge to choose products that align with their values and, hopefully, stimulate conversations about the fashion industry's broader capacity for change.
To meet New Balance's push to make things more sustainable, the latest 'green leaf' releases need to satisfy some pretty challenging material requirements. At least 50 percent of the material in each 574's upper must be "environmentally preferred" while the all-important midsole/outsole unit (which is what gives the shoe its signature long-lasting comfort) always incorporates 3 percent bio-based or 5 percent recycled matter.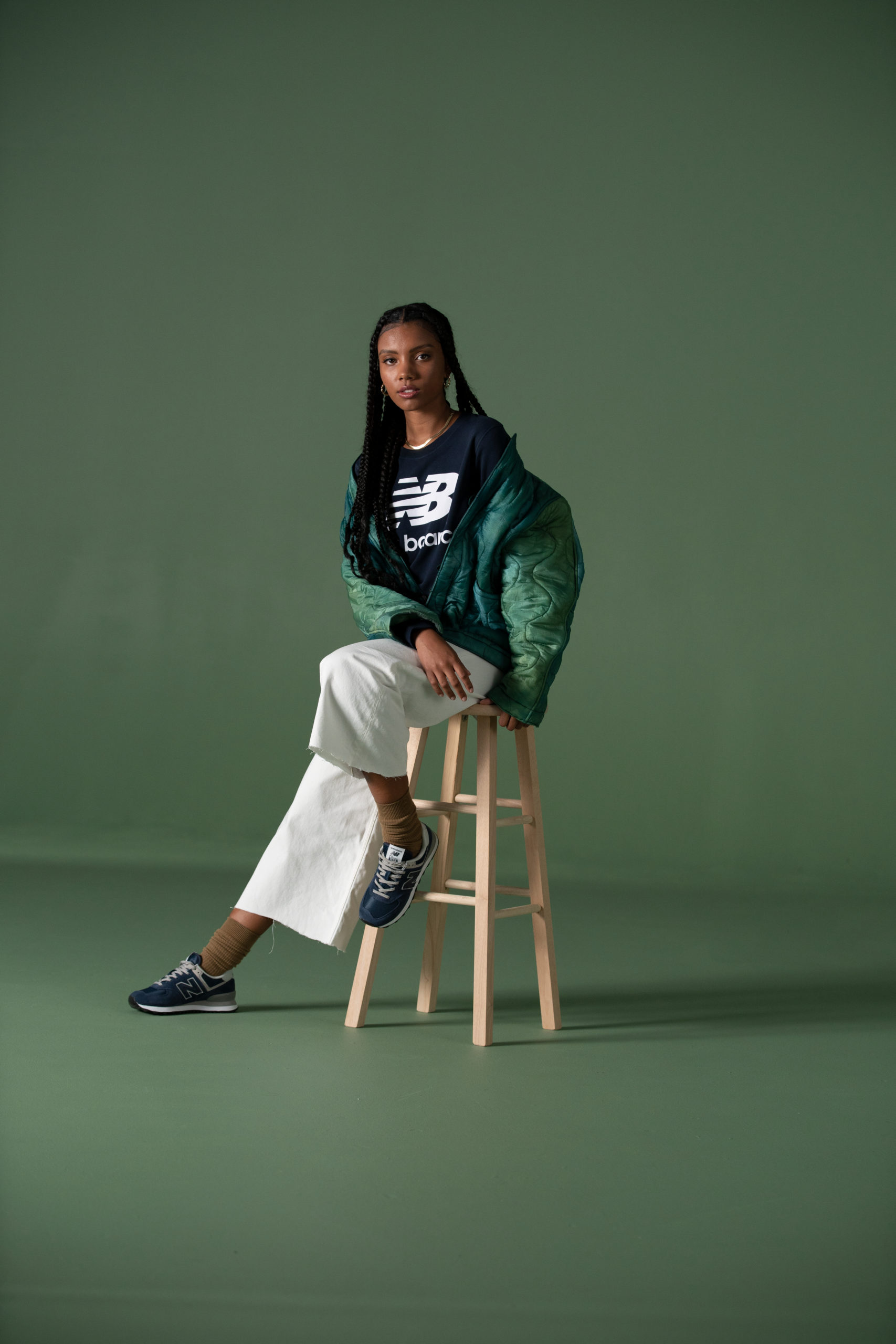 Despite these socially conscious parameters, zero compromises have been made when it comes to the luxury of variety. To start, New Balance is launching these 'green leaf' certified 574s in five colourways: all of which tap the silhouette's legacy as a sneaker staple that laughs in the face of trend. Styles like the burgundy-on-white 'EVM' would look just as good beating the pavements of the Upper West Side (circa 1988) as they do now; whereas the classic grey-with-white 'EVG' remains a fan favourite of everybody from 'sportorial' dressers to the infamous 'dad shoe' crowd.
New Balance's heritage of premium materials means that leather also figures prominently in the framework of the green leaf standard. Whereas certain natural fibres are "environmentally preferred" because of their innate physical properties, leather that goes into a green leaf shoe often comes from tanneries which have been audited by the Leather Working Group (LWG) — a global non-profit with, over 1,300 member organisations, dedicated to better environmental practices across the leather supply chain.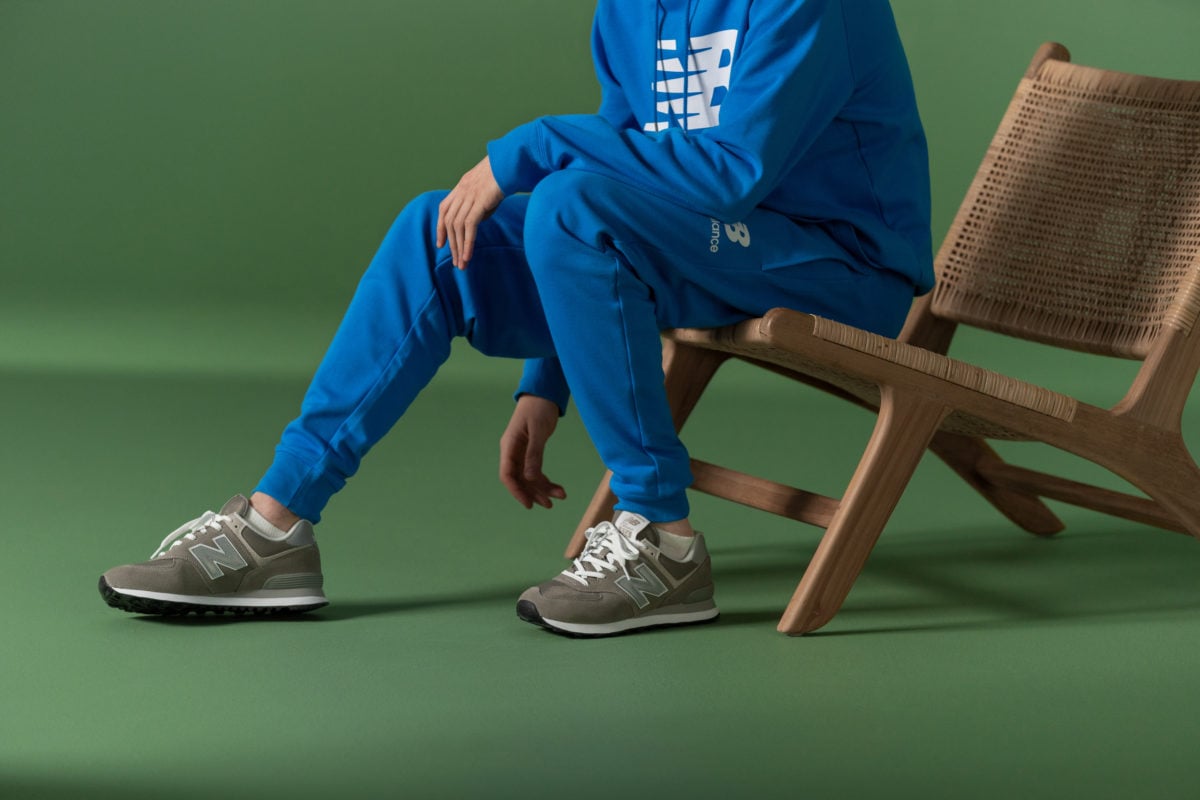 It's clear from these releases — beloved as they are among consumers — that carbon-smart manufacturing will soon be 'business as usual' at New Balance. It's just one part of a holistic, many-branched strategy to minimise environmental impacts across every aspect of the brand. And you can get amongst it, Stanislavski-style, by chucking on a pair this Earth Day.
The new 574 Core collection is now available to shop online, priced at $140. To learn more about the 'green leaf' standard, visit New Balance online.