In case you've been living under a rock (or indeed on a rocky outcrop) for the past few years, you're clearly aware that white sneakers are very much the current shoe du jour – a trend almost singlehandedly brought upon by the strategic relaunch (a very interesting story in its own right) of the Adidas Stan Smith sneaker. Although if you're been wanting to move on from the standards and go for the best white sneakers money can buy right now, pay attention to the list below.
There's a good reason for the popularity of white sneakers because they pretty much go with any outfit you can throw at them; pair them with a slim chino, cuffed denim, tailored shorts, or for the more adventurous of you a tailored suit; they really are the jack of all trades when it comes to footwear. Own a pair of the best white leather sneakers, take good care of them, and you'll never stress out about what kicks to wear out on any given day. It's the classic shoe, really.
Given the meteoric rise of the style over the past three or so years, a range of different options has hit the sneaker market from brands looking to cash in on the trend. Unfortunately, this market is crowded with a lot of poor cuts and variations, but it also means there are some awesome options at a range of different price points.
---
---
We've waded through the aforementioned crap for you and have come up with some of the best men's white sneakers you can currently buy so you've got more than just that old Nike Air Force, maybe a Chuck Taylor All Star pair (although the durable vulcanised rubber sole on those whites has great traction), and that dependable basketball shoe or tennis shoe sitting in your collection. You need to think more fashionable when it comes to an everyday sneaker.
RELATED: 14 Best Men's Shoe Brands For Timeless Style
Our Favourite White Sneakers Out Right Now
---
Common Projects Original Achilles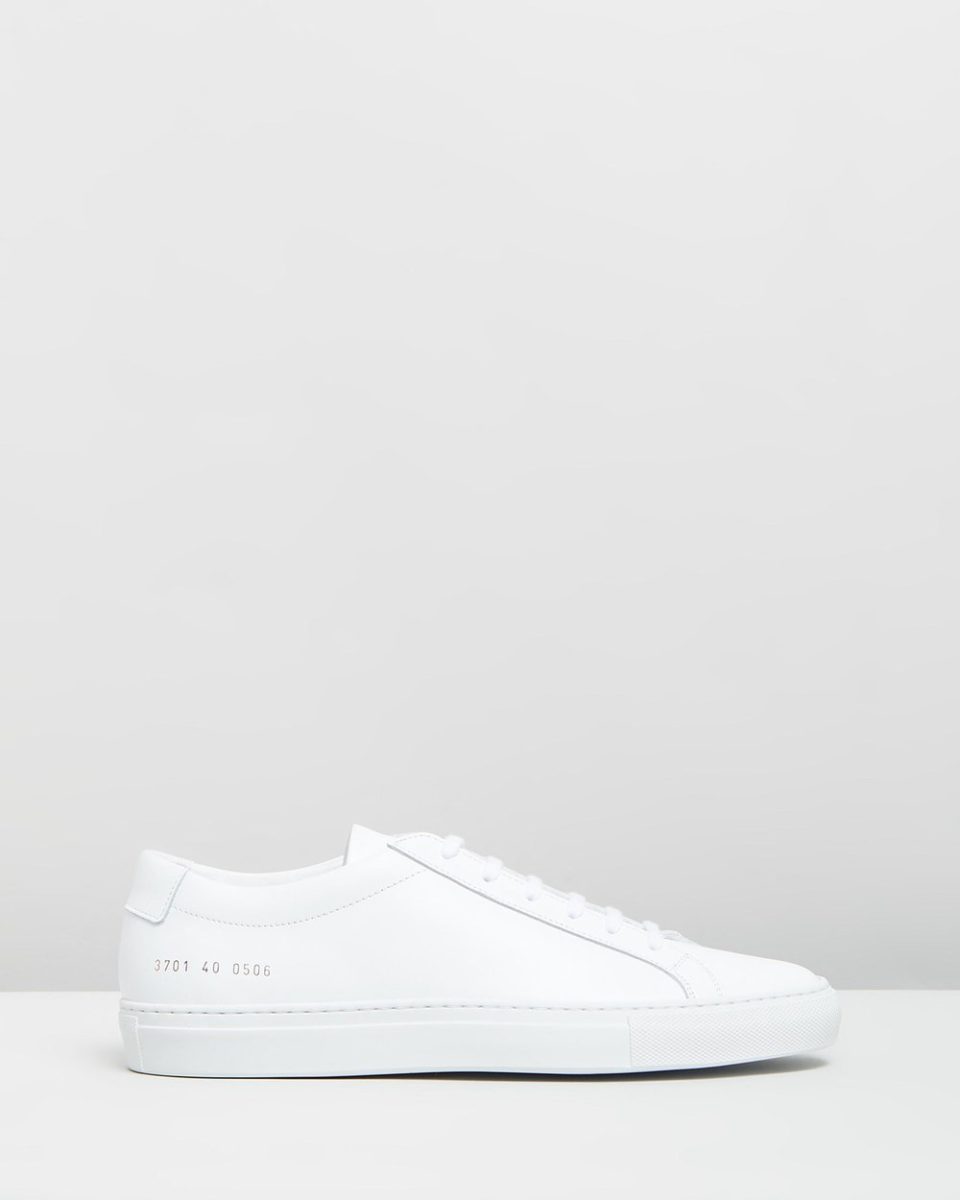 The elegance of Common Projects' Original Achilles sneaker is not so much about the white as it is about the signature gold-tone serial number that slides across the heel off-centre. As far as cool white sneakers go, it's hard to find some as head-turning as this white leather sneaker, which has seen them become a classic wardrobe staple for just about every discerning bloke with panache. These are some of the most comfortable shoes you could own and can just as easily be a great gift idea if you're in the market for some women's sneakers as well – like many of this list, they work as unisex sneakers.
---
Axel Arigato Clean 90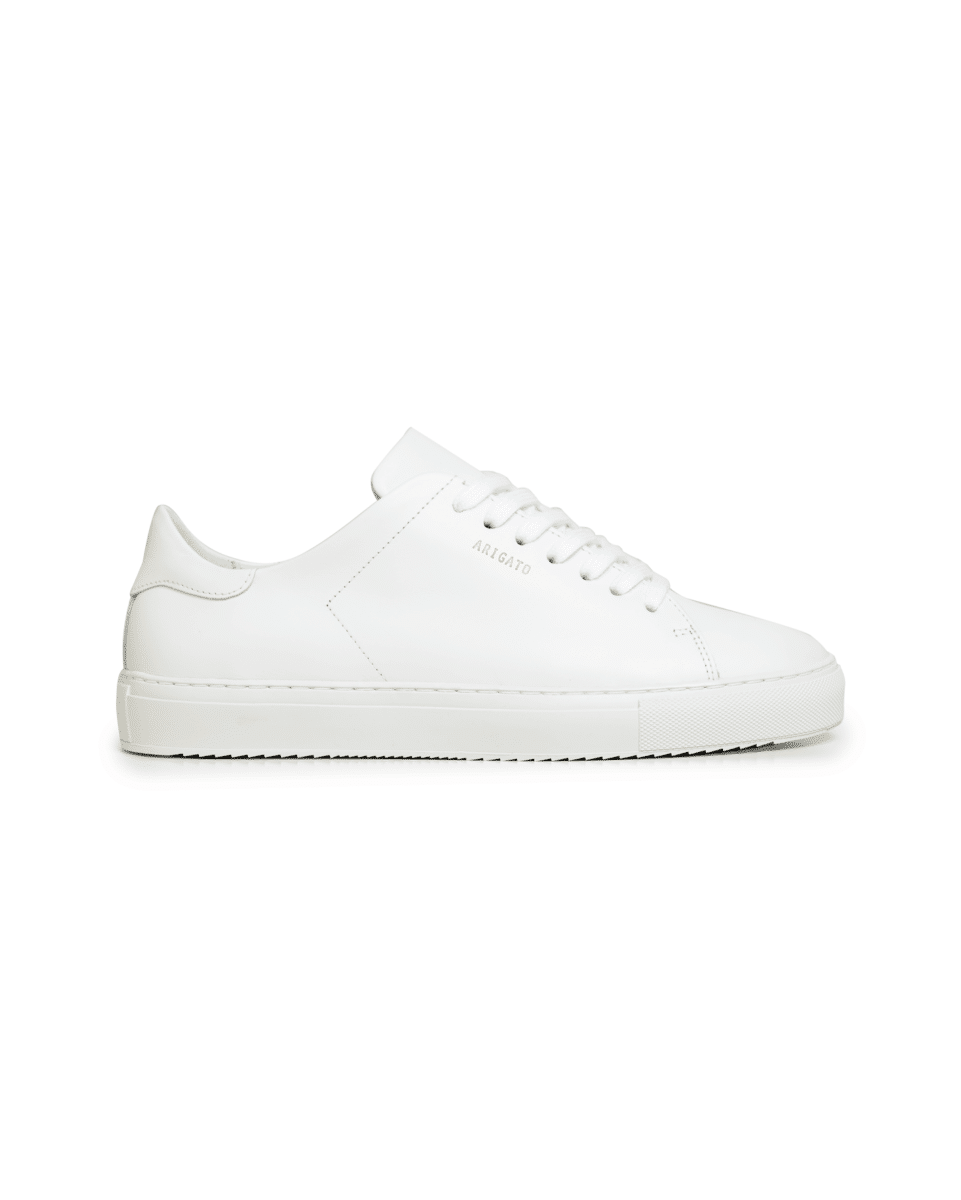 Handcrafted in Portugal, the 100 percent premium leather Clean 90 sneakers from Axel Arigato are as smooth as they come. All white with smooth leather, with a matching rubber cup-sole, the minimalist silhouette is refined and perfect with a logo stamp in gold-tone and supreme comfort thanks to a cushioned footbed and arch support.
---
Artisan Lab Essential Sneakers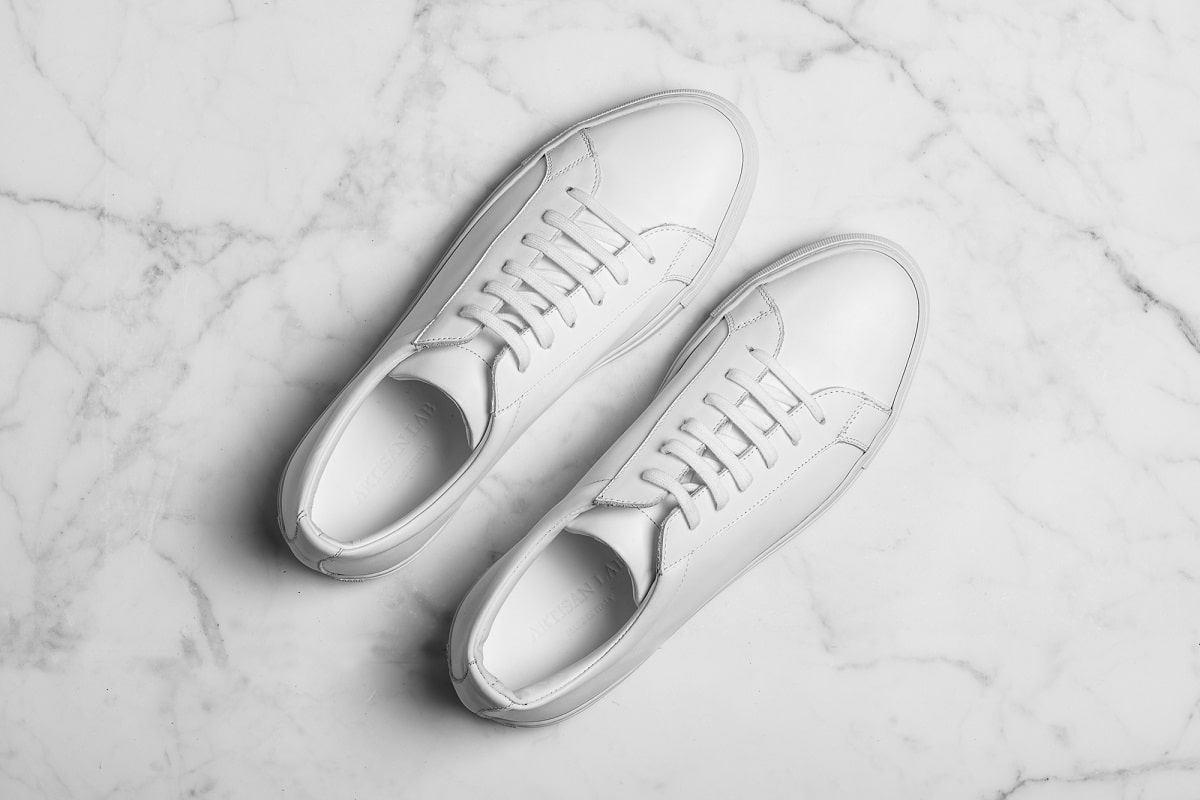 Italian made, handstitched, and tanned, with premium full-grain calfskin leather, the Essential Sneakers from Artisan Italian made, handstitched, and tanned, with premium full-grain calfskin leather, the Essential Sneakers from Artisan Lab is a beautiful, seamless silhouette taking design cues from the sport trainers of the 70s. With complete faith in clean design, Artisan Lab used superior materials and leant heavily on high standards of craftmanship to build the Essential Sneakers, from good quality leather for the premium canvas upper to the superior sole .
---
Lacoste Powercourt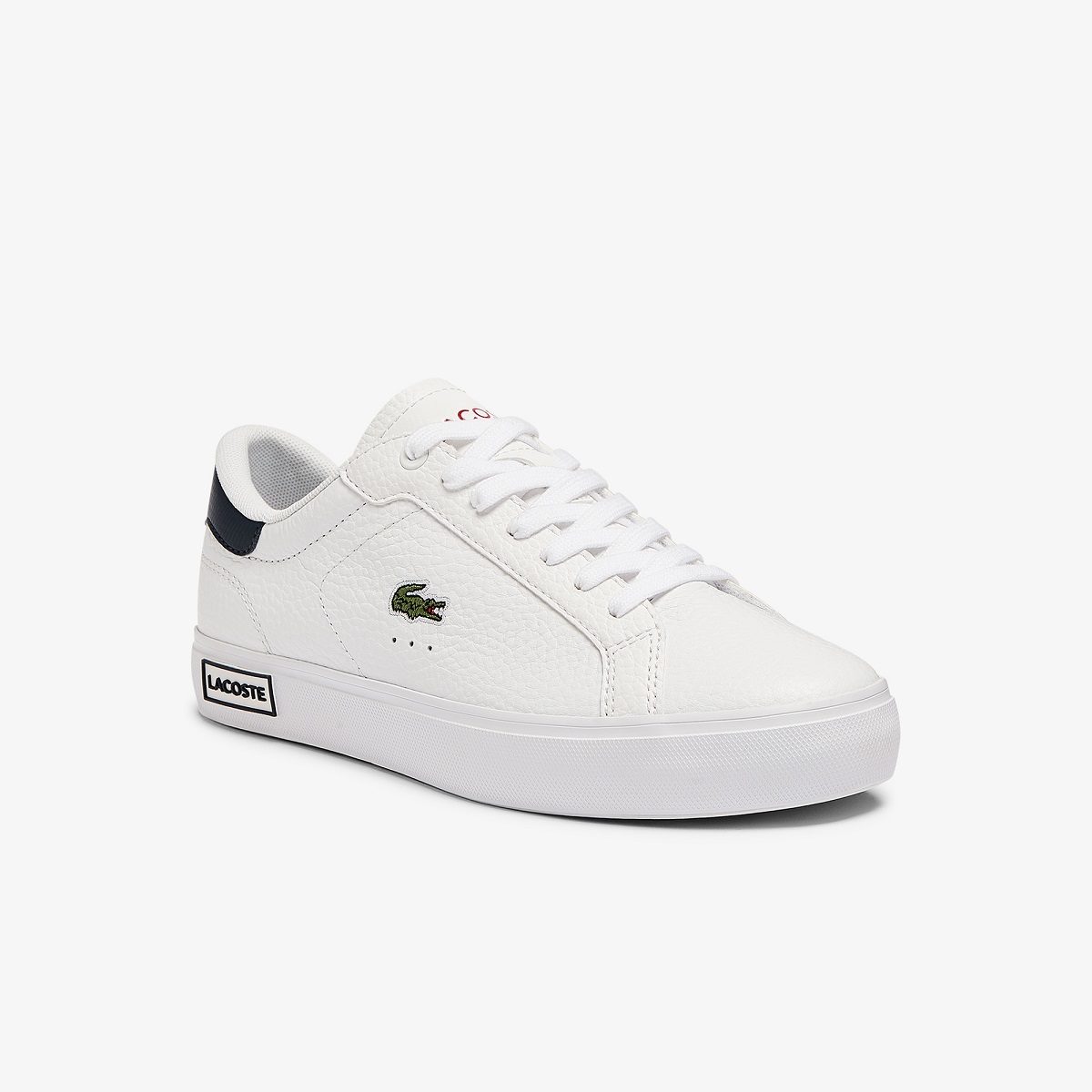 Made of 92 per cent leather and 8 per cent synthetic material, the Lacoste Powercourt sneakers would sit nicely as a prominent pair of white sneakers for your new wardrobe. The textured, tumbled leather is responsible for much of the pair's visual appeal, with that simple signature green crocodile debossed on the quarter for a hefty boost in presence.
---
Oliver Cabell Low 1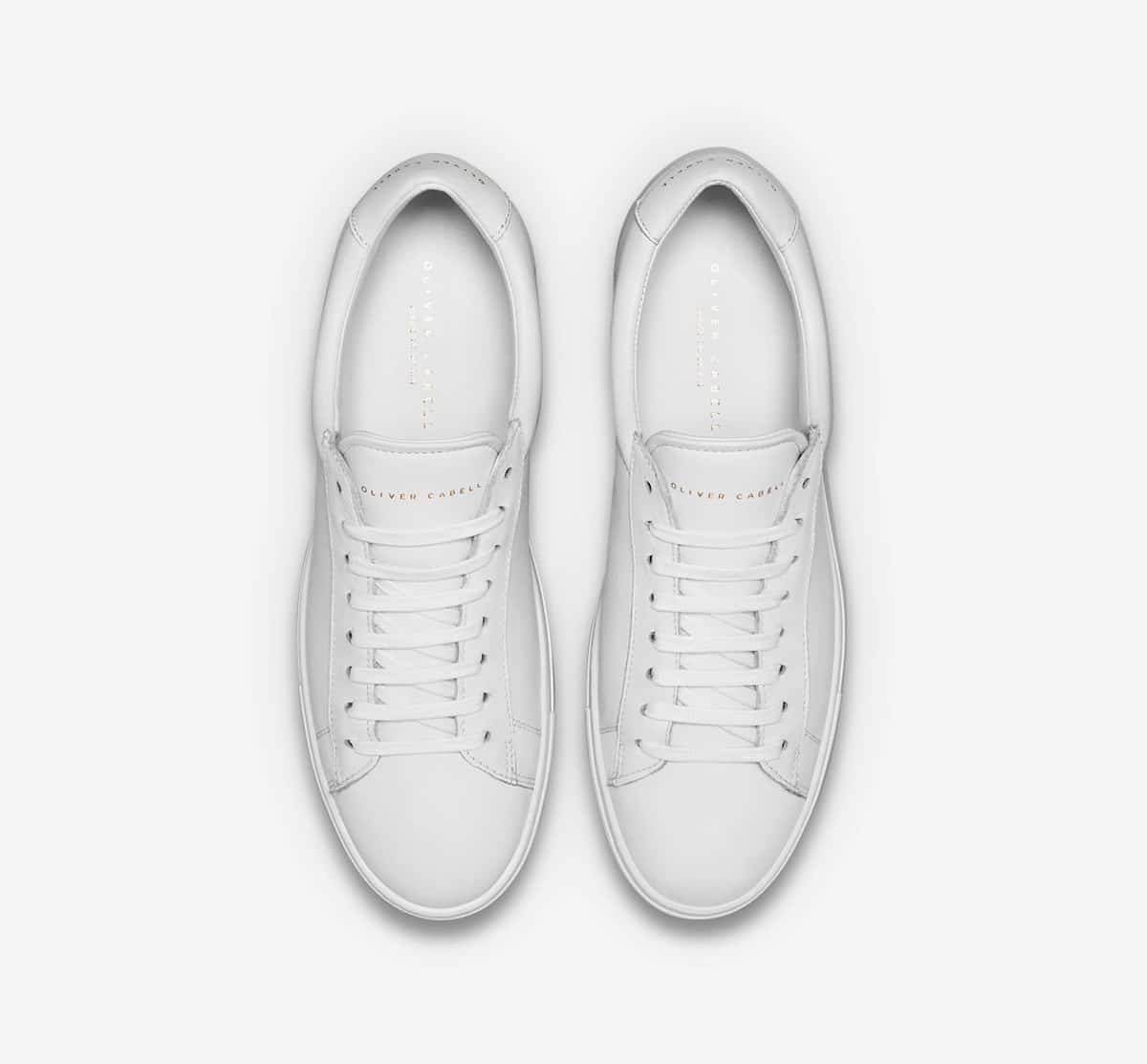 In a similar fashion to the Common Projects Original Achilles, the Low 1 by Oliver Cabell is defined by minimal gold detailing set against pristine white. The highly adaptable, attractive pair of casual white sneakers are meticulously built in Italy, using full grain calfskin leather for the upper, Margom Italian rubber outsoles, and Italian calf-skin over a removable molded in-sole.
---
---
---
George Cleverley Jack Trainer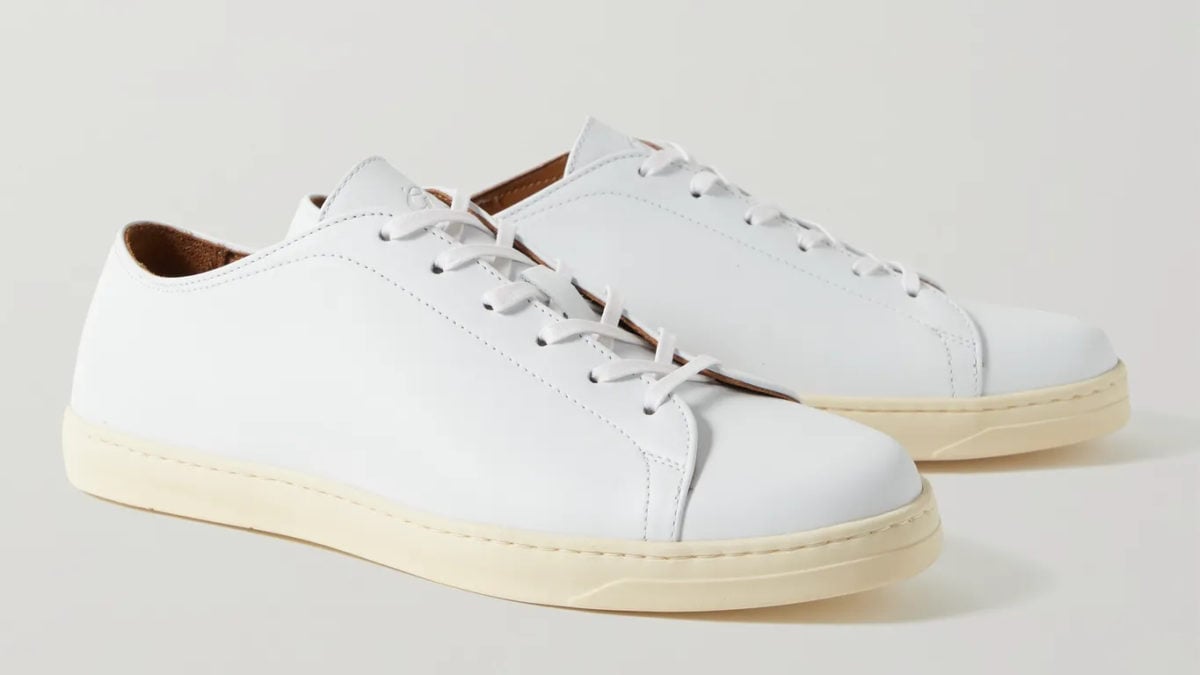 An icon for handmade English shoes, George Cleverley is nothing if not incredibly reliable when it comes to clean, stylish kicks. The likes of Jason Statham and David Beckham are regular clients of the brand, and it's not hard to see why with such an impeccably polished look to brand signatures like Bit Loafers and Oxfords.
In 2022, the brand has extended to something more casual with the limited edition Jack Trainer, a white sneaker that we've fallen in love with. Dressed in white calfskin leather, the Jack is exceptional and skews the glue-heavy reliance of many sneakers for traditional techniques that are usually reserved for dress shoes. These classic white sneakers will last you a very long time.
---
Zespa ZSP4 Alpa Nappa White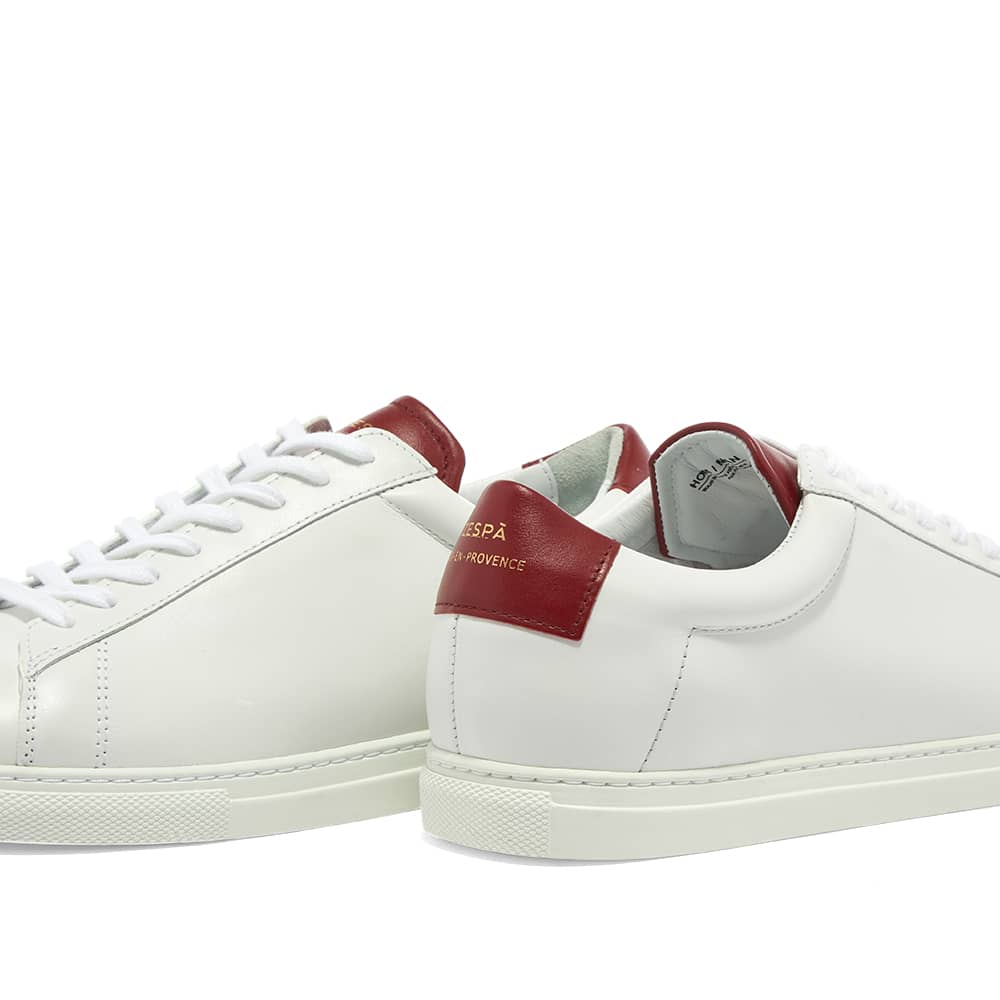 A fine expression of luxury French craftmanship, the Zespa ZSP4 Alpa Nappa White is as sexy and sleek as you could want from a pair of white sneakers. The aesthetic, defined by smooth contrast between the gentle leather uppers and the tongue and heel branding, offers a nice and playful way for stylish blokes to play around with colour matching their entire outfit. All you need to decide is what colourway you want the contrast to be, with the cerise, navy and cypress hues being the most attractive.
---
Suitsupply White Sneaker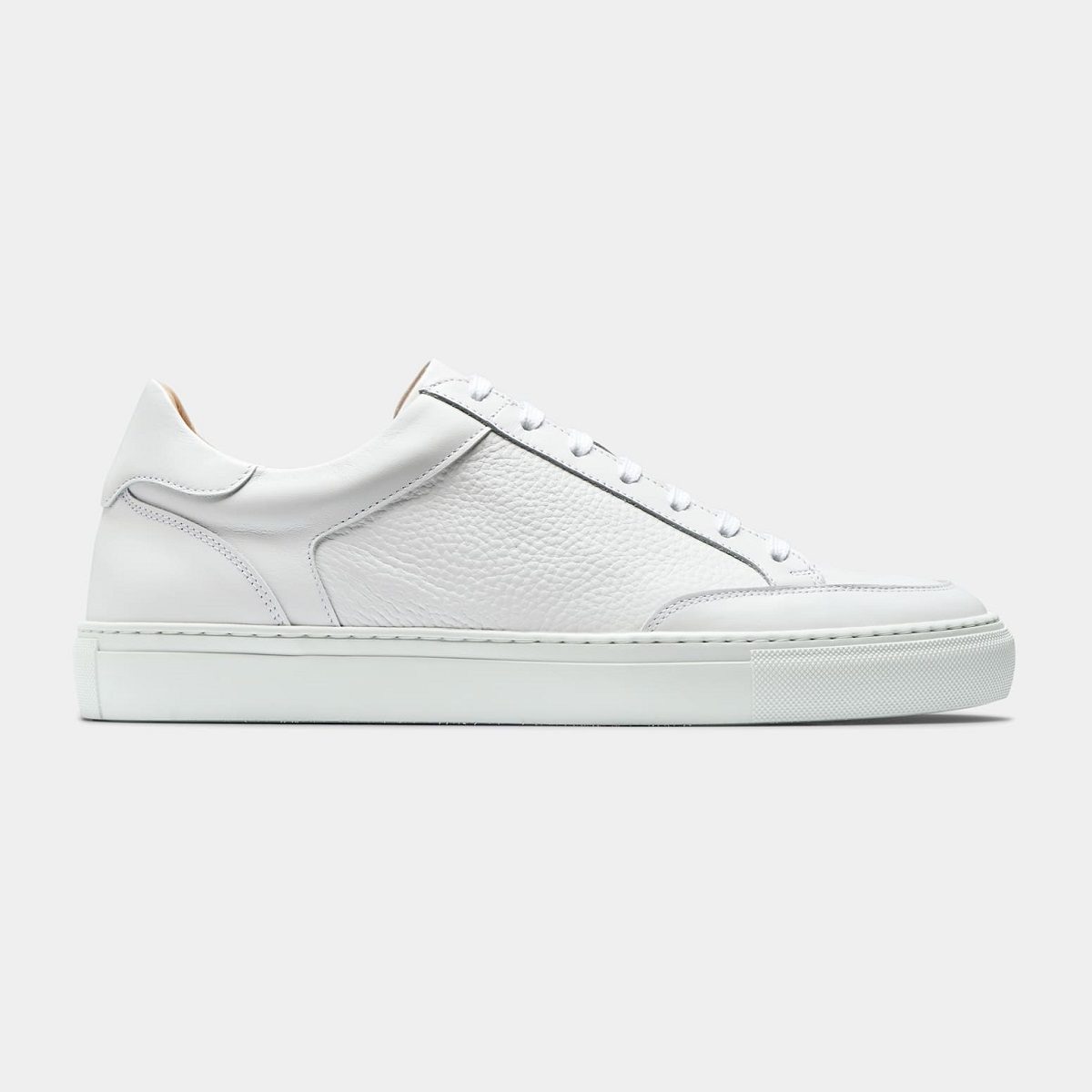 Suit Supply's White Sneakers are an ode to seamless style, featuring supple, full-grain calf leather with a removable, breathable insole and a flexible rubber sole. The softly textured upper provides a bit of visual oomph, but for the most part Suit Supply have kept this incredible neat and trim for stylish men who appreciate a pair of simple, plain, and cool white sneakers.
---
Alexander Laude White Sugar Low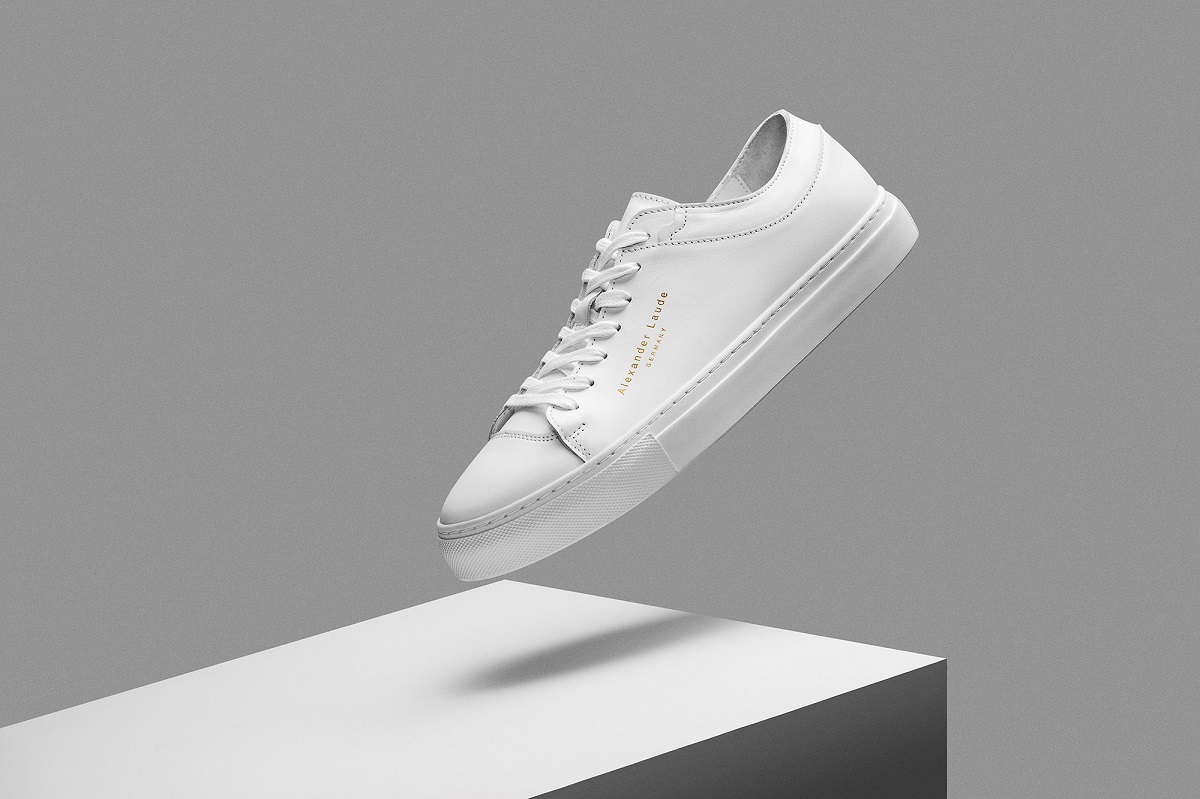 Coming from German brand Alexander Laude, the White Sugar Low sneaker is one of considerable presence, again confidently featuring minimal gold detailing popping against the high-quality Italian calf leather upper. It's a testament to Alexander Laude that they have managed to design something that looks powerful, and yet plays heavily into a softer, minimal style.
---
Gucci White Ace Embroidered Leather Sneakers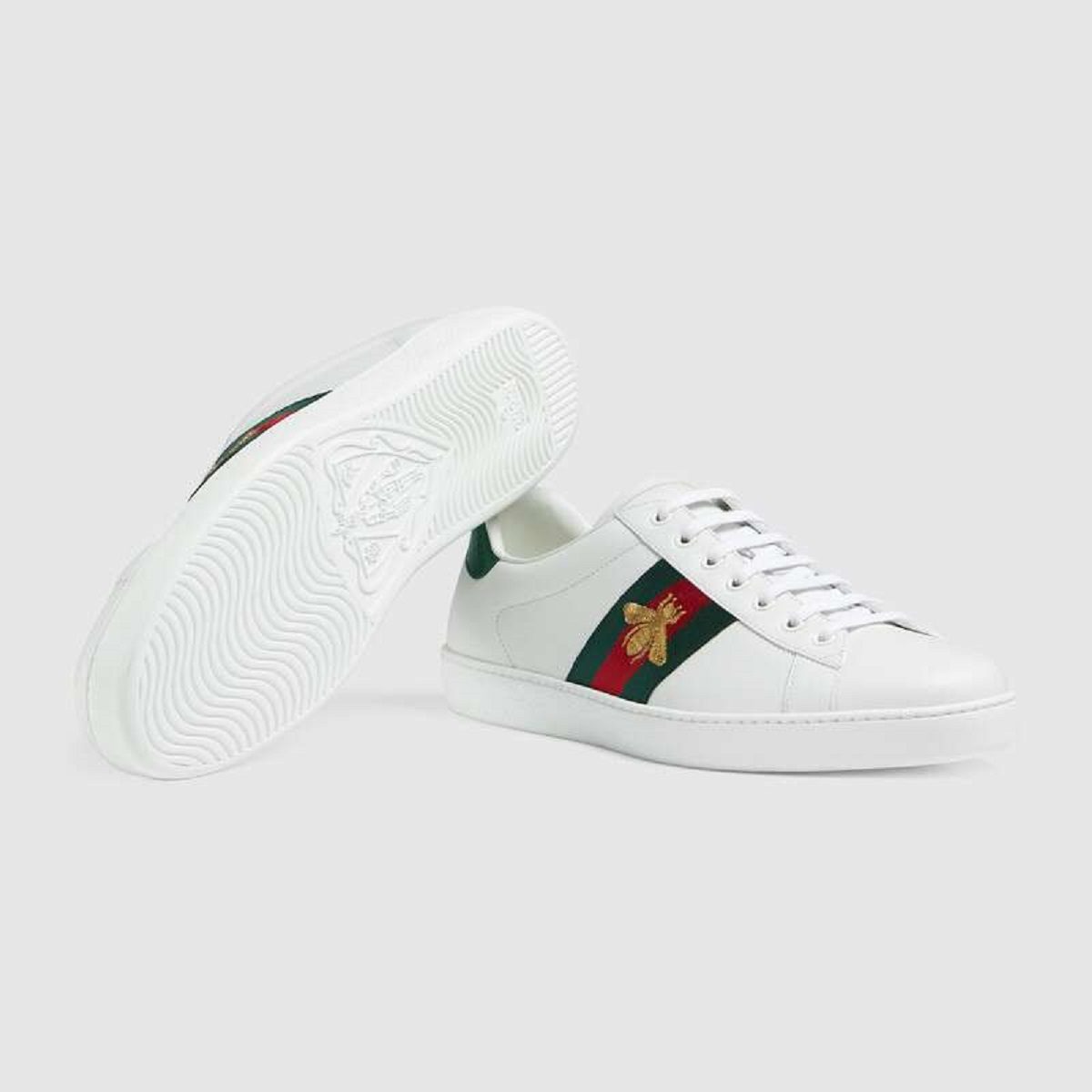 Gucci have, unsurprisingly, retained their flair of the dramatic with the white ace low top sneaker. Obviously the most eye-catching element here is going to be that green and red web on the upper, hosting a gold embroidered bee nodding to an archival code first introduced in Gucci ready-to-wear in the 1970s. The alternating red and green leather detailing on the heels is another piece that pops, separating these cool white sneakers for those who want something plain, but not too plain. There are versions without the bee, and other symbolic detailing, but there's something about the elegance of the reference that's hard to resist for anyone in the market for the some slick white sneakers.
---
VEJA Esplar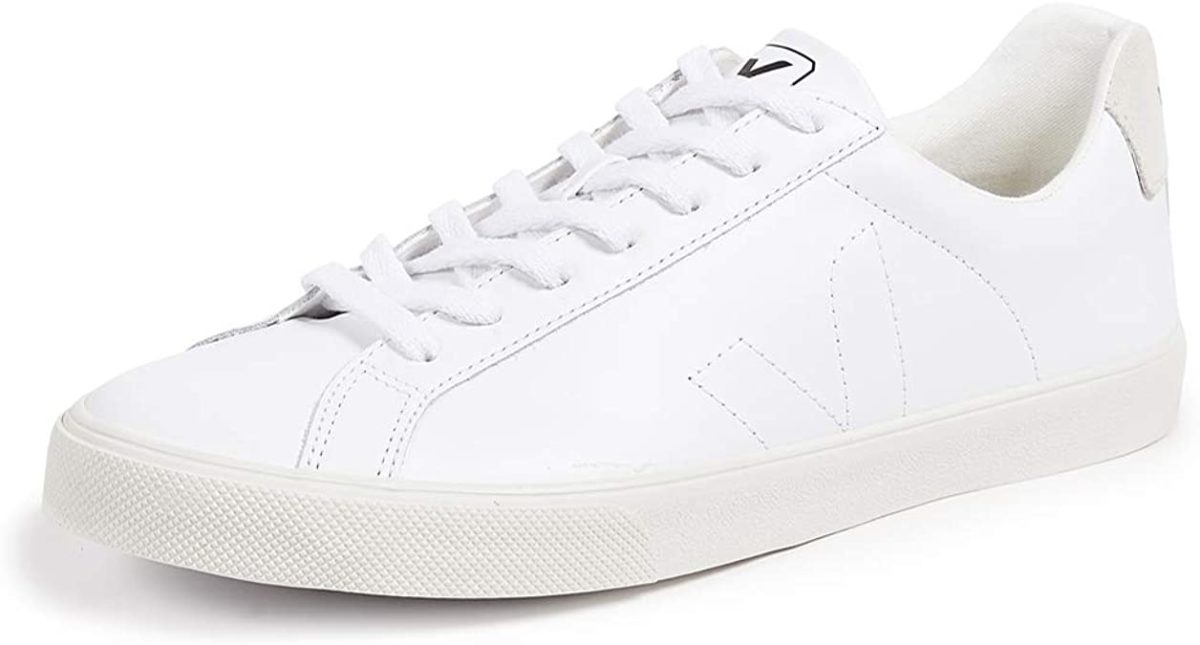 It's hard to look past Vega when it comes to beautifully minimal white sneakers. The crisp smooth leather upper on the Esplar is kept largely uninterrupted, save for a simple logo V on the sides smoothly incorporated with either stitching for a plain outline, or filled-in with various monochrome hues. Even the brand's name detail on the heel counter does very little to obtrude on the pristine aesthetic.
---
Ascot x Charlie Lione Sneakers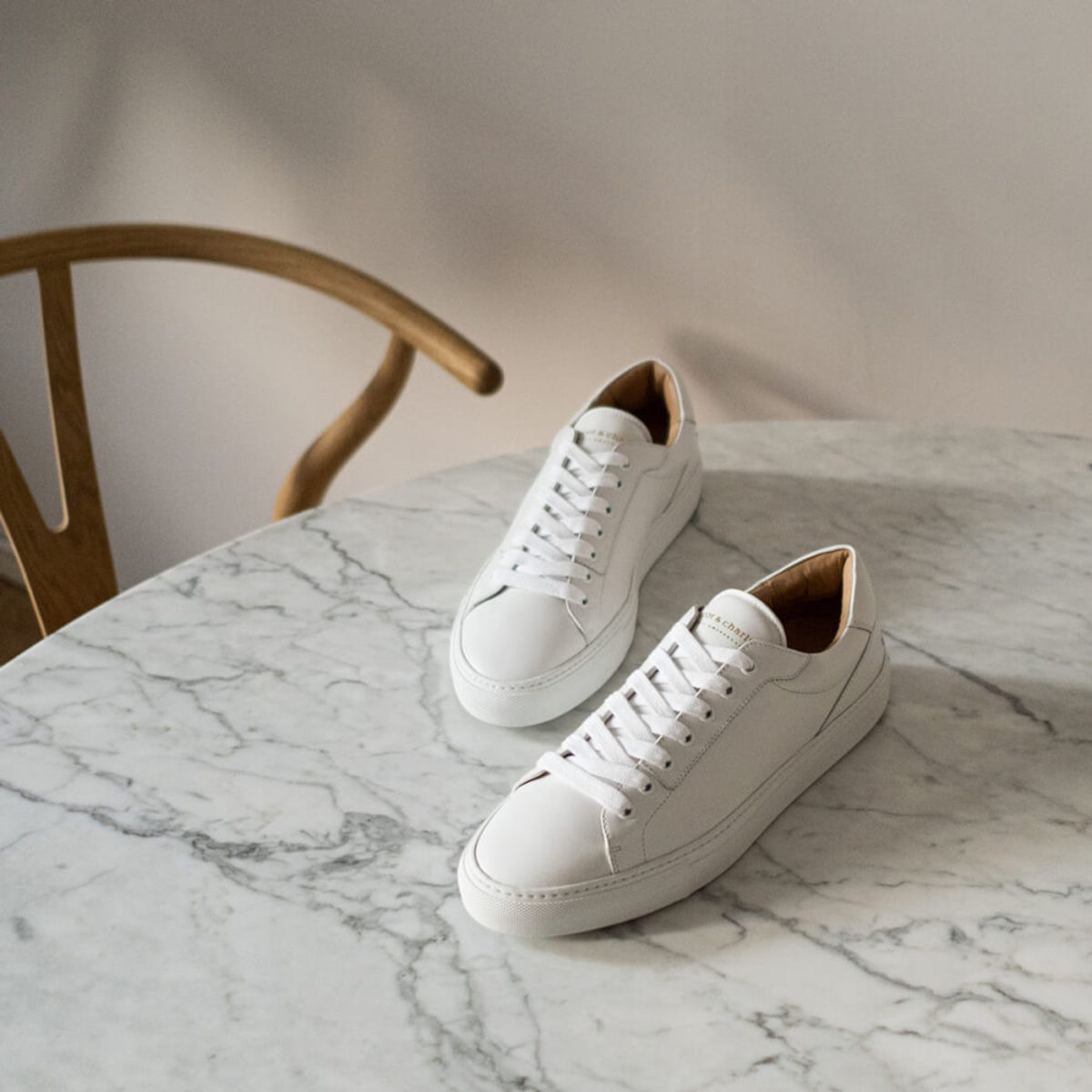 Ascot x Charlie Paris presents their own sophisticated interpretation of the classic white sneaker with the Lione Sneakers, available in a number of different colourways for the hell for an attractive contrast. Although it's the all-white that has our attention, smooth and seamless with clean edges and a sleek rounded heel cap. The everyday leather sneaker is immaculate in its construction, from the soft padded tongue and collar to the hand-stitched original Margom outsole and full calf-skin lining.
---
---
---
Crown Northampton Overstone Derby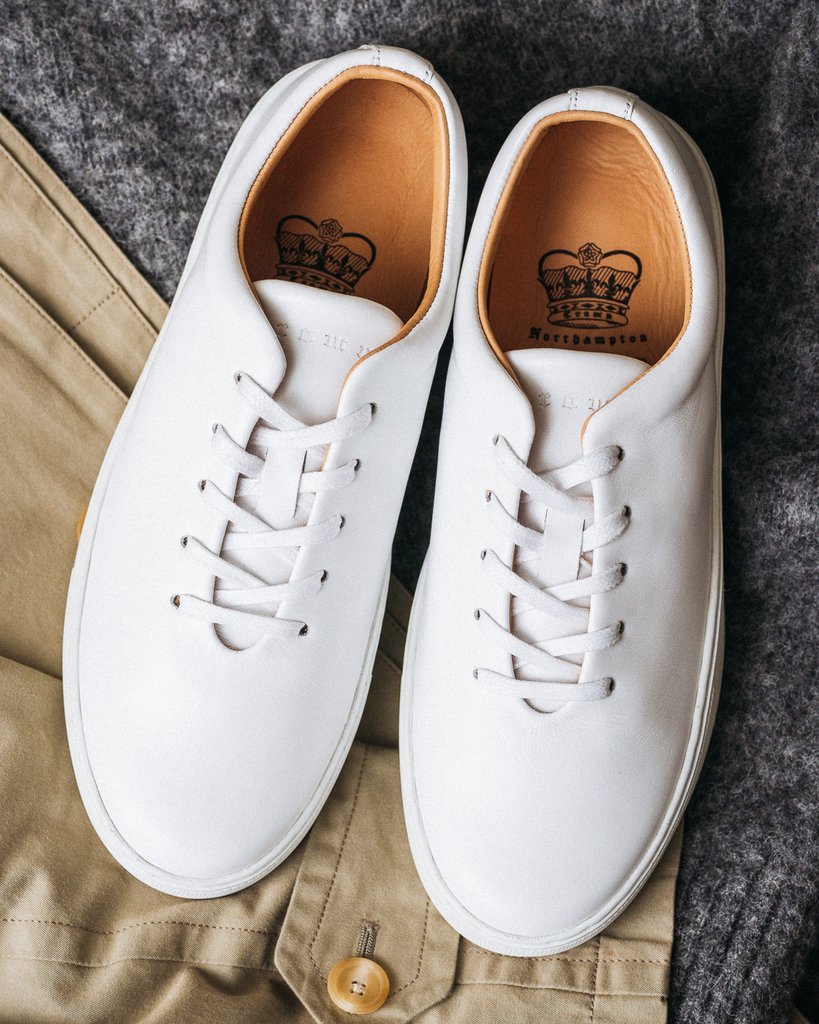 Coming from the Woodford family, who are well known for hand making high quality boots and shoes, Crown Northampton is an English brand synonymous with high-end structure. You'll find the reputation mirrored perfectly with the Overstone Derby, a handmade premium sneaker with classic design details, double stitched at pressure points for extra strength. Crown Northampton custom make their sole units to maintain a lightweight base while still offering strength, durability, and comfort, making these kicks incredibly reliable and long-lasting for anyone who puts their everyday essential through the wringer on the regular. The classic derby design and construction is unquestionably stylish.
---
North 89 No-1, Napa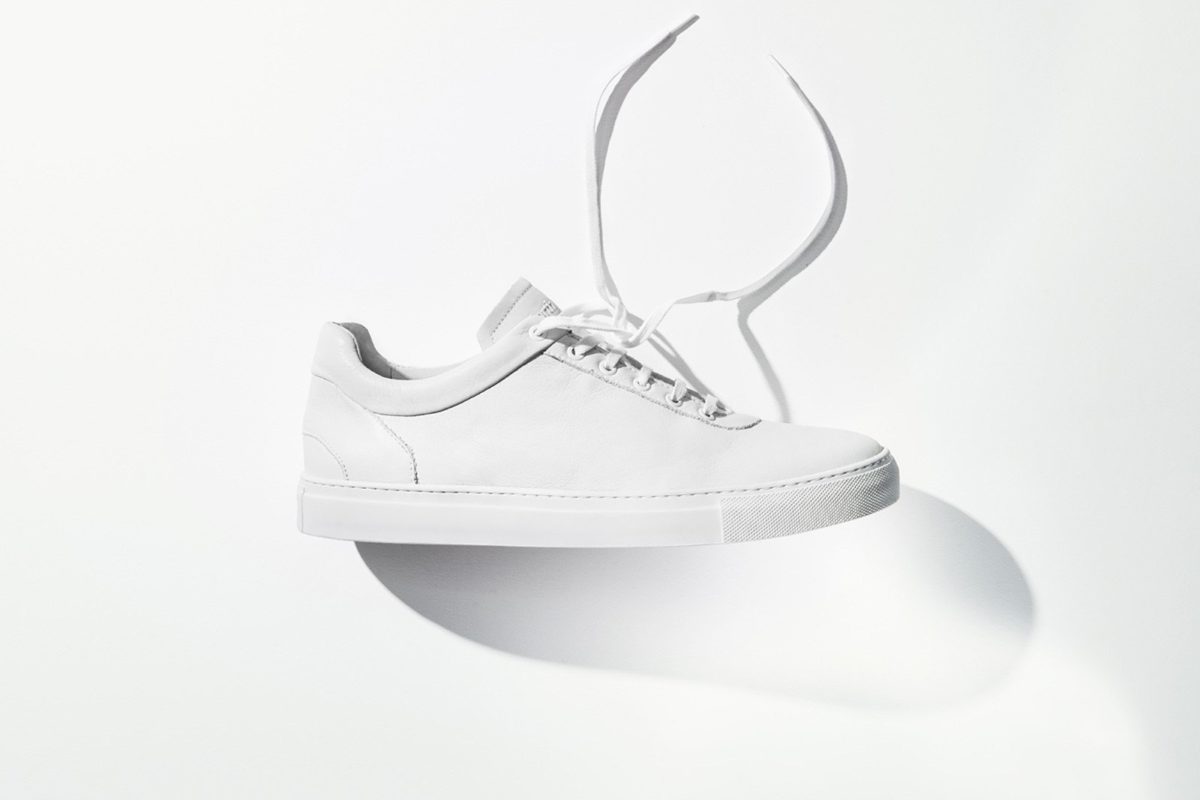 Built with a buttersoft Italian napa batida leather upper, Italian margom cup sole, and an antibacterial insole with soft memory foam, the North 89 No-1 Napa is a wise choice if you're looking for a stylish white sneaker that you could rock in a variety of settings without feeling under or overdressed. Part of the Scandinavian footwear firm's Essential Collection, the sneaker is designed in Stockholm and handmade in Porto, although it's specifically made with the typical Scandi weather profile in mind so expect a high degree of protection.
---
Everlane The Court Sneaker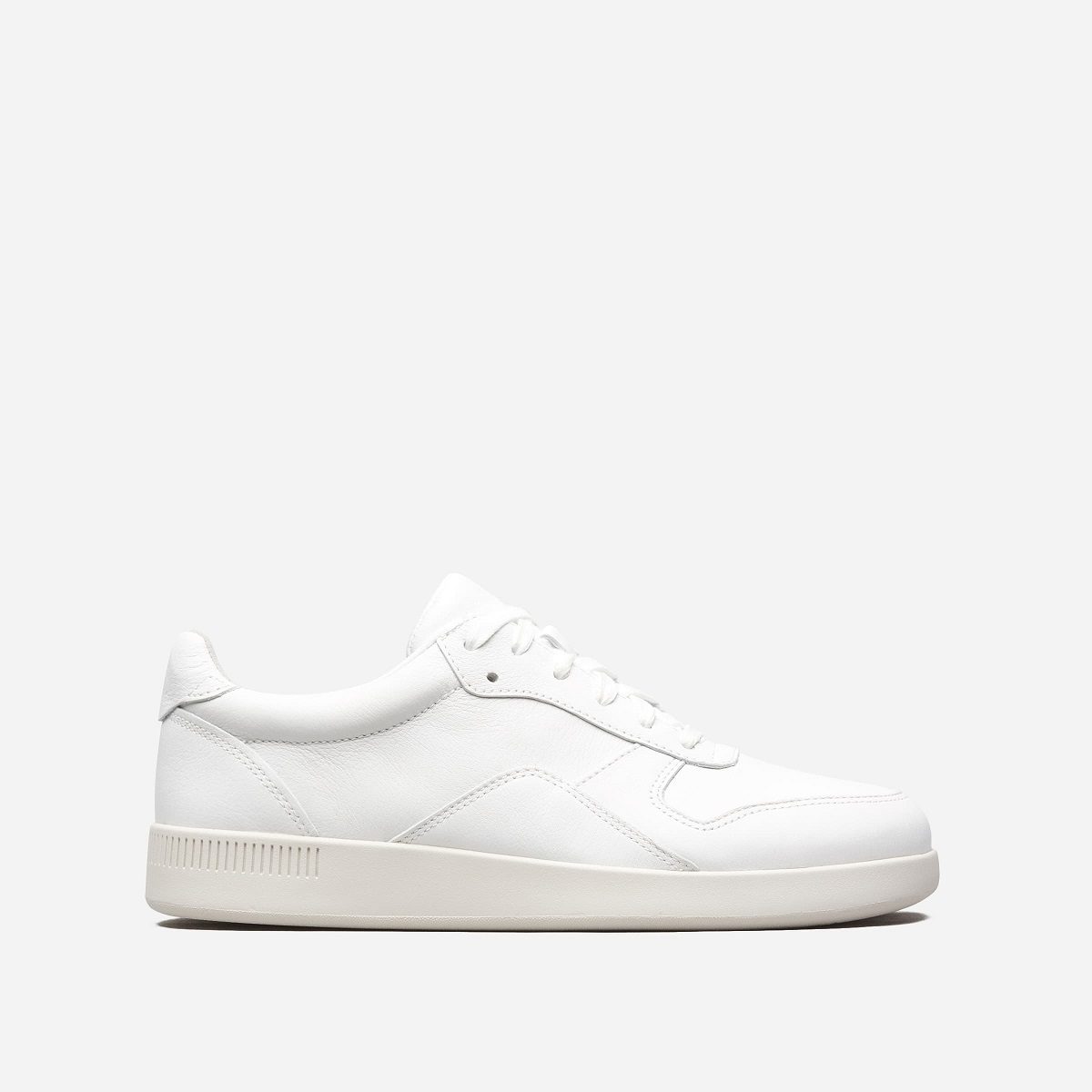 KnKnown for their transparent sustainability practices and undeniable style, Everlane is a brand that many have to come to rely on for everyday men's fashion. Their white sneakers are no exception, positioning The Court Sneaker as one of the best white canvas sneakers out right now. Made from 100 per cent full-grain leather, sourced from a gold-certified tannery, the shoes place great emphasis on ethical design. 94.2 per cent of the natural and recycled rubber used for the sole is free of virgin plastic, and the sneakers are 100 per cent offset in partnership with NativeEnergy.
---
ON Running THE ROGER Advantage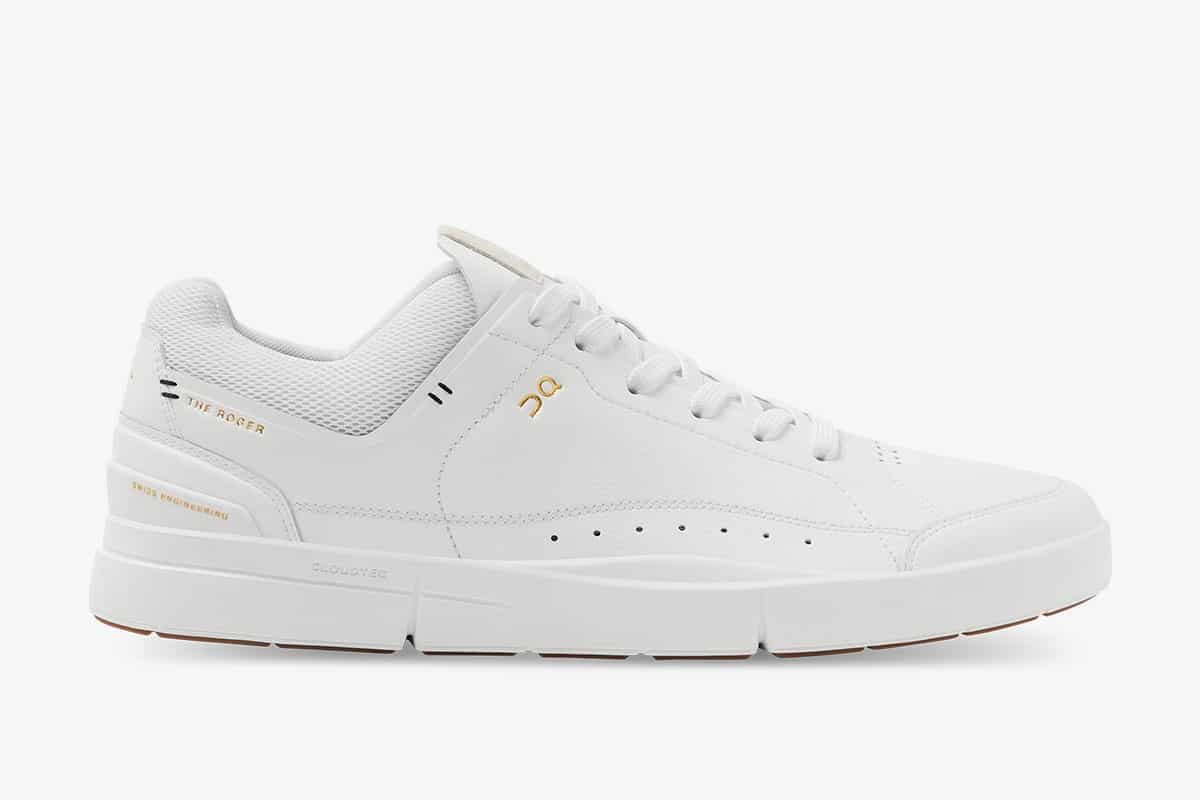 Part of a collaborative collection from On Running and tennis legend Roger Federer (in case you couldn't tell from the name), the Advantage is a pair of crisp white sneakers that marks the third tennis-inspired shoe from The Swiss Maestro. Clean lines, minimal stitching, and ultra-smooth matte vegan leather define the elegant design here, with the tennis inspiration reflected beautifully with tiny details available in different hues.
---
RM Williams Surry Sneaker
It's a tough choice between the classic Surry sneakers and the Fitzroy sneakers from Australia's iconic RM Williams. If you want a plain white sneaker with immaculate style, go for the classic RM Williams Surry Sneaker; very few can compare in terms of a crisp pair of white kicks perfect for everyday wear.
---
Ascot x Charlie White Grain Leather Mono Sneaker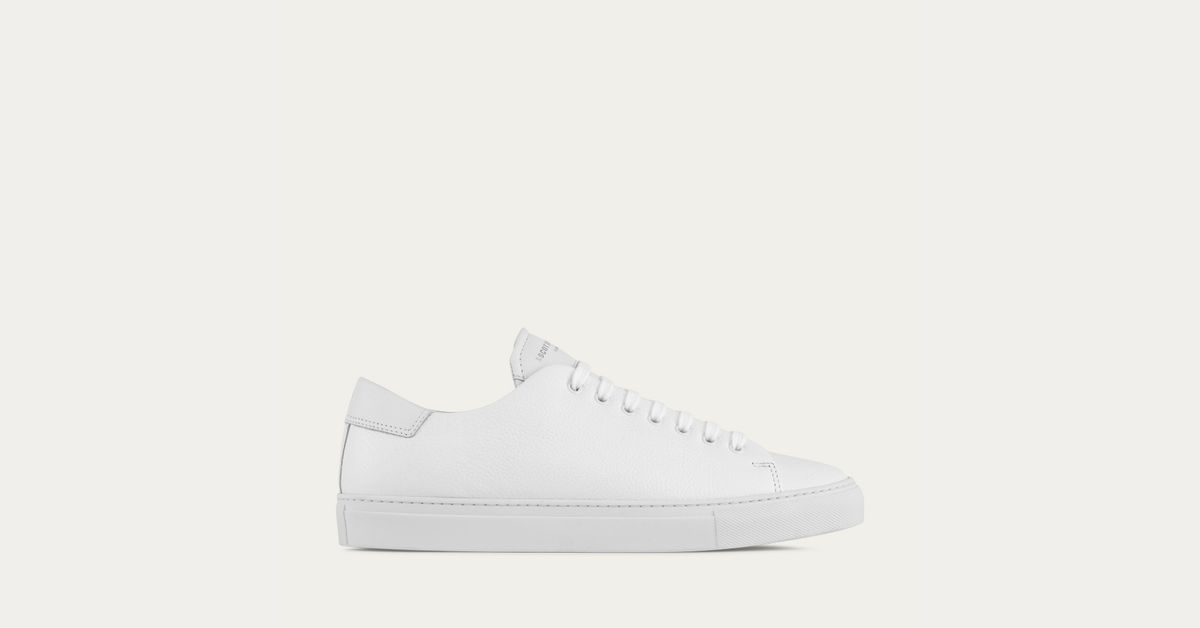 The mastery Ascot x Charlie are known for in the sneaker world is well established, so the "designed in France, made in Italy" brand should be a no-brainer for anyone searching for the best white sneakers out. These simple, low top sneakers have been designed with 100 per cent Nappa leather, crafting a smooth, seamless, and clean look.
---
KOIO Capri Triple White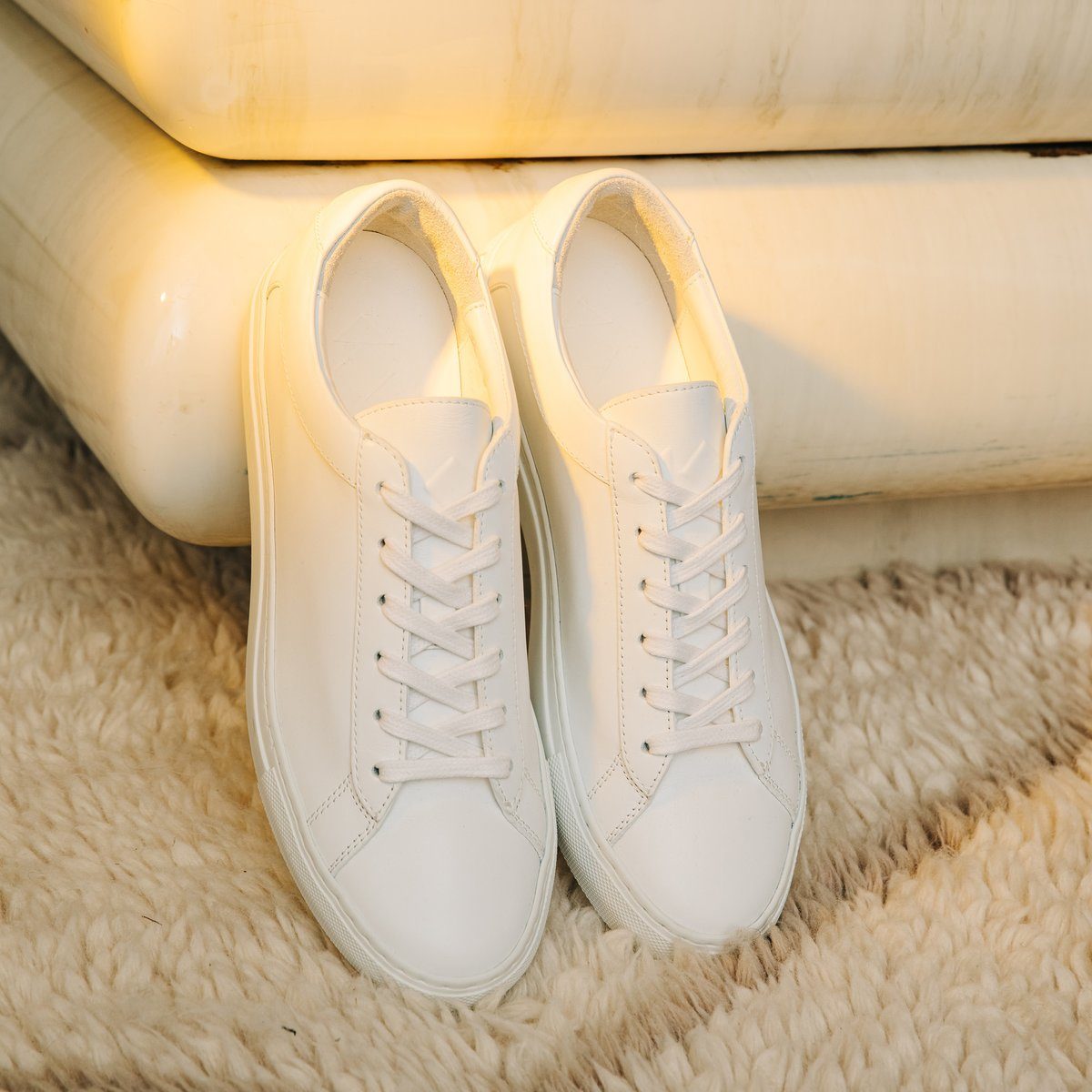 These white low top sneakers from KOIO represent the brand's quest to capture the perfect chromatic shade of white. Handcrafted in Italy with full-grain leather, the Capri Triple White is a shoe that screams versatility from every angle. From the durable rubber sole to the hand-painted edges.
---
Casca Avro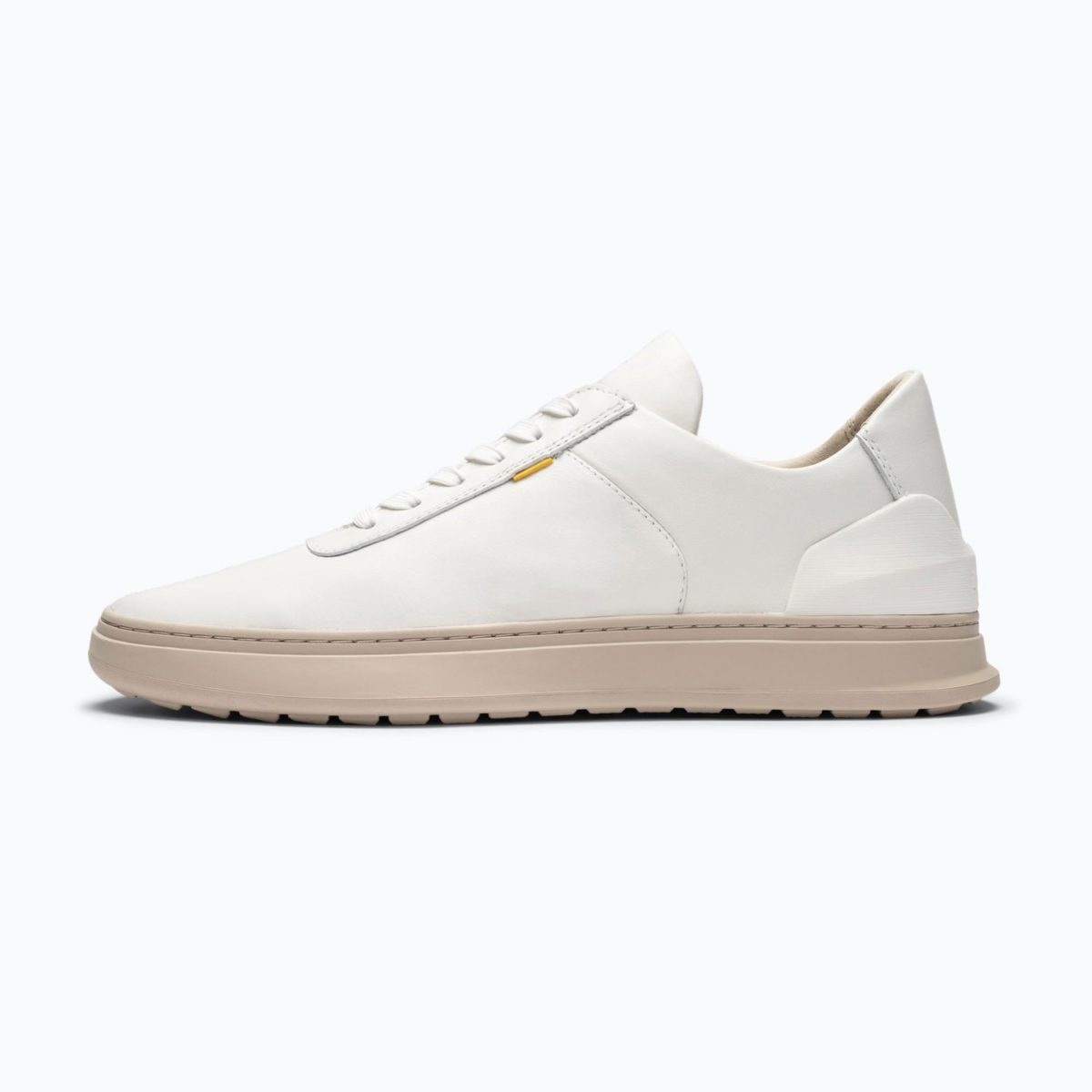 Canadian brand Casca are becoming widely known for supreme comfort, with their footwear featuring custom 3D-printed cushioning and performance-driven design. The gorgeous Avro white sneakers are an eye-catching expression of that with a waterproof full grain leather used for the upper, mountaineer-grade traction, and an internal shank for a boost of flexibility and strain relief.
---
---
---
The Best White Sneakers You Can Buy – Frequently Asked Questions
How do you keep white leather sneakers clean?

It's really not as hard as people seem to think. Most of what you'll be dealing with is leather, and leather sneakers are best treated with light soapy water and a specialised leather pen.

How do you keep white canvas sneakers clean?

If your sneakers are canvas instead of leather, you can just throw them into the washing machine with regular laundry detergent. Although you can also use chlorine bleach to brighten them up and maintain that essential glow.

What should I wear with white sneakers?

If you choose wisely when looking for a cool pair of white sneakers, you can easily style them with most jeans, chinos, and even some shorts. Neutral colours work best so think beige, ivory, black, grey, and taupe.