Unless you've been confined to solitary this past decade, chances are you'll be aware that white sneakers have become something of a men's staple – elevated through a strategic combo of new iterations on the classic Stan Smith silhouette and capital-f fashion's embrace of the style. Still, if you've been eyeing an upgrade recently; and are looking for the best pair of white sneakers that money can buy, be sure to check out our list below.
Naturally, there are all sorts of justifiable reasons for the popularity of the white sneaker. Adjusting for 'last' (i.e. overall shape) and sole profile, they're some of the most versatile shoes you can throw at any outfit: pairing well with chinos, denim, shorts, and even tailoring – a real jack-of-all-trades when it comes to footwear. Fastidious types might get a bit anxious about scuffs and patina, but for many, even that serves as its own incentive to buy multiple pairs of white sneakers. After all, quite a few classic sneakers look even better after they've taken a beating.
Considering how menswear is no longer the monolithic pastime that it used to be (and consumers can simultaneously hold two ideas as to what the 'best white sneakers' are at any given time) it goes without saying that there are a lot of different options in the market.
RELATED: 5 Exceptionally Louche Sneaker Alternatives For A Post-Streetwear World
Fortunately, we've already done the hard job of separating the wheat from the chaff – so that you have plenty of options at your disposal extending beyond the classic (if ubiquitous) Adidas Stan Smith, Nike Air Force 1 and Converse Chuck Taylor silhouettes.
---
Best White Sneakers For Men – Table Of Contents
---
Our Favourite White Sneakers Out Right Now
Common Projects Original Achilles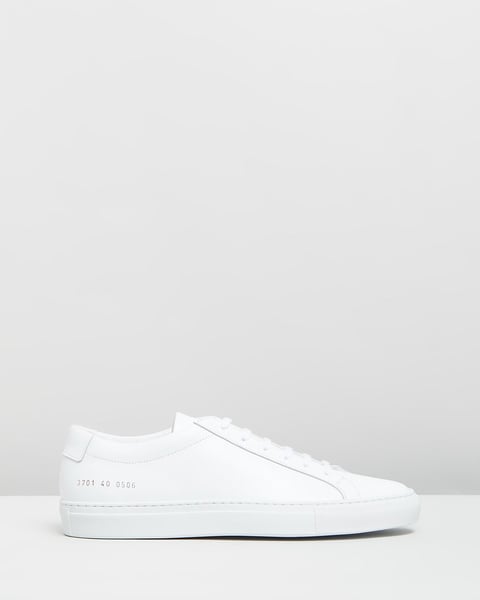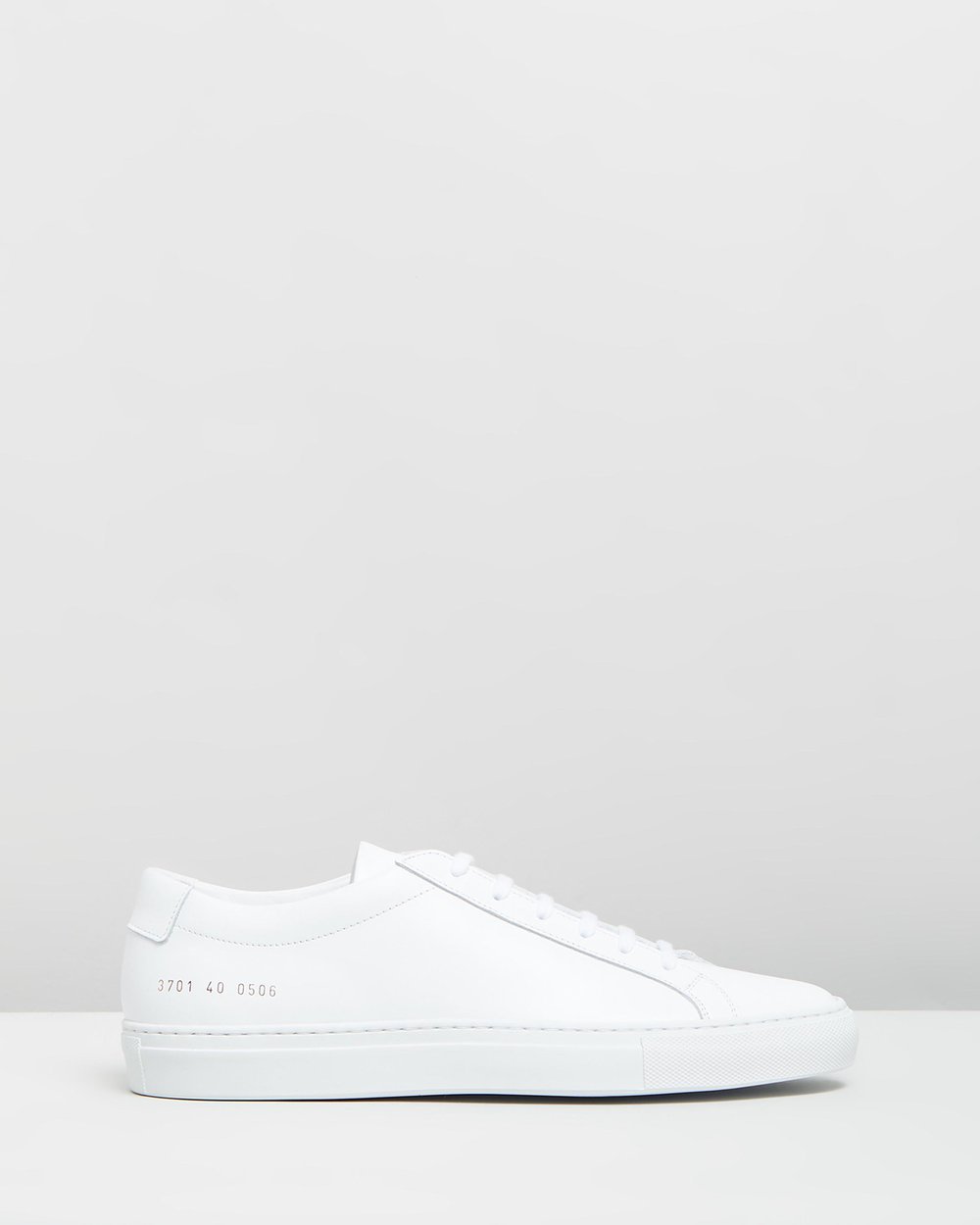 DETAILS
White leather
Signature serial stamped in gold
Italian-made
True to size
One of the forerunners in the market for high-grade white leather sneakers, the elegance of Common Projects' best-selling 'Achilles' model comes from an amalgam of its streamlined silhouette and embossed gold heel detailing.
As far as all-white sneakers go, these are some of the most recognisable around and they'll pair nicely with an array of equally minimal apparel – think 2-piece suits in tonal cotton or a chore jacket and denim.
---
Axel Arigato Clean 90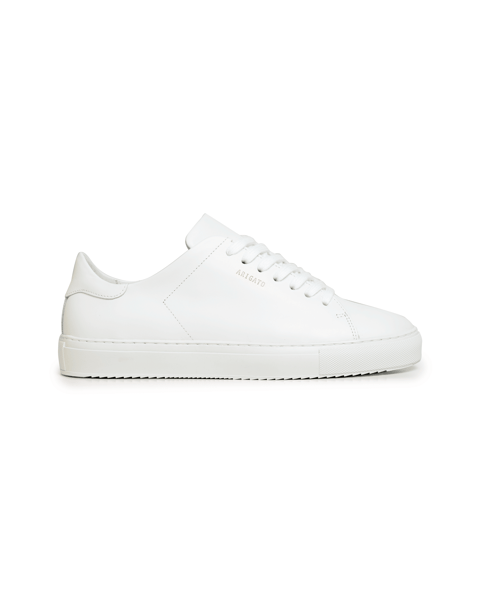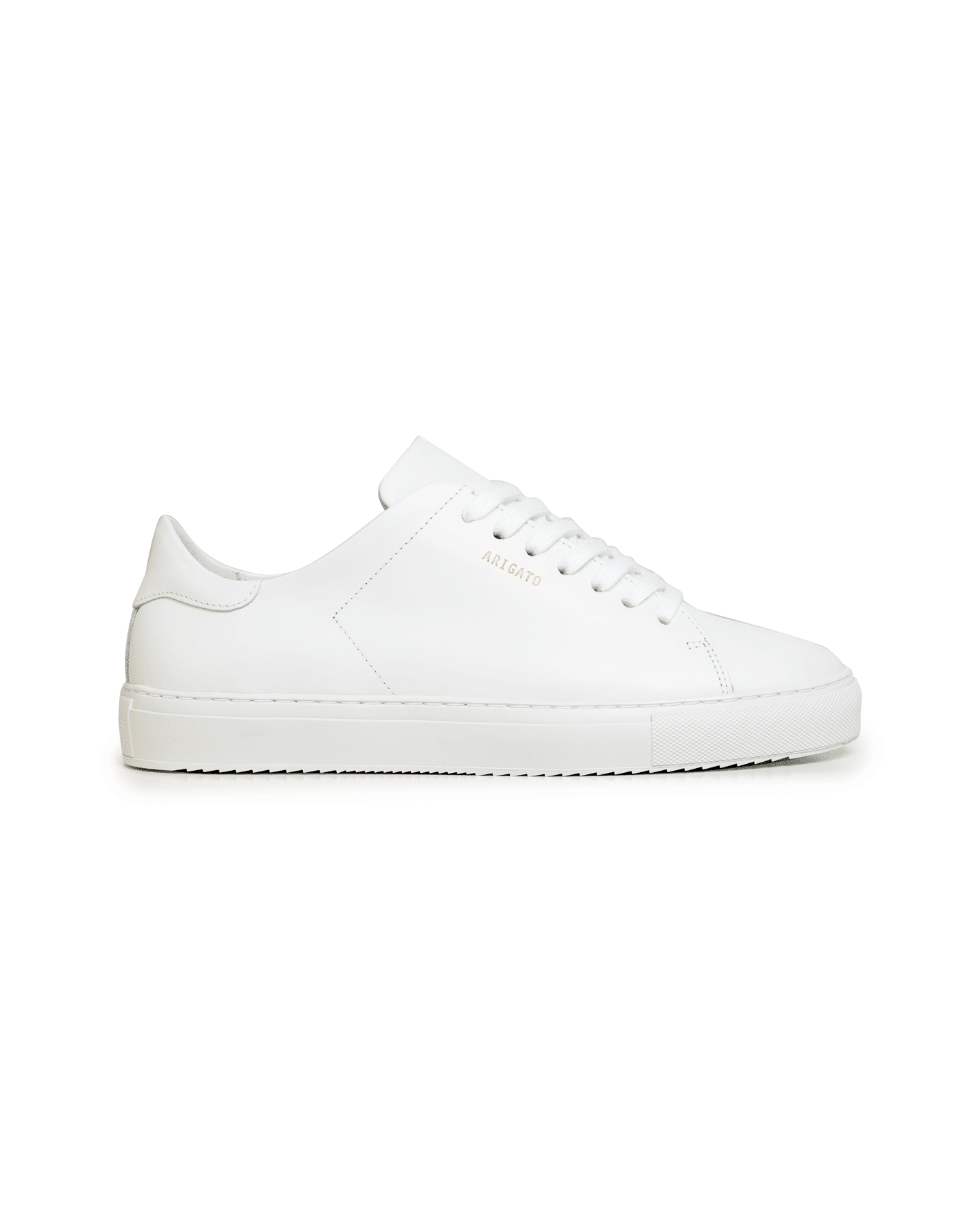 DETAILS
Smooth leather uppers
Gold logo stamp
Made in Portugal
Soles incorporate 20% recycled leather
Clearly taking a page out of Common Projects' book, the Clean 90 features a largely unembellished design (save for a prominently overlapped heel tab) that gets its broad strokes from the look of Stan Smith sneakers.
Axel Arigato manufactures this popular style in Portugal with leather uppers and a chunky rubber sole. Other details include logo embossing near the shoe's eyelets and a cushioned insole, making for a wearing experience that is marginally more comfortable than what you'll get with your average plimsoll.
---
Artisan Lab Essential Sneakers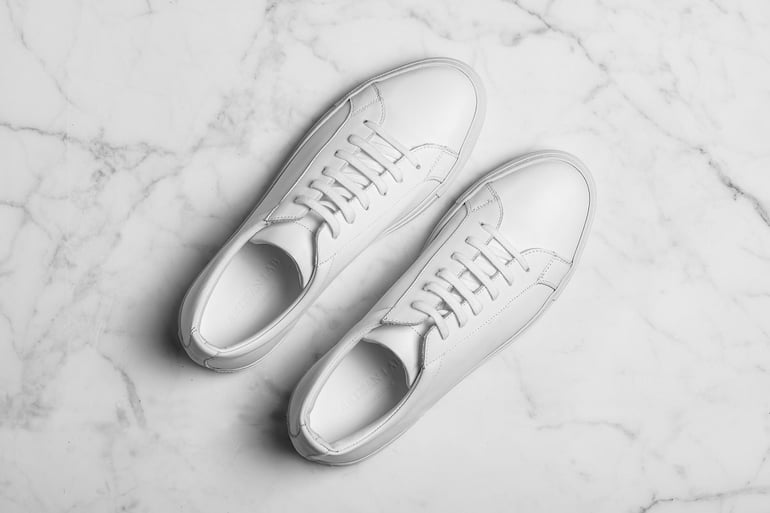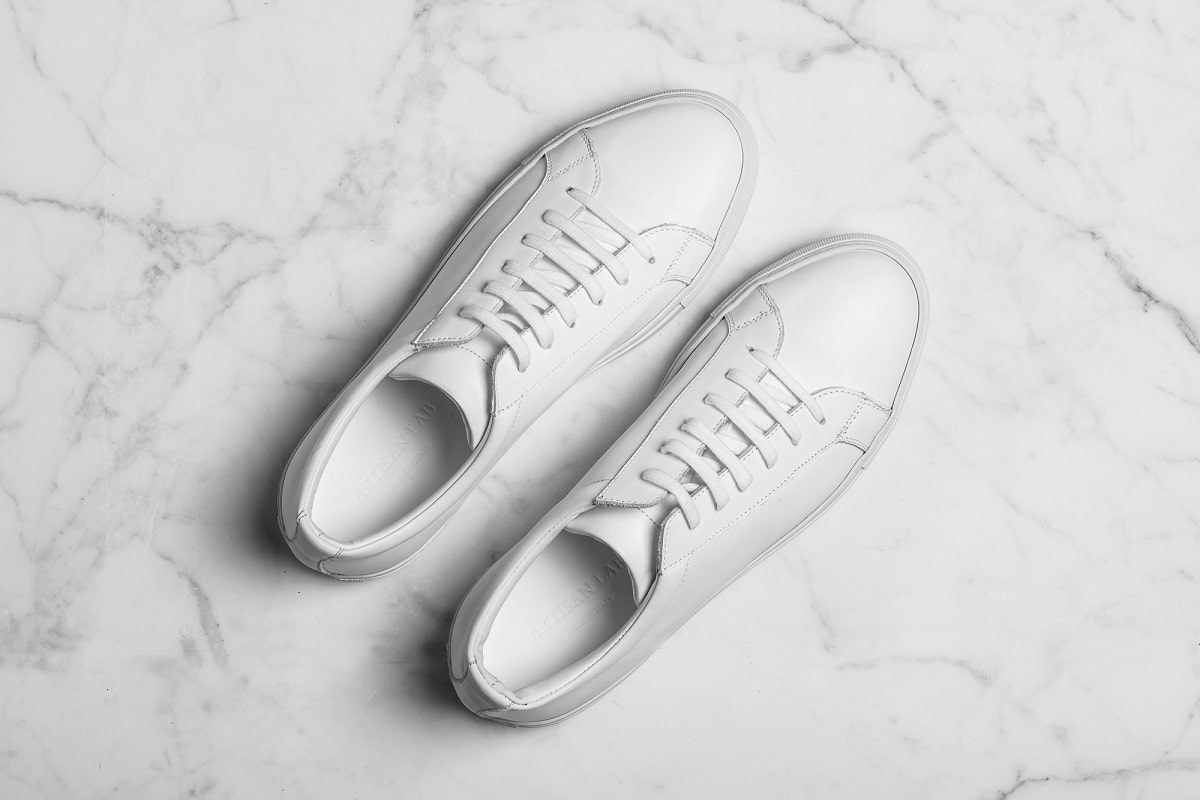 DETAILS
Full-grain calfskin
Detachable antibacterial footbed
Italian-made
Size down one from your usual size
Inspired by the various tennis shoe styles of the 1970s, Artisan Lab's 'Essential' sneaker is a no-brainer for those who covet a minimalist aesthetic to go along with their white leather sneakers. Beyond the full-grain calf leather construction (always a good sign), this classic pair of court shoes uses a number of other premium ingredients: including Margom soles and removable insoles that have been treated with an antibacterial coating.
---
Lacoste Powercourt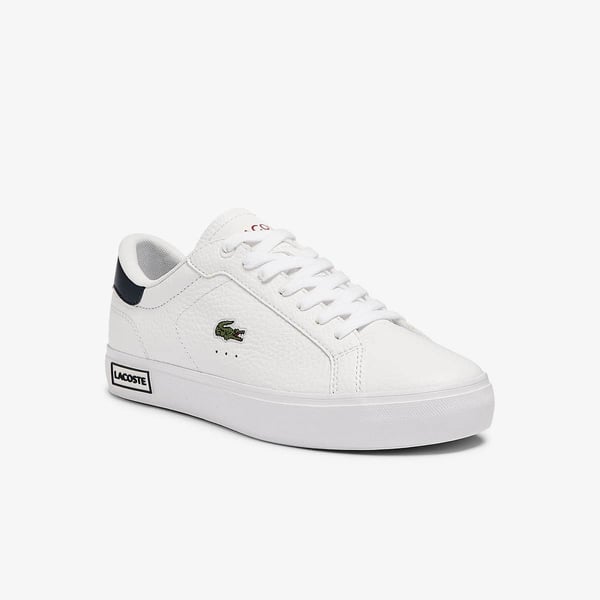 DETAILS
Leather and synthetic uppers
Tricolor quarter branding
True to size
Manufactured using a hybrid of leather and polyurethane, Lacoste's Powercourt injects some major personality into its simple, low-slung shape with a bevvy of embellishments. The shoe features perforated detailing across the vamp and laces; while the heel tab tapers off into a tricolour webbing that recalls France's national colours and the signature Lacoste branding. Wear these with a suitably on-theme polo, and you can't go wrong.
---
New Balance 550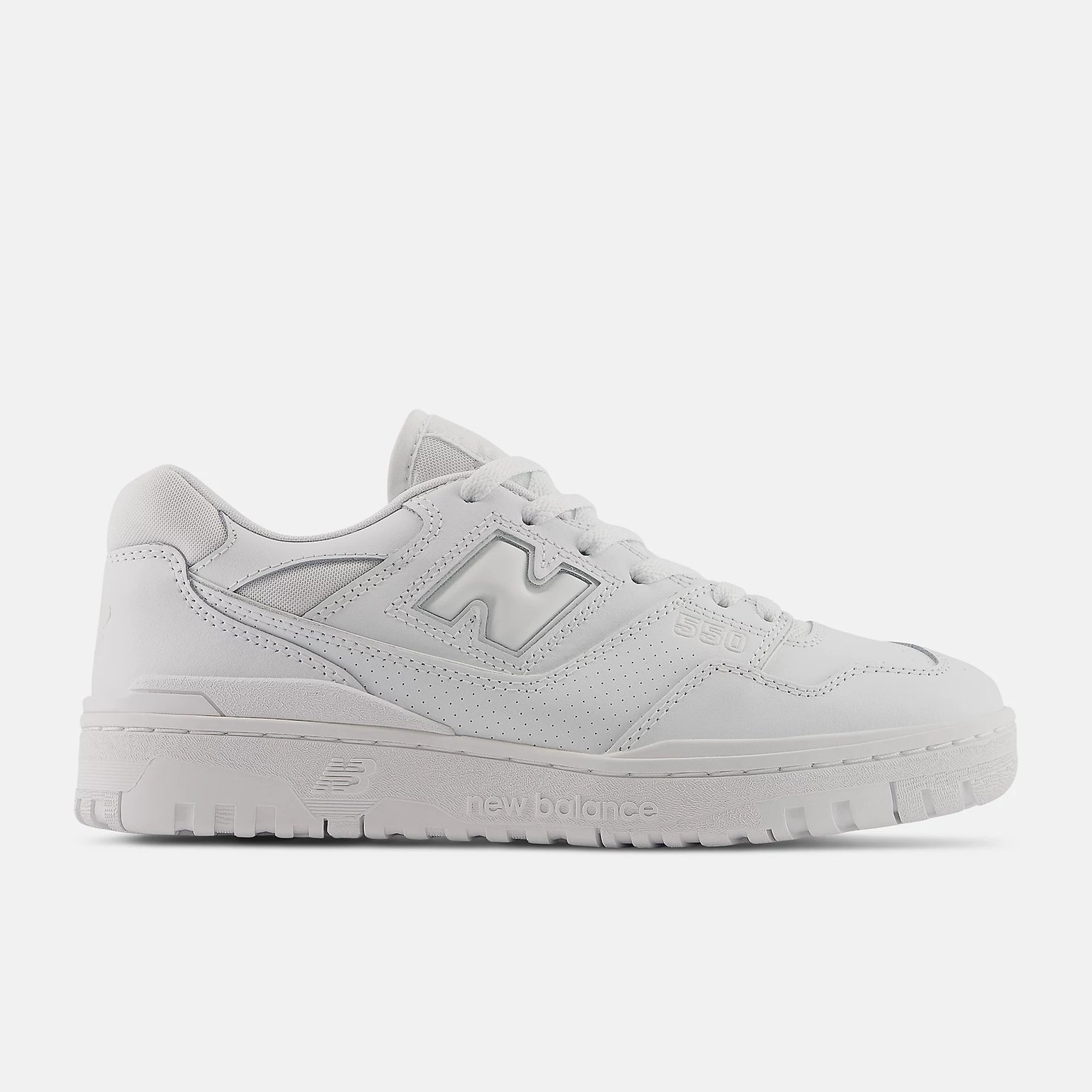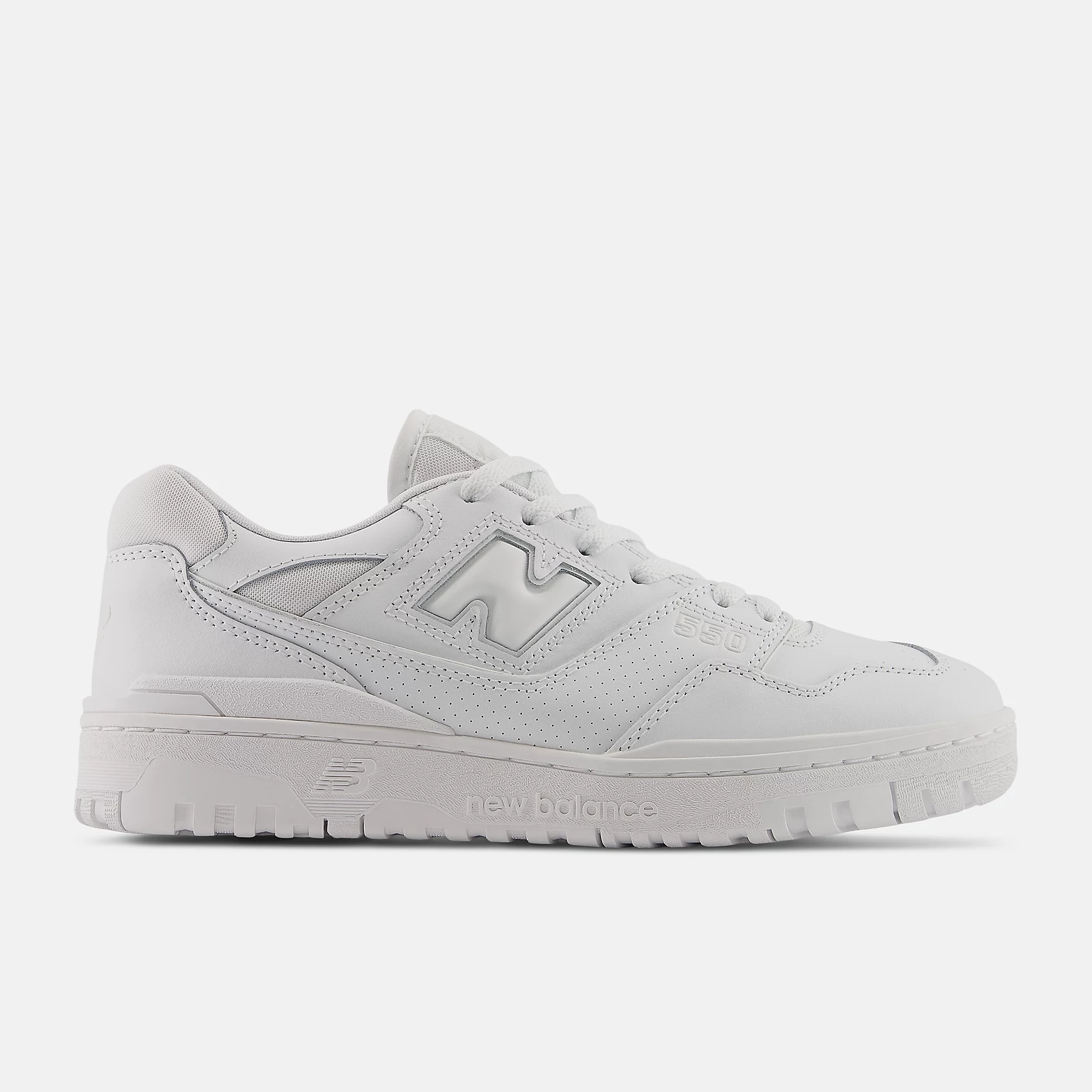 DETAILS
Micro-perforated uppers
Unisex
Remake of the 1989 original
Non-marking rubber outsole
One of the de rigeur alternatives to the legendary Air Max 1 in the fashion world right now, New Balance's unisex 550 is as clean in all-white-everything as any other colourway the brand has previously offered it in.
Part of a raft of legendary athletic sneakers that New Balance pioneered in the late 1980s, the 550's original purpose – to dominate basketball courts from coast to coast – led to its incorporating a variety of signature details, including a chunky silhouette; mixed leather/mesh uppers; and extremely heavy duty arch support.
---
Oliver Cabell Low 1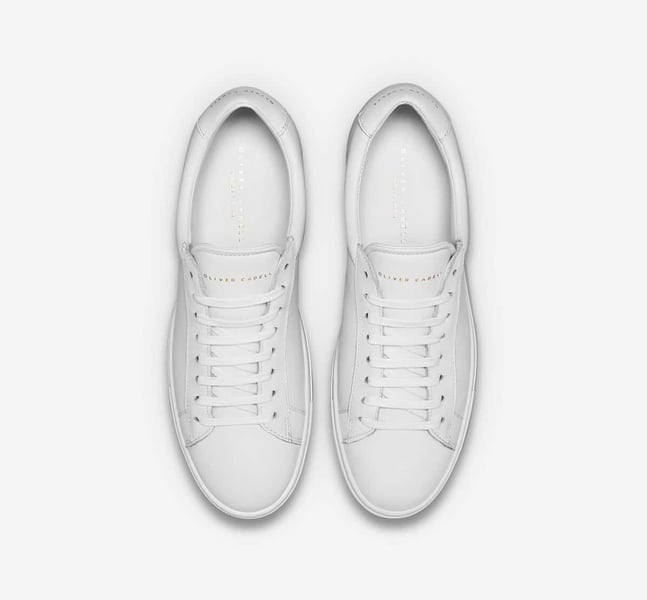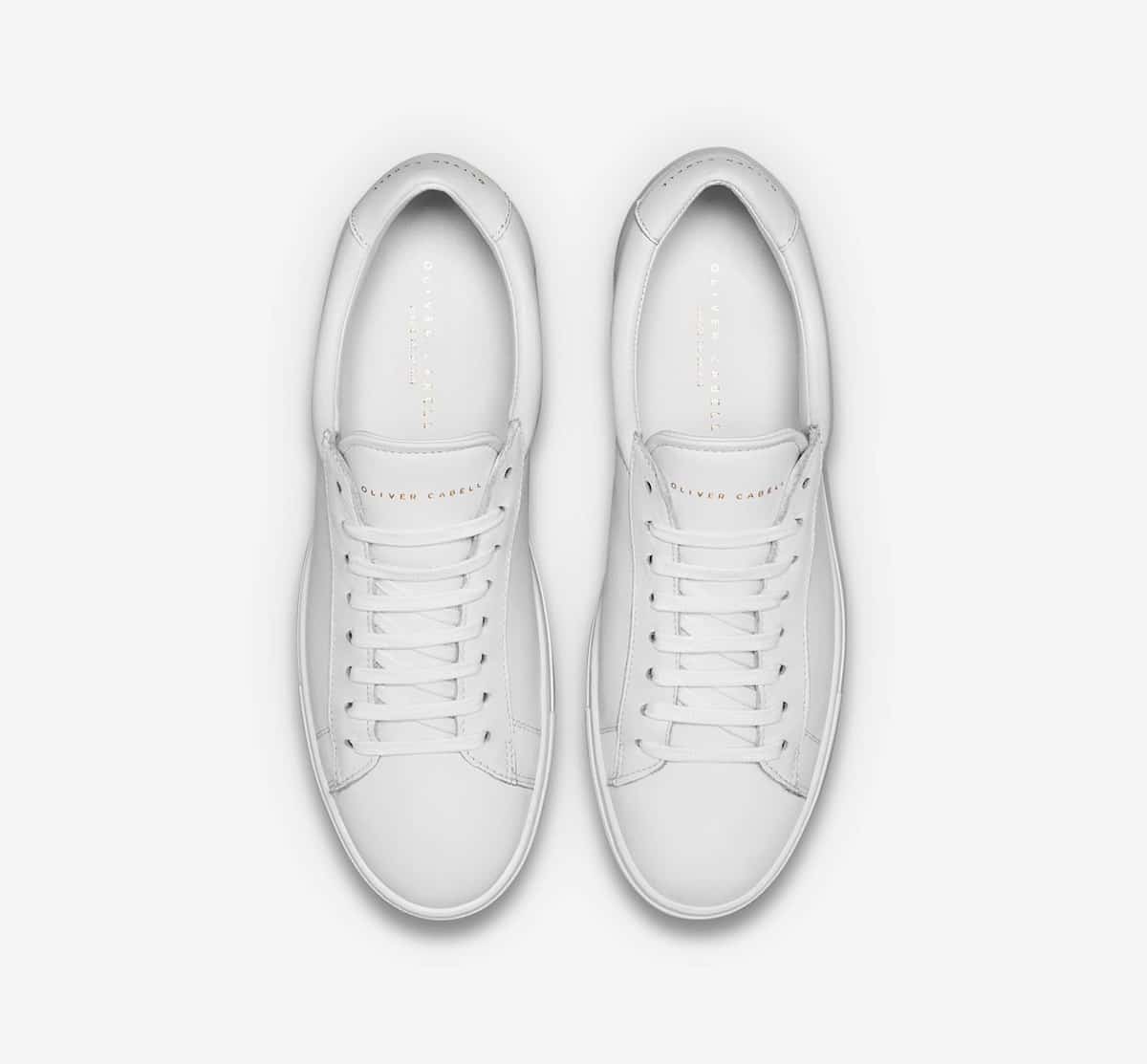 DETAILS
3 oz. calfskin leather uppers
Margom outsoles
Italian-made
True to size
In a manner akin to Common Projects' Achilles leather sneaker, the Low 1 is characterised by gold embossed lettering set against stark white leather. As you'd expect from Oliver Cabell, this versatile wardrobe staple is made in Italy using a variety of premium materials: including 3 oz. calfskin leather uppers and laces in organic cotton. Yet another go-to option in the 'minimalist monochrome sneaker' club.
---
George Cleverley Jack Trainer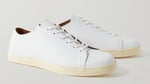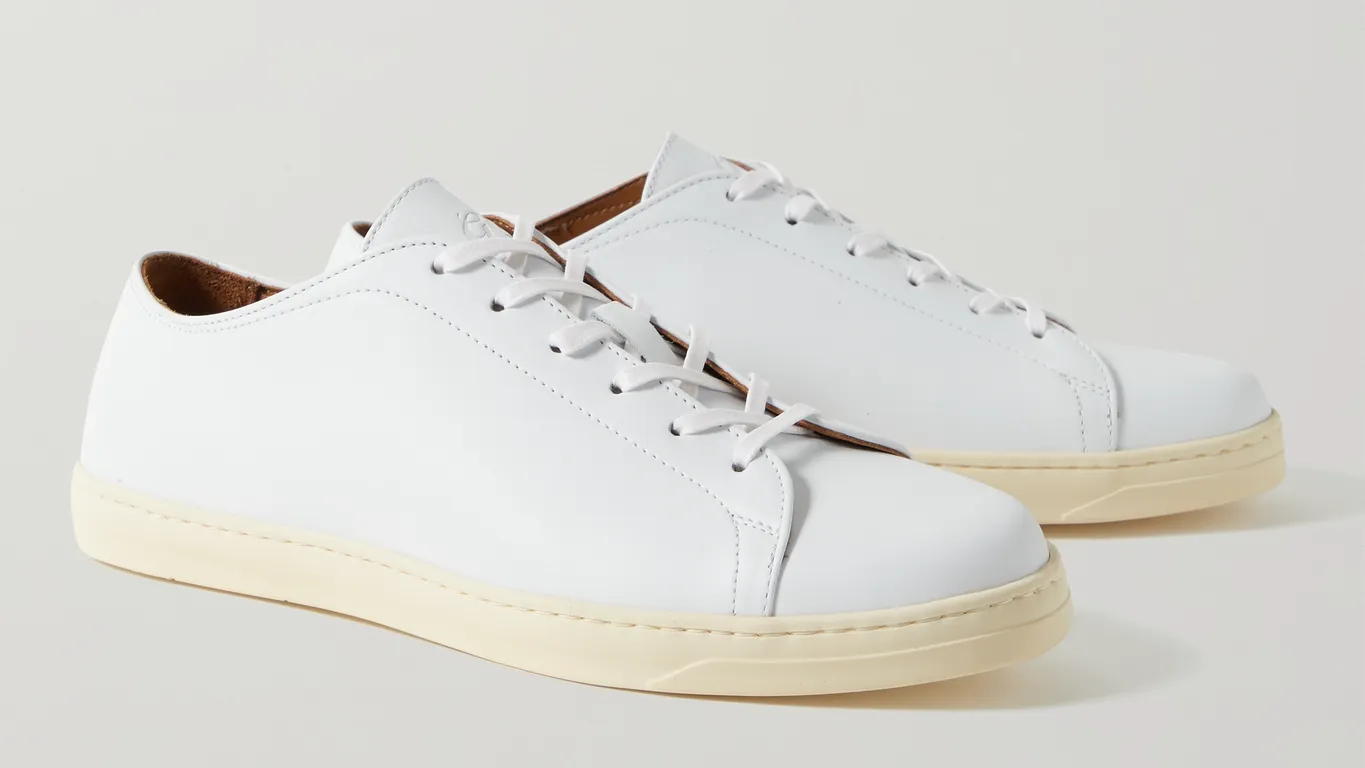 DETAILS
White calf uppers
Sustainable soles for hevea milk
Made in England
Fits large half a size
The furthest thing you'll find from a pair of humdrum plain white sneakers, George Cleverley's 'Jack' trainer has been crafted with the same spirit and technical know-how that is present in the bespoke dress shoe offering of the brand.
Beyond the exquisite simplicity of the uppers – which bear more in common with a pair of Cleverley's bench-grade leather shoes – the Jack's primary innovation is the use of a natural and sustainably produced sole, made from the sap of the virgin hevea tree. For men who spend their days slipping into classic British footwear from the likes of John Lobb and Edward Green, we imagine these shall fast become a wardrobe essential.
---
Zespa ZSP4 Alpa Nappa White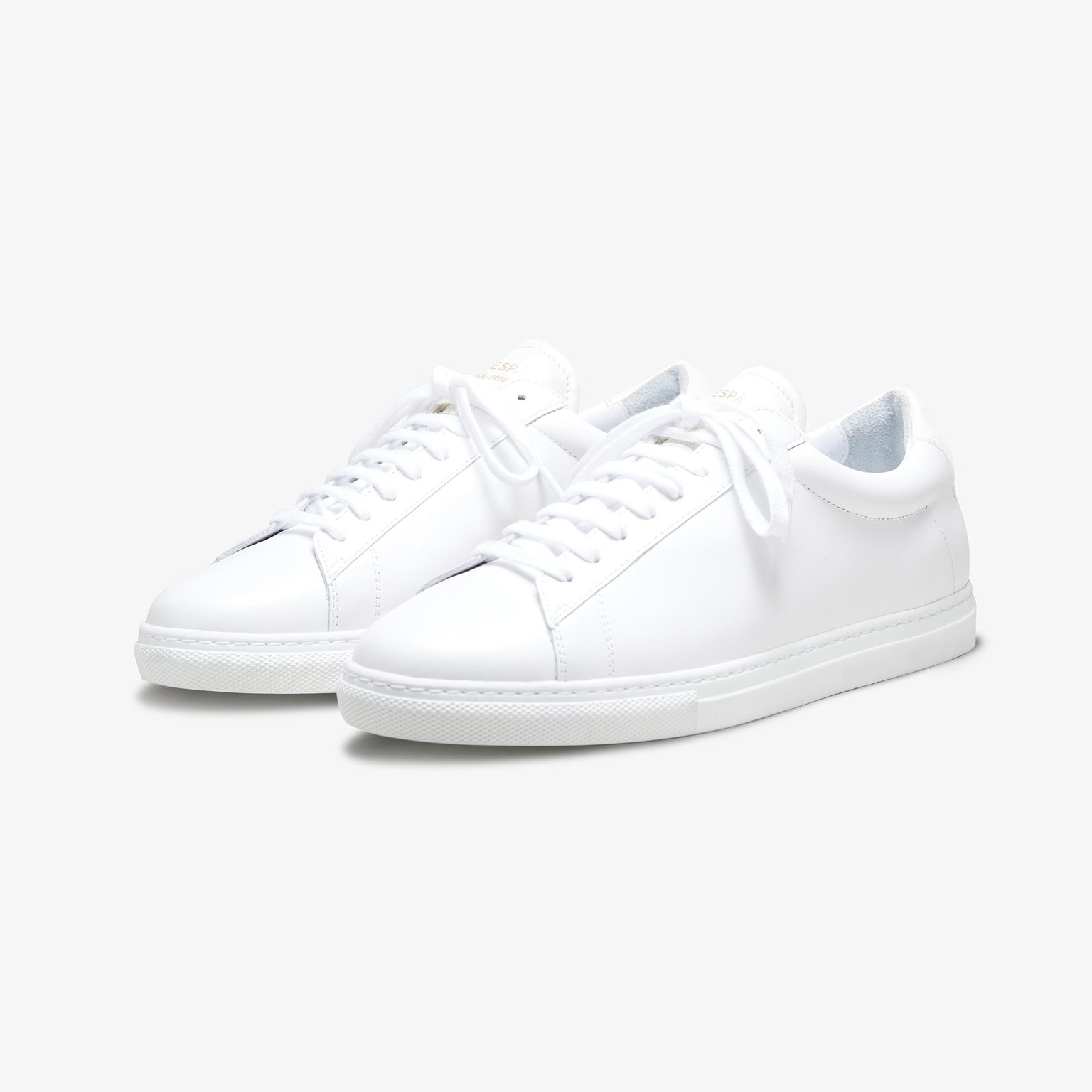 DETAILS
Full-grain calfskin
Outsole made with 50% recycled rubber
Made in Portugal
True to size
A fine expression of French craftsmanship, the Zespa ZSP4 Alpa Nappa White is as sleek a pair of white sneakers as you could ask for. The aesthetic, defined by smooth contrasts between the padded collar and tongue/heel branding, offers a subtle way for stylish blokes to play around with colour matching in their overall outfit.
For those who don't want to embrace the fully white colourway, Zespa also makes three variations punctuated with navy, midnight blue and 'French' (i.e. tricolour) highlights.
---
Suitsupply White Sneaker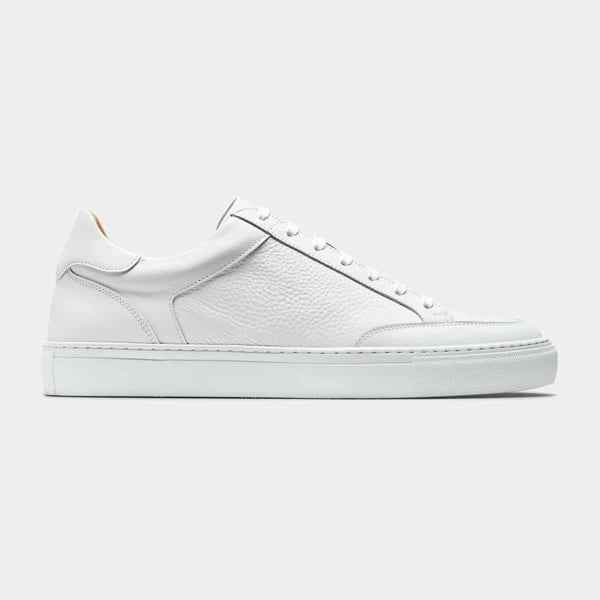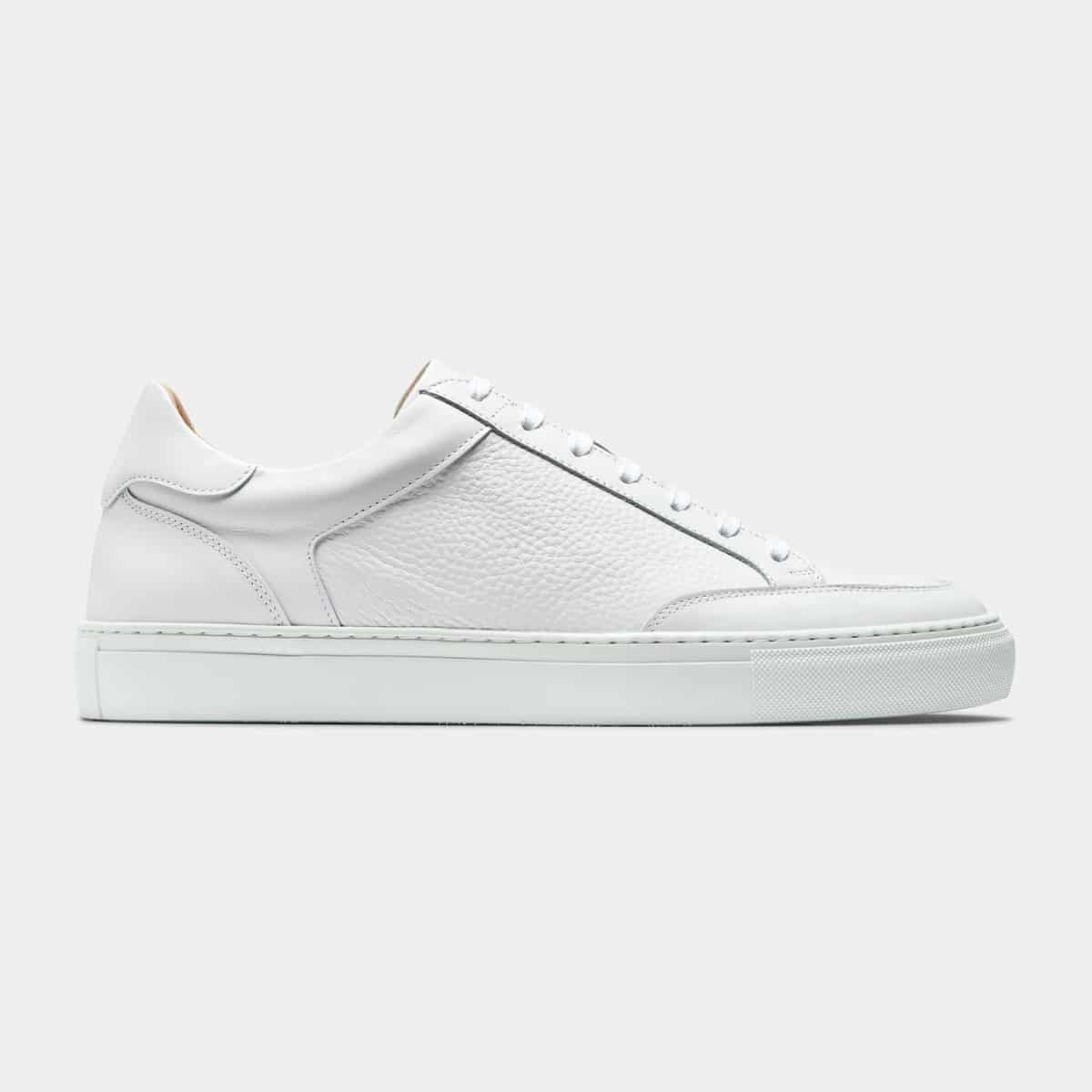 DETAILS
Grained calf leather
Cemented sole
Contrasted internal lining
True to size
Comfortable shoes are essential when you're wearing tailoring – something that Suitsupply has hit upon with its own in-house take on a pair of classic white sneakers. Featuring a brown leather lining and 'herringbone' soles, they've clearly been designed to pair with the brand's own assortment of casual trousers and soft tailoring.
---
Alexander Laude White Sugar Low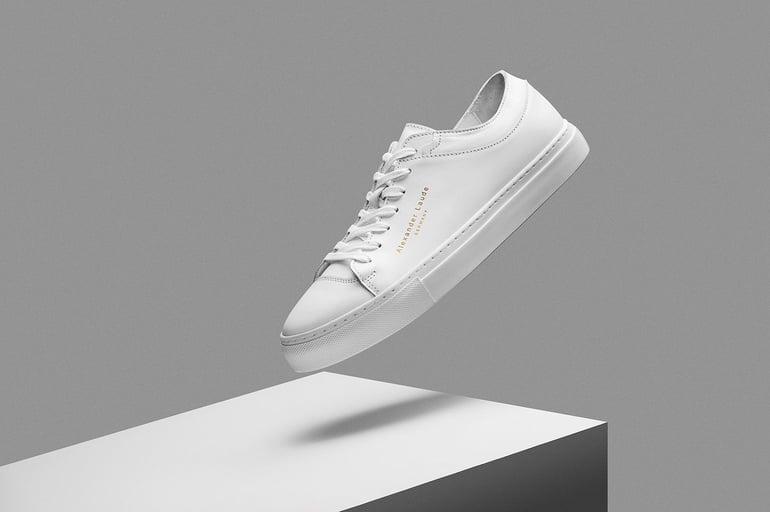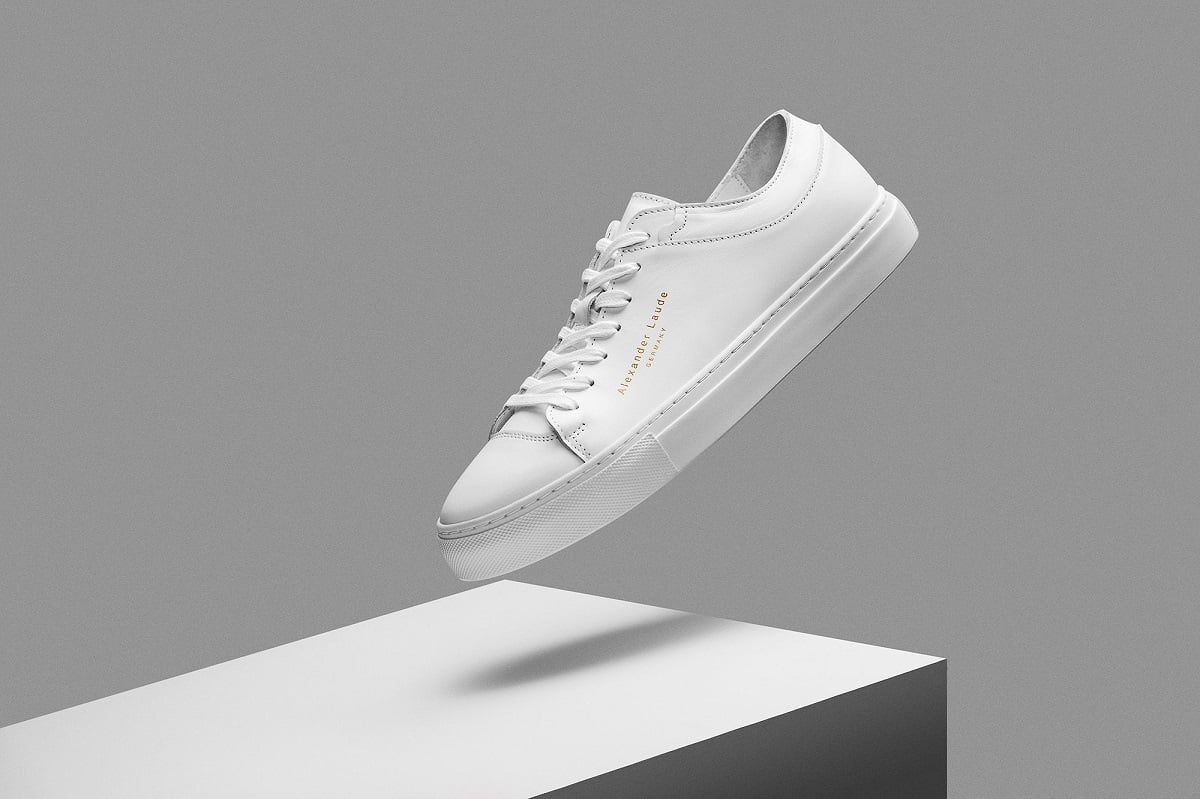 DETAILS
Calf leather
Embossed gold side-print
Made in Portugal
True to size
Hailing from German designer Alexander Laude, the White Sugar Low makes our list of the best white sneakers on the market thanks to small production numbers and a focus on premium materials. In contrast to a number of other white sneaker options, the 'White Sugar' features a more elaborate lacing system and double-stitch detailing all across the toe box.
---
Gucci White Ace Embroidered Leather Sneakers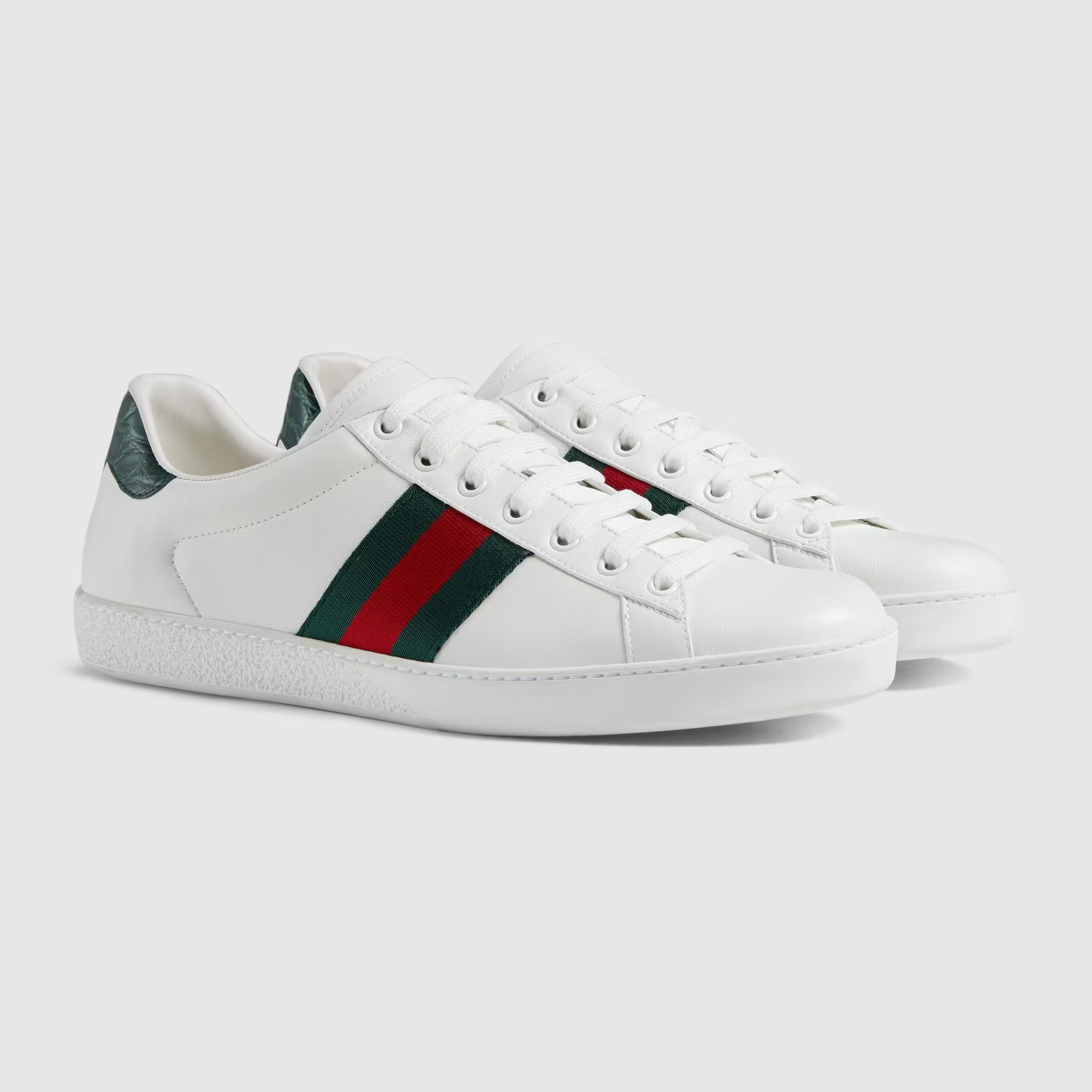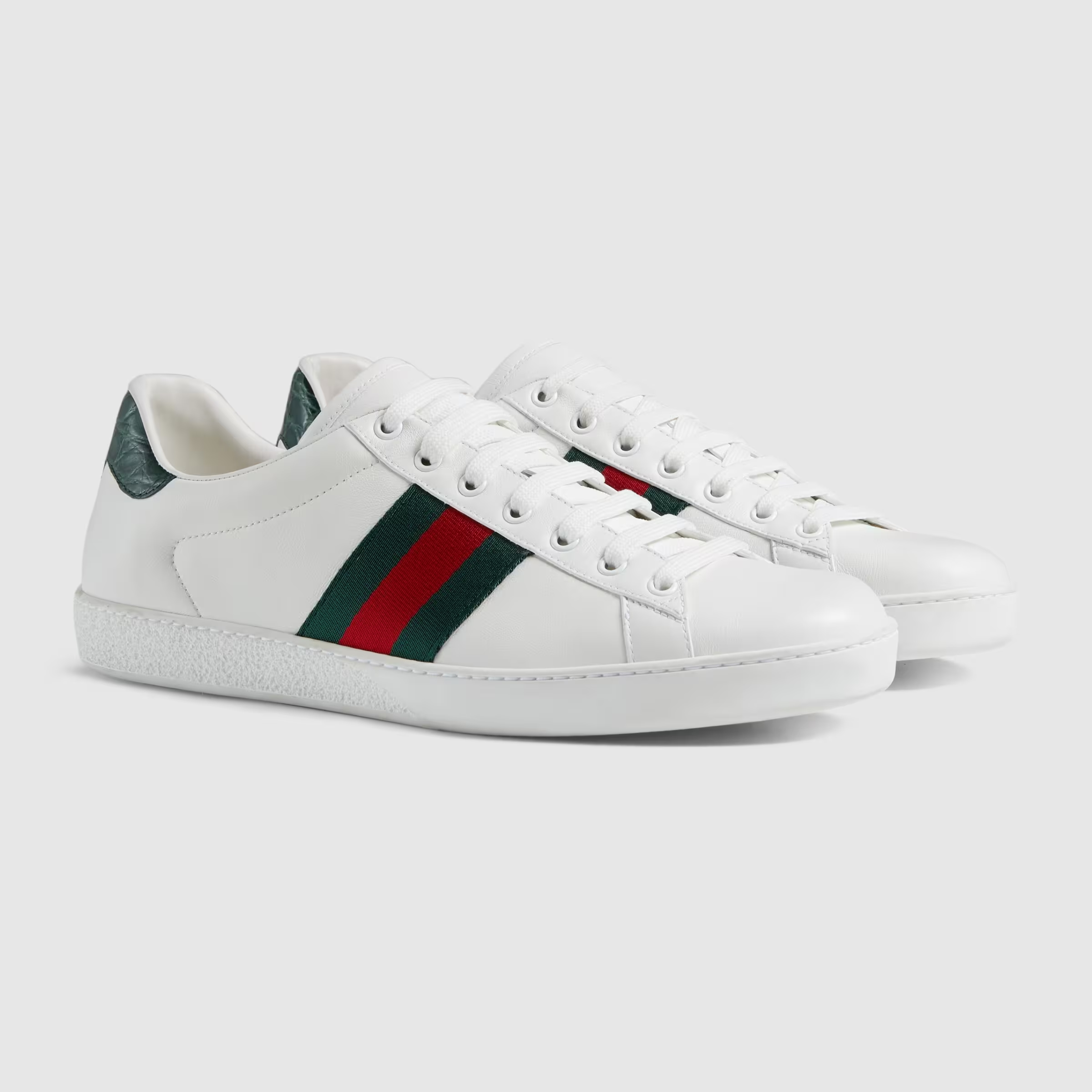 DETAILS
Iconic green-red webbing
Crocodile heel detailing
Italian-made
Size down half a size
A bit like what would happen if geriatric dad shoes got a dramatic makeover, Gucci's best-selling 'Ace' sneaker pays tribute to the various court sneakers and indoor military trainers of the 1970s.
Emblazoned with the House's signature green-red-green webbing, these are a belligerently luxe way to wear simple white sneakers; and come in a number of variations that also include embroidered animal motifs or a swap in primary colours.
---
VEJA Esplar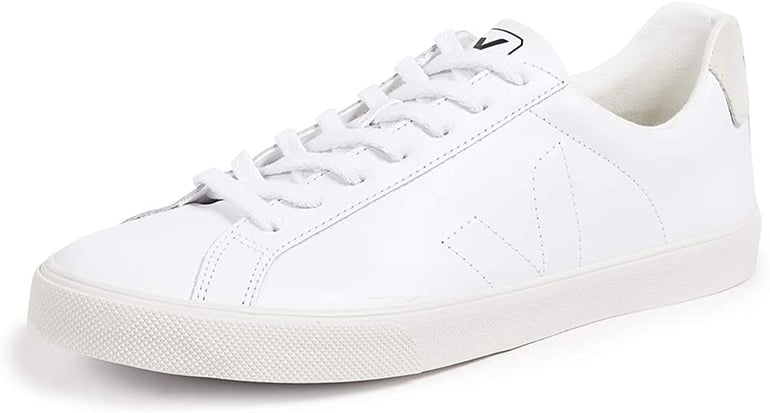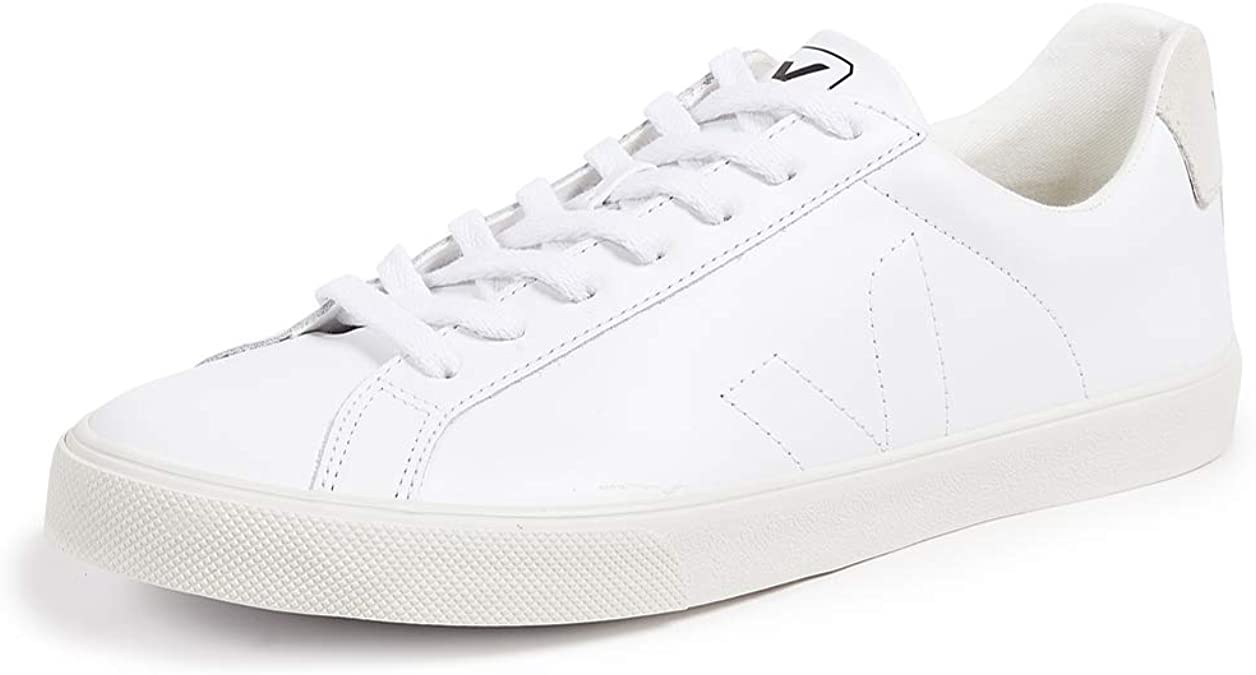 DETAILS
Smooth leather uppers
Perforated V detailing
'Wild' rubber outsole
Made in Brazil
A popular go-to when you're in the market for clean, no-nonsense white sneakers, it's hard to look past VEJA. The smooth leather uppers of the brand's Esplar style keep a largely uninterrupted style, save for a simple 'V' that's either perforated on each shoe's lateral side wall or shaded in with various monochrome hues.
---
Ascot x Charlie Lione Sneakers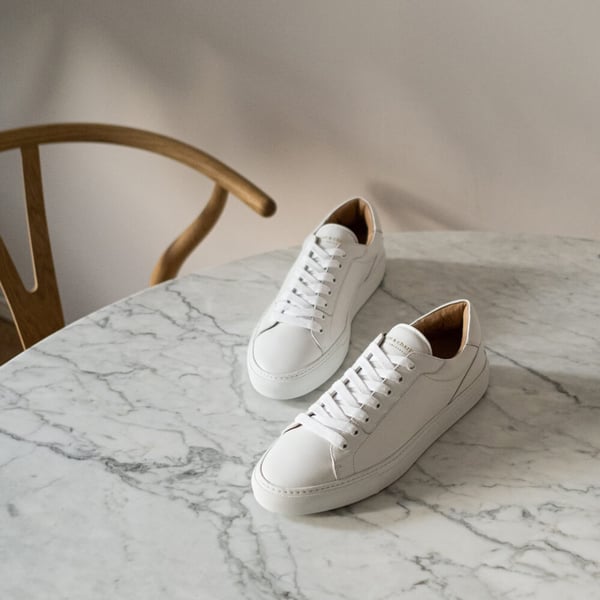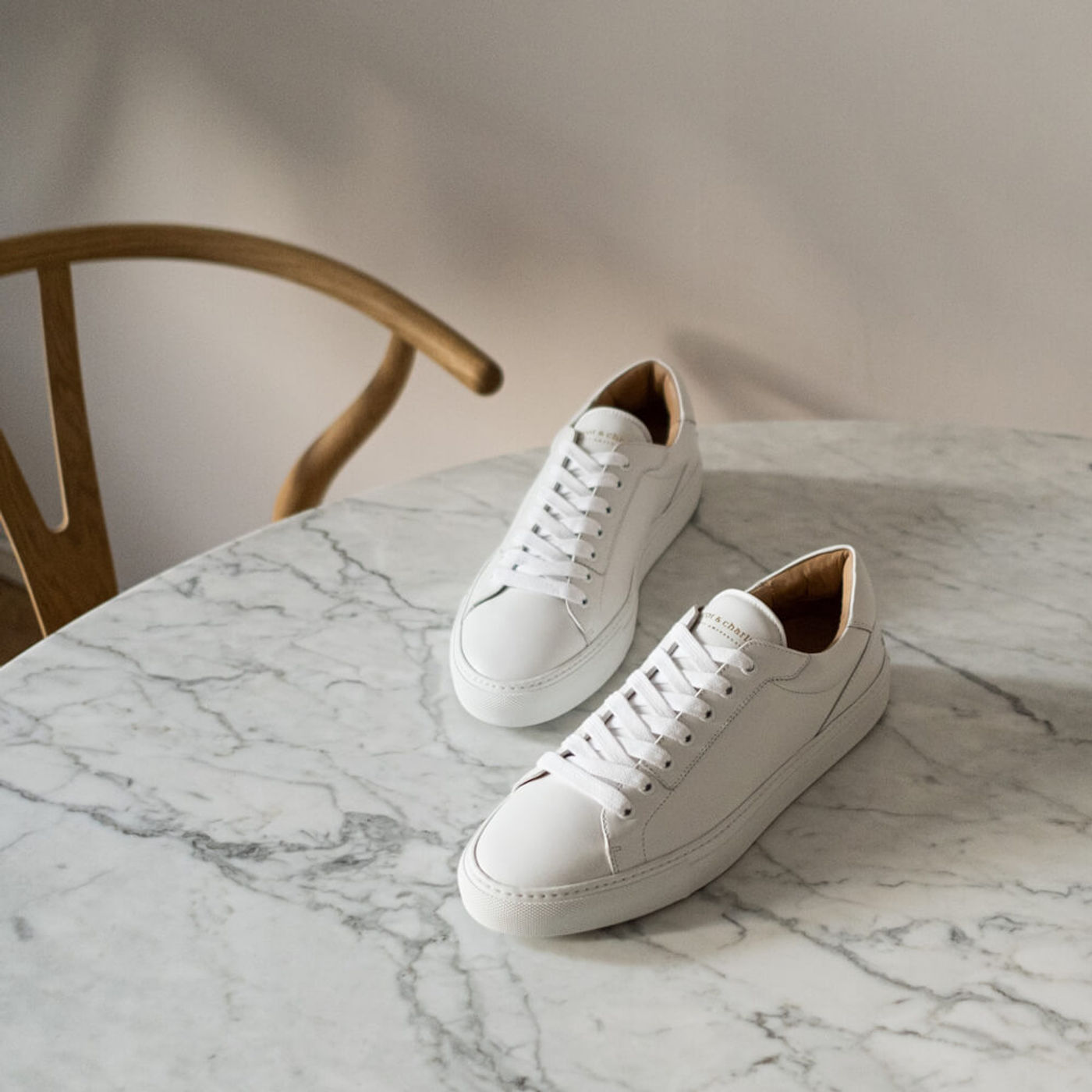 DETAILS
Nappa leather
Gold embossing on tongue
Margom outsole
True to size
Ascot x Charlie Paris presents their own sophisticated interpretation of the classic white sneaker with the Lione Sneakers, available in a number of different colourways for the hell for an attractive contrast.
Although it's the all-white that has our attention, smooth and seamless with clean edges and a sleek rounded heel cap. The everyday leather sneaker is immaculate in its construction, from the soft padded tongue and collar to the hand-stitched original Margom outsole and full calf-skin lining.
---
Crown Northampton 'Overstone' Derby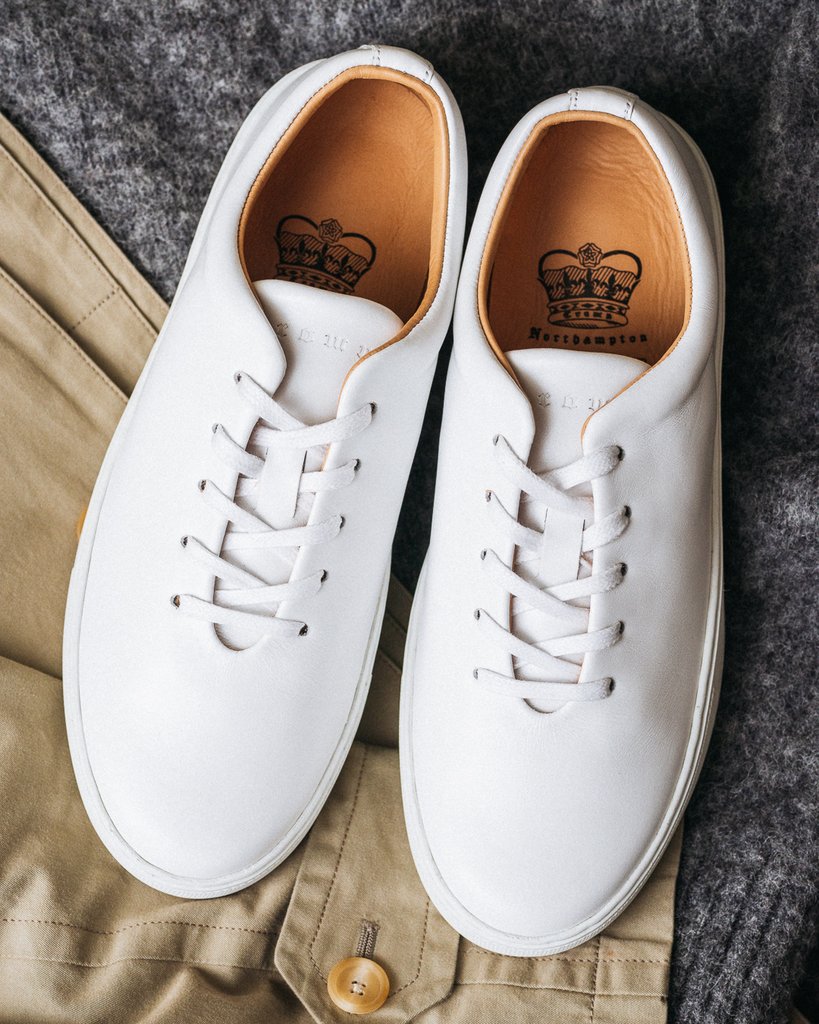 DETAILS
Full-grain calf leather
Derby-style construction
Made in Northampton, England
True to size
Crafted by the Woodford family in the British township of Northampton (which is well-known among the fashion blogger set as an epicentre of traditional shoe and boot making) Crown's Overstone derby is a sneaker with classic design details, double stitched around the heel and toe cap for extra durability.
The Overstone's sole unit is custom-made for a lightweight ride, while at the same time offering strength, durability, and comfort. Add to that a classic shape inspired by the last of a whole-cut derby, and you've got a pair of white sneakers that are built for the long haul.
---
CQP Racquet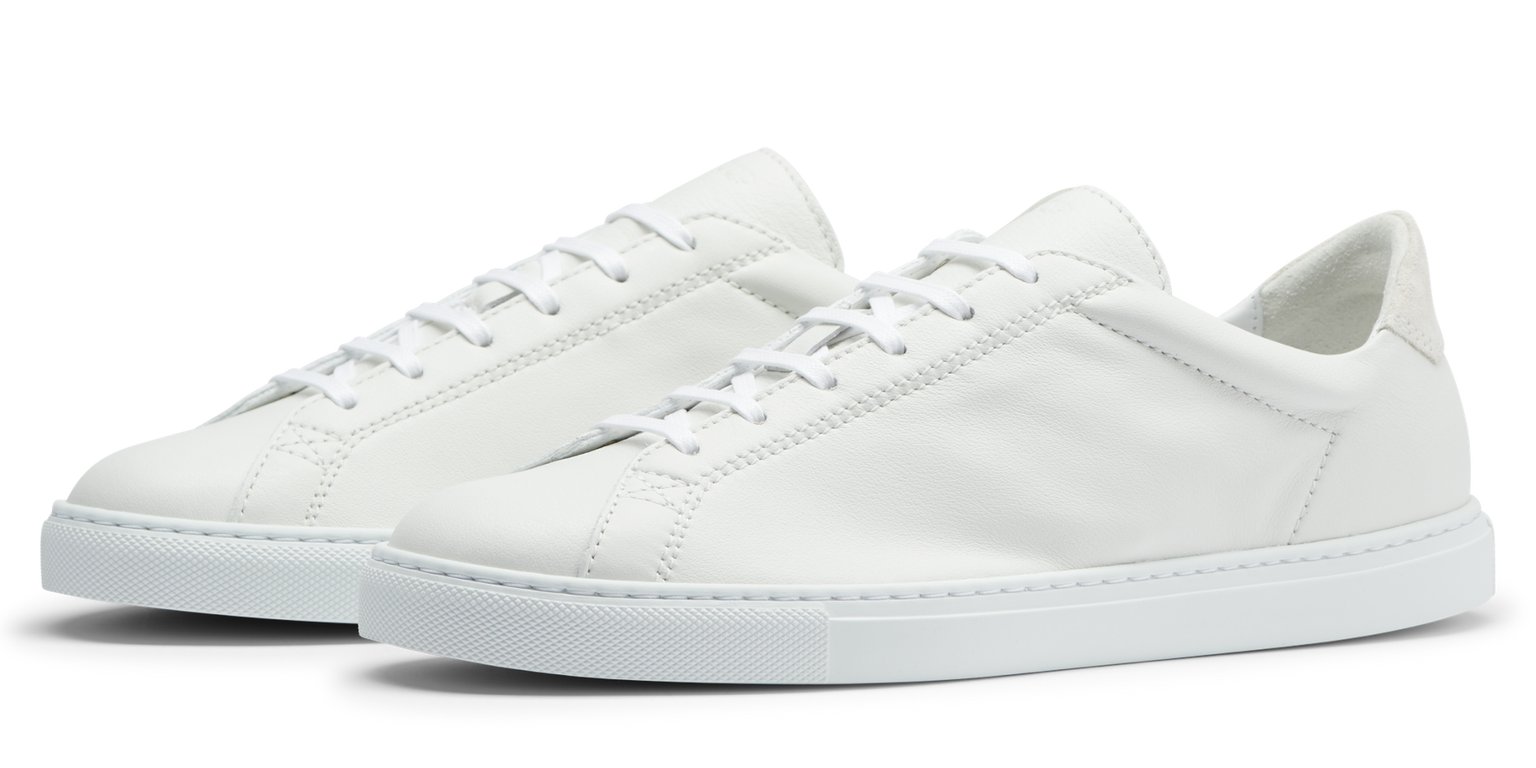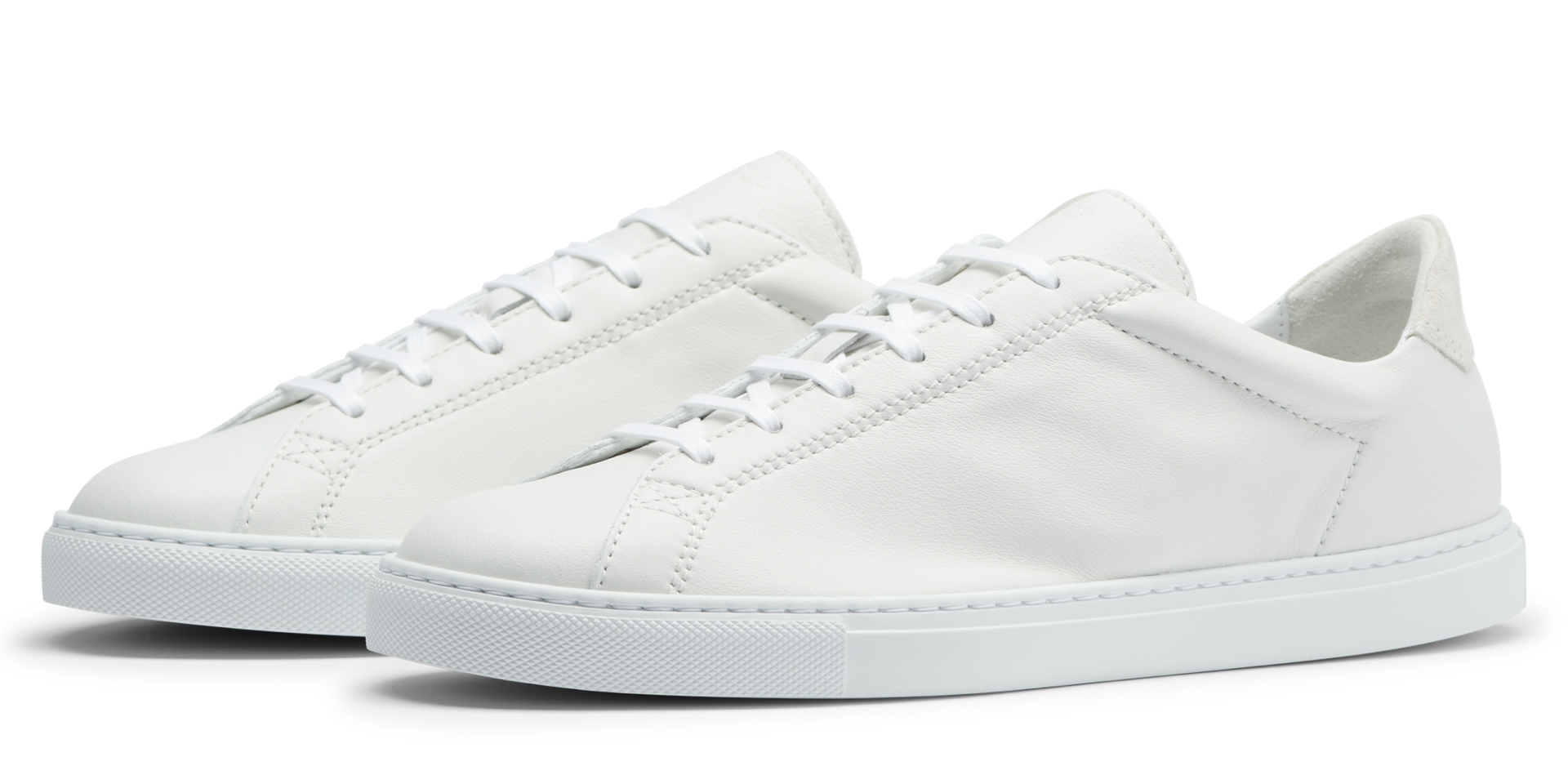 DETAILS
Calf leather uppers
Fully unlined construction
Leather shank board
Handmade in Portugal
The antithesis of the built-up and overengineered court shoe, CQP's Racquet embraces bulletproof, live-long comfort with a construction that is unstructured and completely unlined. Despite these velvety soft uppers – and a break-in period that bears more in common with slip-ons – the Racquet gives you plenty in the way of arch support, thanks to a layered cushioning system that makes use of a leather shank board.
Produced with a number of handmade techniques in CQP's long-running Portuguese factory, there's a dishevelled look to these premium white sneakers that make them a shoo-in (see what I did there?) for relaxed tailoring.
---
Everlane The ReLeather Court Sneaker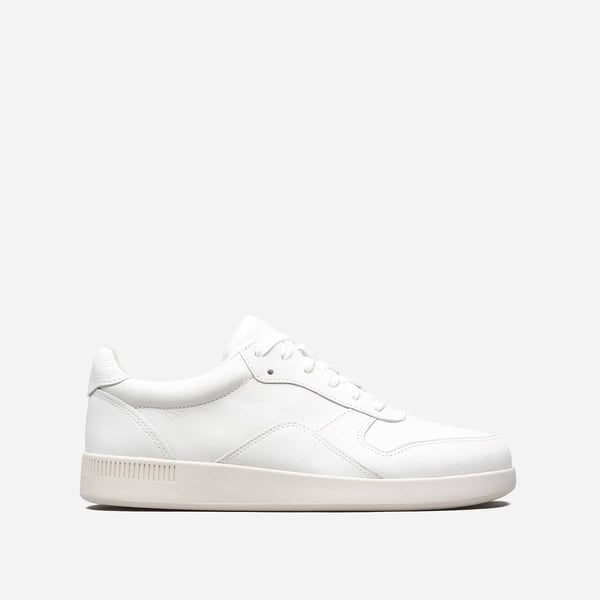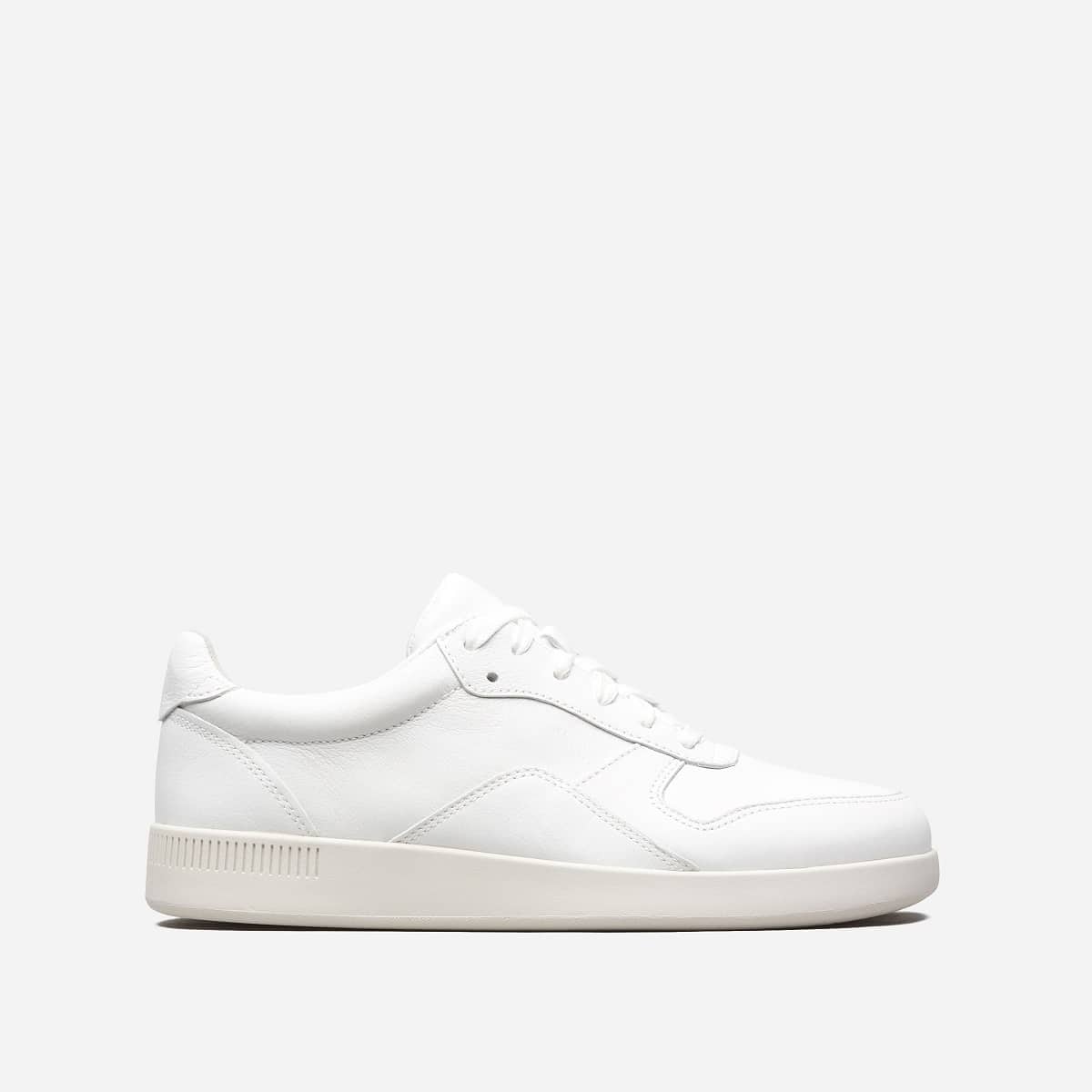 DETAILS
Recycled leather uppers
Vintage-inspired court shoe design
Made in Vietnam
Fits true to size
Known for its clean aesthetic and focus on recycled materials, Everlane is a brand that many North Americans have come to rely on for daily essentials. These signature 'Court' shoes are no exception, positioning them as one of the best white canvas sneakers out right now.
Made from 100 per cent recycled leather, requiring no further tanning or dyeing, the shoes place great emphasis on sustainable manufacturing. 94.2 per cent of the natural and recycled rubber used for the sole is free of virgin plastic, and the sneakers are 100 per cent offset in partnership with NativeEnergy.
---
Golden Goose Ball Star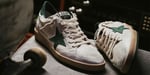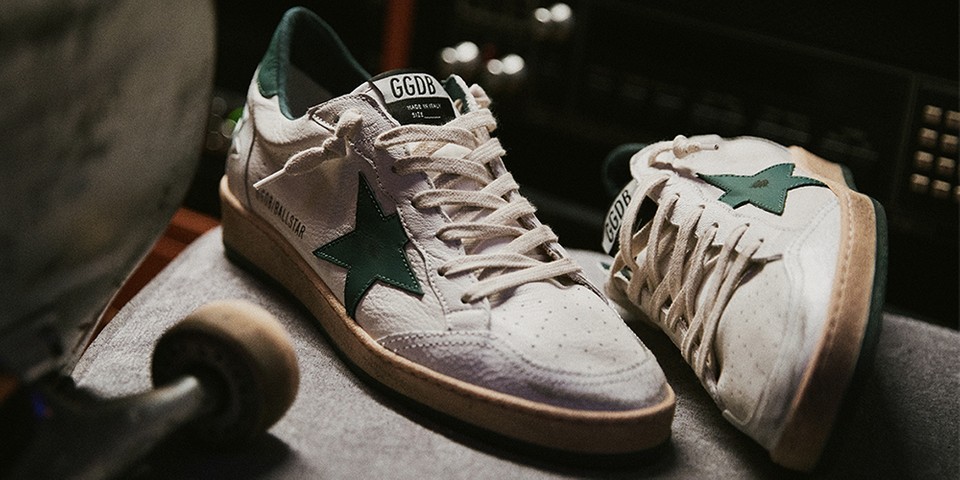 DETAILS
Nappa leather uppers
White 'crackle' leather inserts
Vintage finish
Italian-made
A winning combination of white nappa and coloured leather helps to elevate Golden Goose's Ball Star to a thoroughly sophisticated plane of street style. With a more distressed and edgy take on the ubiquitous Chuck Taylor aesthetic of the 1980s – including cracked details and sheepskin leather – the Ball Star has been the go-to shoe for fashionistos for years now – credentials it burnishes with a truly A-list price tag.
---
ON Running THE ROGER Advantage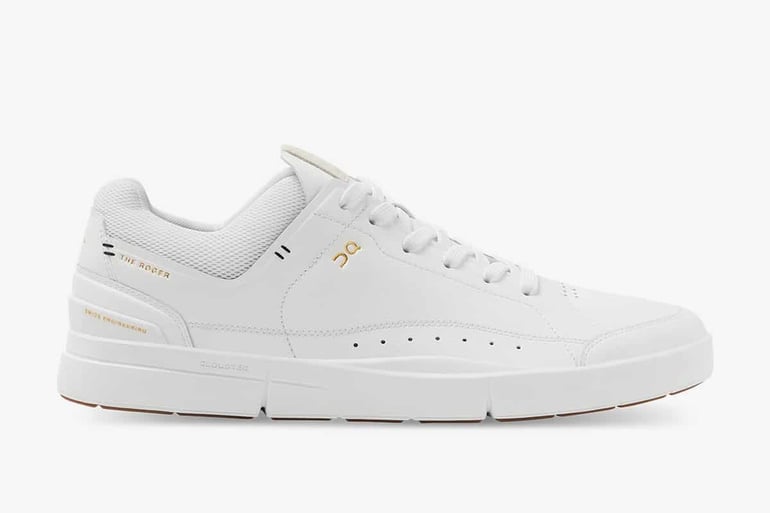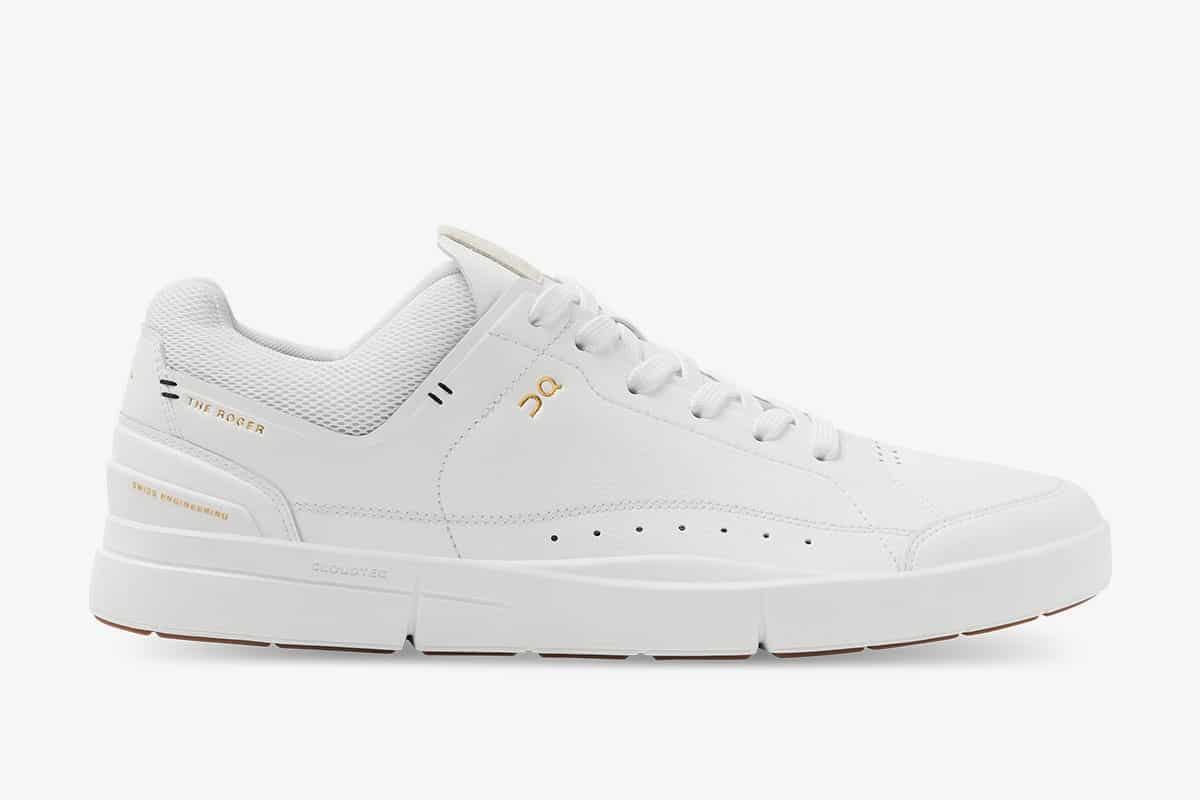 DETAILS
65% recycle leather uppers
CloudTec sole unit
True to size
Made at Zucca in Vietnam
Part of a collection from the athletic shoe brand ON Running with legendary tennis player Roger Federer (hence the name) the Advantage is a pair of crisp white sneakers that marks the third tennis-inspired release from The Swiss Maestro himself. Clean lines, minimal stitching, and matte vegan leather all contribute to the elegance of the design here, with the tennis inspiration reflected beautifully with tiny details available in various hues.
---
R.M. Williams Surry Sneaker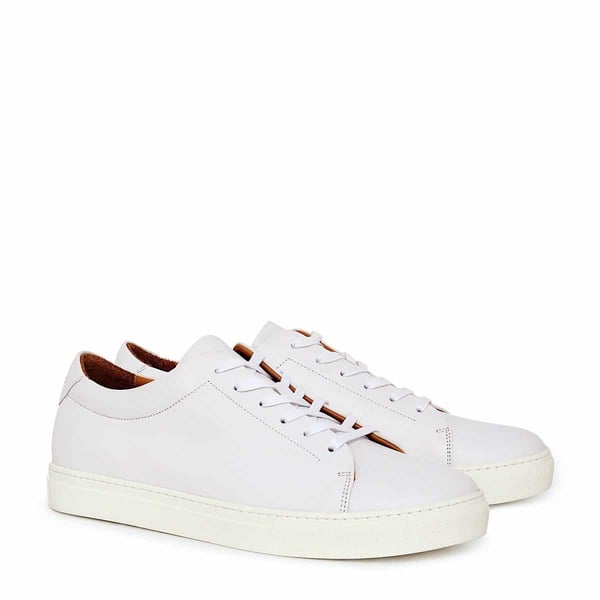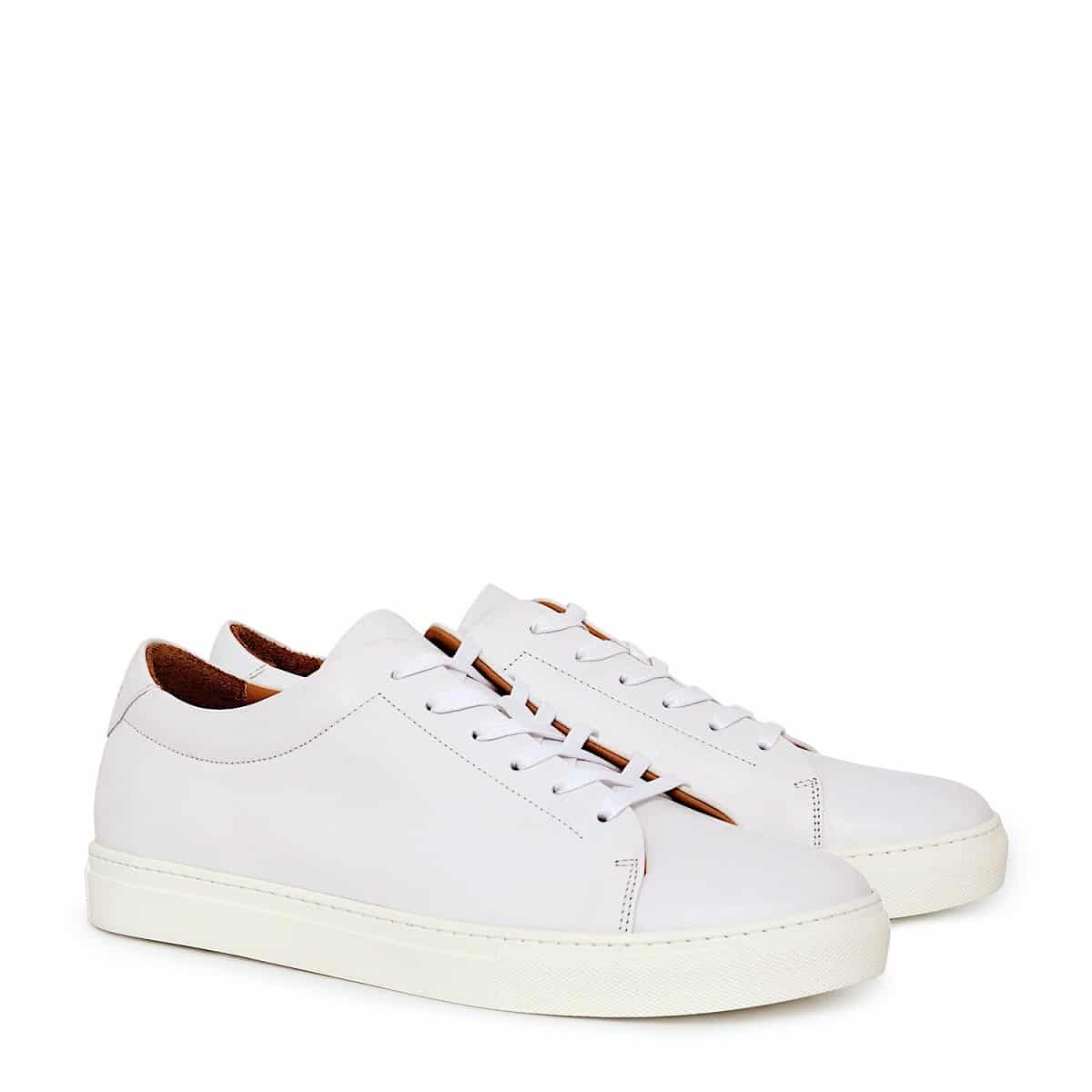 DETAILS
Yearling leather
Rubber sole with reinforced stitching
Leather-lined
True to size
It's a tough choice between the classic 'Surry' and 'Fitzroy' sneakers from Australia's iconic RM Williams. If your priority is a plain white sneaker that is immaculately styled, then the Surry silhouette is the way to go – very few can compare in terms of a crisp pair of white kicks perfect for everyday wear.
---
KOIO Capri Triple White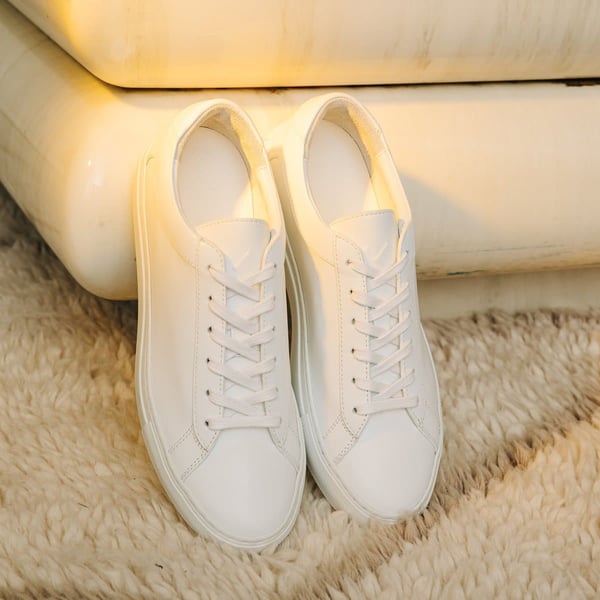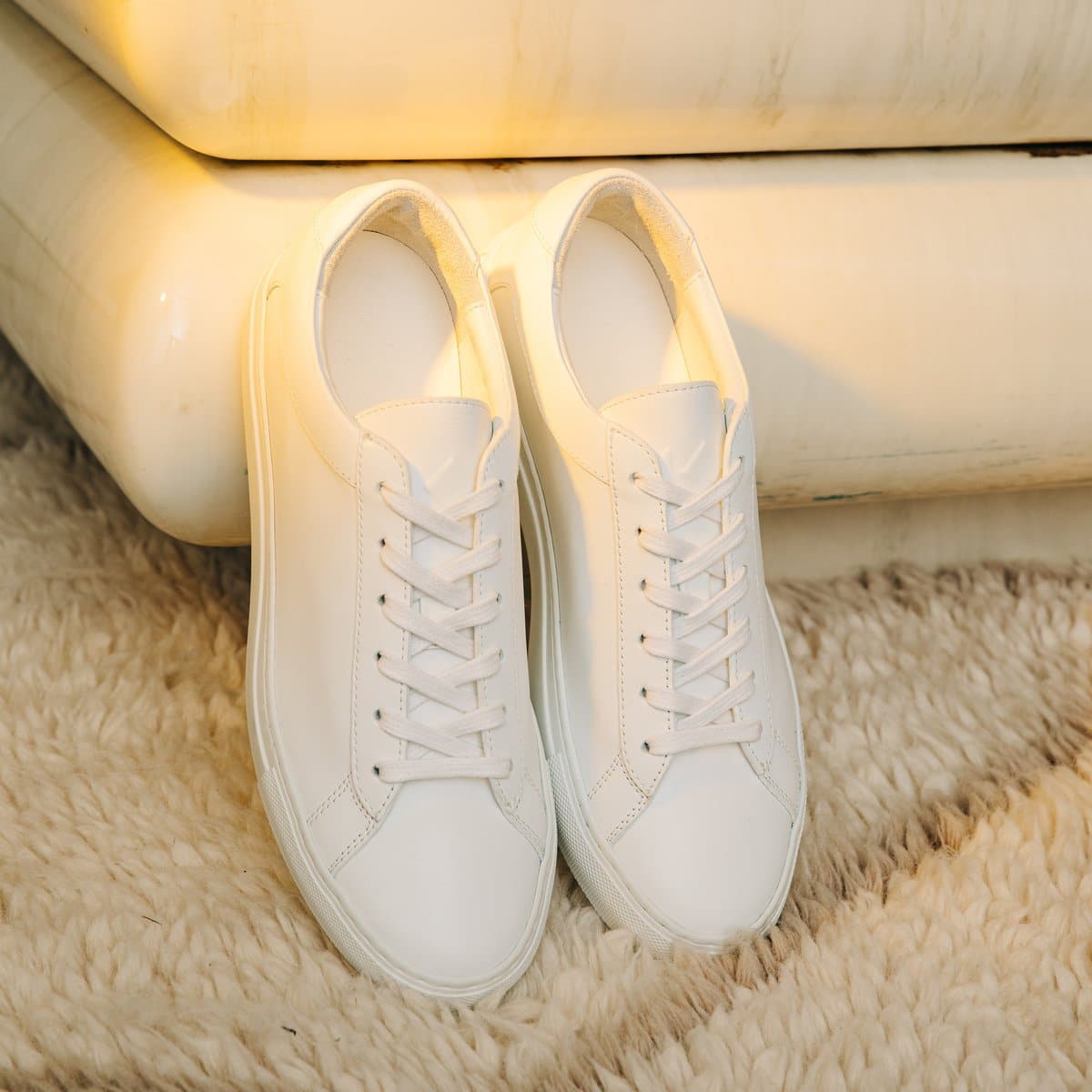 DETAILS
LWG-certified leather uppers
Fitted with removable OrthoLite insole
Italian-made
Runs half a size large
These white low-top sneakers from KOIO represent the brand's quest to capture the perfect chromatic shade of white. Handcrafted in Italy with full-grain leather, the Capri Triple White is a shoe that screams versatility at every angle – from the durable rubber sole to the hand-painted sole edges.
---
Casca Avro Knit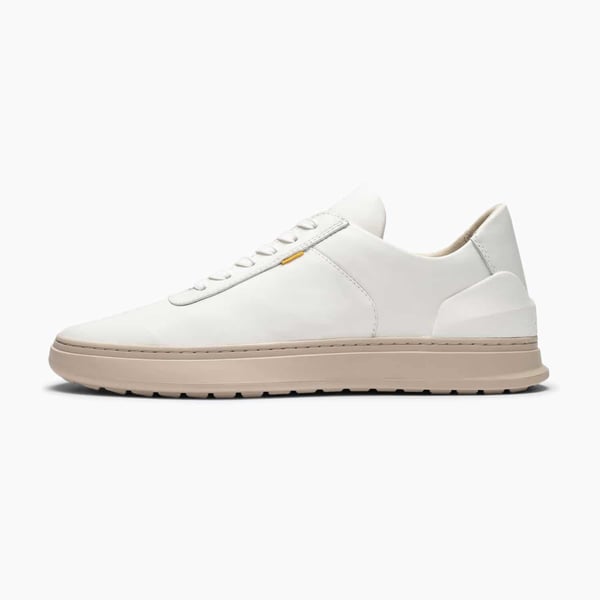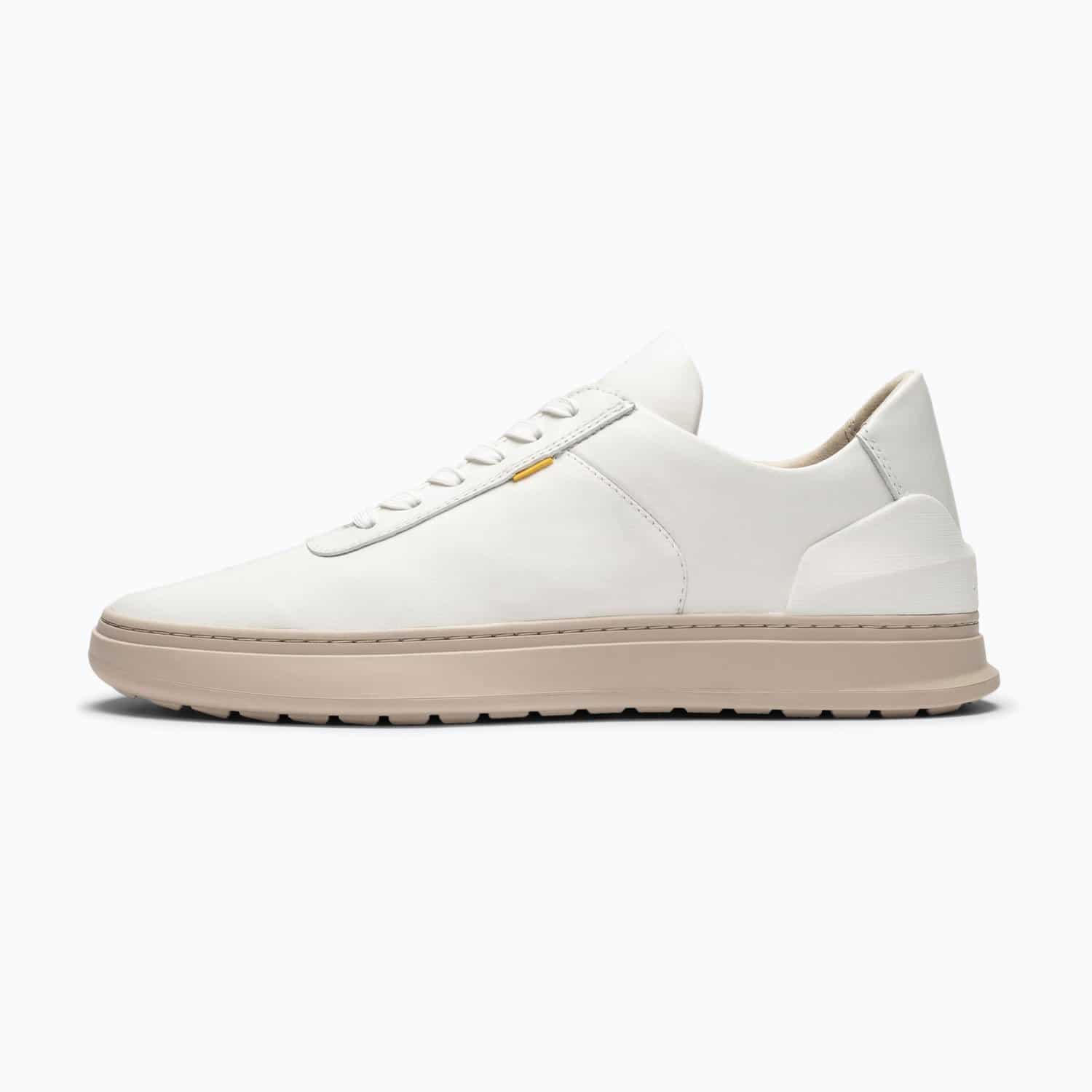 DETAILS
Recycled knit uppers
Antibacterial lining
Comes with complimentary tote
True to size
Canadian brand Casca is becoming widely known for supreme comfort, with footwear that makes use of advanced technologies like 3D printing in order to improve podiatric support and overall design. These 'Avro' sneakers are a visually striking embodiment of that approach: with full-grain leather uppers; a sole unit rated for mountaineering and an internal shank that boosts mid-movement flexibility.
Also available in a knitted silhouette, they're a cerebral choice if you're in the market for white sneakers with a point of difference.
---
Reebok Club C 85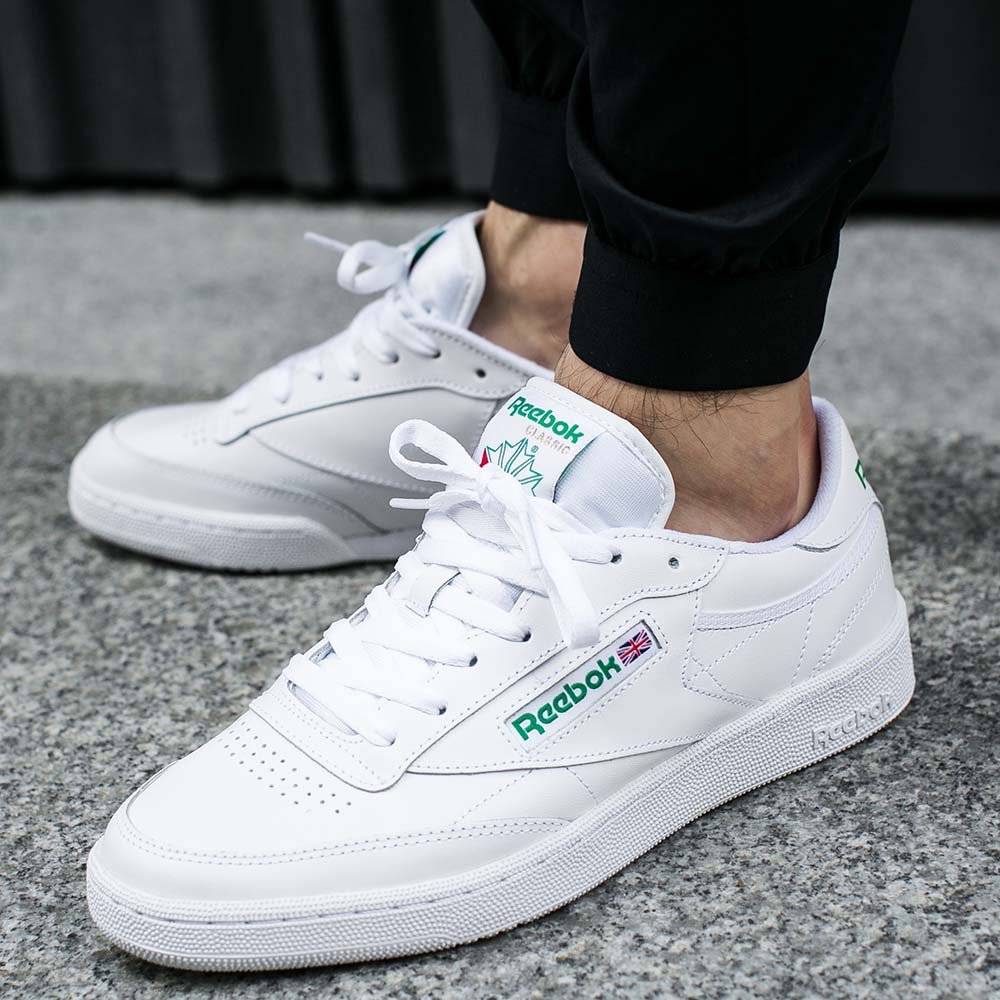 DETAILS
Leather uppers
Comfort sockliner
Archival Reebok signature
True to size
There's just something perfectly charming about the Reebok Club C85. Pulled deep from within the brand's archive of vintage designs, these stylish white trainers echo the classic court shoe of the 1980s.
A couple of throwback details aside, each features a design that is built to last and is comfortingly simple. A moulded sockliner and soft EVA foam cushioning give you the experience of wearing a modern sneaker, full of overlapping and perforated panels, which is perfect for those who enjoy dressing on the more casual end of the spectrum.
---
The Best White Sneakers You Can Buy – Frequently Asked Questions
How do you keep white leather sneakers clean?

Contrary to popular belief, keeping white sneakers with leather uppers clean is a fairly straightforward process. We recommend spot cleaning with a damp cloth and light soapy water. For more stubborn concerns, consider using a deep cleansing solution from specialist brands like Jason Marrk.

How do you keep white canvas sneakers clean?

If your sneakers are made using canvas uppers rather than leather, it's totally viable to simply put them into a washing machine with regular clothing detergent. Chlorine bleach can be added for whitening/disinfection purposes, but always be sure to wash on a cold and gentle cycle.

What should I wear with white sneakers?

Anything and everything – white sneakers can easily be styled with denim, sartorial clothing or even some of the more aggressive fashion pieces in your wardrobe. For our money, minimalist apparel in neutrals work best: in shades of taupe, khaki, beige and monochrome.