There are smart watches, and then there's the TAG Heuer Connected Modular 45 smart watch.
We all know the kind of bloke who wears a smart watch – and I'm sure none of you want to be that bloke. TAG Heuer have delivered us a saving grace, a way to stay connected without having to endure the dorky tech on your wrist to match.
---
---
The TAG Heuer Connected Modular 45 is first step towards the inevitable blend of Swiss watchmaking and Silicon Valley technology becoming common place in the watch world. Completely customisable, the Connected Modular 45 allows wearers to modify faces, straps, lugs and even the time piece itself. We spent a day with the latest in Android-powered smart watches to see how it held up against the fast-paced lifestyle for a day on the wrist of a potential customer.
RELATED: The Best Smartwatches To Buy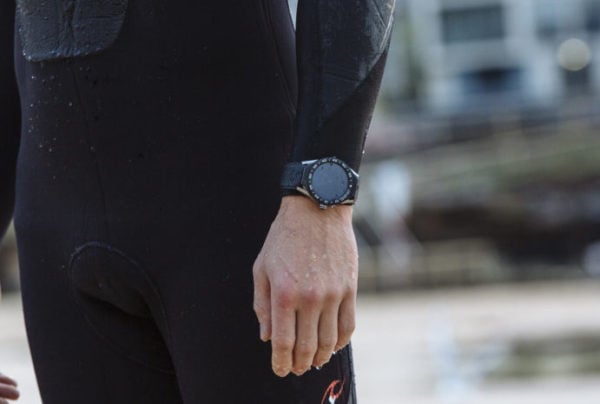 Any daily hustle should start with some exercise. With a rubber band and GMT watch face, the Connected Modular 45 will hold up to anything you throw at it. Be it a run, a session at the gym or a sunrise surf, you need a watch which can be your personal trainer as well as tell you the time.
We chose the latter, jumping in the surf for a morning paddle after a quick check of the weather on our watch, including wind and swell direction. The Connected Modular 45 is water resistant to 50 metres, can accommodate various fitness applications from the Google Play Store, and boasts a functioning touch screen regardless of interference from water or gloves. When we turned adventure mode on – the watch did too.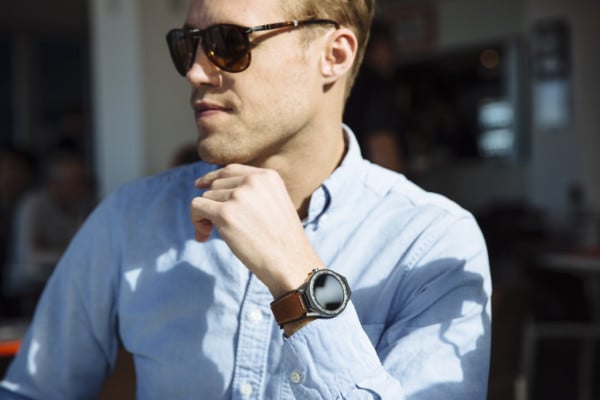 Back on dry land, we swapped out the rubber band for a brown leather option. You can stick with what you know or try out different bands to suit your outfit, the occasion – hell even the weather – whatever you feel like on the day. For our smart casual attire as we kicked off the day's productivity at the local café, we went for a brown leather strap with a black casing and blue face. Not after the brown band/blue face combination? You can change the watch face itself – perhaps you'd like to completely redesign your own, which is possible also.
Sitting in the café typing up a proposal, for instance, the watch would vibrate and display our incoming emails from the boss without having to take our phone out of our pocket or change tabs on the computer. If it's not important, we could simply swipe it away and deal with it later. As the Connected Modular 45 was synced with our smart phone, our schedule and reminders were also found there. Simply tap and go with the NFC functionality as your grab your takeaway flat white and check your appointments for the day while walking to your car.
This surprisingly simple feature of the watch was one of the most significant for us – the ability to just glance at incoming notifications without having to rudely pull out your phone when in the company of others. Texts, calls, emails, Whatsapp messages, social media notifications – basically everything that would appear on your phone's lock screen – is displayed on your wrist. During an important client lunch or a tense board meeting, we could see who was contacting us and determine its urgency without disrupting the flow of conversation if it wasn't necessary. A simple feature that was absolutely key – allowing us to stay connected with what was going on both at the time and in the background.
---
---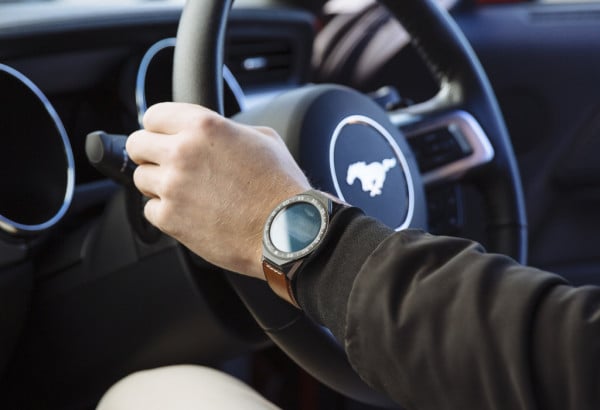 When we say the Connected Modular 45 is customisable, we really mean it – even to the extent of being able to accommodate a fully functional Calibre 5 mechanical piece. Designed especially to be compatible with the lugs and straps of the smartwatch, TAG have understood the need of the modern man to occasionally call on the classic – a genuine Swiss-made timepiece.
Be it a dinner date with your partner or a cocktail event for work, Tag realised the importance of giving customers an option to submit their tech for a real watch every now and again, despite their best efforts to fly the Connected Modular 45 under the radar. The most appropriate wearer of this watch would know the appropriate situation for a smart watch and when to let the time-honoured tradition speak for itself with a mechanical variant.
What better substitution for a TAG smart watch than a mechanical TAG Heuer piece, and vice versa. For more information, visit the TAG Heuer website.