Now that Spring Carnival is in full swing we have been taking the time to look at some of the new watch collections that have been introduced of late.
For a steel watch, we really like the new Piaget Polo S. The Polo was quite popular in the 80's and is now experiencing something of a renaissance with the Polo S. The Swiss manufacturer previewed the new range in Sydney earlier this month.
The new collection is composed of the automatic Piaget Polo S, equipped with the 1110P movement, and the Piaget Polo S Chronograph, equipped with the 1160P movement. Both of these movements have been developed specially for the Piaget Polo S. The automatic Piaget Polo S is available with a blue, silvered or slate-gray dial, while the Piaget Polo S Chronograph is available with a silvered or blue dial.
---
---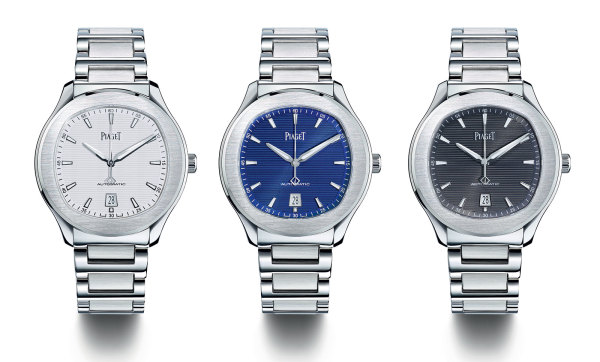 The beauty of wearing a steel watch such as the Piaget Polo S, is that they are made to be be worn. Piaget pride themselves on their high endurance and durability, meaning there is no need to be too cautious about when you choose to wear one of these pieces: You can go to the races knowing that if you take a drunken fall, your watch is most likely going to be ok – plus we really like the look the of the new design.
The Polo S Automatic retails for $15,600 AUD and the Polo S Chronograph retails for $20,700 AUD which is remarkably cheap for a watch of this class. Interestingly, Piaget only manufacture 23,000 timepieces a year, which in terms of production isn't a whole lot. So if you are able to get your hands on one, you will also be a part of a pretty exclusive group.
Price and exclusivity aside, overall the best aspect of the Piaget Polo S would have to be its versatility, and International brand ambassdor Ryan Reynold's really hits it on the head with this quote: "One of the things I have in common with this watch is that I like the idea of relaxed luxury, the idea that what you wear with a tuxedo, you can also wear with casual clothes. I really like this timepiece because it is incredibly versatile. I would wear it anywhere. I'd wear it to an awards show as easily as I'd wear it to my kids' first graduation".
You can see Reynolds and the Polo S in all their beauty via the promo video below.