I've been following Baltic Watches for some time now. Specifically, after they announced the Aquascaphe Diver Collection. When a friend asked for recommendations on a reasonably priced mechanical daily beater I was quick to recommend the Baltic Aquascaphe Diver.
When I look at different watches around the $1,000 range I'm bored by the selection. Every list on the internet has the same lineup of watch brands; Seiko, Alpina, Hamilton, Citizen, Tissot, Victorinox and some others. Baltic watches is the new player in this price range and I believe this relatively new brand is one of the best.
Look and feel
The Baltic Aquascaphe, in my opinion, is far above most of the watches in its segment when it comes to looks. They originally released the watch in three different colourways: Blue Gilt, Black Silver and Black Cream. To be honest, I would wear any of them if it were on the rubber strap. However, I prefer the stainless steel band and for some reason, the Blue Gilt and its navy bezel look best with this steel set up. They've now released some steel bezel models, but I prefer the originals.
---
---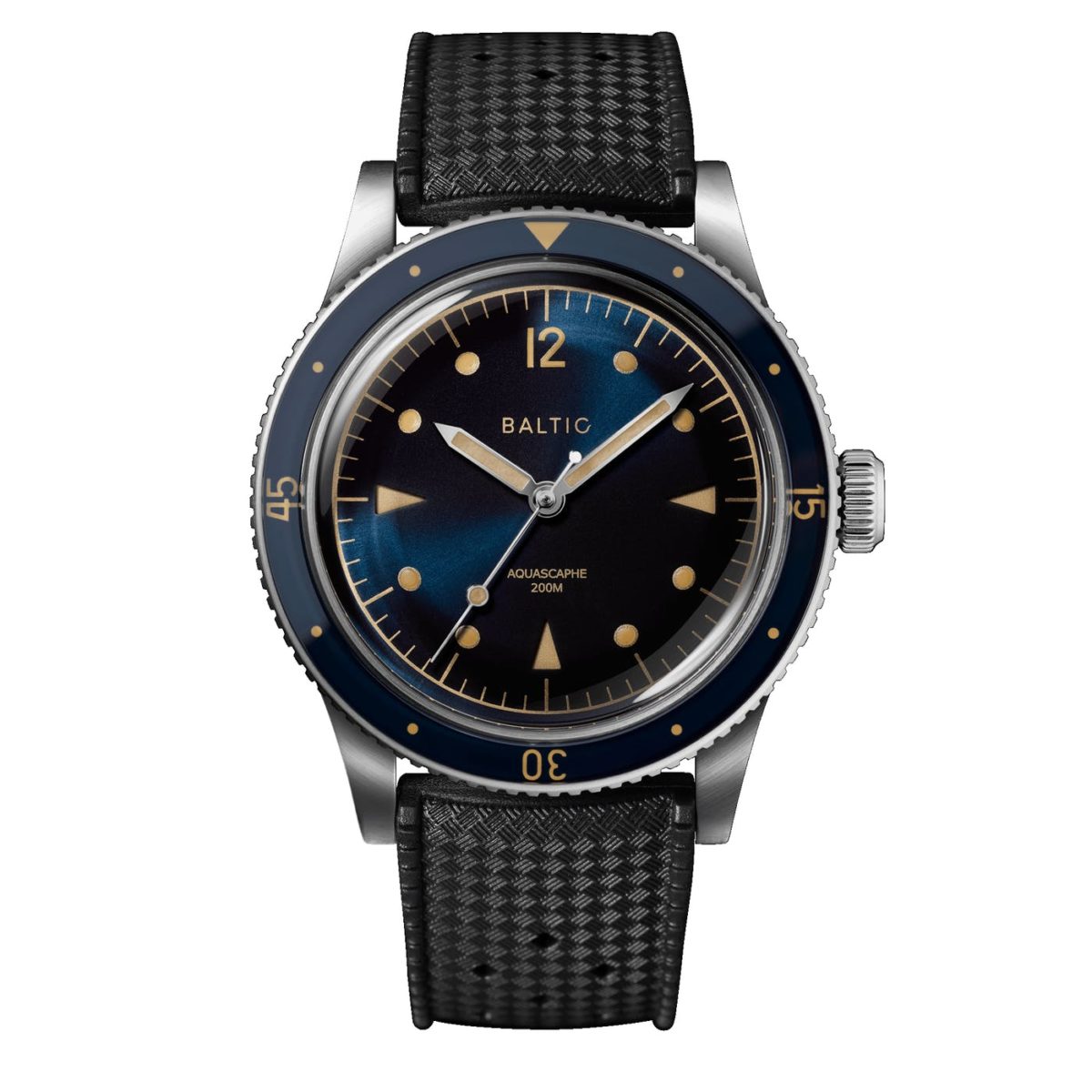 I don't have anything bad to say about the face of the watch. The dial, bezel, markers and hands are all so simple and they work together bloody well. Whoever designed this has taken the best elements from vintage dive watches and brought them together. It's clear they wanted Blancpain vibes from the bezel but with less going on. This is what makes the watch for me. There aren't too many numbers or lines on the bezel, either.
Picking up the Baltic Aquascaphe and it feels light, like something you can wear all day, every day. On the wrist, it's just as good. Note that I have only worn this watch for a short period of time so I can't comment too much. From speaking to somebody who wears it daily, it's comfortable and feels good.
Size
39mm is a great size, especially for a dive watch. I have an SRP775 and its 45mm size feels too big to wear around on a daily basis. This is nice comparatively and there is nothing ever wrong with a watch under 40mm. In terms of thickness, it's only 12mm. Get much thicker than that and you start to get into the territory of it being annoying under your shirt cuff.
Watch Strap
Like I said before, there is a rubber strap and a stainless steel strap. When buying the watch, the cheapest option comes with the rubber, a little extra for the stainless steel, or you can pay more for both. Nothing out of the ordinary there. Rubber is on-trend at the moment thanks to the Aquanaut, but in this case, the stainless steel just looks better.
The beads of rice style stainless steel band are cool. It doesn't always look good on other watches, but here, it definitely does. If you're thinking about buying this watch, just get the stainless steel band. It's worth it – not to mention it simply makes the watch a better all-around package.
---
---
Additionally, it has tool-less spring bars and release tabs meaning you can change over the strap with your fingers. I have spent too long trying to change watch straps at home. Even using makeshift tools from around the house because I'm too lazy to buy a set of tools off eBay or take it to a watch repair shop. I have scratched a few watches trying to get spring bars out by myself. For me, this is a cool feature. However, I do wonder if this would cause the watch straps to fall off if something bumps it too hard.
Movement
Yes, this is an automatic watch. While the Miyota 9039 movement is nothing special, it's still one of the premium Miyota movements. A date option would be awesome to see but as a microbrand, I assume they are saving some cash here. I was going to start listing all the specs of the movement, but at this price point, you probably don't care for the granular details. As long as you're not still buying quartz watches that's good enough (one exception being the pepsi Q Timex). I can see Baltic Watches looking to upgrade movements in the future.
Baltic Aquascaphe Price
How much is the Aquascaphe? I listed this as a watch under $1,000 because on the rubber strap, it comes in at AU$938. On the stainless steel, it actually surpasses $1,000 clocking in at AU$1,066. Finally, for both straps, it will set you back a tidy AU$1,114. These are prices without VAT as well. Finally, if you want to go to the handsome bronze case, you're looking at AU$1,046.18 on the rubber.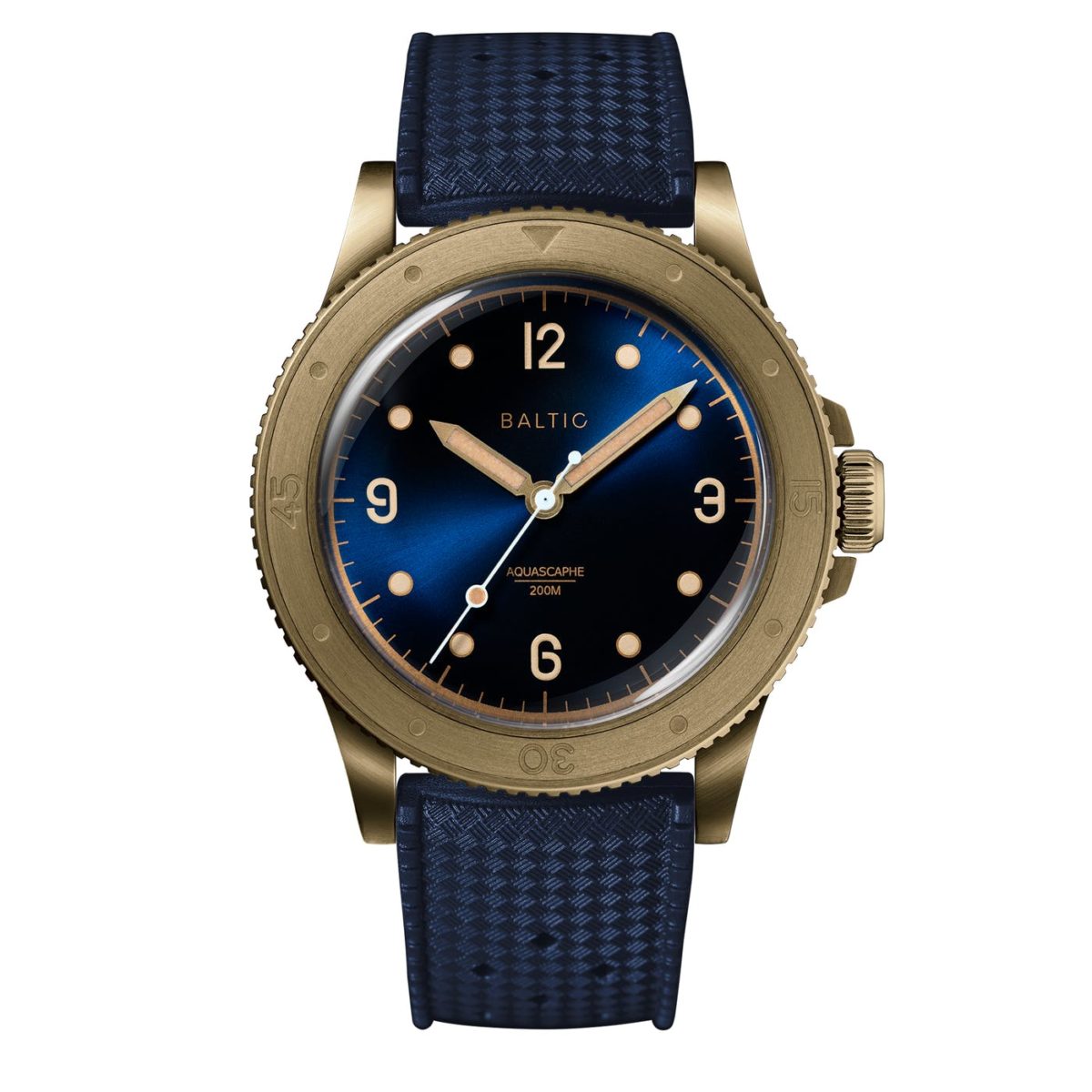 So yes, for now (and with no thanks to the shitty Aussie dollar), it actually surpasses a thousand bucks. I don't think it really matters because I would still hold the same opinions of this watch in the $1,500 price range.
Final Thoughts
If you want a watch to wear to work, to the pub, out at dinner or to the beach on a Sunday, the Baltic Aquascaphe is it. I don't want to compare it to a Submariner because of the price. However, I found a guy who does compare the two while leaving this pretty detailed review on a Hodinkee write up. Like me, Jolly79 thinks this watch works well in almost any situation, and you can read his review of Baltic Watches at the bottom of this page.
Now, check out another 8 stylish watches under $1,000, or aim a little higher when browsing our round-up of the 14 best watches under $5,000.
---
---