Fun fact, we're giving a Casio G-Shock GBD-H1000 away. Enter your details at the bottom of this article for a chance to cop.
Casio has introduced the world to its fitness tracker equipped with an impressive suite of capabilities and housed in a monster 63.0 x 55.0 x 20mm case. Dubbed the G-Shock GBD-H1000, the rugged aesthetic and technical aspects alone make for an appealing and durable package, one that is built exclusively for outdoor pursuits.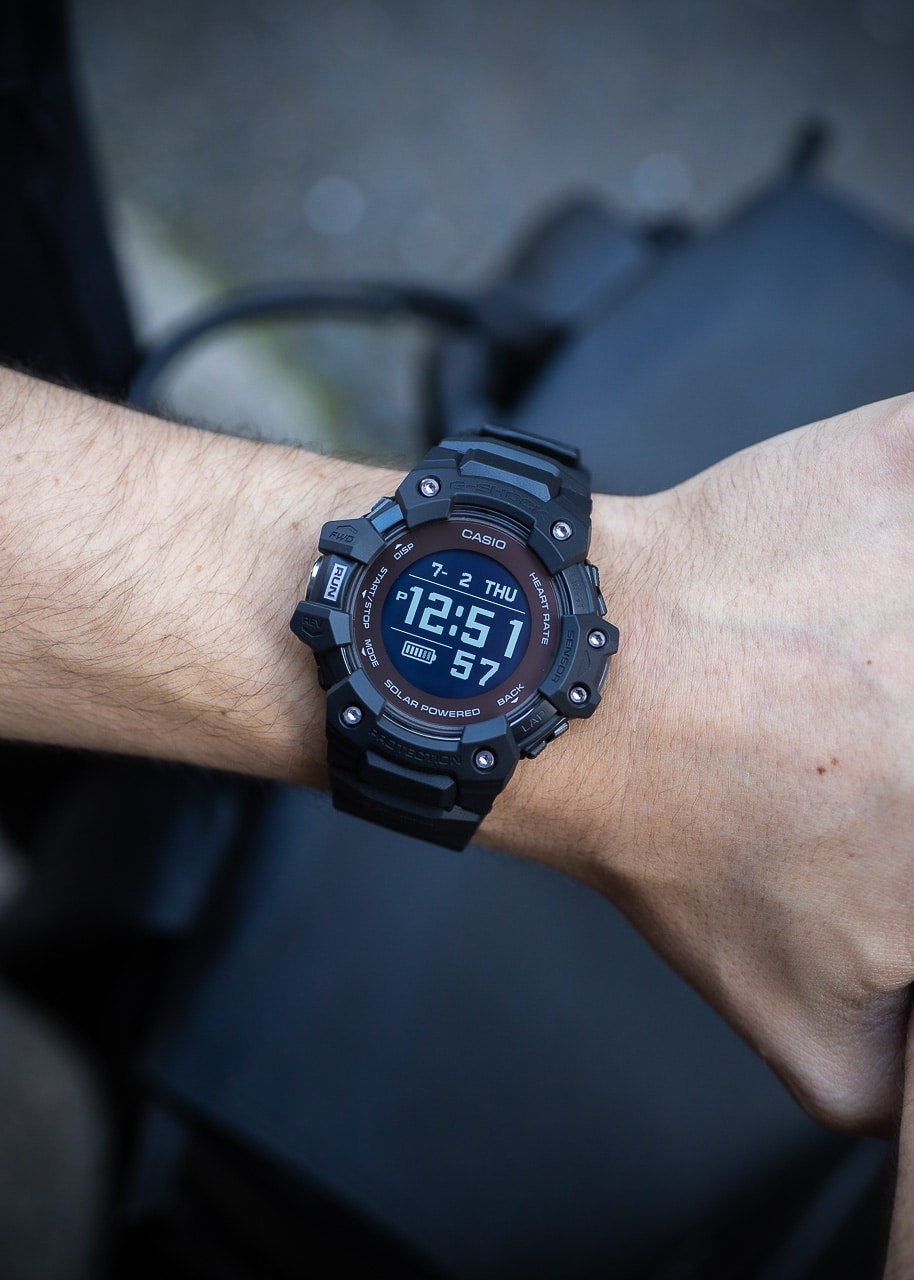 The G-SHOCK GBD-H1000 promises to provide real-time measurements with five-sensor functions. That's optical sensors to detect your blood flow and pulse, a triple-axis accelerometer to detect your movements and accurately pinpoint distance, as well as magnetic, pressure, and thermo sensors for everything else.
---
---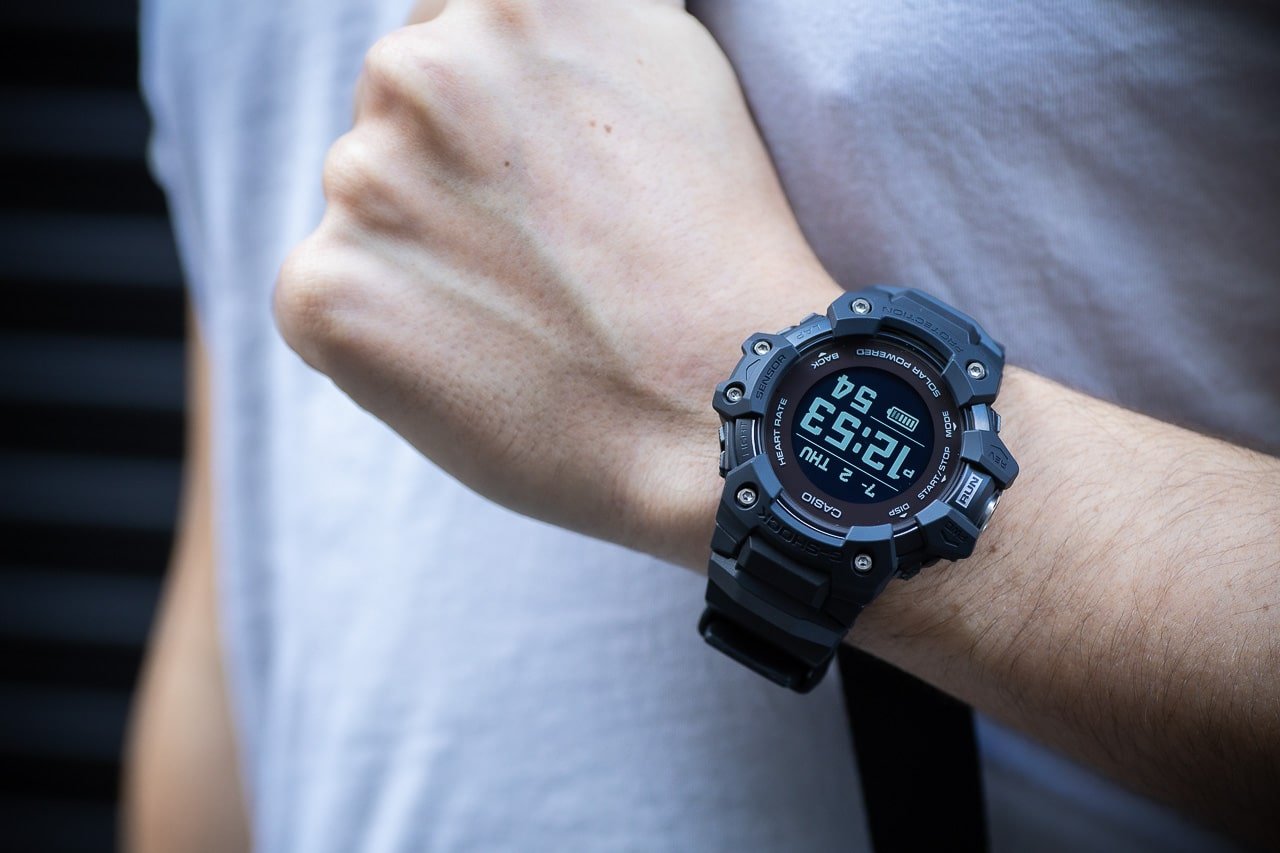 All up, this translates into the following basic features:
Heart Rate Monitor
V02 Max Measurement
Step Tracker
Altimeter/Barometer
Thermometer
Compass
GPS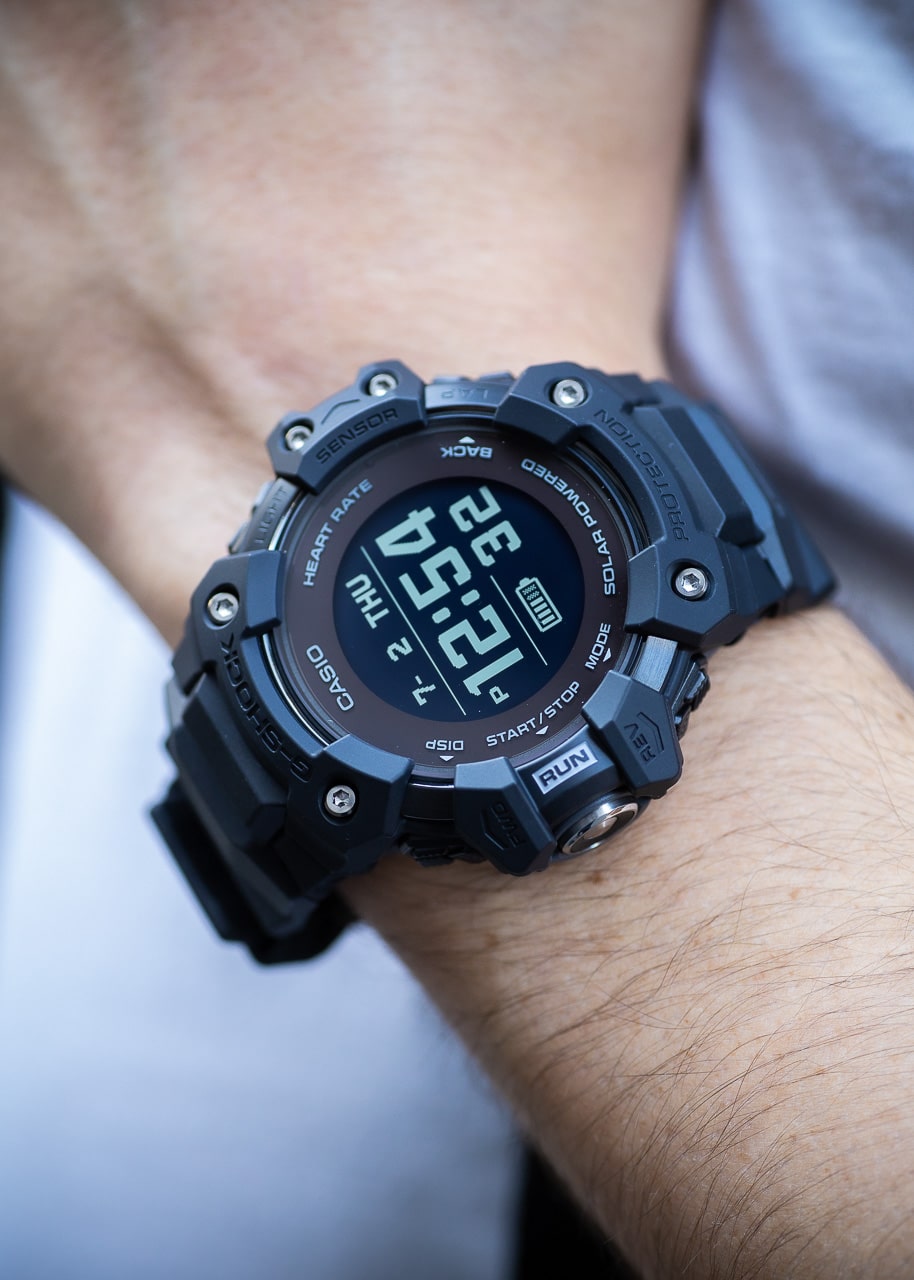 In line with G-SHOCK's signature theme, durability has been addressed with a chunky angular resin bezel boasting large buttons, visible screws and a mineral glass screen, combining for 200m of water resistance. The watch boasts an incredible battery life, up to 12 months in basic timekeeping mode and 66 hours with the heart rate monitor, enhanced by the addition of solar-assisted charging. It will also charge from dead to full battery in 2.5 hours.
Connectivity is yet another standout component – in terms of both linking to smartphone devices and its GPS functionality. The former effectively ensures you're never out of the loop, even while you're exercising (although you can always opt-out or focus solely on your activity in Training Mode). The GPS data is fed data directly from GLONASS and Michibiki satellites systems, although there is are minor discrepancies when recorded activity syncs with the dedicated G-SHOCK MOVE app and then into Strava.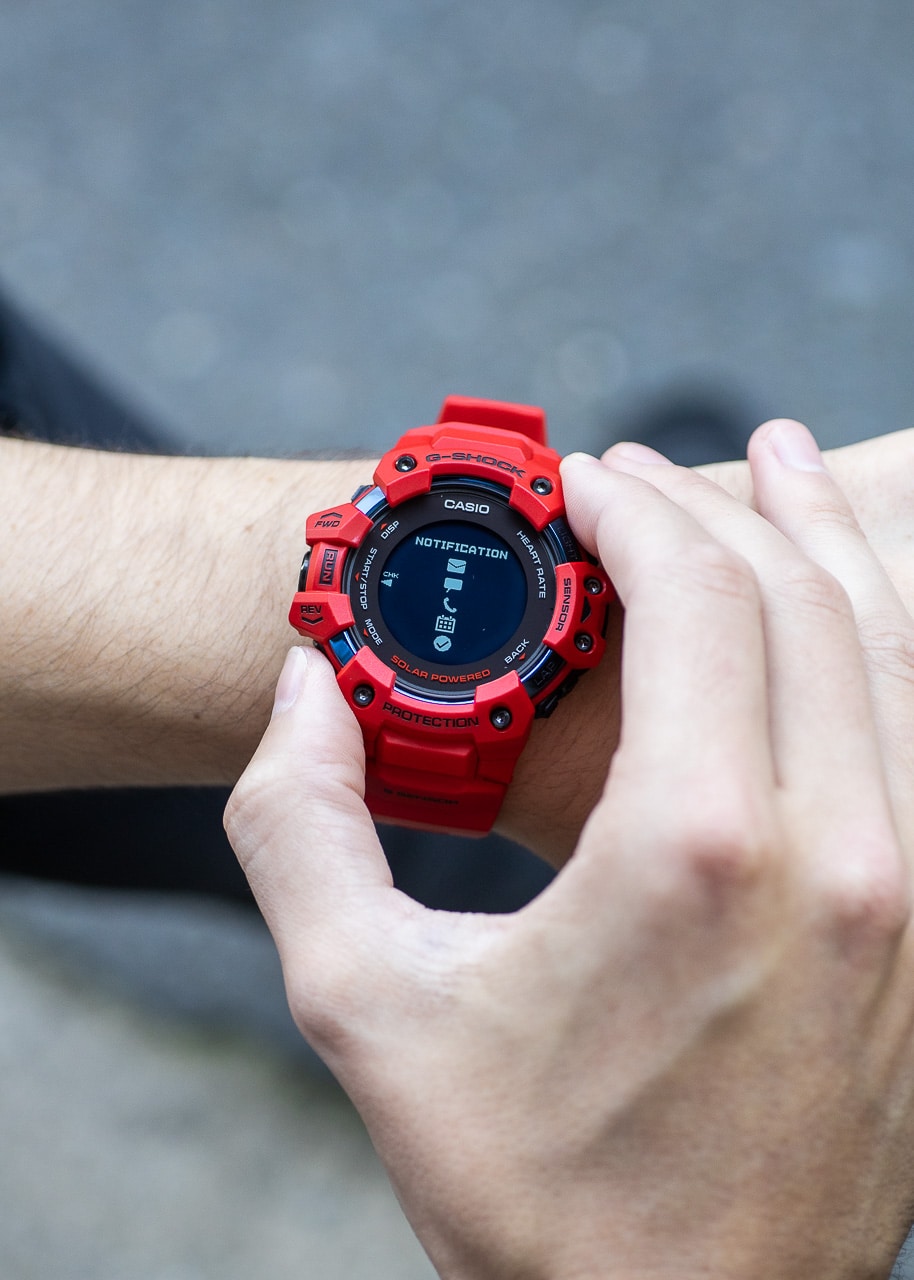 The MOVE app boasts pleasing UX and includes a range of great features that allow you to customise your training plans, view your recovery, analyse your recorded activity, set goals and arrange the layout of your dial. In terms of daily activity, outside of specific runs, the G-SHOCK GBD-H1000 counts steps, averages your heart rate and estimates calories burned throughout the day, while keeping you up to date with notifications.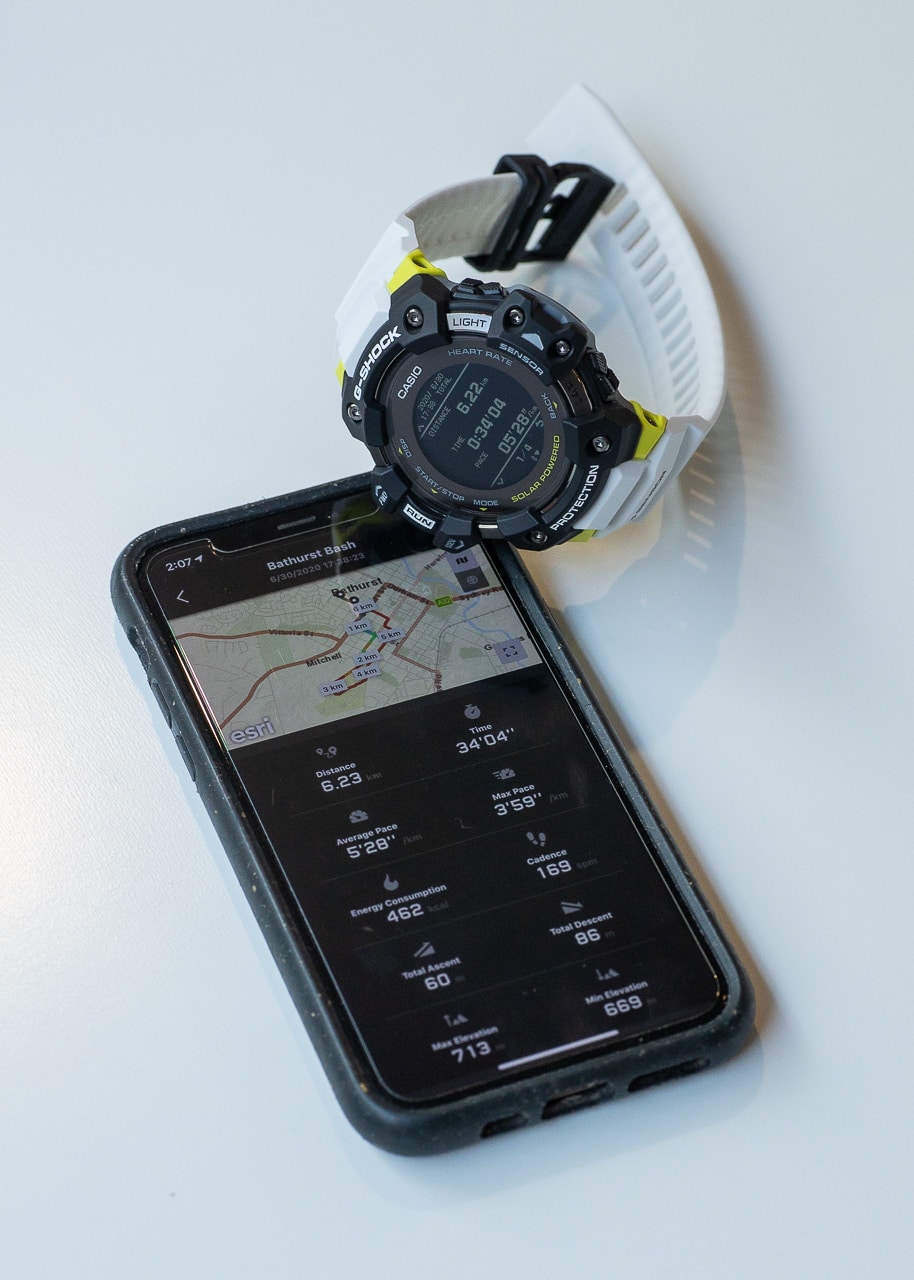 On the wrist and on a run, there's no denying the GBD-H1000 is a big unit. While it wears smaller than it looks, it weighs 100g – abundantly more than the majority of its competition and you can certainly feel it while trying to achieve Kipchoge toppling splits. The band is probably not as soft as we'd like, nor is the screen as big as you need for quick glances while maxing out the heart rate. The automated light, when you raise your wrist, is also not as responsive as Garmin or Suunto's executions.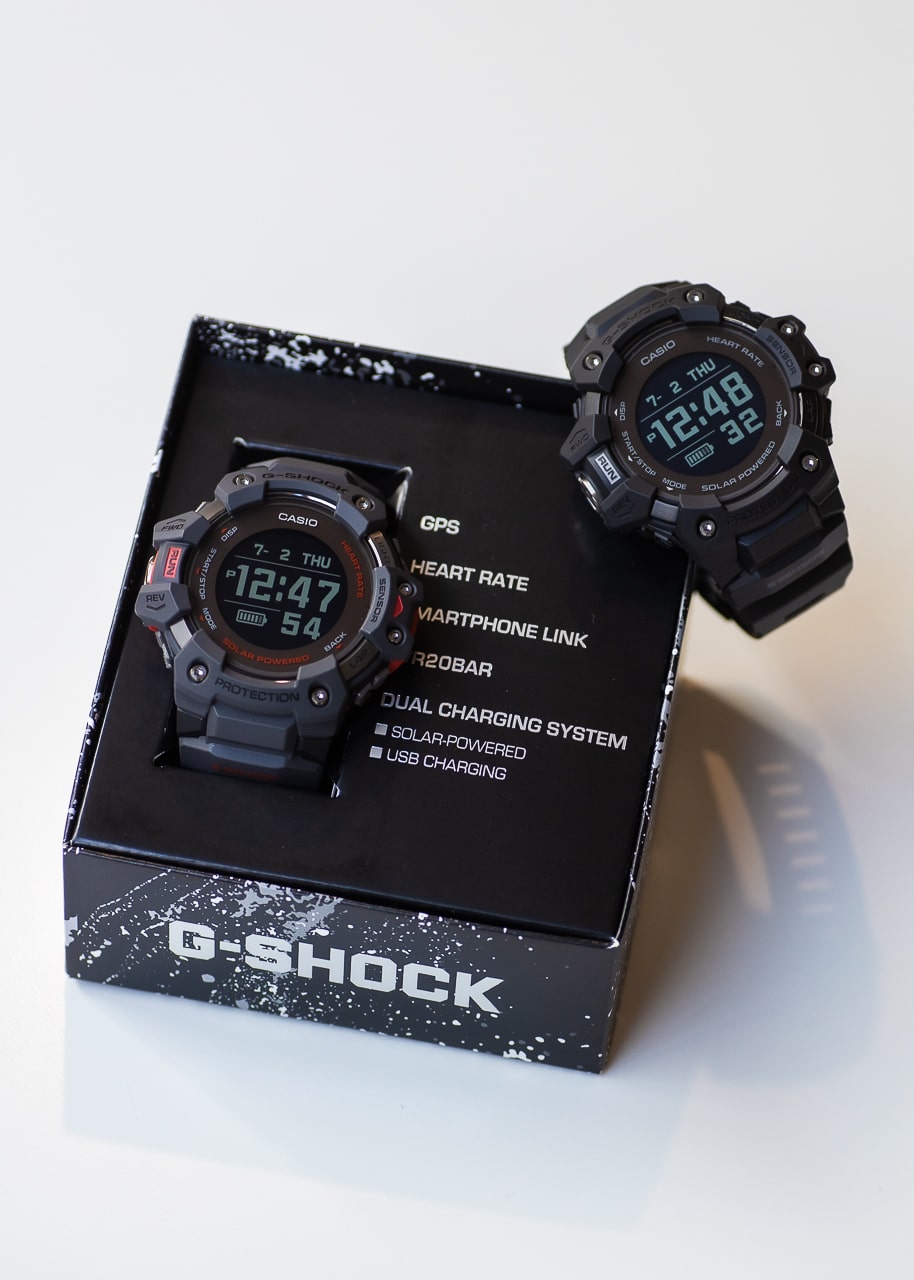 Fans of G-SHOCK's iconic aesthetic, who are looking for a fit for purpose outdoors watch will love everything about the G-SHOCK GBD-H1000, which transitions from a fashion-conscious to fitness-focused watch with ease.
Available in four colourways, the Casio G-Shock GBD-H1000 is available to purchase for $599 at g-shockaustralia.com.
---
---
We've teamed up with G-SHOCK team to give one lucky reader the chance to win a GBD-H1000. Add your details below and answer the question in 25 words or less – where is your favourite place to run, and why?
Casio G-Shock GBDH1000 Competition
Congratulations to our winner Simon S from Brisbane, QLD with the answer: "Fraser Island because you can run the beach as far as you like with nobody in sight. And the wild dingoes will keep you running."