I've always felt the best way to gauge the depth of a watch lover's enthusiasm is by their knowledge of independent watch manufacturers. Everyone knows Rolex, a lot of people know Patek Philippe, not many people know MB&F. It takes a special kind of passion to explore the corners of the known watch universe – but I opine that this is where the magic truly happens.
Independent watchmakers, (many non-Swiss), are not subject to the same restrictions that more mainstream manufacturers are. Their limitless passion and pursuit of perfection is their only motivator – evident in the very founding of a new watch company, which in itself is no mean feat.

In this lesser-known market of low volume watchmaking, there are many key players. MB&F, Laurent Ferrier and DeBethune are just some of the amazingly talented creators in this segment. That being said, I feel there is one stand-out independent watchmaker – F.P. Journe.
---
---
François-Paul Journe founded his company in 1999, making it a swaddled infant when compared to the companies it plays alongside. Despite this, the brand has cultivated itself a reputation of desirability, quality and craftsmanship. They will go out of their way to fix problems that are sometimes insignificant, and more often aren't really problems at all.
One example of this is Journe's take on the tourbillon. I won't bore you with mechanical jargon, but essentially a tourbillon is a complication designed to offset the effects of gravity on timekeeping in a pocket watch. Now this works in a pocket watch because it would sit in the vest or shirt pocket vertically – and the tourbillon was designed to work as such. When applied to a wristwatch, however, the tourbillon was not effective as the watch spends most of its life horizontally.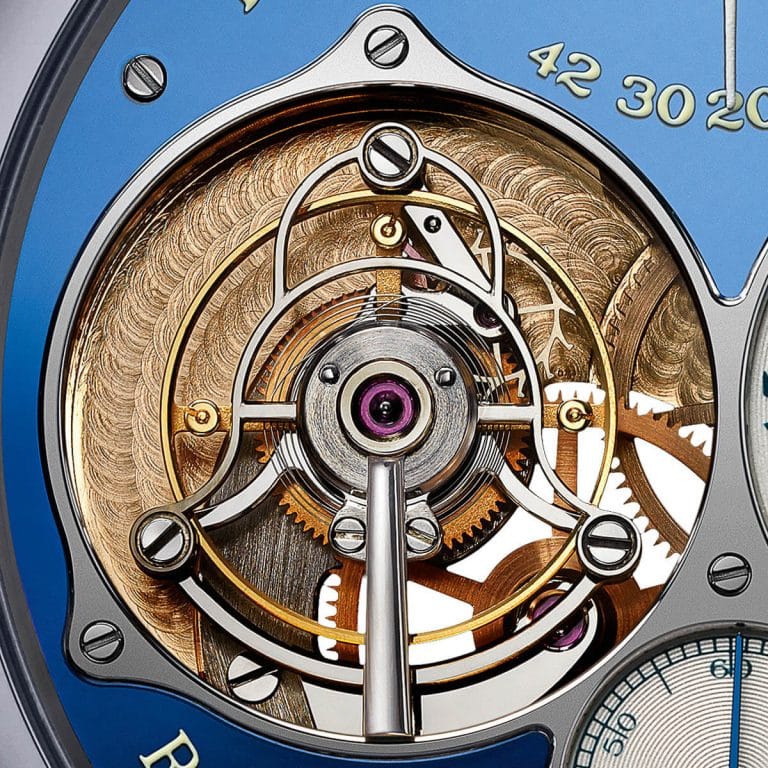 Naturally, F.P. Journe decided to rotate the tourbillon to sit vertically in the movement to ensure its effectiveness. The best part? Gravity doesn't have an impact on wristwatches. This wasn't a problem that Journe fixed, it was an inadequacy in other tourbillon watches that he refused to adopt in his own.
Complication for the sake of complication, but Journe makes sure it's functional. Every one of his in-house calibres is manufactured from 18kt rose gold, with particular attention paid to finishing and aesthetics. F.P. Journe watches are strictly classical, yet inexplicably their own. With teardrop hands and a distinctive yet ubiquitous dial font, they truly have mastered the art of subtle design.
My absolute favourite offering from Journe is the Chronometre Bleu. Firstly, I would sell my body for a well-executed blue dial watch. There is just something about the combination of blue dial and white metal (in this case tantalum) that works for me. Teamed with a full set of white breguet-esque numerals and their signature teardrop hands, it is truly a masterclass of watch aesthetics. These watches are seen selling for around double their list price, which would normally catapult me into a fit of rage.
However, in this instance, it does not.
---
---
This is a manufacturer that produces under 1000 pieces a year, a genuine low volume product. I feel this speaks volumes of their products, the company who makes them and the man who founded it. People would rather have a single time-only F.P. Journe than a Patek Philippe Calatrava and a steel sports Rolex at resale. This makes me irreversibly happy. A micro-brand charging less than they could, and letting their work cement their brand value.

Bravo, F.P. Journe, we will certainly be keeping an eye on you.
Feature Image via the lovely feed of @carpalchrono