Fitness and health trackers as a category is typically dominated by the likes of Apple, Withings, Samsung, Fitbit and Garmin. And that should be more than enough to keep fitness gods and newbies alike satisfied with regular rollouts and updates. Do we need more brands on the market? Huawei seems to think so, with their latest play into the wearable market being the still-fresh, value-driven and unapologetically Apple-like Huawei Watch Fit.
Say what you will about the Chinese tech giant, but Huawei as a company is never to be counted out when it comes to hardware. That much should already be obvious to anyone who has ever witnessed the photography prowess of their flagship phones, which still get over well with the Australian market despite the now firmly established conflict with Google, and resulting ban from Android software (that means no Google Maps, Gmail, Google Play Store etc – at least not officially – on newer Huawei products).
Anyone who has played around the Huawei Watch GT 2 knows that this company can put together a smartwatch which can rival the likes of Apple and Samsung. That's not up for discussion here, neither is the brand's shops when it comes to fitness, seeing as the Huawei Band 4 Pro is a workout beast with its own built-in GPS and exceptionally long battery life. What is up for discussion is whether or not you want to enter the Huawei ecosystem and stay there, or keep your options open. The latter may be the obvious choice here, but the Huawei Watch Fit is tempting enough to lure anyone into the brand's somewhat closed world. And for people who already own Huawei products, it's almost a no-brainer.
---
---
Things We Love About The Huawei Watch Fit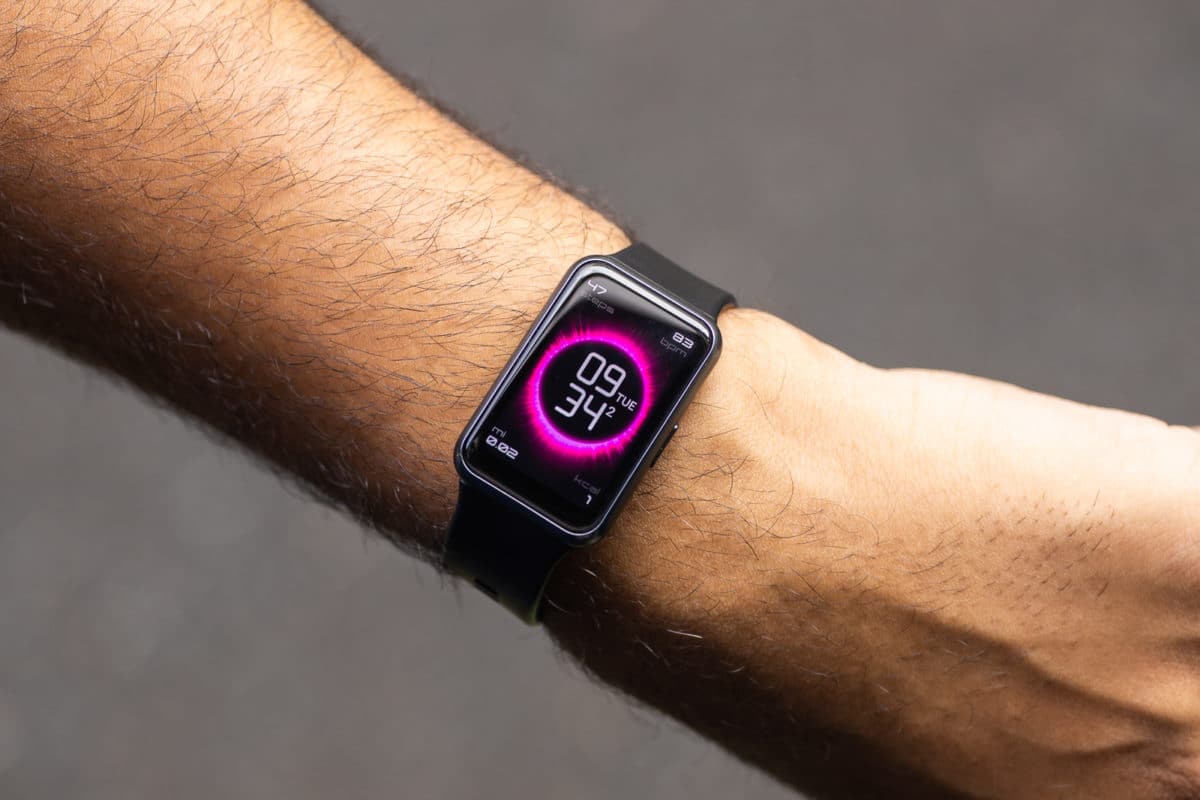 Gorgeous design
Huawei may have cribbed a bit too much from the Apple Watch in terms of looks, lazily designing it as a slimmer version of the acclaimed iOs wearable – not much distinction at all. But it's still great to look at.
The stunning and very responsive 1.64-inch AMOLED display is a surprisingly generous inclusion at this price point, with a bright and crisp 456×280 resolution that's framed only by small bezels. The 2.5D curved glass on the surface helps with the slick and polished look. Given the screen has a slightly stretched look, you've also got a taller-than-usual aspect ratio, which helps with legibility when you're dealing with quick-reads on a run (or any other of the endless activities it's been calibrated to track).
Outdoor brightness is also no concern, with big and bold numbers popping off the screen for readability even in direct sunlight.
The Huawei Watch Fit maintains its slim and seamless body by sporting just one flat button on the right side of the polymer frame, which doesn't protrude as much as some of the other more traditional dial-like notches that some other brands use. The benefit of this is that, while still textured and responsive, the button won't get caught on anything during activities.
Weight is also a key factor. At just 21g, the watch itself feels feathery on the wrist and has obviously been considered for all-day use. I've found some other fitness watches to feel a bit too bulky on the wrist, whereas I've gone hours without even realising I have the Huawei Watch Fit strapped on.
Comprehensive activity tracking
---
---
Name the activity and Huawei has probably loaded it onto the Watch Fit. In total there's 96 different kinds of exercises that the watch has been engineered to track, including obvious ones like running and swimming (you've got a 50m water resistance here), but also more detailed and nuanced activities like volleyball, dancing, surfing and… dodgeball. The Huawei Health App will at least attempt to give you detailed metrics about each workout, although I haven't been able to test the more niche exercises. The basic ones seem to be as accurate as any other high-end fitness tracker I've tried, which says a lot given you can pick this up for $150.
Heart rate monitoring
Huawei has clearly put a lot into the various sensors on the watch, possibly to make up for the glaring compromises. The TruSeen 4.0 software is probably the best of them, which is the brand's most accurate heart rate monitoring technology to date and doesn't overshoot when it comes to BPM. This is invaluable, especially since the Fitbit Charge 4 constantly has me worried by annoyingly assuming my heart is pumping hard when it's not (or maybe it is and I should be at a doctor instead of writing this).
Either way, the Huawei Watch Fit appears to be more accurate, but of course this is a highly individual thing. There's also an Sp02 tracker for blood oxygen, which should be a standard inclusion for all fitness wearables by now, as well as sleep tracking with the fairly comprehensive Huawei TruSleep 2.0 software.
Animated personal trainer
Gamification is a big thing in fitness wearables, and it's probably the main mechanism by which they motivate the unmotivated, or at least give them that extra push and incentive. We are simple creatures, and we respond well to competition, even if it's with a digitised version of ourselves. Hitting those PB's is easier with a slightly corny but likeable enough animated personal trainer, which is programmed with 12 workout programs and 44 individual exercises. It's much more efficient than awkwardly trying to mirror a YouTube video with a phone in hand. This way you can focus on form and only have to glance at your wrist every now and then. Workouts include simple ones like a 10-minute "ab-toner", so you can do them on a quick work break.
RELATED: The Best Smartwatches To Buy
And Things We Don't Love…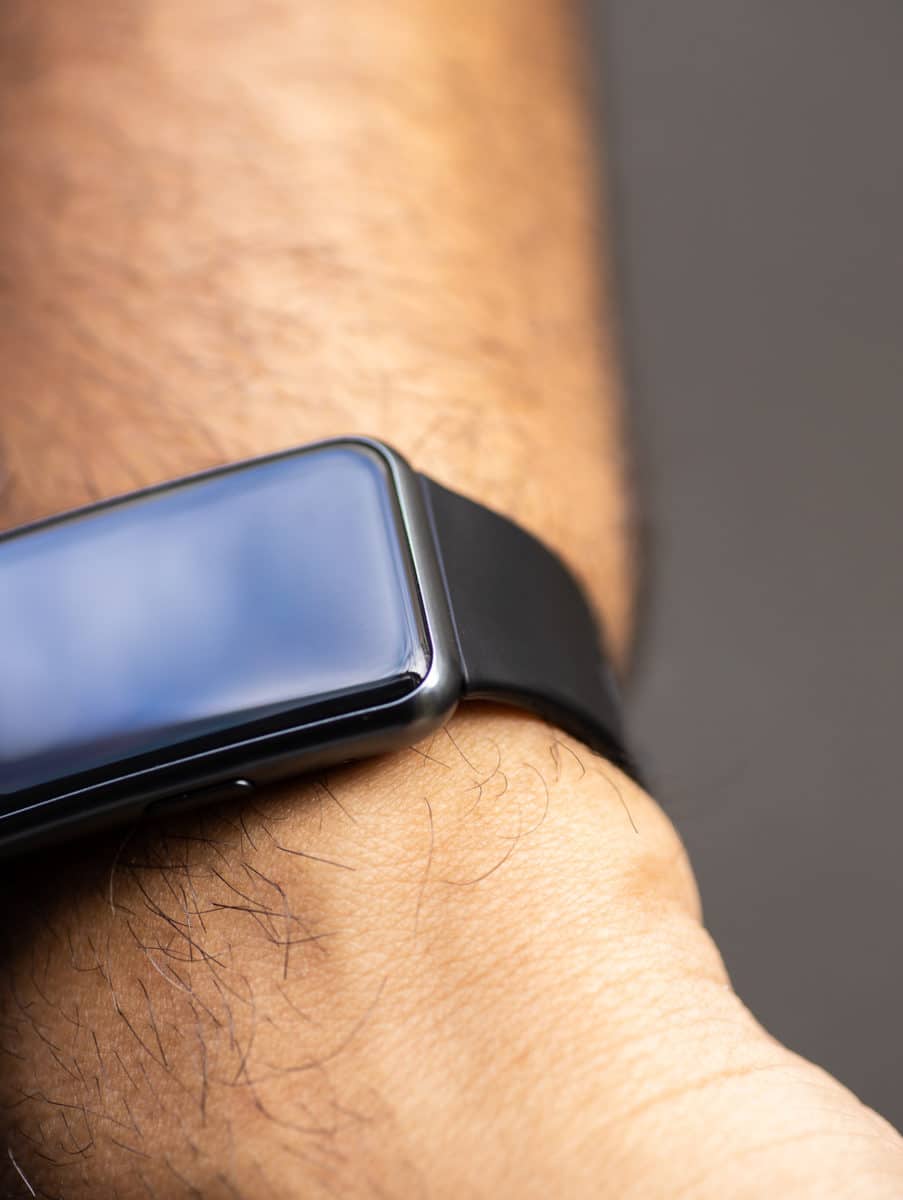 Locked ecosystem
---
---
While you can get away with not having a Huawei phone and still getting a lot out of the Huawei Watch Fit, you'll ideally need to dive in deep to the ecosystem. As mentioned above, if you're not already in it, it can be quite an expensive way to switch brands. And for a watch, when so many competitors are out there, it just doesn't make sense.
Primarily, this is because there's a severe lack of third-party app support. While there may be ways to side-load your preferred apps onto the watch, it's just not worth it for those already stuck in the mainline Android ecosystem. You can't even data share with Google Fit, which is going to be a deal-breaker for a lot of people.
Wrist dig
I call this 'wrist dig', mainly because I can't think of any better way to put it. It's when the sensors on the bottom chassis of the watch tend to dig a bit too much into the skin. While I said above that the watch is mostly comfortable to wear all day, this can be a bit of a pain point if you've got particularly hairy arms. As you can tell from my surname, I do. Thereby it's better if I loosen the strap a bit, which may negatively affect the watch's ability to accurately track. It's not a deal-breaker, but I'd much rather this not be an issue. Plus, swapping out the strap is a pain in itself. It takes a lot of tugging and budging to actually remove the silicone strap.
Lack of smart features
No NFC, no in-built music player (so you'll have to use your phone), and again, a lack of third-party apps. That's not boding well for the Huawei Watch Fit, and while it would be foolish to expect the more high-end smartwatch features given the price and purpose, it's still a large dent in the product's ability to compete with other brands. This market is already increasingly overstuffed, and Huawei already requires a fair bit of sacrifice.
Is the Huawei Watch Fit worth your money?
Look, it's only $150, so forking out for the Huawei Watch Fit really shouldn't be seen as a commitment. The device gives plenty for that price, but the issues with the brand itself and how it relates to the larger world of tech is a problem. If we were still in the Huawei P30 days, before the Google ban, then the Huawei Watch Fit would get over well due to its incredible value. Plus, try find a watch this cheap with it's own GPS.
Unfortunately for Huawei, the Chinese tech company isn't yet in the clear. There's workarounds, but that's usually more effort than it's worth. It then all depends on you and what device you currently have. If you have a Huawei phone, go straight for the Huawei Watch Fit and save some serious bucks, as long as you can live without the super convenience of features like NFC. If you don't have a Huawei phone, I'd say you're better off saving for a week or two longer and forking out for a more expensive smartwatch like the Apple Watch, Samsung Galaxy Watch3, or Fitbit Sense.
---
---
If you want to have a crack at the Huawei Watch Fit, check out the full spec list below and then head to the link after the jump to get your hands on one.
Size: 46 x 30 x 10.7mm
Weight: 21g (without strap)
Watch Case: Black, Silver, Rose Gold
Material: Durable polymer fiber
Silicone Watch Strap: Graphite Black, Mint Green, Sakura Pink
Display: 1.64-inch AMOLED 456 x 280 HD
Sensors: 6-axis IMU sensor (accelerometer sensor; gyroscope sensor); optical heartrate sensor; capacitive sensor; ambient light sensor.
Button: Full screen touch + side button
System requirements: Android 5.0 or later; iOS 9.0 or later.
GPS: Supported
Memory: 4GB
Battery Life: 10 days (typical usage)
Water Resistance: 5ATM (50m)
Bluetooth: 2.4GHz, BT 5.0, BLE