The main purpose of any watch couldn't be more functional and banal: telling the time. But as any owner of complicated mechanical or high-concept and creative watches will tell you, beyond the functionality lies the art. Art which creates mechanical movement, with the most innovative watches powering multiple functions, within the relatively tiny confines of a wristwatch case.
The "art" of those creative watchmakers whose names live on today – your Abraham-Louis Breguets, John Arnolds and Louis Benjamin Audemars, for example – survive one way or another in the products of the companies bearing their names. They add new complications and models while always paying homage to the craftsmanship of the founder.
But there's another group who see the watch case as a test. What are the boundaries of design, of functionality, of art in a wristwatch? What is possible? Some of the best men's watches below are prime examples of people testing those boundaries.
---
---
Creative Watches Of Tomorrow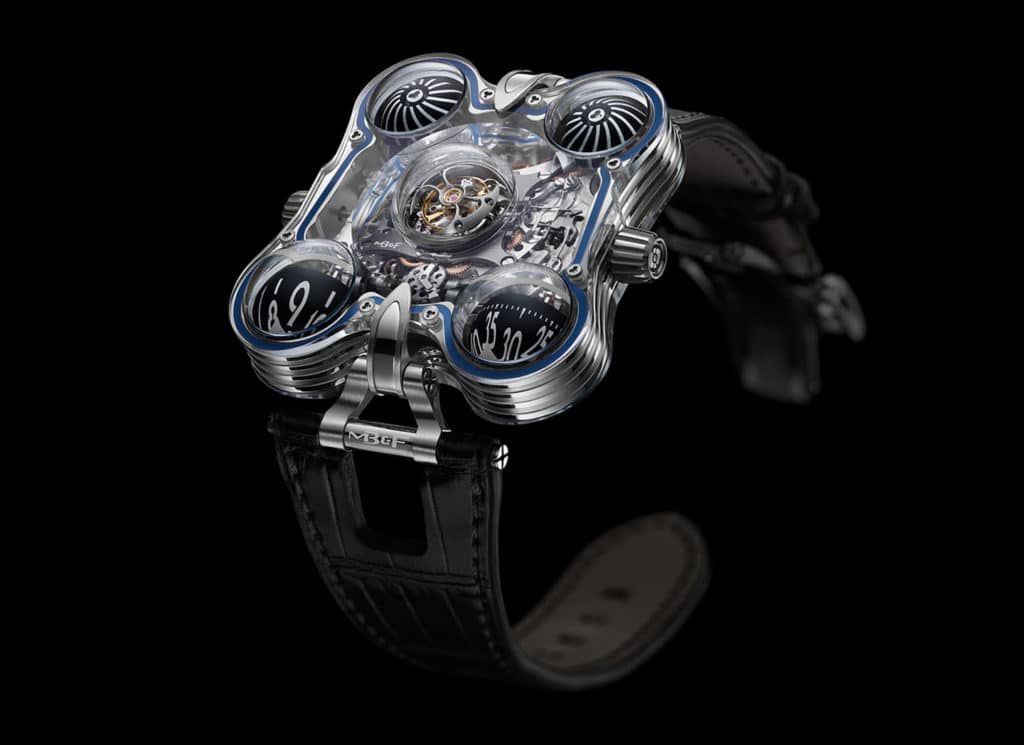 MB&F HM6 SV Sapphire Vision
Part of MB&F's Horological Machines collection, the always edgy brand describes this as its "most organic machine to date".
If you think it looks like some futuristic spacecraft, there's a reason for that. The HM6 is inspired by Capitaine Flam's spaceship 'Comet' from a Japanese anime TV series of the 1970s and '80s.
The HM6's biomorphic case features a 360-degree sphere in each of its four corners, encased in transparent sapphire crystal domes. The two spheres at the front rotate vertically displaying hours and minutes, respectively, while at the back the twin spherical turbines regulate the automatic winding system to reduce stress and wear.
Atop and in the middle, under another transparent cupola, is a flying tourbillon behind which is a glimpsed view of the 475 components that make up a complex movement that required over three years of development.
More curved than others in this collection, the HM6 also takes its inspiration from the biomorphism art movement, which takes its cues from design elements based on the shapes of living organisms making it one of the most innovative and creative watches on the planet.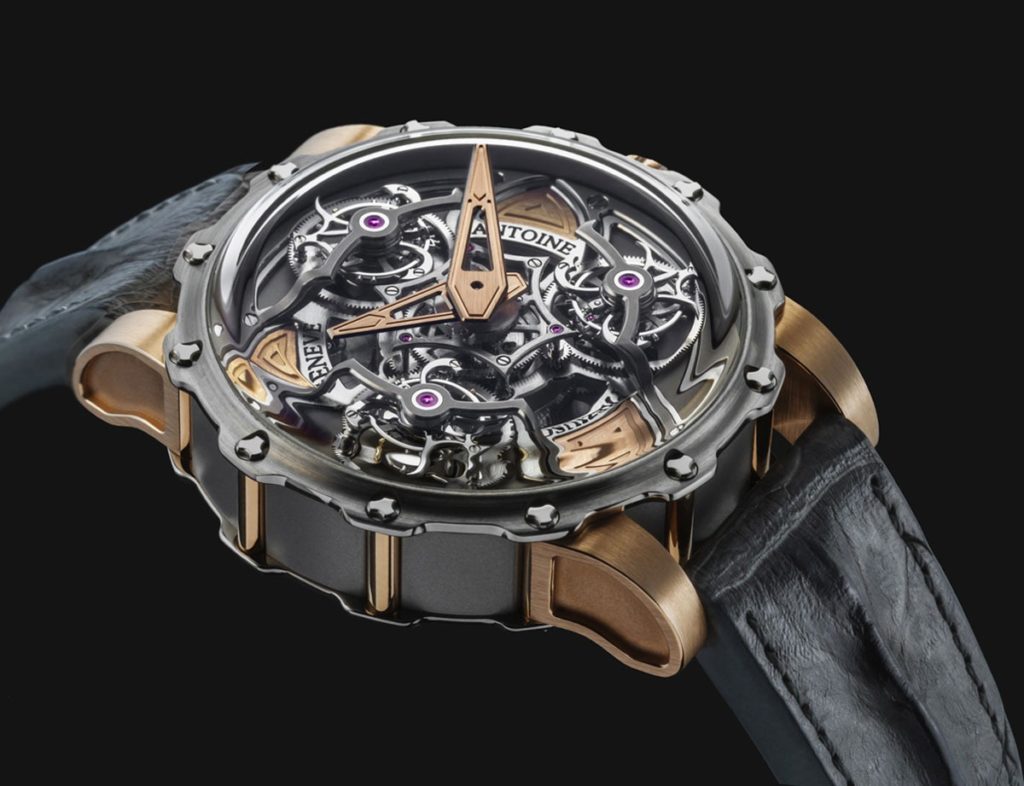 Preziuso Tourbillon Of Tourbillons
Over 35 years Antoine Preziuso has become internationally noted for high-end timepieces demonstrating fine craftsmanship, original styling, and a speciality in the art of tourbillon.
This creation he calls the Tourbillon of Tourbillons, created with his son Florian and comprising three tourbillons interacting on a revolving plate. What's the point? A watch delivering greater precision, whatever the wearer's wrist position.
---
---
A patented triple-differential gear connects and turns the three hand-finished tourbillons, each of them spinning at a rate of 60 seconds, and the revolving plate which turns once each 10 minutes. It's a little sideshow alley on your wrist.
The proximity of the tourbillons to each other means the balances of each keep step with each other, oscillating at a stable frequency. It's a watchmaking wonder.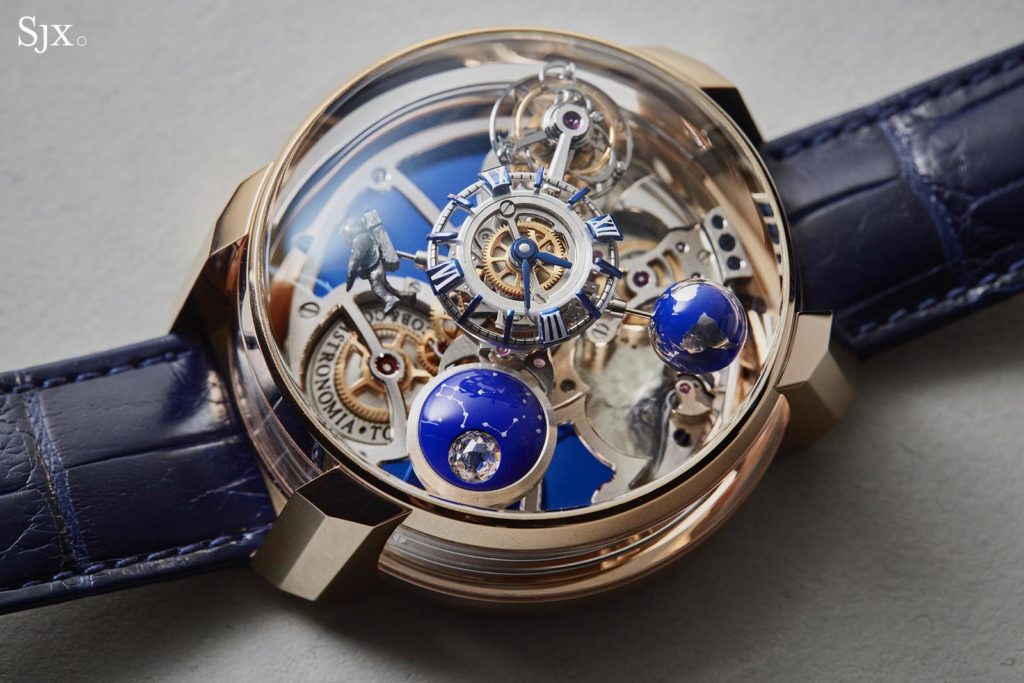 Jacob & Co. Astronomia Maestro
Serious complications in a seriously complicated work of art, this stunner from Jacob & Co is a 50mm, 18-piece limited edition masterpiece in 18k rose gold with sapphire apertures on the sides. Hours, minutes, and date are the last things you'd buy this for. Instead, marvel at the minute repeater carillon with elevated spiral gongs, the moon phase and triple axis tourbillon, not to mention the hand-painted astronaut rotating in 30 seconds.
The minute repeater strikes hours, 15 minutes and minutes to the tune of Do, Re, Mi. Sixty hours of power reserve, water-resistance of 30m – the thing is the piece de resistance of complicated and creative watches.
RELATED: Drake's Jacob & Co. Timepiece Features A Working Roulette Wheel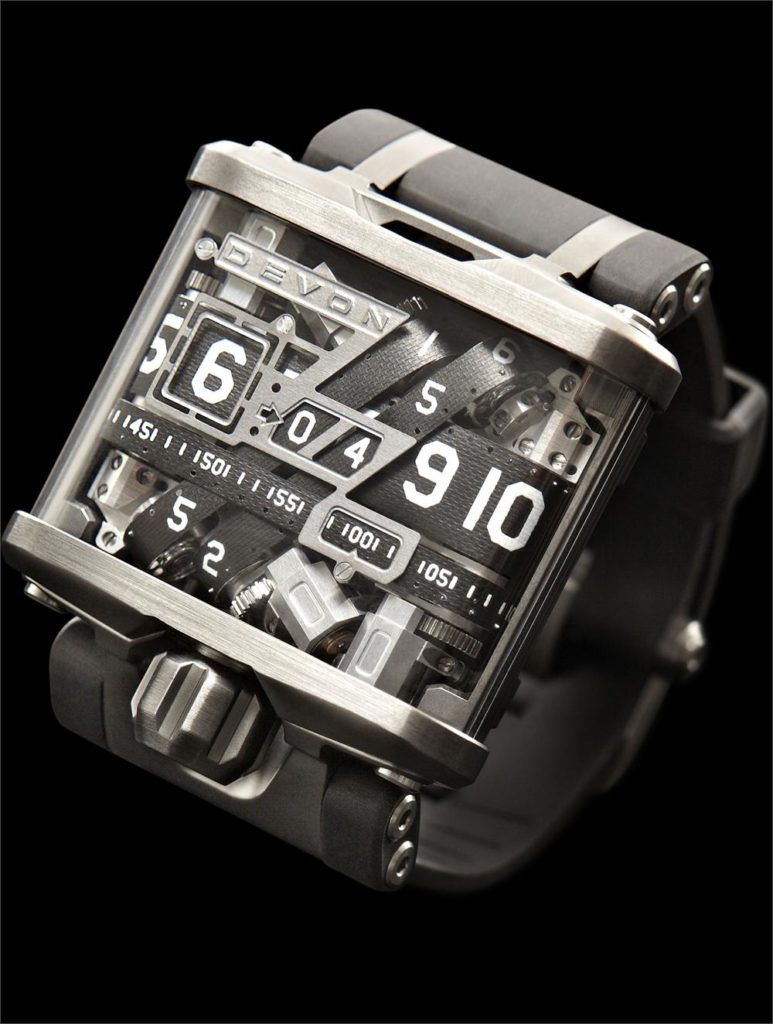 Devon Tread 1
This Californian based watchmaker is unabashedly avant-garde in pursuing an imposing, industrial aesthetic in watchmaking. The unique Devon Tread 1 tells the time via a series of belts operating on multiple levels, resembling a piece of factory equipment as much as a watch. The 'Time Belts' concept displays hours, minutes and seconds in a way unlike the majority of the timepieces that have preceded it. That fact was recognised in 2010 when the Tread 1 was nominated in watchmaking's most prestigious annual awards, Gran Prix d'Horlogerie de Genéve, in the category of Design and Concept Watch – the first American watch brand to be nominated.
The technology inside is advanced industrial, too. Functions are powered by an onboard microprocessor which gathers data from a crystal and a "proprietary optical recognition system" (nup, don't fully comprehend it either), which continuously monitors and verifies the position of the time belts, ensuring accuracy within one half-second per day. Power is provided by a lithium-polymer rechargeable cell that runs for up to two weeks on a single charge.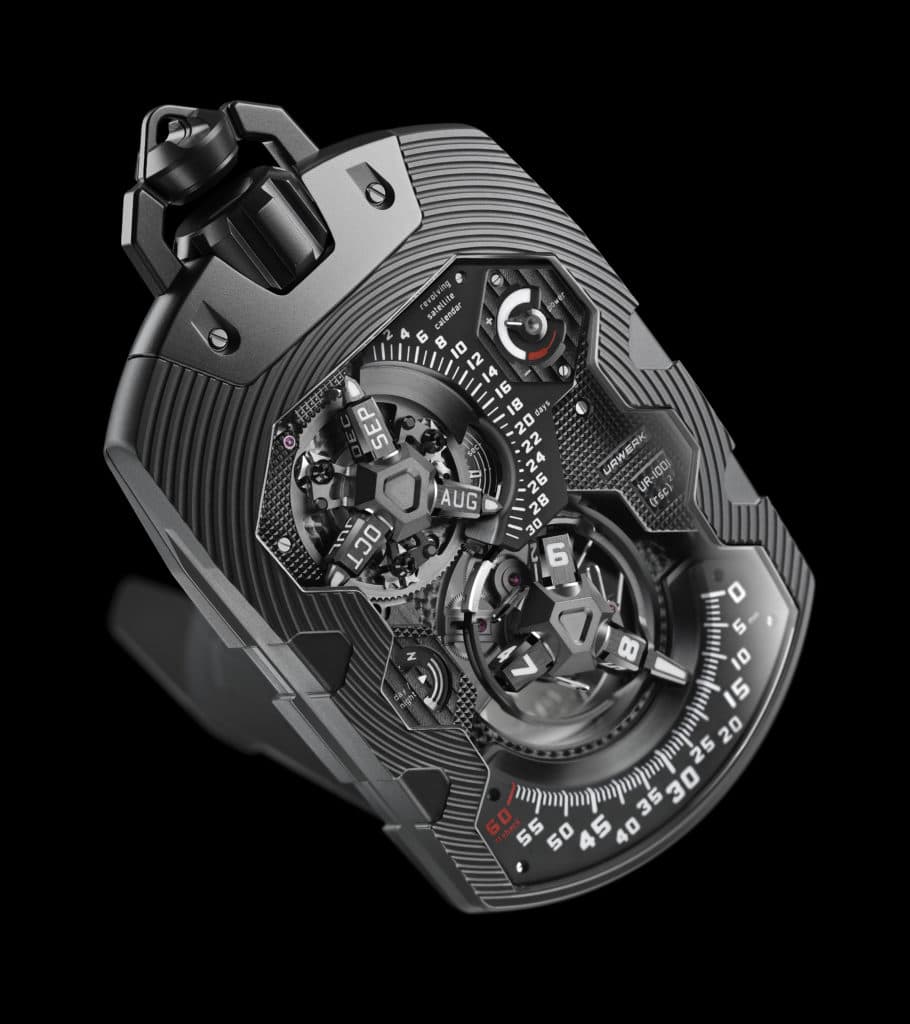 Urwerk UR-1001
Need to sort your schedule in 1000 years? Urwerk's UR-1001 is a grand complication that measures time in seconds, minutes, hours, day/night, date, month, years, 100 years and up to a millennium, 1,000 years.
---
---
Bearing Urwerk's famously industrial aesthetic, the striking shape and layout houses a revolving satellite complication with wandering hours, retrograde minutes, revolving satellite calendar with months and dates, day/night indicator, power-reserve indicator, running seconds and, on the back, an "oil change" indicator (5 years), running-time indicator for 100 year and linear
"Since we founded URWERK, it has been Martin Frei's and my horological playground in which we have developed new – both technically and visually – methods of displaying time," says Urwerk's Felix Baumgartner. "However, we were always constrained by the size of the wristwatch. With [UR-1001] we could allow ourselves carte blanche and created a larger playground for our imaginations… and then filled it with all of our complications and indications."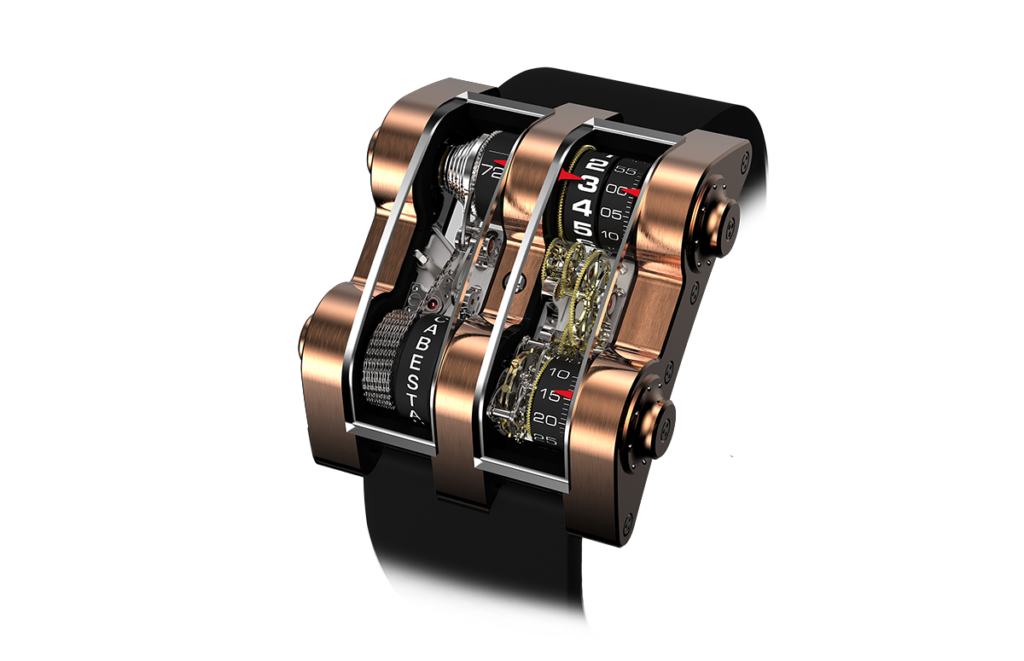 Cabestan Winch Tourbillon Vertical
The Cabestan Winch Tourbillon Vertical was inspired by a capstan, a mechanical device with a large drum on a vertical axis, hand-operated by a lever, the winch, causing a rope or chain to wrap around the drum.
Capstans are used for winding the movement and setting the time. A miniature chain and fusee transmit the energy. A vertical tourbillon regulates the movement. Drums display the time. And a small winch handle concealed in the deployant buckle activates the mechanisms. Crazy.
It's all displayed under twin sapphire crystals that provide spectacular 180° views of the movement, in a limited series of 135 timepieces.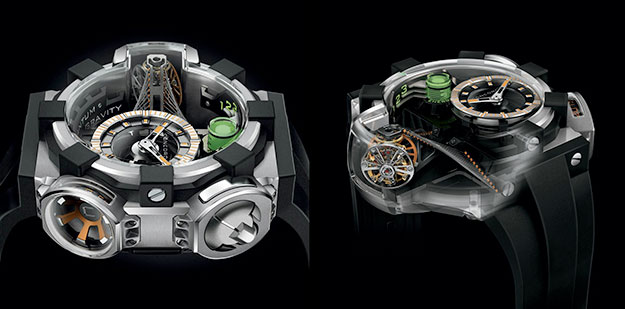 Concord C1 Quantum Gravity
A liquid filled glass column – yes, a liquid filled glass column – rises and falls to indicate the state of the three-day power reserve of the Concord C1 Quantum Gravity.
One of the most opulent and creative watches ever designed, only 10 exist, and if you ever get one, you're acquiring an aerial skeletonised dial, a 48.5mm titanium case with gold elements, hours, minutes, roll of seconds external to the case, vertical power-reserve indicator and bi-axial tourbillon.
It's a lot, within a watch case, but the layout and clever design elements are the things which put the Concord slightly above some of the timepieces in the off-the-wall club.
---
---
By Michael Pickering