Given the sheer breadth and range of The Joe Rogan Experience, missing a few episodes here and there is completely understandable. While the ubiquity of Joe Rogan's immensely successful podcast is hard to deny, the backlog of episodes can be tough to keep up with, especially for those who have finally bought into the (well-justified) hype during lockdown. But it's a trove worth digging through, even if only to watch the evolution of Joe Rogan's diverse tastes as he brings on various guests. Case in point: noted car journalist and watch fanatic Matt Farah, who was one of many standout guests in 2018. While Farah has been on the podcast a several times before, a particular moment in episode #1102 had quite the impact on Joe Rogan – specifically his since expanded view on mechanical watches.
For enthusiasts, it's a downright engaging talk that springboards off the dynamic between Joe Rogan's ~$300 G-Shock and Farah's ~$10,000 Grand Seiko, displaying the authenticity, appreciation, and general lack of pretension that deserves to be highlighted over the common stigma and esoteric nature that often paints watch collectors in a bad light.
Most of all, it's a notable testament to Joe Rogan's unquestionable openness, as he initially begins writing off the expensive nature of intricate luxury watches, but is soon won over by Matt's passionate and inspiring speech about the sometimes humble, sometimes superfluous variety of mechanical guts and engineering knowhow in the world of mechanical watches. It was clearly as fascinating for Joe as it is for us because since then, our favourite DMT enthusiast has been spotted switching up his more humble watches – i.e. the relentlessly practical G-Shock Mudmaster GG-1000-1A3 (AU$649) – for some higher-brow elections.
---
---
Here's a look at some of the best mechanical watches Joe Rogan has sported since that pivotal episode.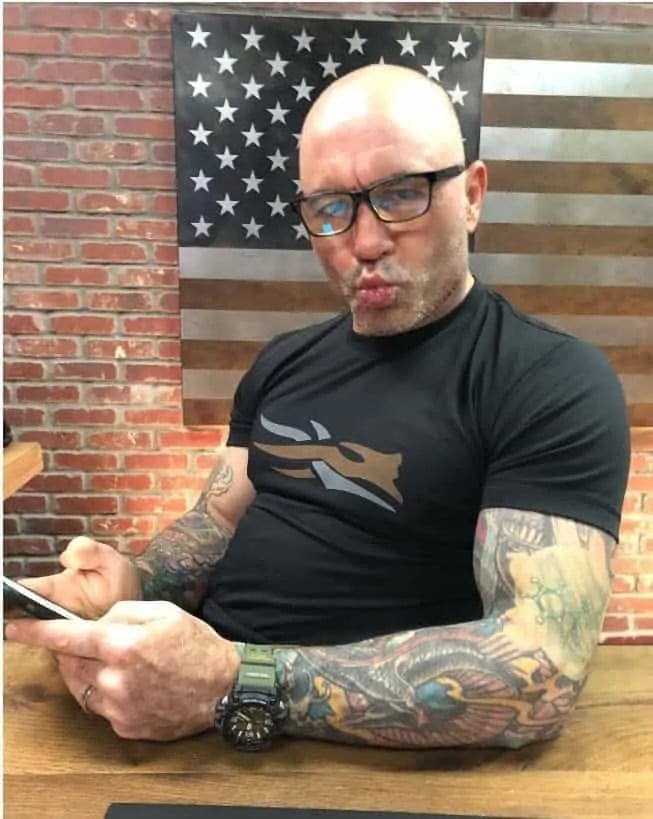 ---
G-Shock Mudmaster GG-1000-1A3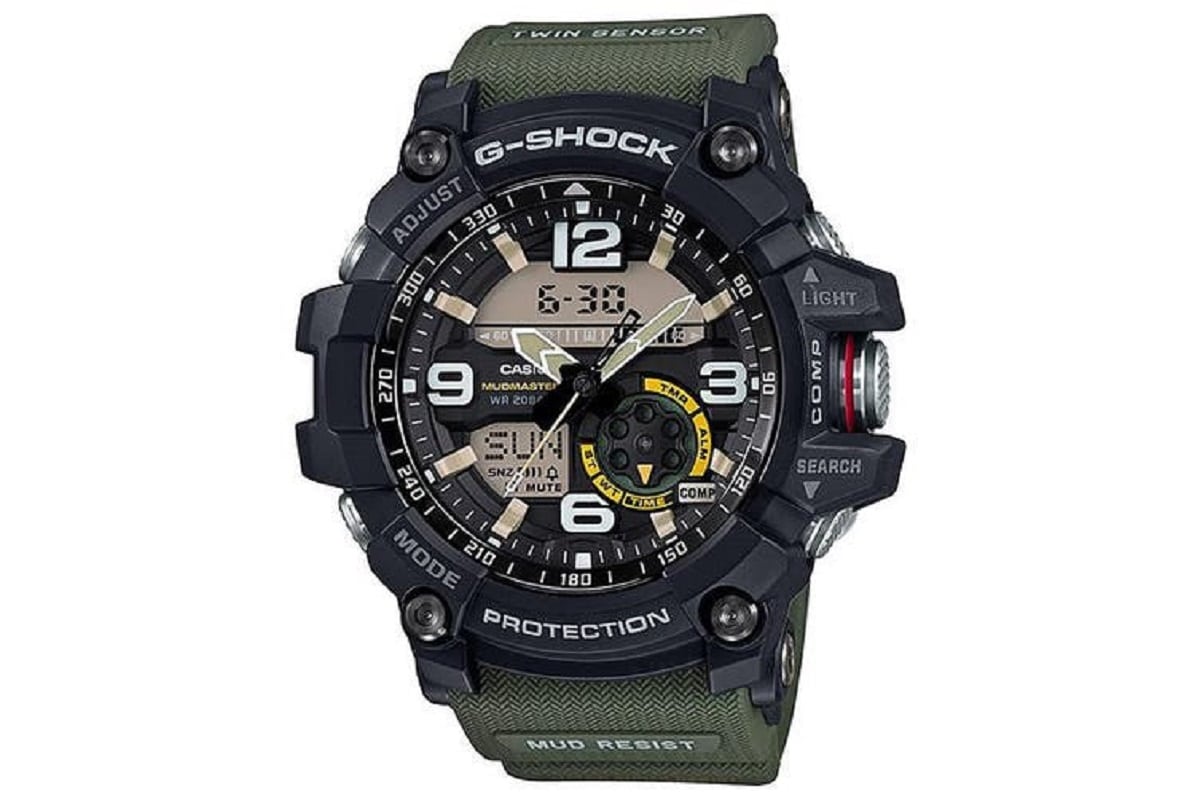 Forever the pragmatist, Joe Rogan maintains a clear love for G-Shock in episode #1102, proudly displaying his G-Shock Twin Sensor 'Master of G' Mudmaster Series watch. It's what started the whole conversation for Farah, with Rogan obviously taken by the watch's brutal practicality.
The Twin Sensor watch provides instant access to direction and temperature in any tough condition, boasting mud resistance, shock resistance, and up to 200m water resistance. The chunky 56.2mm case is a pure show of power, with various complications like a thermometer and a digital compass.
Farah clearly picks up on Rogan's modesty and is quick to big up the G-Shock adorning the host's wrist, describing it as "every watch guy's tool watch".
Panerai Luminor Submersible PAM024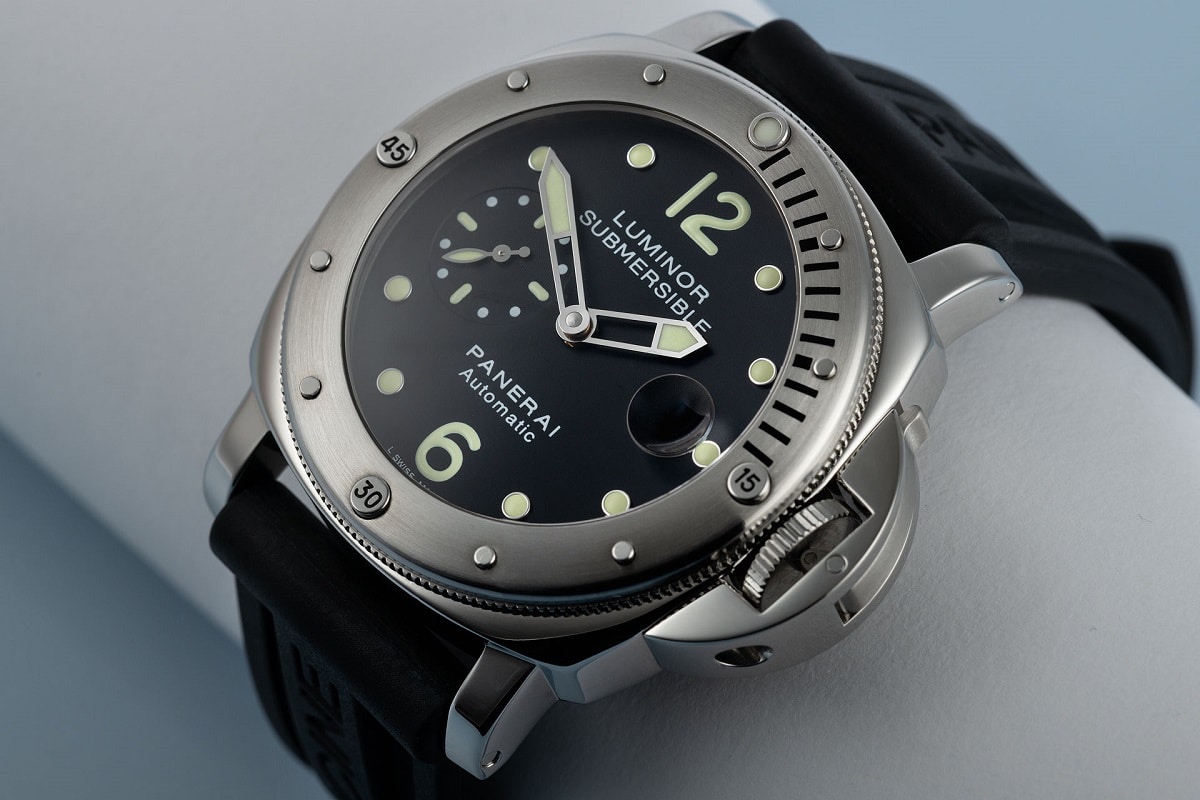 Eagle-eyed viewers may have spotted Joe Rogan wearing the legendary Panerai Luminor Submersible PAM024 on numerous occasions, often while interviewing UFC fighters.
Much like the G-Shock above, it's a big and masculine entry for Panerai's Submersible models, which often redefined what a professional diving watch should look like by clashing the brand's storied history with forward-looking design and innovative technical solutions.
The PAM024 is a nice fit for Joe's athletic arm, big at 44mm with a little added heft from its crown guard protector. The watch is incredibly sturdy with 300m water resistance and a unidirectional dive bezel, sharpening focus on high-performance at great depths.
---
---
Casio Pro Trek PRG-650YBE-3
The host also speaks highly of the Casio Pro Trek PRG-650YBE-3. Sticking true to his love of durable watches, Rogan specifically mentions the "outdoors" functionality of the model, which was optimised specifically for night time use.
This Pro Trek model comes with an ion-plated bezel and a neon illuminator for complete legibility of time and function modes in the dark. The Triple Sensor – bearing, altitude/barometric/temperature – complication is complemented by a one-touch measurement button for sharp practically to create functions and designs for night time outdoor activities.
Pro Trek must be one of Rogan's top choices when he's out hunting wild-game at night, with the functionality more than filling out the AU$340 price tag.
Breitling SuperOcean Heritage 46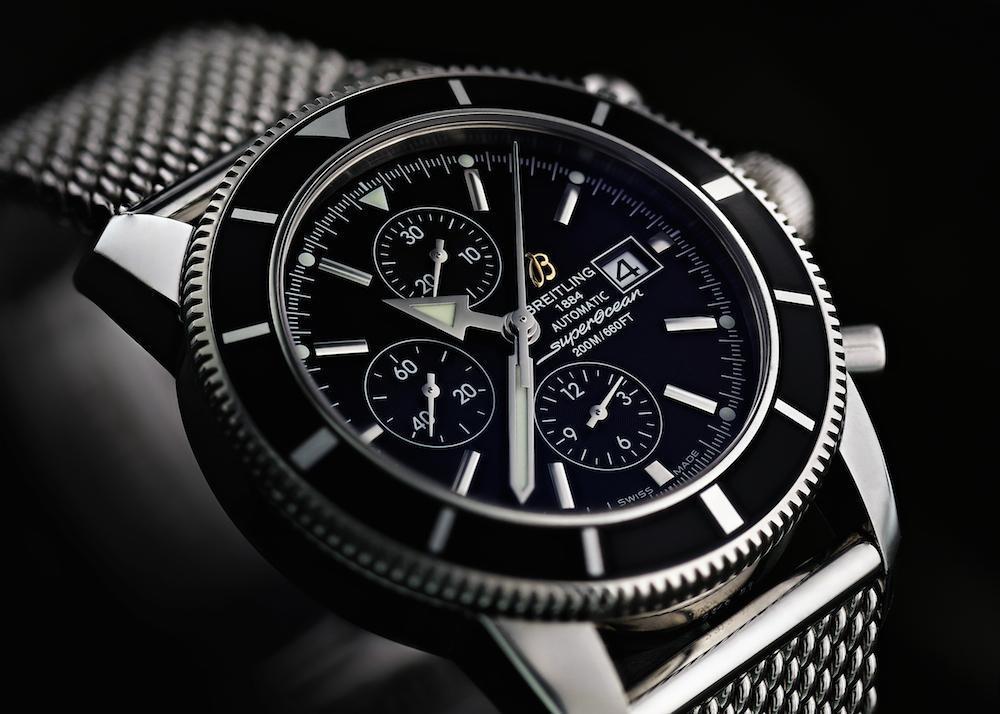 It's safe to say that Joe Rogan is a fan of big boy watches. The stunning Breitling SuperOcean Heritage 46 is 46mm of pure class. Another sport-friendly dive watch, the rugged timepiece is rumoured to have been a gift from Russell Peters – something fans have long speculated on, but Joe has never actually confirmed.
If the above is true, Peters has surely done his comedian friend a great favour, introducing him to the exquisite calibre Breitling 13 movement which has a rough 48-hour power reserve, 25 jewels, and 28,800 vibrations per hour. Again, that cutting-edge performance must be what won Rogan over, seeing as we've already established that the man is nothing if not fiercely pragmatic about his watches, even if he has developed a more expensive taste since the G-Shock.
RELATED: 20 Sporty Watches For Active Lifestyles Under $10,000
Rolex Deepsea D-Blue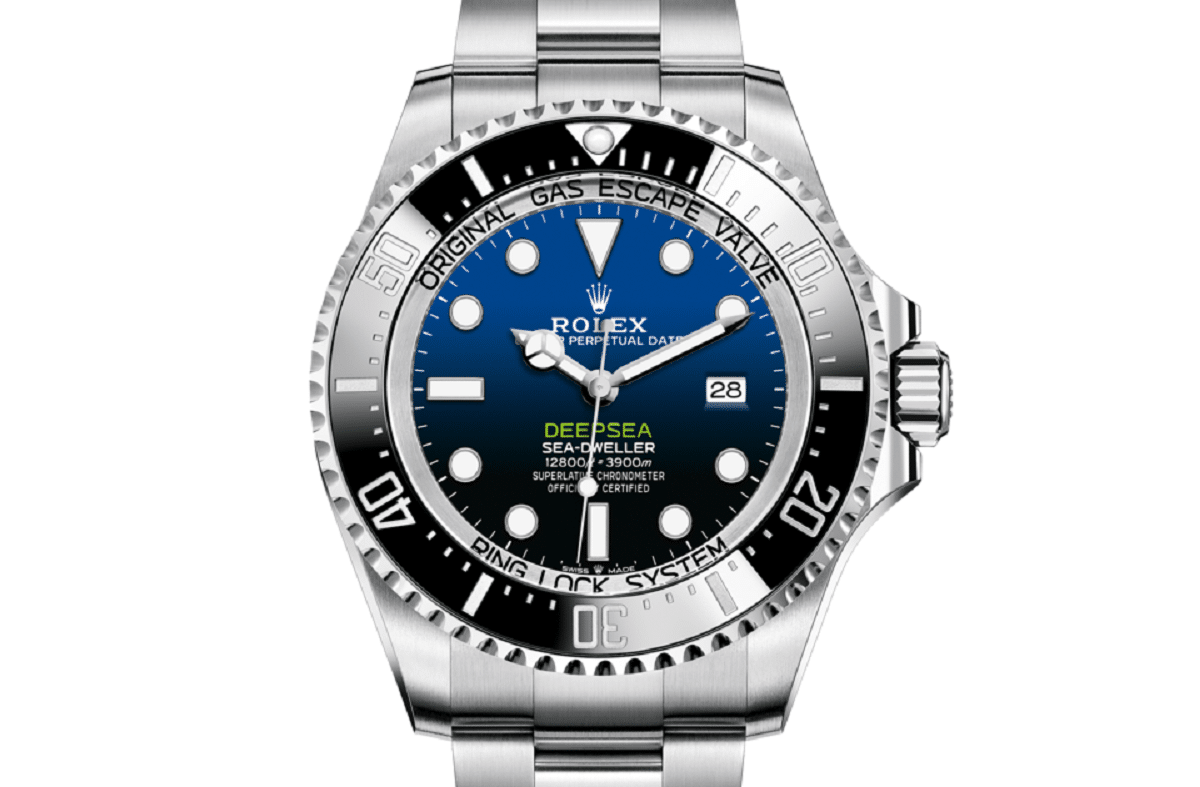 Watch through episode #1169 of the Joe Rogan Experience, the one with none other than Elon Musk, and you'll notice Rogan mentioning a Rolex once given to him by a friend. It's a vague mention, and he isn't wearing it at the time, bringing it up so he can mention that the movement runs a few minutes too fast every couple of months.
Could it be the Rolex Deepsea D-Blue that he is talking about? That certainly seems to be the case, as Rogan has been spotted wearing the watch in UFC interviews before. And once again, it reiterates how big a fan Rogan is of watches with both size and stature.
---
---
The Rolex Deepsea D-Blue has a 44mm case, beefier than what one usually thinks of when the iconic brand is mentioned. It was created in 2014 as a tribute to James Cameron's historic dive to the deepest point on earth just two years prior, and has since donned the wrists of numerous celebrities like Sylvester Stallone and Dave Navarro.
If you want one for yourself, you'd easily be looking at a price tag of at least AU$20,000.
Omega Seamaster Diver 300m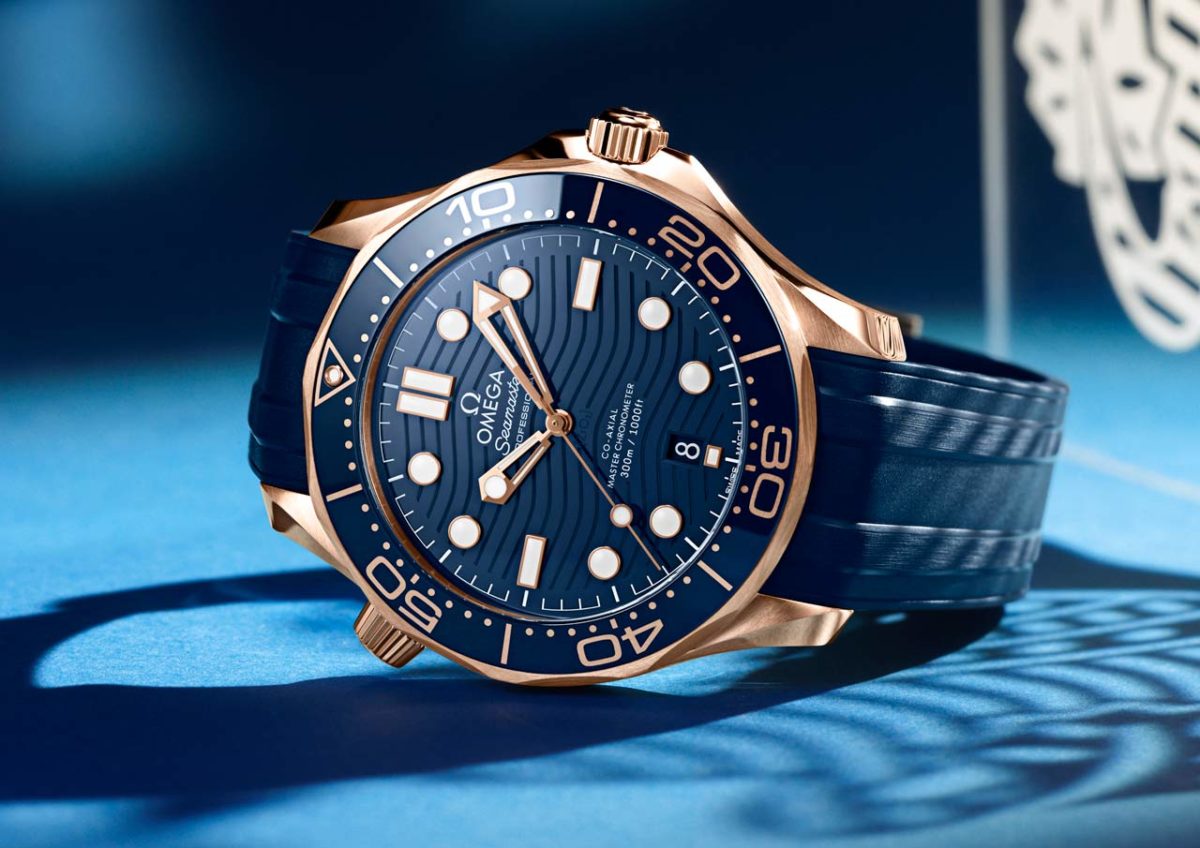 Building on the legacy of the Seamaster Professional Diver 300M, this modern 43.5mm black ceramic model reflects the cross-section of premium design and smart practicality. No wonder Joe Rogan seems so taken with, as spotted by a vigilant fan over on the WatchUSeek Forums.
At AU$12,375, it's a high-end divers watch with a serious pedigree, powered by the efficient OMEGA Master Chronometer Calibre 8806 movement, which can be viewed through the sapphire-crystal on the wave-edged caseback.
Clearly Rogan's initial resistance to higher priced watches has loosened over the years, which could be a function of just how ridiculously well-paid he is now.
Other Watches
While the Joe Rogan collection of watches quite obviously varies beyond what's listed above, it's often hard to confirm exactly what the man is wearing all the time. Specific models are tough to discern unless Joe is flashing it right up to the camera, but we do know he has been spotted wearing a great variety of other brands, like Seiko and Grand Seiko, indicating that Rogan has moved far beyond the humble G-Shock and truly leaned into the passionate discussion he and Farah's shared all those years ago.
---
In the market for a new watch? Check out the best watches for men you can buy right now.