The prospect of value with regards to buying a luxury watch is dubious at best. Most people cringe at the notion of spending any amount on a watch that includes a comma. This is compounded by the idea that a brand name inherently provides value to a product that could otherwise be considered overpriced – refer to my thoughts on the steel Rolex market.
Both the novice collector and the learned scholar have their "value" kryptonite. For the newbie, the siren song of a quartz Tag Heuer is irresistible – so much brand cache for so little money. For the well-versed and well-heeled among us, the Patek Philippe 5711 is a steal at retail. That is despite it being a shade under $40,000 Aussie pesos for a time and date watch in steel.
Neither of these archetypes is wrong, because of course value is subjective. One man's trash is another man's treasure as it were.
---
---
This is where Longines watches come in…
Longines as a watchmaker has more tenure than you can poke a stick at. They have been around longer than Rolex, Audemars Piguet and even the hallowed Patek Philippe. They have an incredibly wide range of watches, all of which represent irrefutable value for your money – you only need to look at the new HydroConquest Green to get an understanding.
But for me, nothing typifies this pedigree better than their Heritage Collection. Unlike some newer manufacturers, Longines has a long and rich history from which to draw on for inspiration. Their success since their inception in creating beautiful timepieces is certainly to our benefit – especially now they're bringing back some of their greatest hits.
Column-Wheel Single Push-Piece Pulsometer Chronograph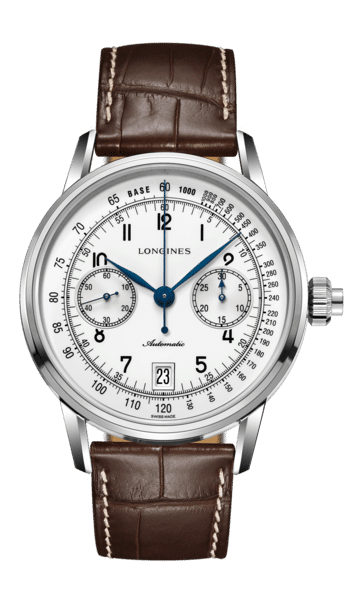 There is something about a pulsation dial that just does if for me. It has a feel of rarity and credibility that you just don't find in most modern watches. Not only that; as the name suggests this is also a column-wheel chronograph. The column-wheel operation of a chronograph is something traditionally seen in much more expensive timepieces, and the cost of production made it unviable for use in lower-end manufacture, which makes it a steal at $4,650.
Longines could have used a standard cam in their chronograph function instead, ostensibly not altering the actual function of the watch at all – but they didn't… They didn't, and we love them for it.
Avigation Bigeye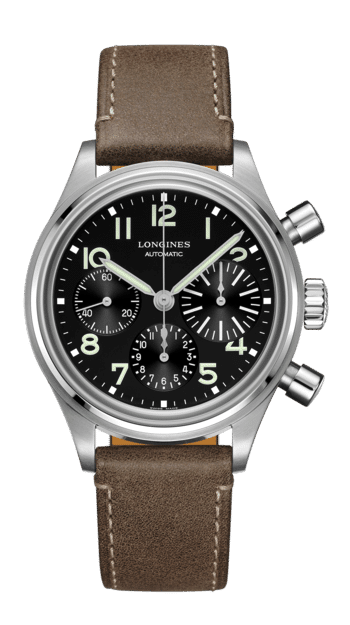 I was working in a luxury watch boutique when this watch was announced, and the only time I've ever taken more phone calls on a single watch was the Rolex GMT Pepsi in steel (typical).
I can't adequately explain how a watch whose proportions are so odd on face valued manages to be so perfectly balanced. What if we made one of the subdials 30% bigger than the other two? What if we made the pushers dramatically oversized? What if the dial was dripping in luminescence? Well, the answer is the Avigation Bigeye, and it is positively characterful.
---
---
These are two of the many, many gorgeous watches in the Longines Heritage collection. A tastefully executed ode to Longines' rich and long history of watchmaking excellence. In a market where the history of the company is so important, and usually directly proportionate to the cost of that brand's product, Longines watches are an outlier. The only company that doesn't use its past to leverage cash from their customers.
You cannot buy more heritage for your money.