2019 so far has been quite the ride, filled with a whole lot of stuff, things, and utter balderdash. As we occupy ourselves in the present, we might be neglecting to see the past. Therefore, you are forgiven for not noticing that this year marks the 50th anniversary of Apollo 11's moon-landing – a truly momentous occasion and what some might even call one small step for man and one giant leap for mankind.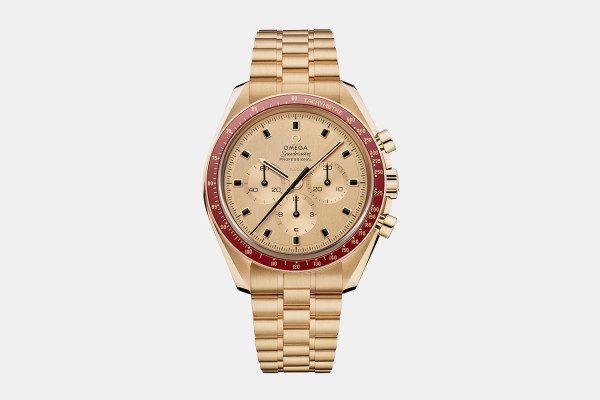 To celebrate the anniversary, Omega is dropping a breathtaking homage to one of NASA's greatest accomplishment – the Omega Speedmaster Apollo 11 50th Anniversary Limited Edition. The modern replica is a re-creation of the Omega Speedmaster BA145.0220 – a piece that stood out thanks to its burgundy bezel, onyx-black hour markers and a glitteringly smooth gold bracelet and case.
RELATED: 'OMEGA SPEEDMASTER APOLLO 13 "SILVER SNOOPY" EDITION'
---
---
Celebrating Neil Armstrong and Buzz Aldrin walking on the moon, Omega produced 1,014 pieces, two of which went to President Nixon and Vice President Agnew, respectively. It should also be noted that the first two men on the moon were wearing Omega Speedmasters at the time of their triumph (though, not this specific reference).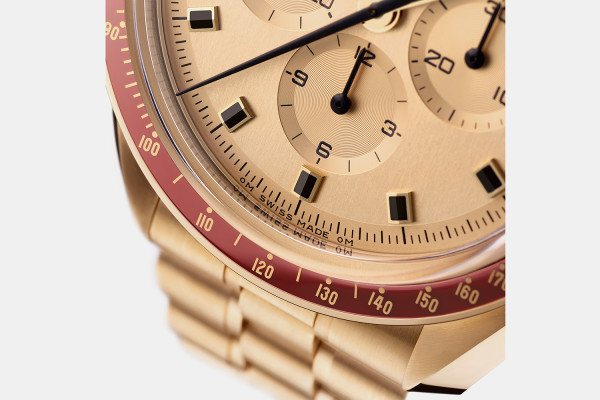 This modern release is aesthetically very similar to its forebearer – a width of 42mm, golden case and face, burgundy bezel, and black-onyx markers. But this is where the similarities cease. Replacing the original models 18k yellow gold is a tone that Omega has aptly named 'Moonshine Gold', which utilises mixes of palladium to battle the colour degeneration standard gold releases are prone to.
Moreover, the burgundy bezel is now rendered in ceramic, with gold inlays. The dial is solid gold, protected from the elements by Omega's clean polished glass. On the back of the case, buyers will find a peek of the gold-plated, manually wound 3861 mechanics – a nice throwback to the original 1861. There's also a pleasant blue-gold cutaway of Earth, which sits opposite perhaps the most compelling part of this amazing watch – a small piece of lunar meteorite.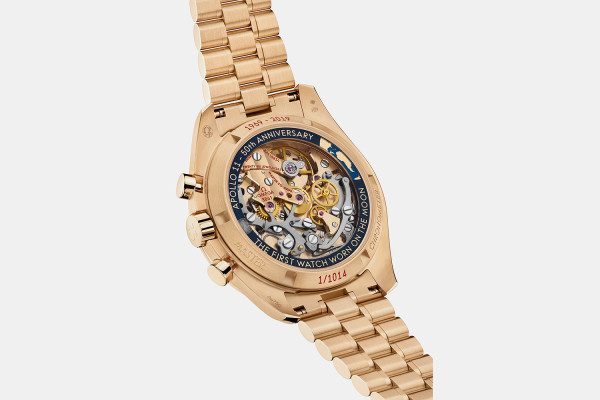 Just like the original, the Omega Speedmaster Apollo 11 50th Anniversary Limited Edition will be limited to just 1,014 pieces. Expect to pay 32,000 Swiss Francs – roughly $45,000 AUD.