Seamaster, Speedmaster – Spacemaster? Unfortunately not, though that would be the icing on the cake for an already super special edition Omega that has just launched at Baselworld 2018.
In 1968, the Apollo 8 crew became the first humans to ever venture to the dark side of the moon. They orbited 10 times in 20 hours, a massive achievement that has now been commemorated half a century on with this Speedmaster chronography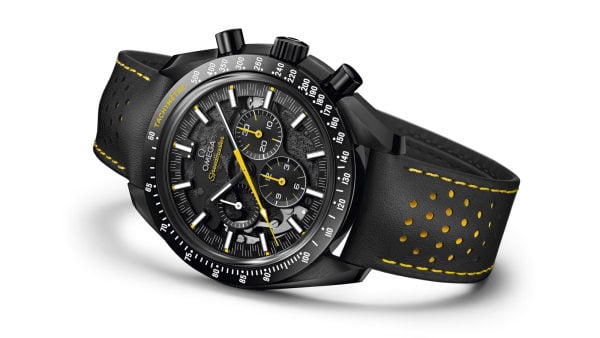 This incredibly intricate and impressive design boasts a striking two-tone colourway, featuring a dominant charcoal black accented by a varnished yellow. A murdered-out skeletonised dial reveals the watch's movement inside which has been laser-ablated to produce realistic imagery of the lunar surface.
---
---

The transparent caseback is encompassed by the final words Jim Lovell radioed to mission control before travelling into the darkness, "WE'LL SEE YOU ON THE OTHER SIDE."
The Speedmaster Apollo 8 edition is available in stores this August, stay tuned for more from Baselworld 2018 in the coming days.