Over the past decade, the watch industry has made a concerted effort to align itself with environmentally conscious practices – some brands far more than others. When this concept of sustainability first emerged many efforts were arguably tenuous, linked to a figurehead or NGO acting for change. Products would include a small design change and then provide a percentage of profits as a donation to support the movement.
Today, sustainable watches are truly innovative, relying on extensive R&D to develop entirely new raw materials or utilise recycled ones to manufacture products. From niche startups to mass-produced operators, right up to haute brands, conscious consumers have a plethora of choices when it comes to investing in forward-thinking watch brands. Here's a handful of the most inventive sustainable watches, followed by a few more that are pushing a positive message for change.
The sustainable watch leaders
Swatch Sistem 51 – AM51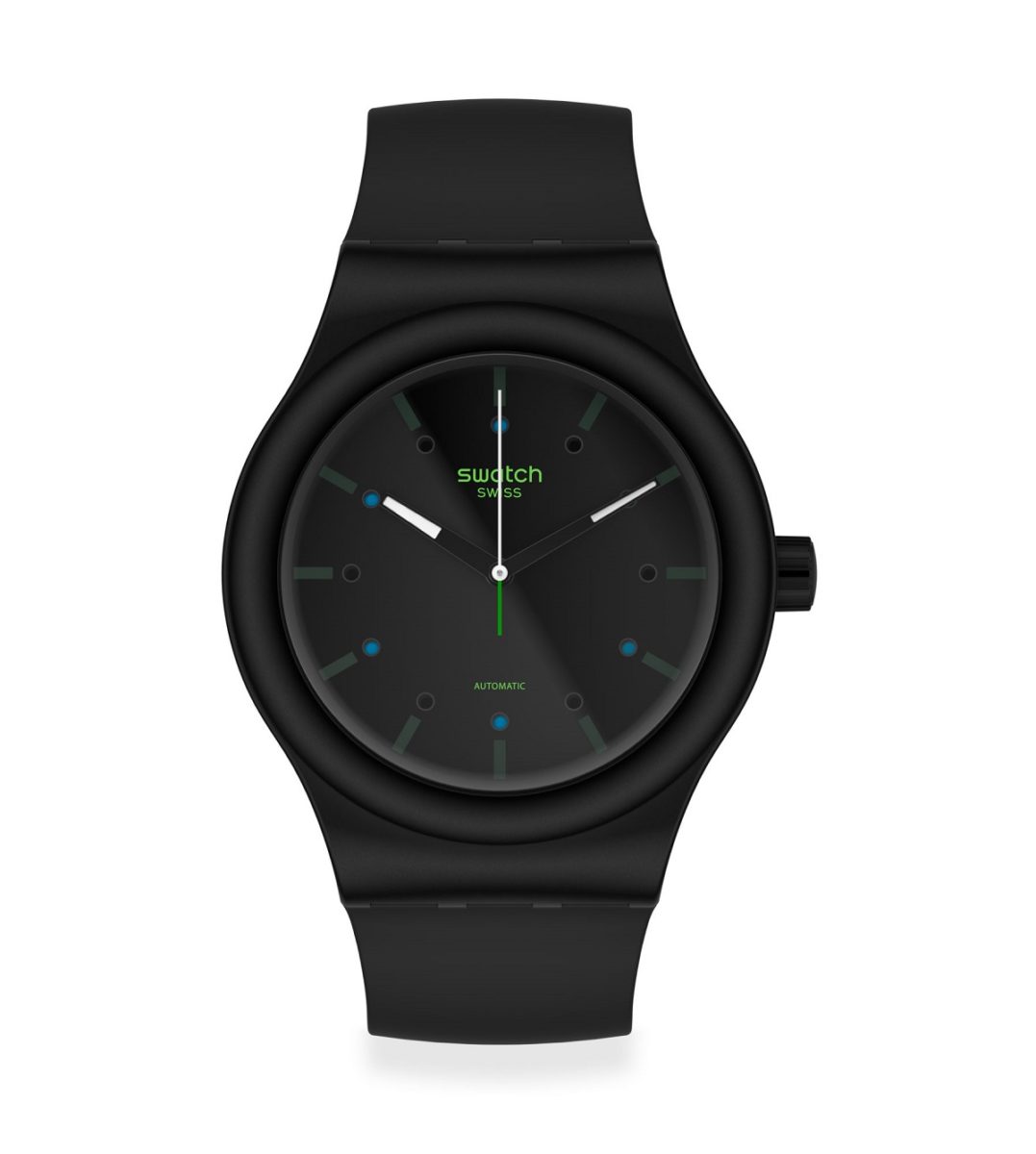 As part of their 1983 collection, Swatch has reimagined the classic Sistem 51, crafted from bio-sourced materials to represent a seamless crossing of sustainability and style, while still retaining power from an automatic movement.

From the strap and clasp to the 42mm case, the 30m water-resistant remake model gets its plastic build from a high-strength polymer blend based on extracted seeds from castor plants. Doubling down on natural material, the watch comes in a game-changing paper foam packaging based on fully biodegradable potato and tapioca starch.
---
---
---
Awake – Awake .01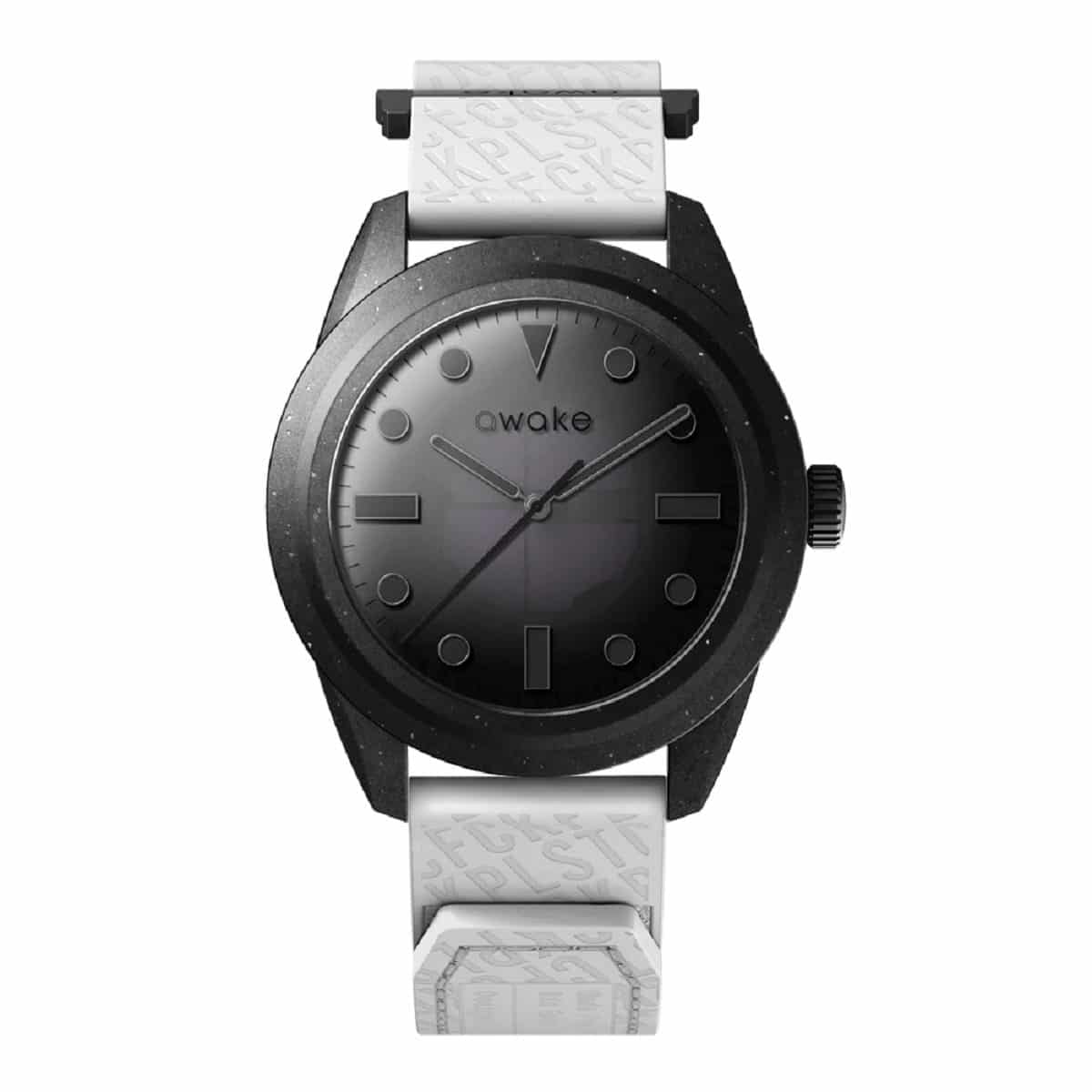 In a conscious statement for the world to "stop putting nature against progress", young eco-innovative French watch brand Awake have put an incredible amount of depth and detail behind their signature timepiece, the Awake .01. Featuring a unique solar movement developed in Japan, the watch is powered by natural light for a power reserve of up to 4 months, and built with a specially developed 42mm RE:FN-S1 case, using highly durable material recomposed from fishing nets in their Denmark-based innovation laboratory.
With a 5ATM water resistance rating and a lightweight construction, the 29g Awake .01 represents a significant movement for sustainability in the industry, focusing on exceptional design with minimal impact. Much like the Swatch that's also on this list, the strap here is a biopolymer originating from castor plants in India, sourced specifically in line with the Castor Initiative, which guarantees the maintenance of soil fertility, a significant reduction in water consumption and carbon footprint, and fair remuneration for farmers. It shouldn't be a surprise that the watch's packaging is also treated with the same minimalist approach, designed from natural material that can disappear without leaving any traces.
---
Mondaine Official – Swiss Railways Essence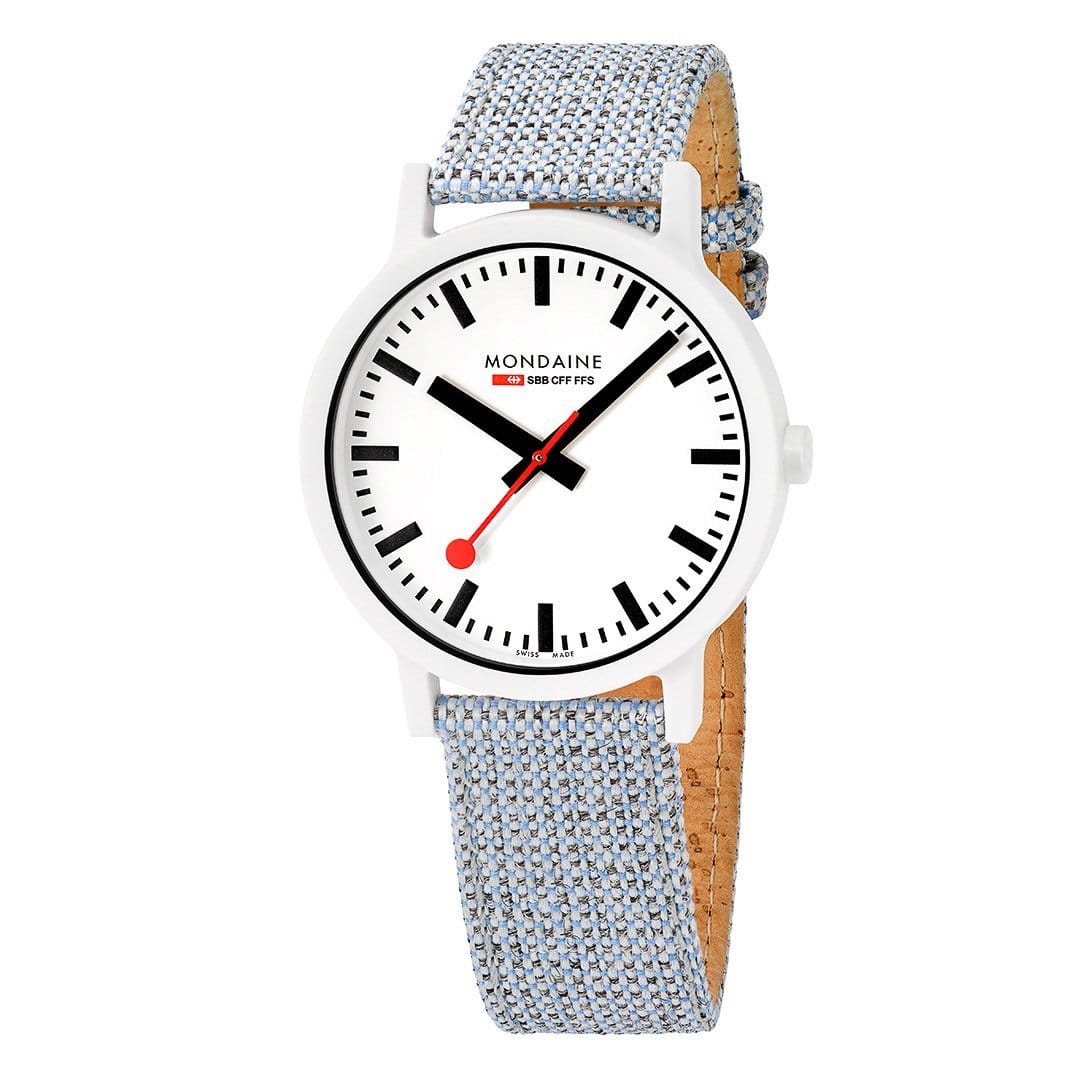 Much about the Swiss Railways Essence from Swiss stalwarts Mondaine and their classic collection is much the same as previous iterations of the high-concept timepiece. It still features Modaine's iconic aesthetic, inspired by the timeless Swiss Railway Clock with a RONDA 513 Quartz movement and definitive red lollipop second handset against a crisp white dial, framed by distinctive 41mm case.
What's different here is a renewable Rizinus (caster oil) case and eye-catching beige wool-based straps, cobbled from renewable raw materials and lined with natural cork. The company has been widely known for its ongoing commitment to the environment, even switching to its own photovoltaic system on the roof of its Swiss factory, with a solar power system that now produces around 80% of the building's required electricity.
---
Tom Ford 002 Ocean Plastic Watch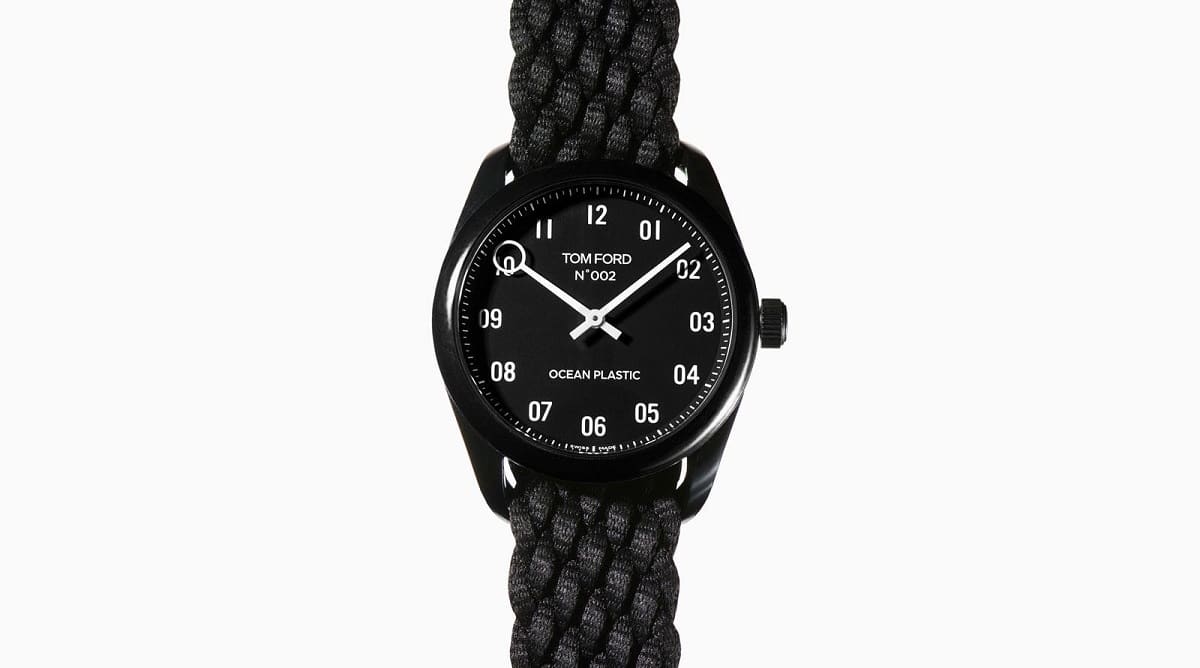 Although Tom Ford's horological legacy is still quite young, the iconic fashion brand has made a big statement with their latest: the 002 Ocean Plastic Watch. Claimed as the first luxury watch made from 100% recycled plastic, the slick matte black timepiece features a traditional 40mm case with a black DLC stainless steel screw case back, rated for water resistance up to 100m, as well as super luminova painted hands and a Swiss-made quartz movement.
Both the case and the strap are made from ocean plastic, spun in a braided style with fibers from repurposed material. Furthermore, the packaging is also made from recycled material. For every 1000 Ocean Plastic Watches produced and sold, roughly 490 pounds of plastic waste is permanently removed from or prevented from entering the ocean.
---
BAUME OCEAN Limited Edition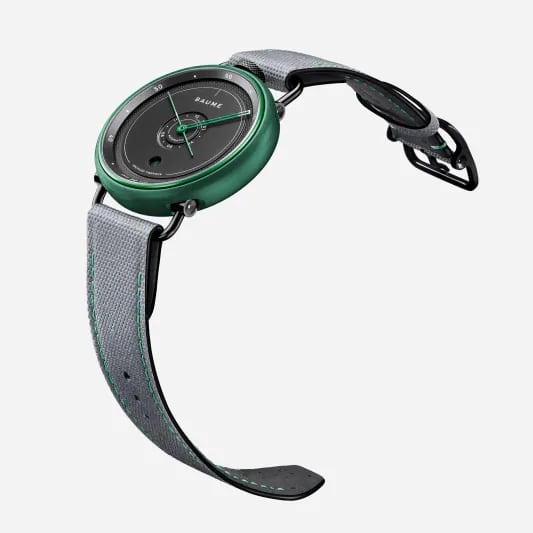 With a commitment to mindful design and sustainable sourcing, the relatively young Baume was created with a goal to highlight the idea that ambitious luxury standards aren't mutually exclusive with eco-credentials. Though it started as a sub-brand of the more firmly established Baume & Mercier, it has since been integrated into the larger brand as a collection but retains the uncompromising commitment to positive-footprint watches.
---
---
As the first expression of the merger, the Ocean Limited Edition is a symbiotic partnership with both Waste Free Oceans and Seaquel Initiative, aligning with the two organisations which are known for collecting plastic debris from oceans to transform them into innovative products. Available with either a grey/green or grey/blue face, the 30m water resistant Ocean Limited Edition is a remarkable, customisable timepiece with a 42mm case crafted with recycled plastic and anodised aluminium, powered by a Swiss calibre Sellita SW200 automatic movement with a power reserve of 38 hours.
The interchangeable strap is made of woven rPET – a polymer fabric constituted from upcycled marine plastic – with a lining of natural black cork, while the packaging is simply recyclable cardboard lined with recycled polyester felt.
---
Alpina Seastrong Diver Gyre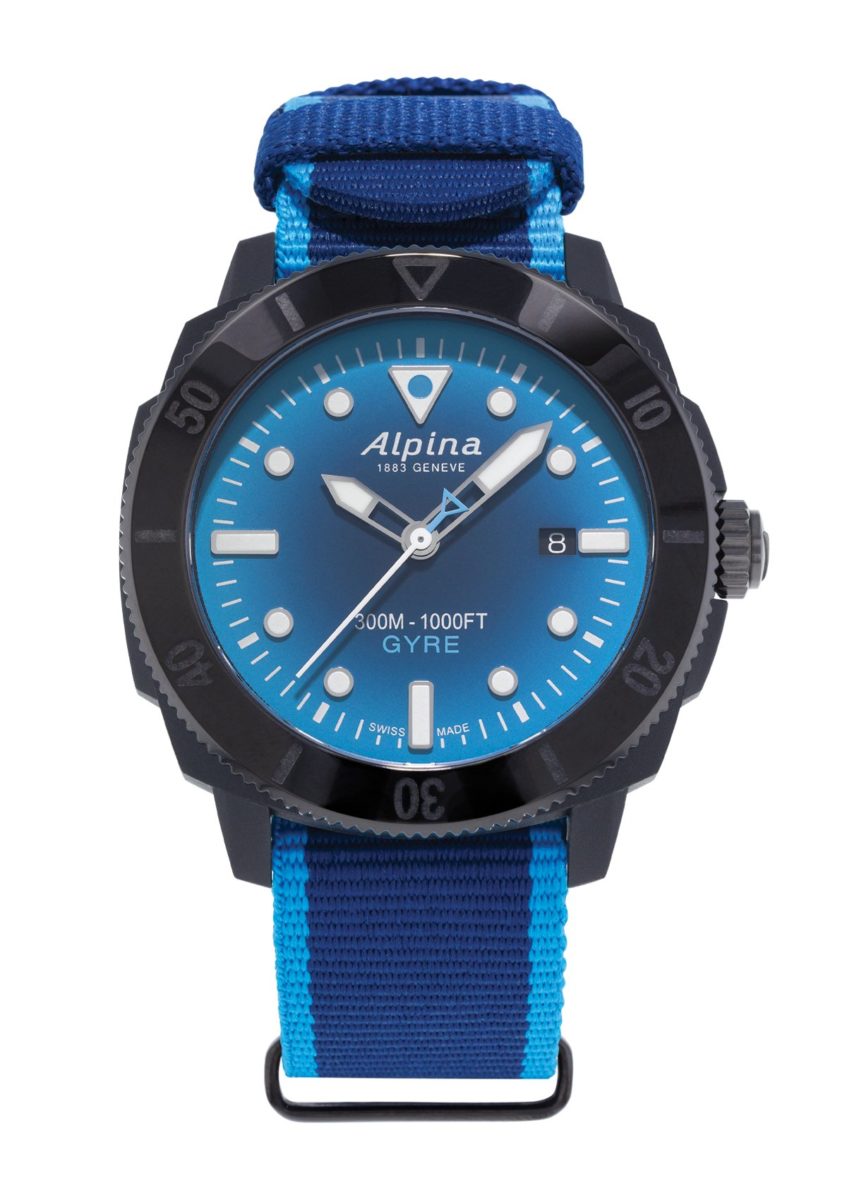 In partnering up with start-up Gyre Watch, Swiss watchmakers Alpina have presented an inventive line of dive-friendly timepieces perfectly aligned with a modern purpose and philosophy. The Seastrong Diver Gyre Automatic line was launched earlier this year to support World Ocean Day and partners Surfrider Foundation Europe, nodding to the need to protect the world's marine habitats.
Key to this limited edition line is its 44m – also available in 36mm – case composed of 70% plastic debris composed from fishing nets scooped out of the Indian Ocean, mixed with 30% fibreglass to ensure strength and durability. The smoked blue dial has been designed to evoke the sea, featuring deep blue hues and luminescent hands to really pop when viewing the 300m water-resistant watch at murky depths.
An AL-525 automatic movement sits at the core of this limited edition timepiece, with a 38-hour power reserve. Notably, the two-tone NATO style straps are also made from recycled plastic bottles, able to be switched out for others like a special extra strap made of apple leather, presented in a protective pouch that's also made from recycled plastic bottles.
---
Ulysse Nardin – Skeleton X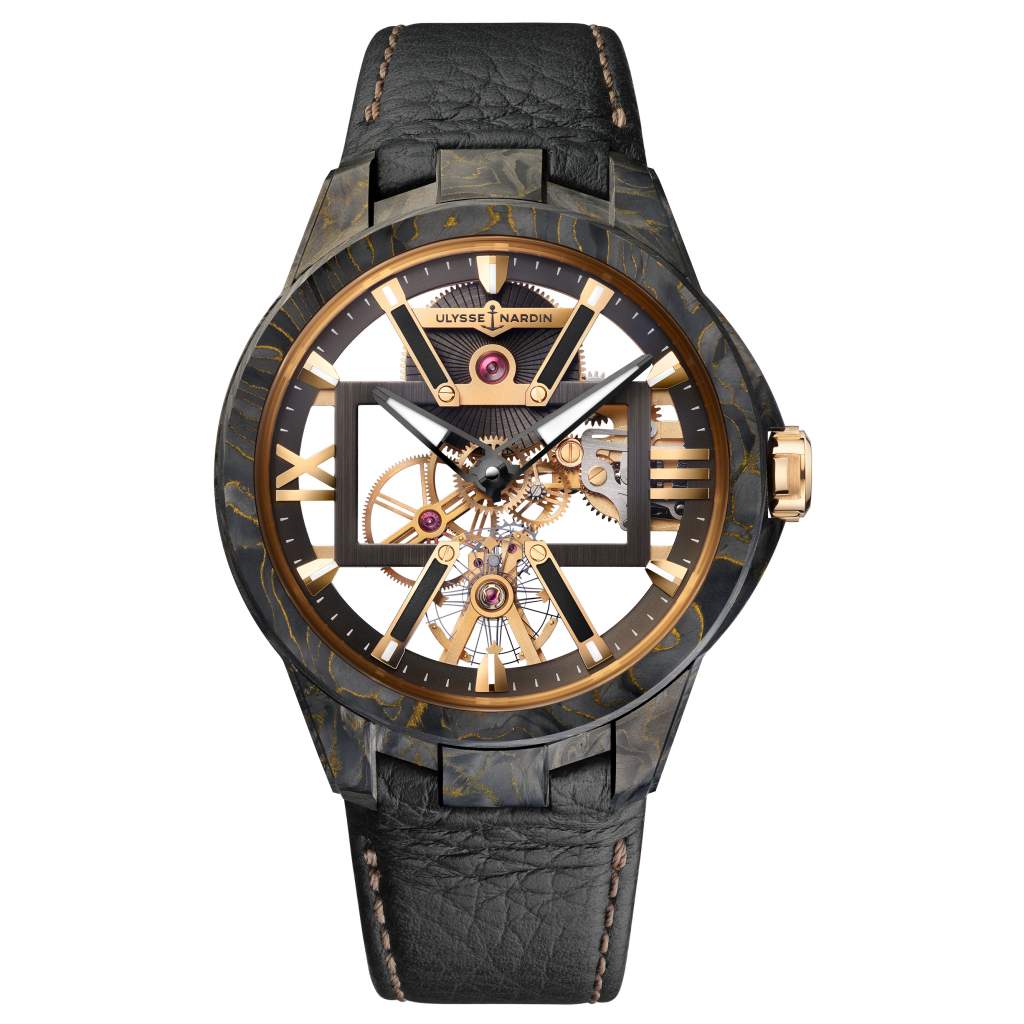 Elegant and enticing, the Skeleton X from Ulysse Nardin's 2019 collection is a compelling timepiece with more than a few innovative features and forward-thinking eco-credentials. While available in four versions, those looking for some sustainability on their wrist should look to go Carbonium GOLD, which uses aeronautic-grade, high-performance Carbonium for the case, showcasing an exceptionally lightweight material that's used in the production of new-generation airplanes' fuselage and wings.
Carbonium Gold is a fusion of carbon and gold, resulting in the Skeleton X's head-turning 42mm case, all shimmering and flowing with black and gold waves to create a fascinating visual effect. And beneath all of that effervescence, sits a UN-371 manual winding movement – based on the classic UN-171 – with 3 Hz and a power reserve of 96 hours.
---
Panerai – Submersible Mike Horn Edition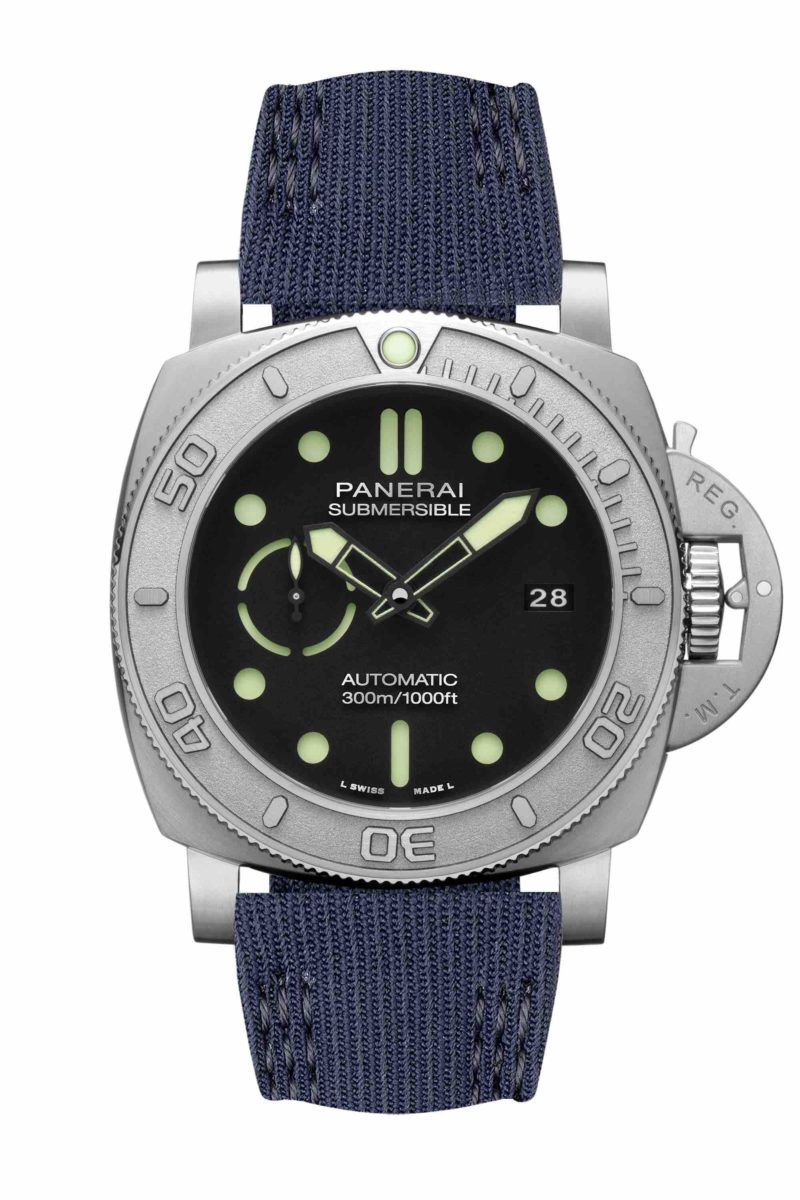 Echoing the bold, eye-catching design that defines Penerai's Submersible collection, is a special two-watch edition worked up in collaboration with longtime ambassador Mike Horn. Forming the new Submersible Mike Horn Edition, the 47mm timepieces push the strong visual storytelling of the original forward, aligning with Horn's achievements as a sailor, explorer, and keen environmentalist.
---
---
The gorgeous piece is a diver's watch through and through, with 300m water resistance and a black dial with luminous markers and dots that are easy to read at murkier depths. Powered by a P.9010 calibre automatic movement with a 3-day power reserve, the limited edition watch maintains its unique appearance, but instead builds it with eco-friendly materials like upcycled Eco-Titanium for the case along with titanium relief bezels and a black PET strap purposed from recycled plastic soda bottles. As with several other watches on this list, the piece comes packaged in completely recycled materials.
---
Honorable sustainable mentions
Seiko Save The Ocean Editions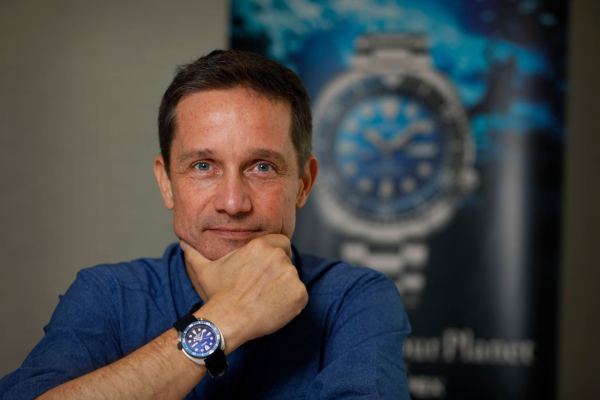 Fabien Cousteau, the grandson of legendary diver Jacques, founded the Fabien Cousteau Ocean Learning Centre to help create positive change for the marine world, a program Seiko supports through proceeds from the sales of their Prospex Save The Ocean diving watches.
---
Breitling Outerknown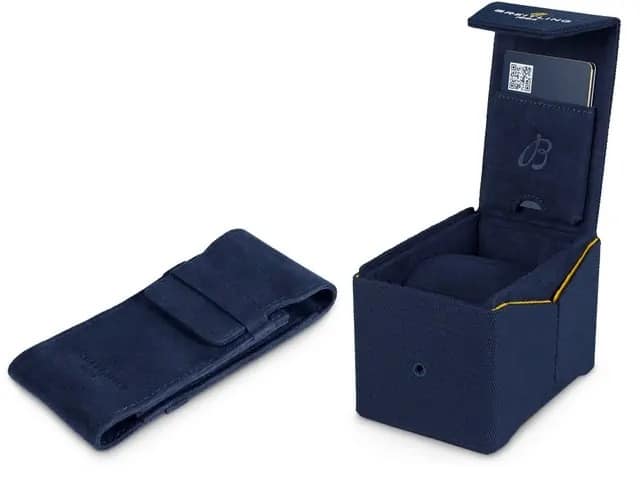 The key to Breitling's ongoing partnership with Kelly Slater's Outerknown is the use of Outerknown NATO straps, which are made from ECONYL yarn, a material sourced from repurposed nylon waste. Breitling is also planning to release a foldable, reusable watch box in 2021, made entirely from upcycled plastic bottles, from the fabric to the push buttons that open it. Once the box is no longer needed, it can be recycled at a facility and fed back into the rPET cycle.
---
Oris Aquis Clean Ocean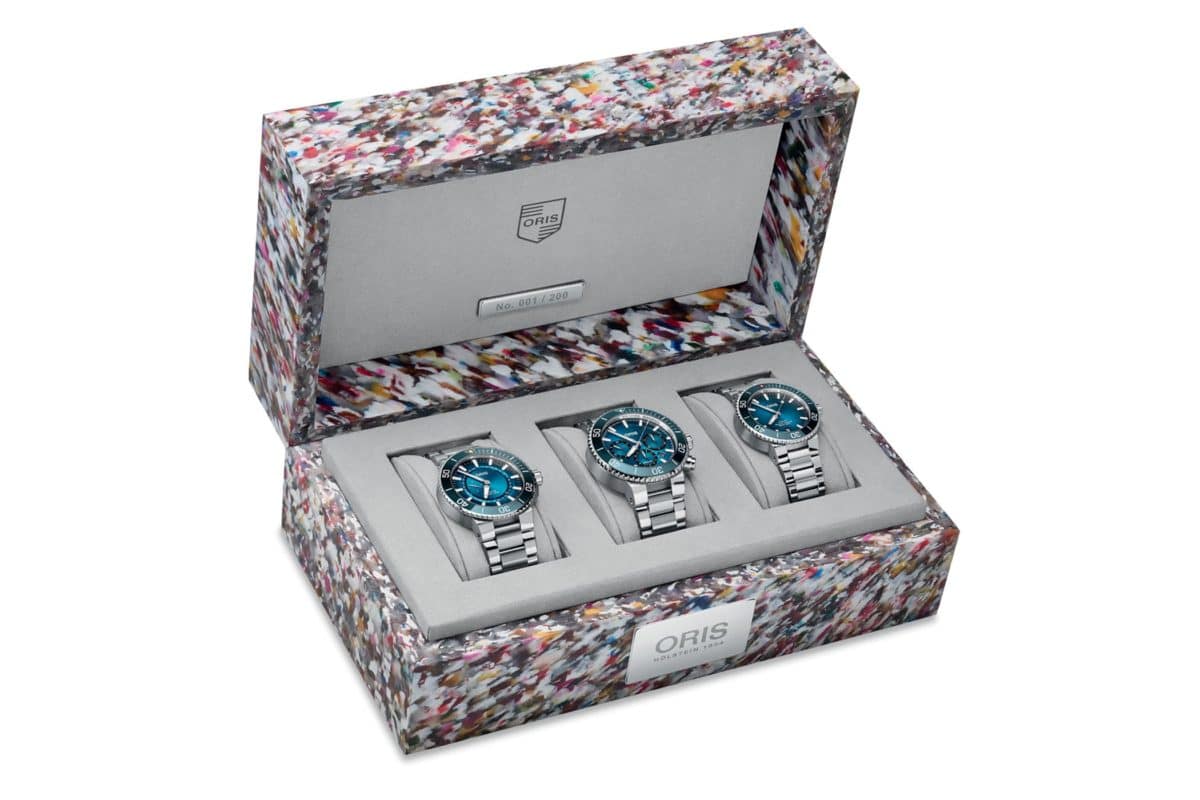 The limited-edition Oris Acquis Clean Ocean supports Pacific Garbage Screening, a firm that's currently working on a prototype floating platform designed to clean up plastic from the world's oceans. A gradient blue dial, intended to mirror the beauty of a clean ocean, arrives in a slimmer 39.5mm case with a case back sporting a token made from recycled PET plastic delivered in a presentation box made from algae with plastic inlays.
---
Blancpain Ocean Commitment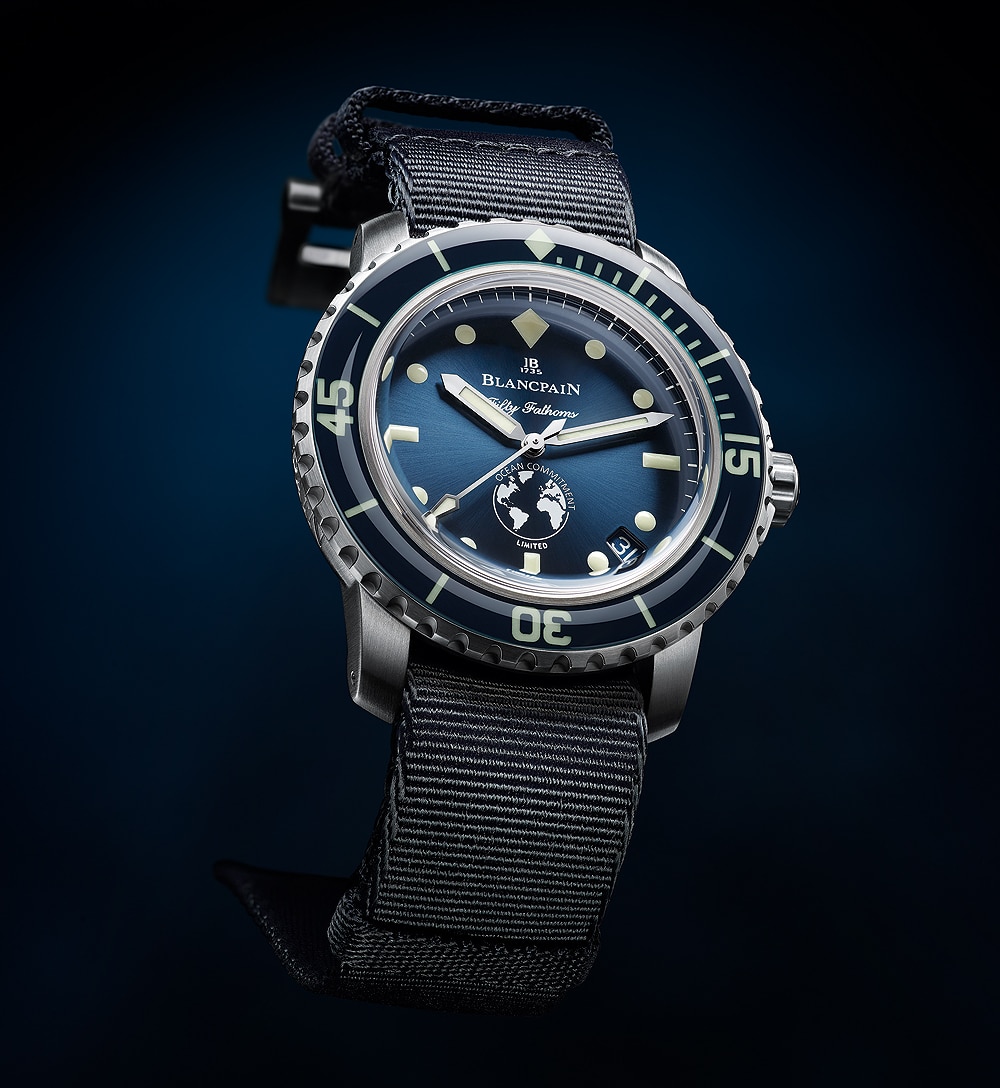 Since the introduction of the Blancpain Fifty Fathoms diver's watch in the early 1950s, Blancpain claims to have been actively committed to the exploration and protection of the oceans. Through the sales of various limited edition models, the Blancpain Ocean Commitment (BOC) program partners with and donates to organizations sharing its vision.
---
Looking for a new watch? You're going to want to read our massive round-up of the best watches for men.